Goldtop England, the vintage-inspired motorcycle outfitter (and friend of this site) recently announced its headline sponsorship for the inaugural Bishop's Stortford Ride. The ride is a new addition to the global event that is The Distinguished Gentleman's Ride (DGR).
The DGR was established to raise funds and awareness for prostate cancer research and men's mental health. The event sees vintage, classic, retro and custom motorcycle enthusiasts don their finest attire and take to the streets on an assortment of classic, custom or classically styled two-wheel machines.
Riders of exquisite café racers, scramblers, bobbers and everything in between ride together each year, to draw attention to the causes.
The History and Impact of DGR
Founded in Sydney, Australia, by Mark Hawwa, the DGR was inspired by the sartorial style of the TV show Mad Men and in particular a scene where Don Draper rode a motorcycle in a suit.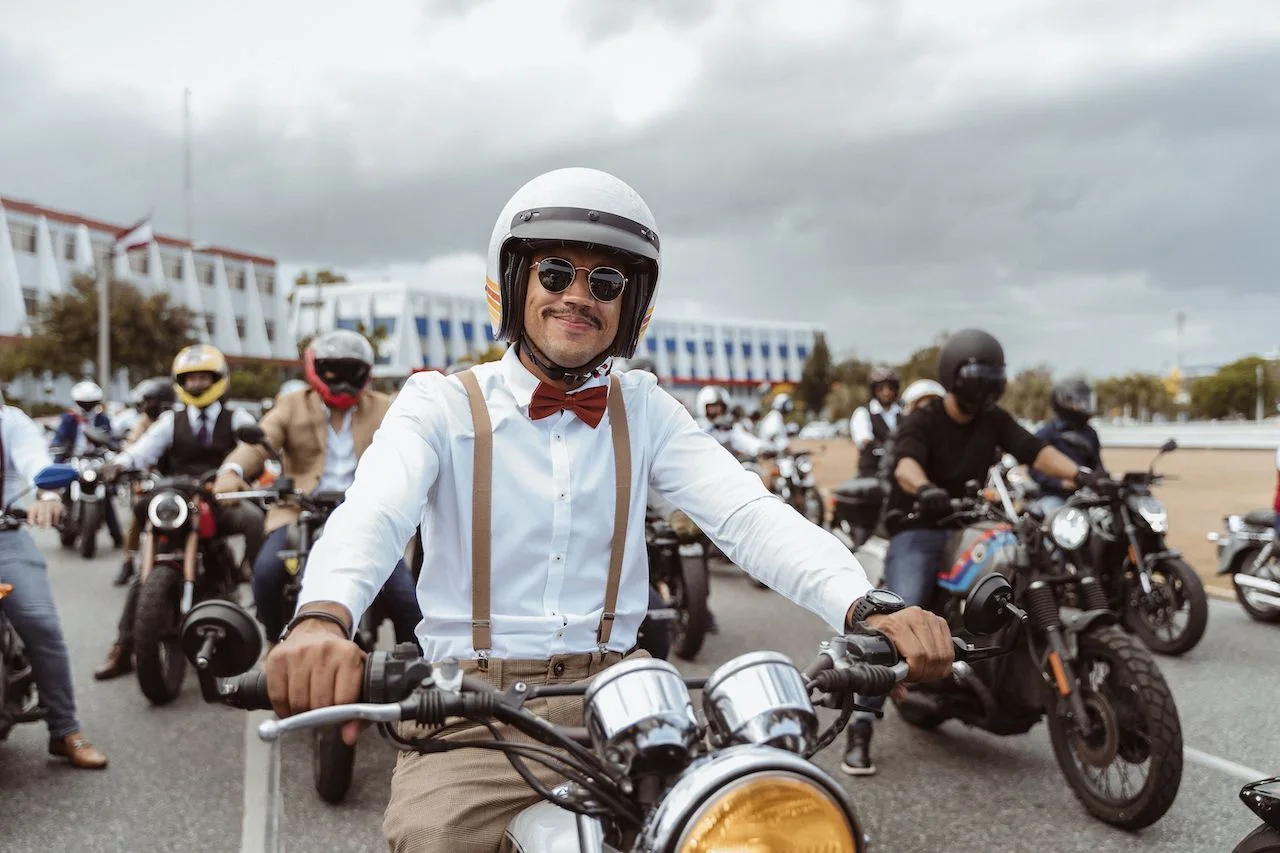 The concept has since blossomed into a worldwide event that unites vintage, classic and retro motorcycle enthusiasts. It's fostered a sense of community while supporting crucial men's health causes.
Since its inception in 2012, the DGR has raised an astounding $37.5 million and attracted over 340,000 riders across 121 countries.
Goldtop's Role in the Bishop's Stortford Ride
As the headlining sponsor and the destination for the first stop of the new Bishop's Stortford Ride, Goldtop has pledged to make this year's event a memorable one.
The ride is set to take place on 21st May 2023 and will traverse the glorious landscapes of the Essex countryside. Full route details will be available upon event registration.
For participants eager to show their support, Goldtop has created two limited edition DGR x Goldtop vintage MX jerseys for men and women – available in red or gold.
These special designs, along with DGR co-branded sticker packs and a silk scarf can be purchased at the Goldtop Shop on the day of the event or on the Goldtop website in the lead-up.
All profits from these items will be directed to the DGR charities, ensuring riders can flaunt their style for a noble cause.
Raffle & Prizes at the Event
Goldtop will also hold a raffle on the day of the ride, offering participants a chance to win fantastic prizes including leather jackets, t-shirts, tattoo vouchers, and more. Tickets can only be purchased on the day at The Goldtop Shop, with all proceeds going towards the charity.
Call to Join the Ride
Goldtop is inviting everyone to join them in making a difference for men's health. So, dust off your riding gloves, polish your tank and don your finest riding gear (don't forget your pipe).
If you haven't yet registered your place, there's still time. Visit the Goldtop website to secure your spot and join the global movement of distinguished riders making a difference one ride at a time.
A Global Movement for Men's Health
The Distinguished Gentleman's Ride is more than just a themed motorcycle ride; it's a global movement uniting a community of passionate riders and gentlefolk for an important cause.
With Goldtop at the helm of the Bishop's Stortford Ride this year, riders are promised the camaraderie and exhilaration of a large group ride but also the reward of contributing to a noble cause.
So, register, ride and make a difference with Goldtop and DGR this May.