Vintage and classic motorcycle insurance is comparatively cheap. Yet, choosing a provider is a task that few riders relish. To get the best classic bike insurance, it's a job that should be performed annually.
In this guide, we've made the process of obtaining a quote slightly easier by outlining which products to consider when arranging cover in the UK. We've also answered some frequently asked questions.
But if you're not interested in all of that simply skip to the list of the highest-rated, FCA-regulated (Financial Conduct Authority) companies that offer policies for classic motorcycles in the UK.
Vintage/Classic Motorcycle Insurance: Overview
Arranging insurance for your motorcycle whether standard or classic usually requires a dedicated morning or afternoon obtaining quotes. Comparison sites will likely feature in the process. There may also be several telephone calls and an online questionnaire or two.
For the more fiscally prudent rider, time might be spent haggling with the existing or prospective provider.
There's no mistaking this for anything other than the chore it is. However, if it's undertaken conscientiously it can reap a windfall in the form of a reduced premium or improved cover and benefits.
Given the exquisite nature and unique requirements of classic motorbikes, their use and ownership, motorcycle insurers have developed special policies for riders and owners of these machines.
Classic Bike Ownership and Use
Policies vary at each motorbike insurance firm but all take into consideration many different aspects of classic bike ownership. Such as, classic bikes are ridden less often. They're also usually meticulously maintained by careful, older more experienced riders.
Consequently, if you're an owner of a vintage/classic bike you can expect greatly reduced premiums in nearly most cases.
Definition of a Classic/Vintage Bike
What makes a motorcycle a classic is an almost philosophical question. One to be endlessly debated in riding circles. Underwriters on the other hand take a more pragmatic yet nuanced approach.
As such, their brokers specify differing minimum age prerequisites. It's somewhere between 15 and 30 years for classic bikes and 30 or 40 years for vintage bikes.
These age thresholds may also be accompanied by stipulations surrounding make and model. Even the perceived status of the machine from a collector's perspective will be factored in. This is especially true when considering future classics.
Ultimately, it means not all providers will offer cover for your particular bike. So, save time by checking the specific criteria of each provider, before filling out forms or making calls.
Classic Bike Insurance UK: Cover to Consider
There are four noteworthy components of classic bike policies to consider. Three of them will apply to nearly all owners: Agreed Value, Laid-up Cover, and Salvage Retention. The last is Static Display cover which will be applicable to only a few riders. (I'll explain below.)
Virtually all insurers of classic two-wheel machines offer these four products. Some of the firms even offer these services as standard. Although, with most, you'll need to pay extra for the additional cover.
Classic Bike – Agreed Value Cover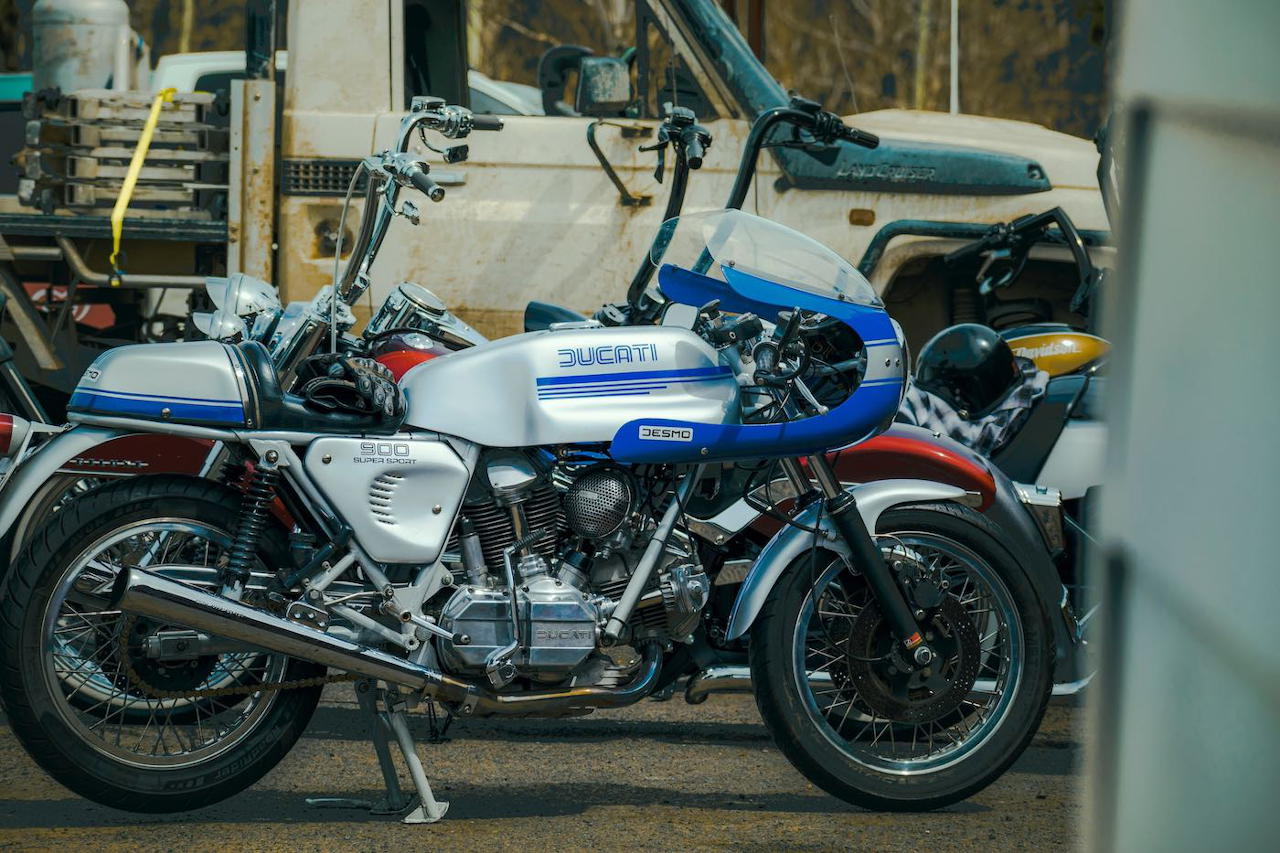 Having an agreed value stipulation in your policy means peace of mind. Should you end up with a Total Loss claim (a write-off) it guarantees a pre-agreed value (between you and the insurer) for your bike.
This is obviously a good thing. It insulates your motorcycle from the whims of the market.
However, adding this type of cover usually comes with an increase in the monthly or annual premium. And, sometimes it has an additional setup fee.
Be prepared to provide detailed information including but not limited to:
high-quality photographs
verifiable independent valuations
maintenance records
a V5C and receipts
… amongst other supporting documents.
Laid-Up Cover for Classic Bikes
If you're not riding your bike, Laid-Up insurance covers it for Fire, Theft and Accidental Damage. As the term suggests it applies to owners of motorbikes that are stored away and not being ridden.
You'll be in the company of the majority of classic riders if you only ride when the weather's pleasant and the road conditions are good. Mostly this means riding in the summer months only — in the UK at least
During the winter your bike's probably in the garage, covered with the battery on trickle charge. A Comprehensive policy in this scenario means you'll be paying for something that you don't need. So laid-up cover makes sense.
Interwoven into such policies is Agreed Value (see above). However bear in mind, that there may be higher bike age thresholds to qualify for this type of agreement.
If your bike qualifies, the additional benefit is that you're not required to declare that it's off the road. Therefore, there's no need to apply for SORN (UK) when you're not riding.
Salvage Retention
If you have a Total Loss (write-off) claim, with Salvage Retention you will retain the right to salvage your motorcycle. But, that's only if it falls into Category N or S following the claim inspection.
However, if the bike is classed as a category A or B write-off it will no longer be safe for the road. In that instance, regardless of retention cover, the motorcycle will be broken down with parts either (A) salvaged by professional firms or (B) crushed.
It's definitely worth taking out Salvage Retention if you can't bear to be parted with your bike no matter its condition. It also means restoring the bike to its former glory becomes an option in the unfortunate circumstance of a write-off.
Static Display Cover
If you intend on exhibiting your bike at shows, then a Static Display product should strongly be considered. It's a form of public liability product that will protect you from any mishaps with the viewing public at shows. It also protects your asset from damage caused by the viewing public.
Summary of Classic Bike Cover to Consider
These four elements should be high on the needs list for a classic bike policy. However, roadside assistance, keys, excess protection and multi-bike cover (if applicable) should also appear somewhere on that list.
Best Classic Bike Insurance UK Brokers
Several firms offer competitive specialist policies for classic, vintage and future classic machines. Some do it all, while others focus on one or two.
Your bike might be a classic British motorcycle from the 50s, an Italian superbike from the 70s, a UJM, an 80s Bavarian Boxer-twin tourer or a future classic like the Ducati Diavel.
Your bike might be something altogether more obscure. Nonetheless, you should be able to find an insurer willing to protect your pride and joy.
Should the worst happen, and you along with your bike go shiny side down or your machine needs a major repair, the following insurers should be there to pick up the pieces.
So here, in order of online reputation and customer reviews are the seven best classic motorcycle brokers in the UK.
They vary from well-known, generalist motorcycle insurance brokers (offering classic policies) to classic motorbike specialists. (All the companies listed offer Comprehensive, Third-Party, Fire & Theft and Third-Party Only cover.)
Without further ado here's an overview of each broker.
1. Hagerty
First up is Hagerty, a US-owned specialist automotive insurer. Alongside its collectable classic motorcycle insurance product, it also covers classic cars, motorsports, high-value collections, global transit and car/bike clubs.
The company prides itself on the flexibility of its cover. As such, policyholders have the freedom to use their bikes for typical weekend runs and attend club events or shows.
Comprehensive, third-party liability and damage, fire and theft cover is offered and can include Breakdown & Recovery, 90-day European touring cover and multi-bike discount.
Type of Bikes Covered: Collectible classic British, Italian, Japanese and American motorbikes
Minimum Motorcycle Age: Pre-1990 Classic Motorcycles
Agreed Value Policies? Yes
Customer Service Rating: A near-perfect score of 4.9 out of 5 [Trustpilot]
2. Footman James
Next up is another vintage and classic vehicle specialist. Set up in 1983 specifically to provide indemnity for niche vehicle markets, Footman James has been offering classic motorcycle owners various schemes for over 35 years. Owners of motorbikes that are older than 15 years are welcome.
As owners of classic motorcycles themselves, the firm says it has close links with classic motorcycle enthusiasts. As such it's created special rates for classic bike club members such as the VJMC (Vintage Japanese Motorcycle Club). There's an extensive list of clubs that benefit from the special rates. That means if you belong to one it's likely to be on the list.
The standard policy comes with a helmet and leathers cover up to the value of £750 and 35-day European cover. However, it's within its FJ+ policies that you find wider coverage. Options there include Laid Up, Agreed Value, Ride to Work, RAC Rescue and 90 days of European cover amongst others.
Type of Bikes Covered: Vintage/Classic motorbikes valued at less than £150,000
Minimum Motorcycle Age: 15 years old
Agreed Value Policies? Yes – An independent valuation and photographs may be requested before the cover is granted.
Customer Service Rating: 4.8 out of 5 [Feefoo]
3. Bemoto
Peterborough-based Bemoto is a relative newcomer. Nevertheless, since 2015 it's steadily built a strong reputation for a fairer and more transparent approach to bike cover. Zero fees to make amendments are a prime example of this.
It claims to be a lean operation run by bikers all of whom formerly had roles at bigger brokers/insurers.
Working with major underwriters and a panel of insurers the firm offers five products that comprehensively shield the full gambit of a classic motorbike owner's needs: Vintage Motorcycle, Modern Classic Bike and Future Classic, SORN and VIN/Chasis Number insurance.
The latter two options protect laid-up or unregistered restorations and pre-registration bikes, respectively.
Within those products, BeMoto also offers a low excess, low mileage discounts, a free Agreed Value service and free legal expenses. That makes its offering one of the most comprehensive of all the companies on this list.
Type of Bikes Covered: Classic, Vintage and Modern-Classic motorbikes
Minimum Motorcycle Age: circa 20 years for Classic, 40-year-old MOT-exempt bikes for Vintage – Modern Classics (case-by-case)
Agreed Value Policies? Yes included free
Customer Service Rating: 4.7 out 5 [FeeFo]
4. Devitt
Devitt is one of the oldest brokers on this list. It's been operating since 1936. So unless it's a rare antique motorcycle you're seeking to insure, the chances are Devitt will have previously insured your particular model while it was still considered modern (if that counts for anything).
Devitt has a good reputation among classic, vintage and custom riders. It's ingratiated itself with the community through the endorsement of various events found in the custom and classic motorbike calendar.
It offers protection for classic and modern classic motorbikes, to which Agreed Value can be added. There are also additional discounts for specific security systems associated with the bike, secure parking and advanced training.
At the time of writing, Devitt is offering a 10% SportsBikeShop discount for classic bike policies.
Type of Bikes Covered: Classic and Modern-Classic motorbikes
Minimum Motorcycle Age: 15 years depending on the insurer/underwriter
Agreed Value Policies? Yes – optional
Customer Service Rating: 4.4 out of 5 [Trustpilot]
5. Carole Nash
Carole Nash is one of the most recognisable and largest brokers on this list. Its attendance and patronage of Motorsports and Moto events are in part responsible for its visibility. Moreover, it's been insuring bikes since 1985.
The firm has an expansive range of products covering two wheels and more. So it shouldn't be a surprise to find it offers protection for older bikes.
There are three main products and each comes with several benefits: 1. Classic Motorbike (20 and 30 years old) 2. Vintage Motorcycle (for bikes over 30 years) and 3. Future Classic Bike (for bikes between 10 and 20 years). Additionally, it offers laid-up policies.
Carole Nash's policies include a host of benefits as standard, notably, Agreed Value, Salvage Retention Rights and Static Display cover. The latter is recommended if you plan to exhibit your bike at shows.
Carole Nash also gives special discounts to riders who are members of owners' clubs.
Type of Bikes Covered? Vintage, Classic and Future Classic Motorbikes
Minimum Motorcycle Age? Between 10 and 20 years for future classics, 20 – 30 years old for classic bikes and >30 for vintage bikes
Agreed Value Policies? Yes, included free
Customer Service Rating? 4.3 [Trustpilot]
6. Bikesure
Bikesure is another specialist that considers itself as doing things differently. It suggests that it's able to offer protection plans where others cannot.
Bikesure says it's able to offer specifically tailored schemes, through its panel of specialist insurers. Those schemes can then be compared before you accept. Additionally, it offers the opportunity to speak with its underwriters to fine-tune your quote, before taking up a policy.
Free breakdown, legal expenses and 90-day European Green Card products are offered as standard. There is also great depth in the supplementary options offered with its policies, including Salvage Retention, Zero excess, Agreed Value and consideration for modified classics amongst others.
The latter should bring peace of mind if you've transformed your bike into a café racer, bobber, scrambler or otherwise. Equally, those who've had to repair bikes using non-OEM components may find that appealing too.
Much like some of the other providers on this list, Bikesure also offers discounts for club membership, limited mileage, specific security precautions and prior experience riding classic bikes.
Type of Bikes Covered: Vintage/Classic motorbikes and Modern-Classics
Minimum Motorcycle Age: 30 years however 1990 and 2000s models considered
Agreed Value Policies? Yes, optional
Customer Service Rating: 4.3 [Trustpilot]
7. Bennetts
Lastly, is another specialist motorbike broker established in 1930. Bennetts is a familiar name that also endorses various motorcycle related-events – not least of which is the Bennetts British Superbike Championship (BSB).

The standout feature of Bennetts' policies is that no admin fees are charged for making modifications to your bike. There are also 17 categories of modification which do not require disclosure.
Perhaps more notable is that both modern and classic bikes can be insured under the same multi-bike policy.
Ostensibly there are not as many standard nor optional features offered as some companies on this list. However, the most desirable features are Salvage Retention and Agreed Value along with Show and Events products. The latter two are usually offered as optional products.
Customers taking out a policy will also get a membership to the BikeSocial rewards platform which includes several free events, competition entries, special offers as well as discounts to attend BSB races.
Type of Bikes Covered: Classic, Vintage and Modern-Classics
Minimum Motorcycle Age: At least 15 years old for Classic bikes
Agreed Value Policies? Yes, optional
Customer Service Rating: 4.0 [Trustpilot]
Comparison Websites
The influence of comparison sites in online purchasing is undeniable. Their ability to aggregate numerous service providers and products under one metaphorical roof can save you time and money. And they do the same for classic bike policies. Renchist has partnered with three of the best – read on.
When considering classic motorcycle insurance comparison the majority of websites are powered by Vast Visibility. Who? You've probably never heard of the company. However, you'll likely have unknowingly used its service before. That's if you've ever sought quotes from a comparison website.
Vast Visbilty's comparison engine powers the motorcycle sections of the largest comparison sites in the UK. Its front-facing arm, The Bike Insurer compares quotes from a panel of more than 40 firms.
If spending a morning or afternoon completing multiple quote forms fills you with dread then comparison sites are your saviour.
Confused.com will compare up to 37 motorbike providers to give you the best quote based on your circumstances. Confused.com says 51% of riders using its comparison engine typically pay £211 or less for their protection plans (based on data from March 2023). That price accounts for all bike products and all riders so you can expect a quote for your classic policy to be cheaper.
Quotezone.co.uk has a five-star rating on Reviews.io, recommended by 97% of reviewers. It's an independent and unbiased service that prioritises fair comparisons. The site caters to classic motorcycle owners too. Riders can compare cheap specialist quotes from over 25 firms including the biggest names in the segment. Additionally, you can access cashback and rewards.
One thing to bear in mind when you're getting quotes is the cheapest is not necessarily the best. That's obvious advice. Nevertheless, it's easy to hone in on price and miss finer details when you're viewing multiple quotes in succession. So, just make sure you compare like for like, once you've fine-tuned your plan.
Summary of Classic Bike Insurance
When arranging insurance for vintage and classic bikes, there are several extra considerations.
Plans may be cheaper than a standard bike policy. But if you want protection that's fine-tuned to your specific needs, you should expect an increase in the premium.
Equally, you may need to jump through additional hoops by providing extra documentation.
Whether you choose one of the companies listed in this guide or not, hopefully, you found one more of the aspects discussed here useful.
Good luck!
FAQs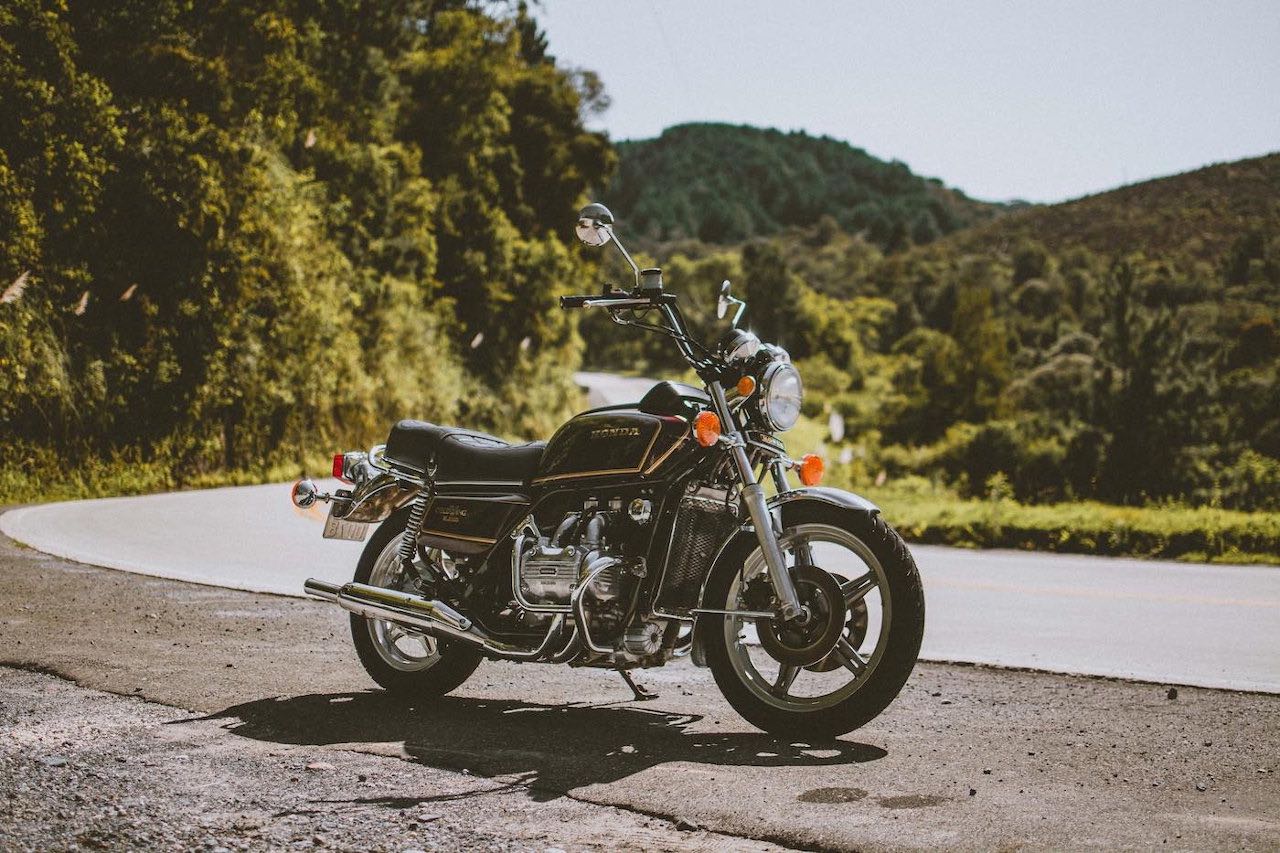 If you're considering purchasing or have purchased your dream bike from yesteryear, protecting your investment may also be on your mind. Here, we've answered a few frequently asked questions about classic motorcycle insurance.
Can classic motorcycles be insured?

Yes, classic motorcycles can indeed be insured. As you will have seen from the list above, several well-established specialist and generalist brokers offer cover for older motorcycles.

There are however many more firms in the marketplace. Yet, you should always stick with FCA-regulated brokers and insurers.

Brokers have many different definitions of what constitutes a classic bike and it's not just based on age. The marque, model and year of production alongside the potential for value appreciation are all considerations.
What is classic motorcycle insurance and how does it differ from standard bike cover?
It's a specialist policy offered to owners of older motorcycles.

It's offered as Comprehensive, Third-Party, Fire & Theft and Third-Party Only cover, with special dispensation for how these motorcycles are used.

Ir differs from standard motorcycle agreements in the sense that a motorcycle has to be over a certain age to qualify for it. Insurers and underwriters have schemes with unique benefits and refined cover specifically for vintage, classic and future-classic bikes.

Laid-up, Agreed Value, Salvage Retention and Static Display cover are some of the special products developed for machines that meet the criteria.
How old does a bike have to be for classic motorcycle insurance?

Insurers use different age criteria to define which motorcycles qualify for classic bike cover. Each has its own minimum bike age requirement, ranging from 15 to 30.

Most brokers require that your motorcycle be at least 15 years old. While other brokers will only consider motorcycles older than 20 years. However, that figure can sometimes be as high as 30 or 40 years. It's at that point where most insurers classify bikes as vintage.

The age a motorbike has to be to qualify for classic motorbike cover varies for each provider.
Is classic motorcycle insurance cheaper?
Typically specialist policies for older motorcycles are more affordable than conventional cover offered for modern bikes.

Underwriters take into favourable consideration the unique manner in which owners use their vintage/classic machines.

These motorcycles tend to be ridden less often. Furthermore, they're ridden by careful owners, usually in better weather conditions.

Moreover, insurers perceive classic bike owners as more conscientious about the maintenance and security of their motorcycles because of their intrinsic monetary and sentimental value.

This careful ownership results in low annual premiums for policyholders. However, if you choose to enhance your policy with additional features or customise it for a more comprehensive fit, the cost may increase, potentially aligning with the rates of regular motorcycle policies.

What is Future Classic insurance?

This type of cover is available for motorcycles that are not yet old enough to be considered classic or vintage. It's usually available for bikes which experts widely view will eventually increase in value or become collectable. (Usually intrinsically linked.)

Within all decades since the inception of the motorcycle, there have been specific models that have captured riders' imaginations more than others. They're not necessarily the most expensive bikes, nor even the fastest. But for one reason or another (usually design, sheer power and scarcity) they develop iconic status.

If you own such a bike then this type of agreement might be more suitable than standard cover. It's similar to a classic bike policy and may come with similar expectations of use.
Which factors influence classic motorcycle insurance costs?

Generally, the same factors that influence standard motorcycle cover costs affect policies offered to owners of older machines The level of coverage required, combined with your details dictates the premium.

These are the main factors (amongst others) that influence the cost of your premium:
• Type and model of your bike
• Age
• How the Bike is Used
• Voluntary Excess
• Years of Riding Experience,
• Occupation
• Location (Where the Bike is Stored)
• Annual Mileage
• Driving Licence Points and Convictions
• Number of Years of No Claims Bonus

Insurers nevertheless tend to view riders of vintage/classic bikes more favourably. Riders of such machines are thought of as careful owners, who ride in good weather.

Adding special cover, such as Agreed Value, Salvage Retention and Static Display cover will likely influence the cost.
What do you need for classic motorcycle insurance?
• Details of your bike
• Your anticipated annual mileage
• Details of any motoring convictions or accidents
• Your address details for the last 5 years
• Details of any claims in the last 3 to 5 years
• Your occupation
• Your current No Claims Discount
• Owners Club Membership details (if applicable)
• Independent valuation documents for Agreed Value Cover
Editor's Note
The information provided in this article is intended for editorial purposes only and not intended as a recommendation or financial advice.