Based in the United Kingdom, Renchlist is a moto-culture website for new-wave custom, neo-retro, vintage and classic motorcycle aficionados.
I'm Nate, the founder and editor of Renchlist. I write most of the articles on Renchlist. Although, I also collaborate with several contributors who share my affection for custom, classic and retro motorcycles, as well as riding gear inspired by the past.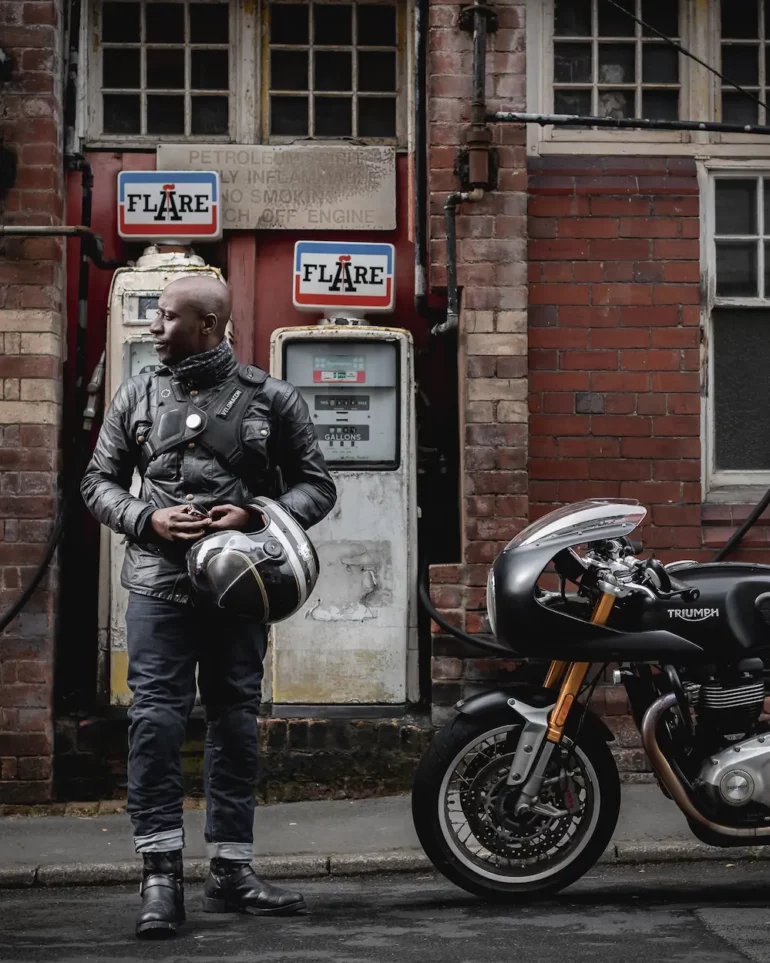 I tend to write about new retro motorcycles, custom bikes and new urban/vintage-inspired riding gear alongside moto culture. My mission is to inspire and inform new and seasoned riders.
My dream garage would be a glass-fronted, clinically-clean workshop with a rotating central floor. It would be full of modern-classic and neo-retro motorcycles, plus iconic classic sportbikes from the '70s like the MV Agusta 750S or Ducati 750 Super Sport. Interspersed among them would be custom bikes created by my favourite builders.
In the real world, however, my stock 2018, Triumph Thruxton 1200 R (with the racer kit) is my only bike. It's got over 30,000 miles on the clock with ~3,000 miles accrued on a European tour that included a stop at Wheels & Waves in Biarritz.
I'm a lifelong motorcycle enthusiast but only started riding motorbikes in 2015, after years following The Bike Shed, BikeExif, Return of The Café Racers, Silodrome, Pipeburn and Iron & Air.
It's probably not a stretch to imagine that motorcycles like the Thruxton 1200 R and other factory cafe racers or retro bikes might not exist if those outlets hadn't shone a light on new-wave custom bike builders.
Similarly, I may never have swung a leg over a motorcycle were it not for those pivotal platforms.
Those marvellous websites also inspired me to launch Renchlist in 2017 (originally known as CustomBike.cc). It started as a repository of custom bike builders but quickly evolved. So, in 2019 I rebranded it to Renchlist expanding its scope to include a broader range of content.
Renchlist is still a work in progress. Nonetheless, I'm dedicated to bringing you refined and engaging content in greater volume soon.
Join the email list or follow Renchlist on social media to stay up-to-date: Facebook, Instagram or Pinterest
I'm always delighted to connect with fellow riders, so please don't hesitate to contact me directly or connect with me on Instagram
Thanks for stopping by; keeping on rollin', shiny side up!
Nate
---
Renchlist Content
At Renchlist, the focus is on the custom, classic and retro riders. The aim is to be a comprehensive alternative resource for moto enthusiasts, offering valuable information and inspiration.
Renchlist collaborates with talented content producers to deliver original and compelling content. Our articles cover moto-culture topics, including profiles of custom bike builders, new motorcycles, vintage-inspired riding gear, apparel and accessories. You'll also find curation, information and reviews of moto-related products, services and events.
Renchlist is here to fuel your passion.
---
Renchlist Workshop Repository
If you're looking to commission a custom bike build or just fancy browsing through stunning photography of the most beautiful-looking custom bikes, then check out Renchist's growing Custom Workshop Repository.
---
Readers
If you have any questions or suggestions about anything you've seen on the site feel free to get in touch.
---
Feature Your Workshop/Custom
If you run a workshop and would like to have your workshop featured in the repository, then please use this form.
---
Businesses
We love to hear about new builds, gear and accessories – all things related to motorcycles – particularly for custom, classic and retro riders. Equally, if you have any other business enquiry, feel free to send a message.