To celebrate the fifty-year anniversary of the first V7 model, Moto Guzzi (Europe's oldest motorcycle manufacturer) has introduced a new line-up, of its ever-popular motorcycle. If the stance or the profile of the new V7 looks different that's because the chassis has been revamped, with a shorter wheelbase and a marginally lower seat, now at 770mm.
Moto Guzzi V7 MKIII
Front-to-rear weight distribution remains the same despite a more robust front end. Steering geometry has also been tweaked to give a more responsive ride and greater stability.
The small-block engine block has not been neglected and now outputs 38 kW (52 HP) at 6200 rpm (approximately 10% increase over the MKII). The new V7 will be released in four different iterations.
V7 Anniversario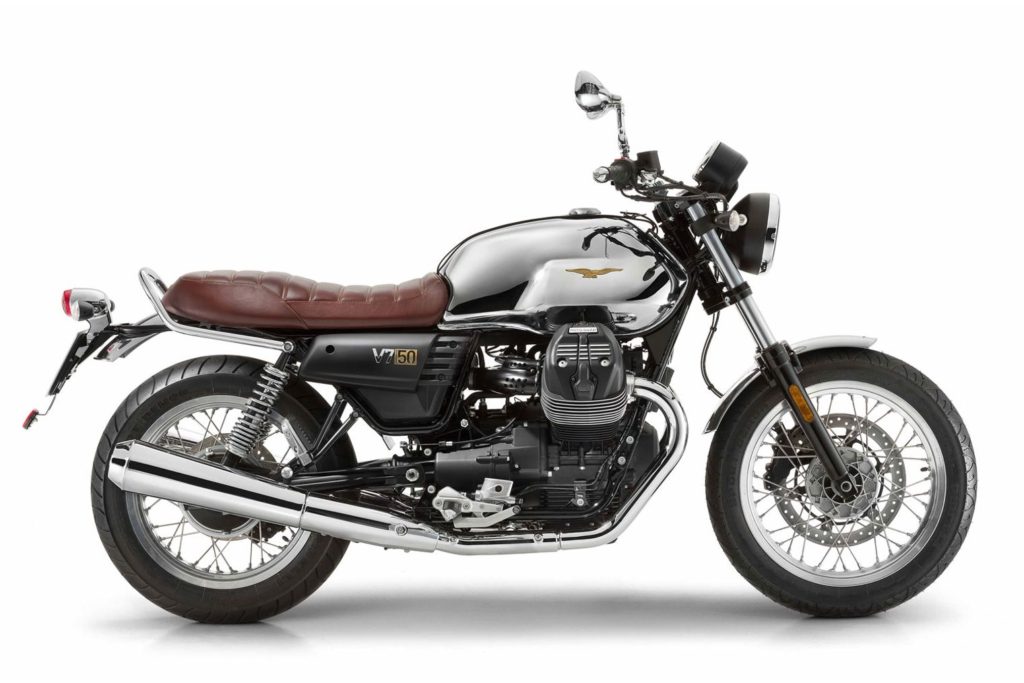 First up is the, V7 III ANNIVERSARIO, which is a limited edition with a production run of 750 units. With its chrome tank, pipes and mirrors, the 'Anniversario' edition will look pretty spectacular on most days in Italy, though if you live in a more temperate climate, such as the UK, you're probably thinking "hmm rain, watermarks and lots of polishing".
V7 III Stone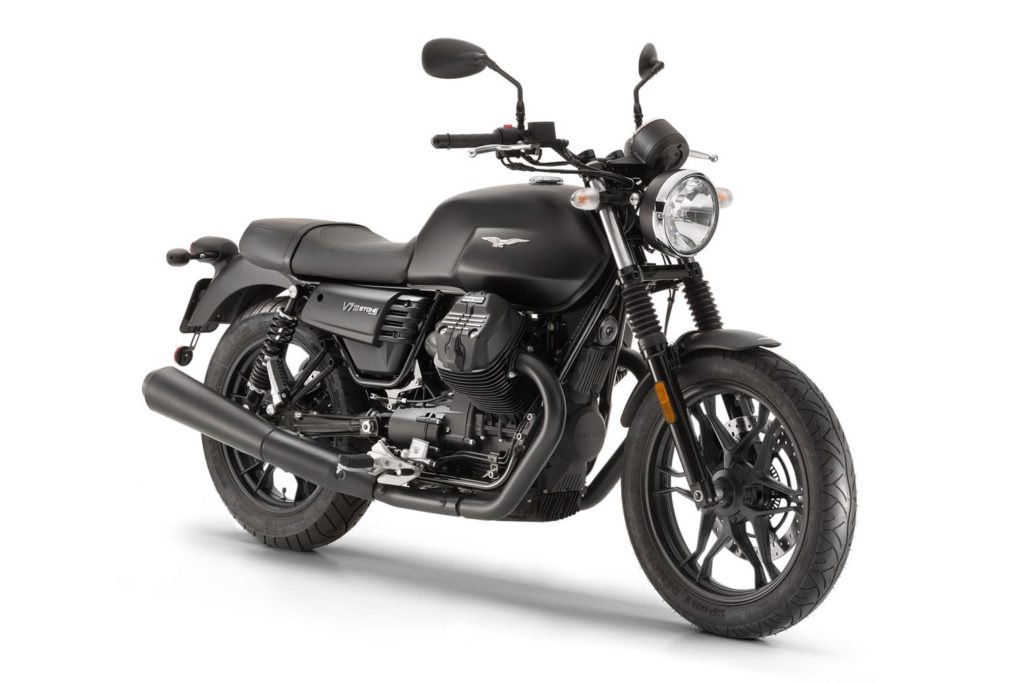 The V7 III STONE returns as the entry model of the line-up, with light-alloy wheels and a blacked-out custom-like finish, it should appeal to riders who have a slew of modifications in mind.
V7 III Special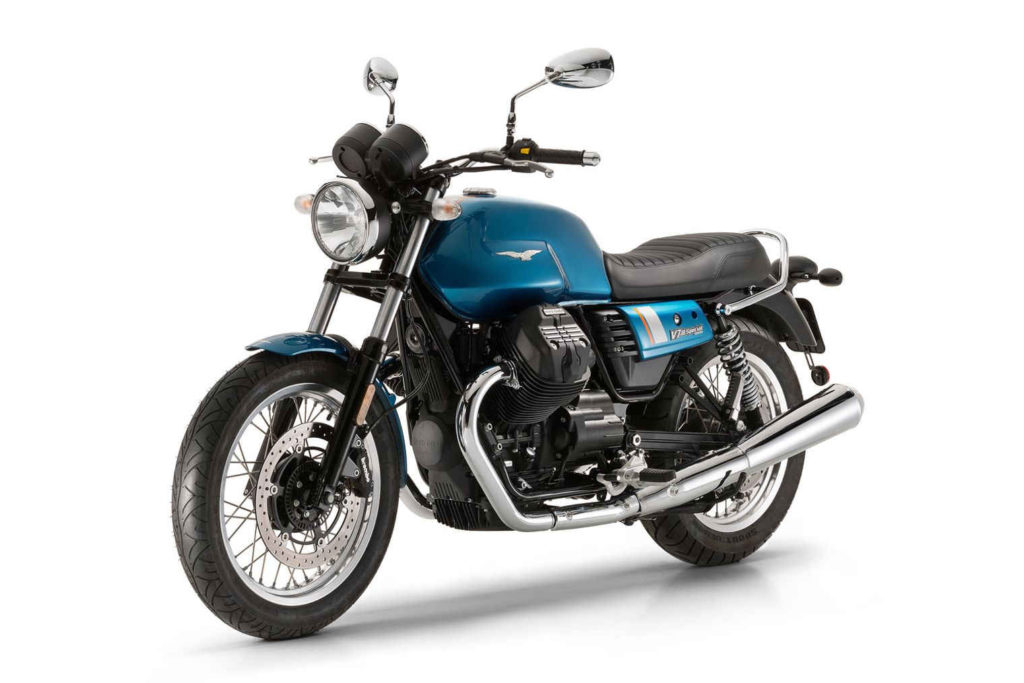 The V7 III SPECIAL offers spoked wheels and a chrome finish. It should capture the imagination of riders who want the classic look.
V7 Racer – The Café Racer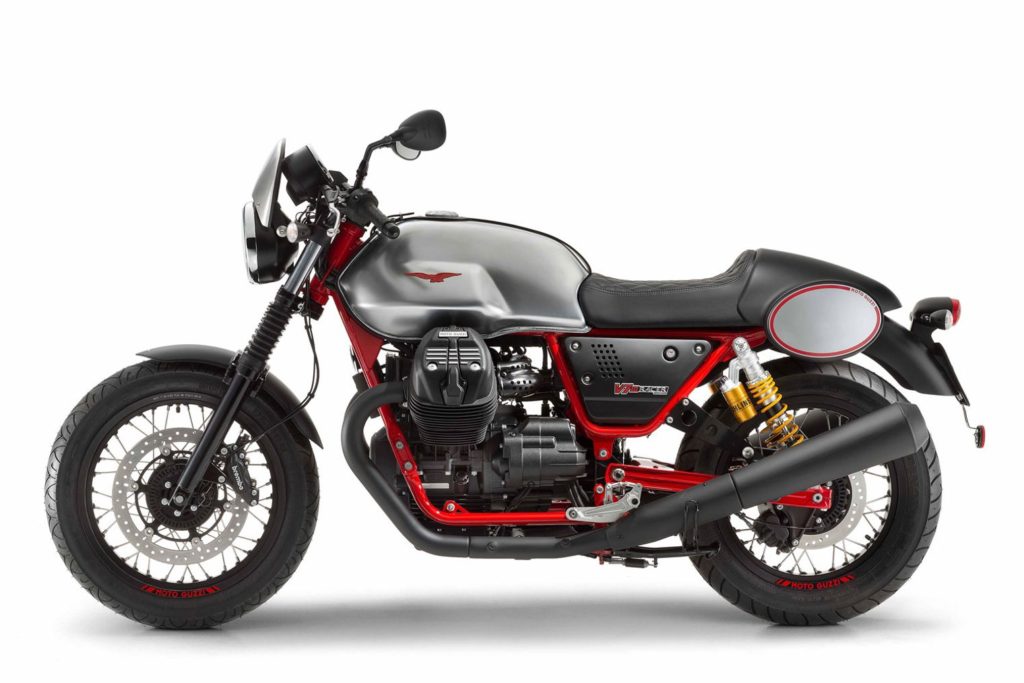 Lastly but by no means least is the more aggressive-looking V7 III RACER. It hints at the marque's racing heritage, with the distinctive red frame, stopping short of full racing colours and instead comes with a polished aluminium tank.
In addition, the fully adjustable Öhlins rear shocks further add to the racer's more aggressive look.
Guzzi has made clear, that the models allow for easy customisation and offer a range of after-sales accessories to customise the bike of your choice, to suit your individual style.