If you prefer retro motorbikes but want to see some semblance of touring or off-road capability, it's likely that you're leaning towards a scrambler motorcycle.
Until recently your options were limited but not so in 2023. The scrambler motorcycle trend shows no signs of abating. And here are 11 of the best scramblers you can buy in 2023. Skip to the list.
Scrambler Motorcycle Yearnings
A few years ago, I took a road trip from my home in Wales UK to Zurich Switzerland, via Biarritz France, for Wheels & Waves. A round-trip of circa 3,000 miles or so.
I did this with woefully inadequate trip planning (which mostly amounted to affixing Malle London luggage) and then defiantly pointing Triumph's factory café racer in the general direction of mainland Europe.
For some of the 3,000 miles (about 2,999 miles), fantasies of an upright scrambler bike or an adventure motorcycle with wide handlebars abounded. (And definitely one with more wind protection than the Triumph Thruxton R.)
Clearly, within the modern adventure motorcycling segment, one finds more suitable touring motorcycles which have all of those things in abundance.
However, there's just one problem — modern adventure bikes have a distinctly utilitarian aesthetic. This means they're unlikely to meet the aesthetic needs of classic and retro riders.
Nonetheless, there should be no concern, as these days most major motorcycle marques have a scrambler model in the lineup.
And for retro riders, scramblers are perfectly suitable stand-ins for touring motorbikes.
Best Scrambler Bikes 2023 Onwards
So with that in mind, you may be wondering 'Which is the best scrambler or retro-style adventure bike?'
Truly the answer to that question lies with the individual rider (obviously). A fantastic performing bike which doesn't meet your quality and aesthetic ideals, or vice versa is probably not the best bike for you.
Modern Classic, Scrambler Motorcycles (Retro Adventure Bikes)
Let's begin with the thoroughbred retro adventure motorbikes or more aptly scramblers. These bikes pay close adherence to classic motorcycle styling. Yet, they come replete with equipment and components found on modern motorcycles.
1. Triumph Scrambler 1200 XC / XE
First up is the Triumph Scrambler 1200 XC and its meaner off-road-focused sibling, the 1200 XE. Launched in October of 2018, the Scrambler 1200 is a natural addition to Triumph's ever-growing 'Modern Classics' range – now numbering ten bikes. All of which have additional derivative sub-models, with varying specifications.
With a distinctive tear-drop tank, high-sided 2-into-2 exhaust and brushed aluminium components, the Scrambler 1200 radiates retro style. In fact, it's probably the bike that immediately springs to mind if the term scrambler or retro enduro/adventure motorcycle happens to be mentioned in conversation. The emphasis is on retro.
Triumph's Scrambler 1200 channels McQueen cool. Specifically, the cool of the 'Great Escape' film. And that's no accident. The marque's marketing has successfully invoked heritage as its sales hook. In turn, to firmly tether the bike to the Triumph TR6. That same model was used for the Bud Ekins jump in the film.
To ramp up marketing to 6th gear, the road racer and now broadcaster Guy Martin (with Triumph's assistance) recently used a modified Scrambler 1200 to re-create that most famous movie stunt.
On the Scrambler 1200, you'll find a detuned version of the same twin 1200cc engine used on Triumph's Thruxton. Or maybe, a tuned version of the Bonneville T120 – depending on whether you're a glass-half-full or half-empty rider.
The bike comes in two variations: the XC and XE. The XC is a street scrambler with off-road capability. The XE is the pure off-roader.
Both have a thoroughly modern TFT display to house instruments. Surprisingly, the TFT screen blends incredibly well into the retro styling. And just in case you want to film yourself taking a spill in the sand, Triumph has graciously integrated a GoPro control system. Allegedly, a world first.
You get five rider modes on the XC and an additional mode on the XE ['Off-Road Pro']. The pro-mode allows rider control of ABS and traction control settings for maximum off-road feel.
Triumph Scrambler 1200 XC
Anecdotally, the XC seems to be the most popular of the two models. Likely, this is due to its lower seat height which is 840 mm versus the XE at 870mm. And, more so its road-going prowess over the XE model.
The XC is probably the more sensible option for most riders. That's to say it'll handle the commute to work, a weekend ride, light off-roading and definitely a road trip.
It's available with two tank liveries 'Jet Black/Matt Black' and 'Khaki Green/Brooklands Green'
Triumph Scrambler 1200 XE
The 1200 XE is the taller of the two bikes and offers all the enhancements you wish to see in an off-roader. Most importantly, front and rear suspension with more significant travel. The suspension is provided in the form of Showa 47mm, fully adjustable upside-down forks with 250mm travel. At the rear, the XE's suspension also has an additional 50mm of travel over the XC model.
Seat height might put off less confident riders. However, that's probably a secondary consideration for riders not intending to do much extreme off-roading.
Complaints about this bike are that at 207kg it's too heavy and too torquey for off-roading. Those complaints are confined mainly to… you guessed it, those that haven't ridden it. Besides, Triumph factory rider Ernie Vigil will most certainly disagree with that assessment. He finished 5th in the Ironman class of 2019's Norra Mexican 1000.
The Scrambler 1200 is a looker. It's bound to be a conversation starter when you pop up at a service station, in some distant country somewhere on your travels.
Triumph Scrambler 1200 Cost From: £11,500 (XC) or £12,300 (XE)
Triumph Scrambler 1200 Specifications at a Glance:
High Power, high performance, liquid-cooled 1200cc Bonneville engine with dedicated 'scrambler' tune.
90PS peak power at 7,400rpm
110Nm peak torque at 3,950rpm
Category-leading Brembo twin 320mm floating discs with Monobloc M50 front calipers
2nd generation TFT instruments
Five riding modes (Road, Rain, Sport, Off-Road and Rider-Configurable)
Torque-assist clutch
ABS & switchable traction control
All-LED lighting with DRL headlight
Six riding modes (Road, Rain, Sport, Off-Road, Rider-Configurable and Off-Road Pro) [XE only]
Keyless ignition
Single-button cruise control
2. BMW RnineT URBAN G/S
Believe it or not, the BMW R nineT was launched in 2013. Has it really been that long? With the power to rival modern roadsters, it was a game-changer within retro motorcycle circles.
Finally, in October 2020 the retro boxer received its long-awaited Euro5 update, alongside other bikes within the R9T range.
And, just in time for the 40-year anniversary of the G/S line.
A neo-retro take on enduro bikes of yesteryear (meant for urban or inter-urban terrain) is how you can view the G/S.
With its rugged enduro looks, this motorbike is not easily ruled out.
As is the case with all retro motorcycles, a firm link to the past is required. For successful marketing that is. The Urban G/S (besides its boxer engine), achieves this through its livery. It's a finish that plainly mirrors the blue-blue and red paint scheme of 'BMW Motorsports' of the eighties era.
And of course 'G/S' are letters that you might recognise from the marque's original enduro bike – the 1980 R 80 G/S and its current crop of modern adventure bikes.
Solidifying its classic scrambler enduro/adventure credentials you'll find a large 19‑inch wheel up-front, but cast in a thoroughly modern light alloy or for the standard model. Or, a traditional spoked wheel for the Option 719 and 40-year Anniversary edition.
This flat-twin is capable of 110hp at 7,750 RPM. And it's torquey too – with reported figures of 116Nm at 6,000rpm. No doubt, that power comes with the unmistakable and euphonious sound of an air/oil-cooled, Bavarian boxer twin.
With all BMW motorcycles, the one thing you can be assured of is build quality. Beyond its looks, the Urban G/S' shaft drive combined with the above, may well make this bike more attractive for your long-distance road trip.
R nineT Urban G/S Price From £12,350 / $12,995 / €14,750 – BMW Motorrad
BMW R nineT Urban GS specifications at a glance:
Steel fuel tank, 17 litres
One-piece seat (seat height: 850 mm)
Pillion passenger frame, rear seat and pillion footpegs can also be fitted (see special accessories)
One key system for ignition tank, seat and steering
Side stands with cut-out switch
Brake lever and clutch lever adjustable – multiple settings
On-board literature and tools
BMW Motorrad ABS (switchable)
Footpegs
Stainless steel exhaust system with sound flap
Permanently illuminated lights and hazard warning lights system
Multi-functional display on the tachometer
Power socket
CAN bus with Single Wire System (SWS)
Electronic immobilizer
Diagnostic interface
720-W generator
White indicators and LED rear light
3. Ducati Scrambler Desert Sled
The first iteration of the Ducati Scrambler Desert Sled was released back in 2017 – when modern retro scramblers were that in name only. Or to be kinder you could say, 'street scramblers designed primarily for cafe hopping'. Unlike the majority of the bikes on this
list, it wasn't so much Dakar that was on the minds of Ducati designers when creating the Desert Sled. Rather, it was California. Specifically, the bikes or sleds, that were built and raced by amateur bike builders in the Californian desert in the sixties and seventies.
Regardless, Ducati changed the modern scrambler landscape for all retro motorcycle manufacturers from that point. Deciding that it would no longer pay lip service to the scrambler moniker, it created a true offroader.
With its jacked-up front end, the Desert Sled is distinctive from other bikes in the Ducati Scrambler range which now numbers (a not-so-hard to believe) thirteen. The popularity of the range remains high – by October 2018 (according to Ducati) over 55,000 Scramblers had been sold worldwide. A mere four years after launch.
In 2018 Ducati updated the Desert Sled for the model year 2019. Giving the tank meatier aluminium side panels, a new seat with colour-coordinated stitching and spoked wheels with black rims.
Aside from the aesthetic changes, the Sled has been upgraded with a reinforced frame, adjustable Kayaba suspension and an LED DRL (Daytime Running Light). Additionally, a new Off-Road Riding Mode allows ABS to be disengaged. Speaking of which, all Scramblers now come with 'Bosch Cornering ABS' fitted as standard.
In terms of power, the 803cc engine generates 73 hp (54 kW) at 8250 rpm and churns out 49 lb-ft (67 Nm) at 5750 RPM. So, it's not as powerful as some of the bikes that appear on this list but more than enough to cope with most types of riding likely to be experienced on a moto adventure.
Henry Crew is a testament to that. He rode the earlier version of the Desert Sled around the world, to become the youngest person to complete a solo circumnavigation of the globe on a motorcycle. That hopefully means it should work for your summer tour.
And if the tarmac runs out, then this beauty will have no qualms about taking a more arduous route.
Ducati Desert Sled specifications at a glance:
Bosh Cornering ABS
Riding Mode Off-Road
Exhaust with dual tailpipe and black covers
Reinforced off-road frame
Dedicated aluminium swingarm
Spoked wheels, 19″ at the front and 17″ at the rear, with Pirelli SCORPION™
RALLY STR tyres, 120/70 R 19 M/C 60V M+S TL at the front and 170/60 R 17
New seat with a height of 860 mm
Tapered handlebars with reinforcement strut
Adjustable Kayaba upside-down fork with 200 mm of travel
Adjustable Kayaba rear shock absorber with separate gas cartridge
Steel teardrop fuel tank with interchangeable side panels
4. Moto Guzzi V85 TT & V85 Travel
You don't immediately think of Moto Guzzi when you hear the words Enduro or Adventure. But you probably should. Moto Guzzi revealed the V85 TT Enduro/Adventure concept bike, in 2017 at EICMA and it went down a storm.
Received well by pundits and the riding public, the V85 plugged the adventure gap left by the Stelvio. That particular model was mothballed prior to the introduction of EURO4.
With respect to appearance, it could be argued that the Mandello marque never really stopped making retro motorcycles. Quite possibly that's due to the distinctive transverse V-twin engine configuration. That's remained a consistent design feature for the brand, throughout the decades.
In the creation of the V85, designers at Europe's oldest motorcycle marque (in terms of continuous manufacture) were also inspired by the Paris-Dakar Rally.
Powered by Guzzi's 850cc power plant, in the customary configuration, the V85 TT makes 79bhp at 7750rpm and churns out 59 lb. ft at 5000rpm. Relatively speaking, that's not massive amounts of power but more than enough to get you on your travels.
March 2019 saw the official launch of the V85 TT with Ewan McGregor back in the saddle shortly after, as an official ambassador for the eagle marque.
More recently and once again at EIMCA, Guzzi unveiled the V85 TT Travel which is, in essence, a touring kit containing a host of features to aid lengthy road trips.
Guzzi says, that with the V85 TT Travel you can expect ".. a higher Touring windshield, a pair of very spacious panniers, a set of heated handgrips, a pair of additional LED lights, and the Moto Guzzi MIA multimedia platform that allows a smartphone to be connected to the vehicle, extending the instrument cluster functions"
Like all Guzzi's the V85 TT is shaft driven which of course means, no chain maintenance. And that's a definite plus point, for a long road trip.
In terms of finish, you have three solid colour options Grigio Atacama, Blu Atlante or Rosso Vulcano. Alternatively, opt for a more classic enduro look with the "Evocative Graphics" finish. With that, you'll get the choice of either Giallo Sahara or Rosso Kalahari.
Moto Guzzi V85 TT specifications at a glance:
853 cc transversal 90° V‐twin engine
Maximum power 80 CV (59 kW) ‐ 7.750 rpm (Also available at 35 kW, A2 driver license)
Maximum torque 80 Nm ‐ 5.000 rpm
Meets European Directive Euro 4
Fuel tank 23 l (5-litre reserve).
Seat height. 830 mm.
Dry weight 208 kg.
Wet weight 229 kg (Weight with motorcycle ready for use with all operating fluids and with 90% fuel).
Front suspension Upside‐down hydraulic telescopic fork Ø 41 mm, with adjustable extension and spring preload.
Rear suspension Swingarm Twin‐sided with lateral mono-shock absorber, adjustable extension and spring preload.
Front wheel Spoked with tube, 19″ 110/80.
Rear wheel Spoked with tube, 17″ 150/70.
Front brake Double stainless steel floating disk Ø 320 mm, radial Brembo calipers with
4 opposed pistons.
Rear brake Stainless steel disk Ø 260 mm, floating 2 pistons caliper.
Features Display TFT, full LED lights, Ride by Wire, 3 Riding Mode (Street, Rain, Off‐
road), Cruise Control, Handguard, Aluminium sump guard, MGCT Moto
Guzzi Controllo di Trazione, Standard double channel ABS.
5. Royal Enfield Himalayan EFI
Conceived by CEO, Siddhartha Lal and launched in 2016 the Royal Enfield Himalayan was slightly ahead of the curve in retro adventure terms. While its direct competitors were still producing just street scramblers the designers and engineers at RE sought to create a bike that could tackle broken roads.
In fact, the goal was to create an affordable Adventure Tourer / dual-sport motorcycle that could even circumvent dilapidated roads entirely, if need be and ride across harsher terrain. It seems that Royal Enfield succeeded. More importantly, it's produced a bike which is held in high affection.
The single-cylinder 411cc four-stroke, OHC engine makes just 24.5-hp and offers 23 ft-lb of torque which seemingly makes it underpowered. Nevertheless, if you want to know how that works in the real world and not just on paper look no further than Fuel Motorcycles.
The Barcelona-based workshop wasn't put off by the low power figures of the Royal Enfield Himalayan. And, in 2019 the team took a lightly modified 2018 Himalayan EFI on their SCRAM AFRICA rally.
Ultimately, Fuel rode the bike 3000 km on tracks through the Atlas Mountains and across the Moroccan desert without issue.
In typical Royal Enfield fashion, the Himalayan is currently available in three eccentrically named colour schemes. Sleet, Snow and Granite. That's white, grey/white and black respectively.
At EICMA 2019 Royal Enfield announced new accessories including panniers and handlebar guards which will be made available for the Himalayan in 2020.
The marque will also add three equally eccentrically named dual-tone colour schemes: Rock Red, Lake Blue, and Gravel Grey. So, if those colours sound more appealing a small delay in handing over your deposit is required.
Likely, one of the most appealing aspects of the Himalayan other than its solid classic scrambler, enduro looks, is the price tag. You'll be able to get going on your adventure at a price that seems positively retro in comparison to other bikes on this list.
Royal Enfield Himalayan EFI Price from £4,199 – Royal Enfield
Royal Enfield Himalayan EFI Specifications at a glance:
Single Cylinder, 4 Stroke, SOHC
Air Cooled, 411 cc, 24.5 bhp @ 6500 rpm
32 Nm @ 4000 – 4500 rpm, CO2 emissions – 74.3 g/km
Half-duplex split cradle frame
Front suspension: telescopic, 41 mm Forks, 200 mm travel Rear suspension: monoshock with linkage, 180 mm travel
Front tyre: 90/90-21"
Rear tyre: 120/90-17"
Front brake: 300 mm disc
Rear brake: 240 mm disc ABS: Dual channel
2190 mm x 840 mm x 1360 mm
Fuel capacity: 15 +/- 0.5 Ltr
Kerb weight: 185 Kg
Ground clearance: 220 mm
6. Moto Morini – 6½ Seiemmezzo SCR
In 2016 Moto Morini returned to the world stage at the Milan show with the launch of the Corsaro ZZ and a stunning one-off custom. In 2018, they revealed the Milano, a 1200 v-twin retro roadster, quickly succeeded by the visually captivating Super Scrambler. With the 2022 launch of the Seiemmezzo range—including the SCR scrambler—the marque continues its artful blend of tradition and modernity.
Moto Morini's tale might not be as familiar to some as other Italian names but is equally compelling. Filled with iconic motorcycles, Grand Prix wins, shifts in ownership, insolvency, and an eventual revival, the company embodies the challenges and victories typical of many of Europe's leading motorcycle marques.
Moto Morini was established in Bologna and is now headquartered in Milan – the marque that gave us the 3½ v-twin secured its future in 2018 when acquired by Chinese firm Zhongneng from Italian owner Eagle Bikes. Importantly, the motorcycles continue to be manufactured in Italy, primarily using Italian components, preserving the brand's authentic Italian essence.
As for the Seiemmezzo SCR scrambler featured here, it melds seamlessly into this storied backdrop. Aimed at riders who savour the blend of modern functionality with retro aesthetics, the bike is versatile enough for both daily commuting and spirited weekend jaunts.
When it comes to ride and handling, the Seiemmezzo SCR's robust steel trellis frame and aluminium swingarm offer an assured ride. Front suspension comes in the form of an upside-down Kayaba 43 mm with 120 mm wheel travel, adjustable for spring preload and damping setting in rebound and compression. The rear suspension boasts a Kayaba monoshock, also adjustable and with 120 mm wheel travel.
Riding on 18" front and 17" rear tubeless spoked rims, clad in Pirelli MT60RS tyres, the SCR provides both form and function in one package. Tyre pressure is continuously monitored by sensors, making sure you get optimum performance. The bike's stopping power is courtesy of a Brembo braking system, complete with dual 298 mm front discs and a single 255 mm rear disc, bolstered by Bosch ABS 9.1 Mb for extra safety.
The SCR's 16-litre fuel tank ensures a generous range between fuel stops. On the tech front, it comes kitted with a 5-inch TFT screen offering Bluetooth connectivity, while full LED headlights and backlit handlebar controls bolster its practical appeal.
From an aesthetic standpoint, the SCR distinguishes itself with a high-set fender, heritage saddle in a leather hue and gold-hued fork. Its visual lexicon pays homage to the past but is tethered firmly to the present.
Available in Night Black, Blue Storm, and Navy Green, and with an ergonomic saddle height of 810 mm, the SCR is a strong contender in the middleweight scrambler segment. It offers a balanced and pleasurable riding experience and should appeal to new and seasoned riders.
Moto Morini Seiemmezzo SCR Price From £6,990 / $7,799 / €6.990 – Moto Morini
Moto Morini Super Scrambler specifications at a glance:
Inline-Two-Cylinder, 4 stroke
649 cc
54Nm/5,5 kgm @7000rpm
54Nm/5,5 kgm @ 7,000rpm
44,5kW/61hp @ 8,250rpm
441 lbs / 200 kg
810 mm Seat Height
Scrambler, Adventure/Enduro: Neo-Retro
If you prefer your modern classic motorcycles with a firmer focus on the future and a weaker grip on the past, the following selections should be right up your street. Not exactly scramblers, the following machines could be classed as neo-retro-adventure bikes.
Launched in 2021 for MY2022 the Ducati DesertX is a Dakarian-inspired minimalist machine that uses elements of classic rally styling.
Ducati designers have deftly combined that with a futuristic design to form a neo-retro shape.
In its Matt Star White Silk colour scheme, comparisons have been made with the Cagiva Elefant 900 produced between 1993 and 1999.
For 2023 the bike received an additional livery – the R22, inspired by the Audi RS Q e-tron Dakar 2021 team.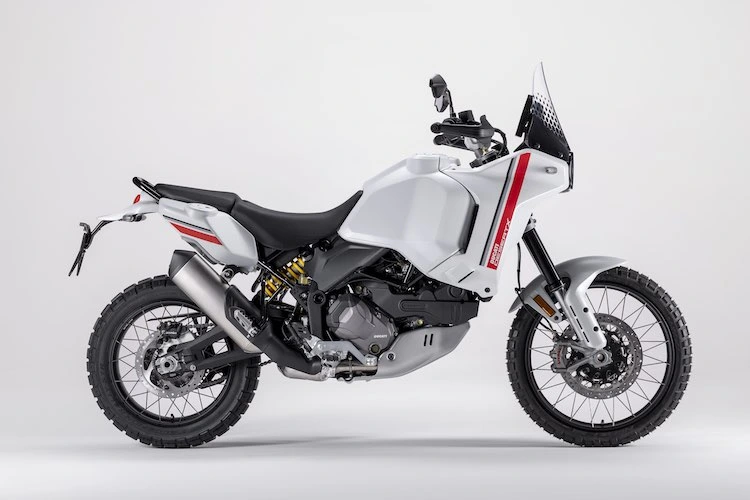 Aside, from all that, this is an off-road-first motorcycle built to tackle extreme desert terrain and other tough environments. You can tell that by its 21-inch front and 18-inch rear wheels, heeled with Pirelli Scorpion Rally STR. Fully adjustable Kayba suspension and a sturdy off-road frame with a generous ground clearance of 250mm also emphasise its purpose.
It should more than adequately meet the needs of most neo-adventure riders as well as desert racers.
Initially, when the Ducati DesertX was included on this list it was an indulgently hopeful punt. In Feb 2020 Ducati had not made any overtures about putting the concept into production.
However, there was a strong reception from its 2019 EICMA reveal and eager feedback in the ensuing months. Ducati soon set to work on building a production model and there wasn't long to wait. In December 2021 Ducati unveiled the DesertX MY2022.
Originally it was thought that the new bike would be built around the existing Scrambler platform using the 1079cc L-twin engine that powers the Scrambler 1100 range. However, Ducati opted for the water-cooled twin-cylinder, 937cc Desmodromic 11° Testastretta engine, found also in the more conformist adventure bike, the Multistrada.
It means riders can expect 110 horsepower and 92 Nm of torque from the reliable engine, with long intervals between maintenance. That's an oil change every 15,000 km and valve clearance checks every 30,000 km, which makes it an excellent tourer.
While Ducati may have been inspired by the history of the Darkar Rallye to create the DesertX, it's way more tech-packed into it than you'd expect from most bikes.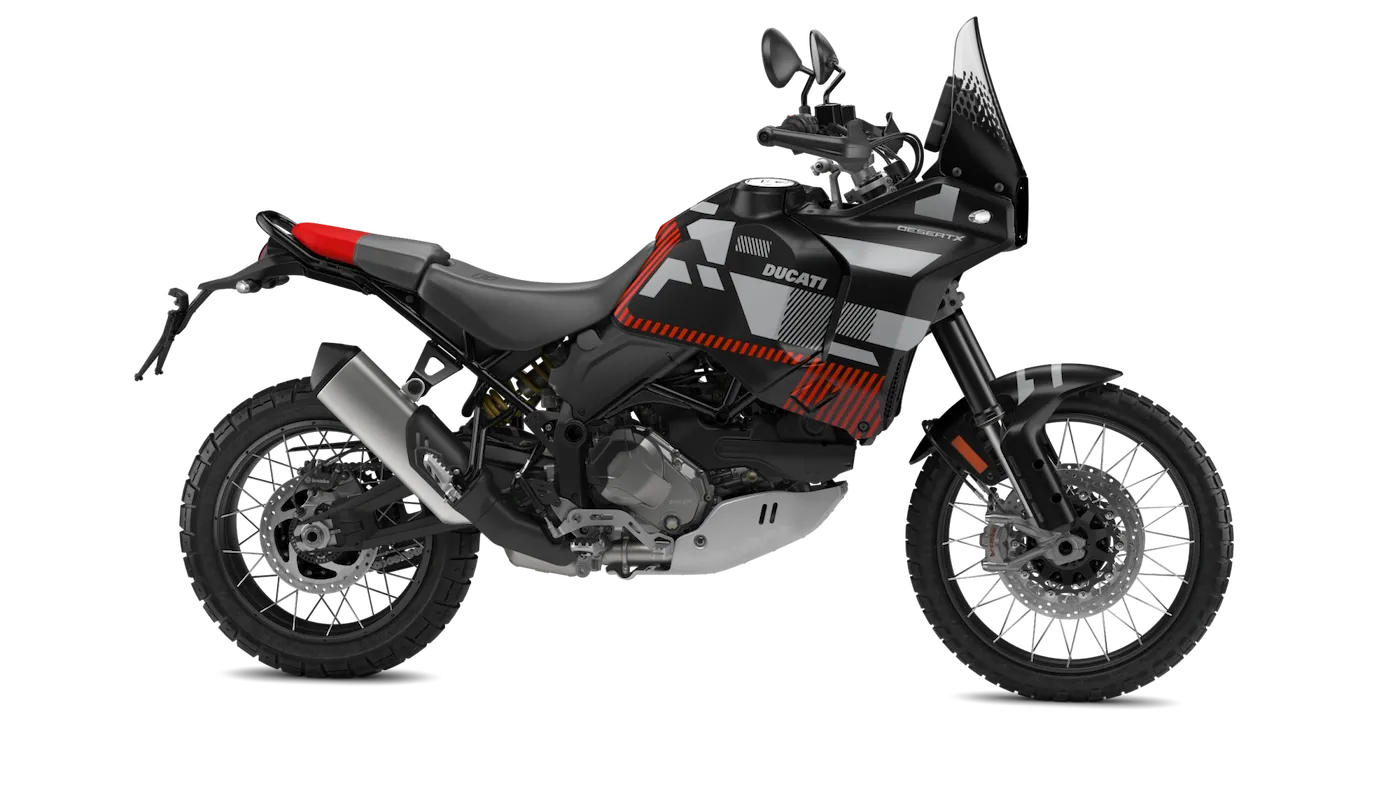 The bike's electronics include six riding modes with two dedicated off-road settings. Traction control, wheelie control, engine brake control, cornering ABS, quickshifter up & down and cruise control are also featured. All this tech combined should make long journeys safer and less fatiguing.
Unsurprisingly, the DesertX also has a full LED lighting system. Additionally, it benefits from a high-resolution 5″ colour TFT display, which is positioned to offer you visibility even when standing.
The DesertX is perfect for retro riders who want it all – looks and capability. Like the Africa Twin, it might be overkill for most riders but why should that stop you?
Ducati Scrambler DesertX Price from £14,795 / $17,095 | Ducati
Ducati Scrambler DesertX specifications at a glance:
937 cc liquid-cooled L-Twin Ducati Testastretta 11° engine
Power: 110 hp (81 kW) @ 9,250 rpm
Torque: 92 Nm (68 lb-ft, 9.4 kgm) @ 6,500 rpm
Dry Wieght: 202 kg (445 lb)
Seat Height: 875 mm (34.4 in) (Available in higher lower sizes)
Front suspension: 46mm USD Kayaba forks
Rear suspension: Kayaba monoshock
Front brake: Twin Brembo M50 calipers, 320mm discs
Rear Brake: Brembo 2-pot caliper, 265mm disc
Front Wheel & Tyre: 21″ tubeless wire wheel with 90/90-21 Pirelli Scorpion Rally STR
Rear Wheel & Tyre: 18″ tubeless wire wheel with 150/70-18 Pirelli Scorpion Rally STR
8. Husqvarna Norden 901
We're all familiar with Husqvarna's off-roading prowess. Maybe even more so its parent company, KTM's domination of the Paris-Dakar and MX in recent years.
And yet, lately one of this manufacturer's missions appears to be to disrupt the street motorcycle market. It's achieved that successfully, with the Svartpilen and Vitplien.
And, on the back of that success, Husqvarna has now introduced us to the Norden 901.
This is the Austro-Swedish marque's radical take on a scrambler, Enduro/Adventure motorcycle. A thoroughbred journey machine with futuristic looks inspired by the past.
The Norden 901 was revealed as a concept at EICMA 2019 and immediately captured the imagination of visitors to the show along with the wider motorcycle community. A mere couple of weeks passed before Husqvarna announced its first-ever tour bike, would definitely go into production.
In terms of specification – what we know so far about this bike is that it's powered by an 889.5cc parallel-twin engine, that looks to have come from the new 2020 KTM 890 Duke R.
Husqvarna has stated that the Norden's engine has been "specifically tuned for adventure usage". It's also rumoured that the frame will be borne from KTM's 790 with a confirmed 21" front wheel and 18" rear. That's really about it.
Images of the Norden 901 concept naturally show upright handlebars and a relatively high front windshield. The latter should do a good job of deflecting turbulence as you thunder on your journey.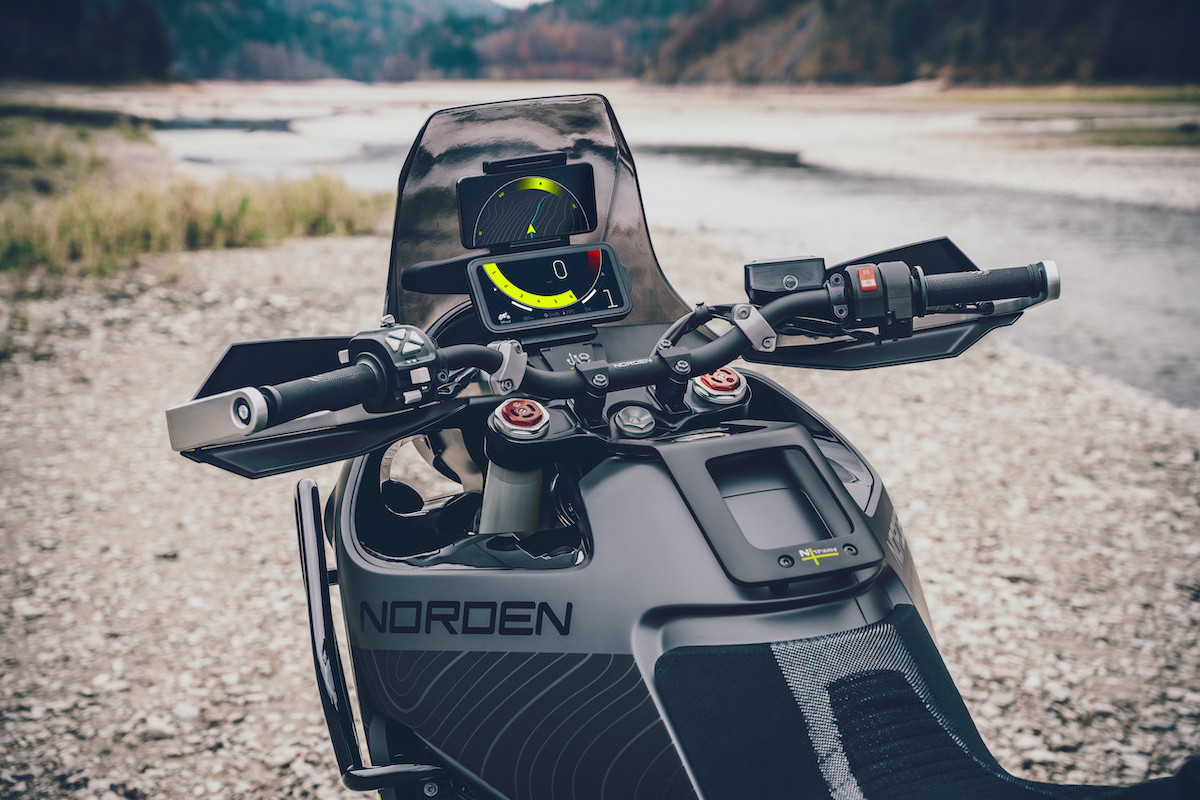 It's a progressive vision of two-wheel adventure, finished in contemporary grey and black, with brushed aluminium accents. Highly appealing.
Equipment-wise WP suspension components are found up at the front. There appears to be ample rack space on the rear. Additionally, on the front of the bike, you'll find crash-bar/pannier rails – just in case you weren't already sure of the purpose of this motorcycle. Suffice it to say, excellent positioning for spare fuel cans, luggage or tools.
The production Norden 901, looks highly similar to the concept bike. That's with the provision that Husky takes the same approach that it did with the Vitpilen and Svartpilen. The production models of those two bikes differ sparsely from their concept counterparts.
Importantly, it should be said, that the above is true, only on the condition that the previous approach is a reliable barometer of the extent to which changes will be made.
The appearance of this modern adventurer alone may persuade you to funnel your cash Husqvarna's way, even without a sniff of a full specification sheet.
Our guess is, you should expect to see the Norden 901 in dealer's showrooms, towards the back end of 2020 if not the beginning of 2021.
Husqvarna Norden 901 Price from £13,599 / $14,499 | Husqvarna
Husqvarna Norden 901 specifications at a glance:
Engine type: Four stroke, parallel twin cylinder, DOHC, 4 valves per cylinder
Displacement: 889 cc
Bore x stroke: 90.7 x 68.8 mm
Compression ratio: 13.5:1
Maximum power: 105 hp (77 kW) at 8,000 rpm
Maximum torque: 100 Nm at 6,500 rpm
Dry Weight: 450 lbs (204kg)
Seat Height: 33.6 in. (854 mm)
Front Tyre size: 90/90 R21
Rear Tyre size: 150/70 R18
9. Honda CRF1100 Africa Twin
The Africa Twin moniker was revived in 2016 through the CRF1000L. It's a moniker synonymous with dual-sport, adventure motorcycles and rally. Without question, Honda's rally pedigree is strong. And, on numerous occasions in the late eighties, bikes with the Africa Twin moniker (namely the NXR750), either won the Paris-Dakar Rally or placed in the top three.
Focusing on the recent past – in 2019 Honda announced the launch of the CRF1100. A major evolution of the 2016 CRF1000. You'll likely have guessed from the model designation, that the CRF1100 has a larger engine capacity than its predecessor.
Displacement is up from 998cc to 1,084cc, though the parallel-twin configuration remains unchanged. What has changed, is an increase in engine power.
Housed in a new frame with an aluminium sub-frame, the new Euro5-compliant 1100cc parallel-twin engine sees an increase in power and torque of 7% and 6% respectively. It now achieves a top power of 75kW and a maximum torque of 105Nm.
The riding experience can be adjusted to suit the road/terrain conditions and the rider. No less than six switchable riding modes are available, Tour, Urban, Gravel and Off-Road. Two for each scenario in which you'll likely use this bike i.e. on and off-road. Additionally, there are two customisable modes which can be pre-set by the rider.
Honda Africa Twin 2020
The CRF1100 Africa Twin, is the standard model in the range, though there's hardly anything standard about it. Nevertheless, it's for riders who want the enduro/adventure looks and some off-road capability. The sort of rider that's more likely to use it for hops to work, meetups and the occasional road trip. So most riders then.
The standard Africa Twin is a capable journey machine, for a journey that doesn't necessarily involve travelling across the harshest of terrain. As such you get less in the way of adventure equipment than with its more hardy sibling, Adventure Sports. Despite this, it's more than enough bike to meet the needs of most trips.
Honda Africa Twin Adventure Sports
Through its tricolour livery, the CRF1100L Africa Twin Adventure Sports is the XRV650 reborn. The bike channels the spirit of the original eighties' Africa Twin. Rothmans' anyone?
The Adventure Sports version of the Africa Twin is an even more robust version of the standard model. If you're crossing deserts and grappling with gravel this is probably the bike for you. If not, it's overkill. However, the livery might just sway you, if you've got an extra grand or so, to spend.
Both Africa Twin versions have DCT versions – (Honda's automated clutch and shift system). Opting for the 'Plus' bolt-on offers a host of adventure-focused upgrades.
Electronic suspension is found on the Adventure Sports model which seems exceptionally trick. Nonetheless, it's incredibly useful for adjusting the bike on the fly to tackle specific terrain.
With its gargantuan 24.5-litre tank, the Africa Twin extends riding time between stops. On top of that, it ultimately offers the ability and the freedom to ride off the beaten path with confidence. This is a bike (especially in its Adventure Sports iteration) for the absolute adventurer.
Admittedly looks-wise, the Africa Twin is more neo than retro, so this bike makes the list for a nostalgic reason, namely the suffix.
Africa Twin Price from £13,049 Africa Twin Adventure Sports Price from £14,649 | Honda Motorcycles
Honda Africa Twin Specifications at a glance:
New Euro5-compliant 1100cc parallel-twin – top power of 75kW and maximum torque of 105Nm
5kg lighter, with 10% improvement in power to weight ratio
All-new 6.5" TFT Multi-Information Display with Apple CarPlay® and Bluetooth connectivity, with touchscreen functionality
Four pre-set riding modes – plus two user-selectable options
HSTC, plus new Cornering ABS, Wheelie Control and Rear Lift Control functions
Cruise Control as standard
CRF1100L Africa Twin itself has an even sharper off-road focus
CRF1100L Adventure Sports – Show EERA™ suspension optional
Dual Clutch Transmission – available on both models
10. Yamaha Ténéré 700
Yamaha's rally pedigree is also undeniably compelling. So, it's no surprise that Yahama Tenéré, echos the lines of many a Paris-Dakar rally bike. The Ténéré 700's silhouette is unashamedly 'rally'.
After the Ducati DesertX, its design is probably the most Dakar-esque of all the motorcycles on this list.
Yamaha's been keen to draw a firm family line between the new Ténéré and one of the most admired motorcycles in its well-storied history, the XT 500. The 2019 XTZ700, is of course not the first bike to bear the Ténéré prefix. The first was the 1983 XT600Z – a motorcycle itself, derived from the iconic 1976 Yamaha XT 500. That's the bike which was ridden by Cyril Neveu to win the inaugural Paris-Dakar rally, in 1979.
To say the new Ténéré was eagerly anticipated is the most enormous of understatements. It took around two years or so (following the T7 concept reveal at EICMA 2016) to get this bike from concept to production.
The order books (at least in the UK) opened in March 2019 and they've been super-healthy. Incidentally, this bike is outselling the BMW GS in Germany! Though more importantly, it seems to have been well-received by those who've ridden it.
While its lineage can be traced to past Dakar-winning motorcycles, the new slim and compact Ténéré is a thoroughly modern two-wheel adventurer.
Since the reveal of the Rally Raid prototype in 2017, Yamaha says it's undertaken, "extreme testing in hostile and severe climatic conditions". As such you can expect that the Ténéré is going to be sturdy enough for most summer tours.
With all the adjustable parts, (mainly suspension) you'd want or need in an enduro, the Ténéré 700 is a credible on and off-roader. In fact, Yamaha bills this bike as a "… go-anywhere motorcycle" and weighing in at a relatively light 204 kg, that's a fair statement.
Its lightness comes from an all-new lightweight double cradle tubular steel frame which combines a low weight with immense strength. That means it's suited to a variety of riding conditions.
The Ténéré's 698cc, parallel-twin [CP2] engine achieves a maximum power of 54.0kW at 9,000 rpm and a maximum torque of 68.0Nm at 6,500 rpm. But its lightness means those relatively low power figures don't matter so much.
The Ténéré is available in three colours: Competition White (which is actually a red/white finish), Ceramic Ice (blue/silver) or Power Black which is simply black.
This bike probably represents the greatest value in terms of price versus features. And, by all accounts, it's a capable and rugged adventure bike, retro-esque or not.
Yamaha Ténéré 700 Specifications at a glance:
689cc 4-stroke CP2 engine, with high torque.
New lightweight, double-cradle, tubular-steel frame.
Slim, compact and ergonomic body and seat.
Aggressive, rally-bred face, with 4-LED headlights.
Adjustable, long-travel, 43mm upside-down forks.
Remotely adjustable rear suspension.
Rally-style cockpit, with tapered handlebars.
21-inch/18-inch spoke wheels, with adventure tyres
Slim, long-range fuel tank, with 16-litre capacity
Compact, rally-style, multi-function instruments.
Switchable ABS, for on-the-fly adjustment.
Screen and handguards give good rider protection
11. Harley-Davidson Pan America
Harley-Davidson, (a brand sometimes accused by some riders of lacking in innovation) has in recent years seemingly sought to correct that perception.
In 2018 the brand embarked on a new global strategy [More Roads to Harley-Davidson], driving innovation and widening its appeal to different types of riders.
The Pan America is just one piece of Harley's bold new direction.
For the first time in Harley's history, it has an adventure tourer which has arguably been deliberately designed to appeal not only to riders in the States but capture European ADV market share.
Clearly, the Pan America is targetting the BMW G/S crowd – who, despite riding very comfortable, capable and reliable machines, probably secretly desire something that's well… not so utilitarian in aesthetic.
The Pan America is powered by Harley's new liquid-cooled 1,250cc Revolution Max engine. That power unit also comes in a 975cc variation that will be used in the upcoming Bronx Streetfighter.
Harley bills this bike as "..our two-wheel multi-tool built to endure, designed to explore, and engineered for full-send". That last part of the statement may not be entirely off the mark with its 145 hp and 90 pound-feet of torque figures.
Aside from the engine details, the only other confirmed specifications/components are brakes. Harley's been working in partnership with Brembo. The latter has created a radial Monoblock four-piston caliper, especially for the Pan America and the Bronx Streetfighter.
Tyres will be provided by Michelin working in conjunction with Harley, to create an extra-durable touring rubber. R&D will no doubt be focused on producing a long-lasting tyre, in consideration of the immense power output of the Pan America.
Expect to see road tests of H-D's ADV in late 2020 and hopefully the real thing at your local Harley-Davidson dealership by early 2021.
Harley-Davidson Pan America Price from £17,095 / $17,699 / €22,095 | Harley-Davidson
Harley-Davidson Pan America Specifications at a glance:
1252 cc Liquid-cooled, DOHC, 60-Degree V-Twin Engine
150 HP at 8,750 RPM
Bore x stroke: 4.13 in. (105 mm) x 2.83 in (72 mm)
94 lbs-ft / ~127 N•m @ 6,750 rpm
Weight: Std – 534 lb. (242 kg), Special – 559 lb. (254 kg)
Seat Height: Std – 31.8 in. (807 mm), Special – 31.1 in. (789 mm)
Buying a Scrambler: Things to Consider
Off-Road Capability
If you intend to use your scrambler for serious off-roading you'll need to consider whether the machine you buy is capable of it.
Superficially, this can be assessed through the manufacturer's stated intent. But the best indicators are the equipment supplied as standard, coupled with the aftermarket parts and accessories available for the bike.
In comparison to original scramblers, the factory machines on this list may appear to be merely styling exercises or street scramblers.
Nonetheless, all are capable of light off-roading and some are capable of serious off-roading.
Here are some of the specific components, gadgetry and features you'll need, plus other considerations if you're heading off-road:
The Ducati Desert Sled and Triumph Scrambler XE are the only bona fide modern-classic off-roaders.
As such, it's towards the neo-retro-adventure bikes that you must look for greater diversity if off-roading is your primary motivation.
High travel, fully adjustable forks & rear suspension
Having hi-performance suspension that can be adjusted for your specific needs is mandatory if you want to head off-road. Negotiating bumpy off-road terrain can be a little tricky without a finessed setup.
Bash Plate / Sump Guard
If the machine you choose isn't equipped with a bash plate as standard, you should seriously consider fitting one. Otherwise, you risk ruining a day of riding, courtesy of a punctured sump tank.
There are usually several options available in the manufacturers' parts catalogues and a host of other aftermarket parts suppliers.
Fuel Tank
The size of the fuel tank may be important if you're planning on long-distance off-roading. Some modern-classic scramblers have small tanks, which may not be sufficient for your needs. Consider a bike with a larger fuel tank. That way, you won't continually need to stop to fill up or worse run dry on a trail in the middle of nowhere.
Engine Guards
Engine guards are an absolute must if you're going off-road. Rocks and other obstacles can easily damage the engine case, leading to costly repairs or even a ruined engine. So, make sure that the bike you're considering has engine guards as standard or that they are available as an accessory.
Bar End Guards
Bar end guards are designed to protect the handlebars and levers in the event of a fall or slide. They're a small thing but they can save you a lot of hassle and expense if you take a spill while off-roading.
High-Mounted Exhausts & Mudguards (Fenders)
High-mounted exhausts and fenders are a common feature of off-road bikes. They provide better clearance over rough terrain and prevent debris from getting caught up in the moving parts of the bike. If you're planning on serious off-roading, make sure the bike you're considering has these features.
Riding Modes
Some modern-classic scramblers have multiple riding modes, which can be useful if you're planning on both on-road and off-road use. Look for bikes with modes that can adjust the throttle response, traction control and other parameters to suit different terrain conditions.
Style
Of course, style is a big factor when choosing a modern-classic scrambler. Scramblers are known for their retro-inspired looks but there are many variations in style.
Some bikes have a more classic look, while others have a more modern, aggressive look. Consider what style appeals to you and what will suit your riding needs.
Engine
Engine performance is another important consideration. Look for a bike with good low-end torque, which will help you navigate challenging off-road terrain.
High torque found low in the rev range will be useful for getting out of sticky situations in the mud and dirt. You may also want to consider the bike's top speed if you plan on motorway cruising.
Electronics
Modern-classic scramblers often come equipped with advanced electronics, such as ABS and traction control. These features can be very useful for both on-road and off-road riding. Consider what electronics are important to you and what is available on the bikes you're considering.
If you're going for a purer off-roading experience free from the shackles of space-age electronics then something like the Royal Enfield Himalayan might be right for you. Otherwise, you should look towards the Africa Twin.
Weight
Weight is a critical factor in off-road riding. A lighter bike will be easier to handle and manoeuvre over rough terrain. Consider the weight of the bike and how it will impact your riding experience, both on and off-road.
If you get stuck, are you strong enough to pull out the weightier scrambler motorcycles on this list?
Summary
So there you have it, a choice of sensible touring scrambler motorcycles, with modern classic or neo-retro looks. Your wanderlust can now be satisfied in true retro enduro style. Send us a postcard when you reach your destination.