Shoei's EX-Zero vintage motocross-inspired helmet harkens back to the brand's 1980's off-road EX series. Not quite a full-face nor an open-face helmet it offers an alternative to the Glamster and J.O. and an excellent option for scrambler riders.
Shoei EX-Zero: Vintage '80s Motocross Looks
The EX-Zero blends old-school motocross looks with high-tech safety features for riding on or off the road, much like the resurrected Bell Moto-3. Using similar tech to Shoei's J.O (open-face jet) this dual-sport lid offers greater coverage and semi-full-face protection for owners of vintage or custom motorcycles.
Shoei EX-Zero Modern Tech in a Retro Package
Constructed with a multi-density EPS liner and a lightweight, multi-ply fibreglass Advanced Integrated Matrix (AIM) shell the EX-Zero comes in three sizes formed by a J.O-derived interior with removable pads for easy washing.
Its drop-down CJ-3 shield (available in three colours) also originates from the J.O. and can be set at three positions. Alongside a secure double D-ring chin strap, the EX-Zero receives an additional Emergency Quick Release System (EQRS) for fast helmet removal, should you go shiny side down.
As you would expect from any self-respecting MX helmet retro or otherwise, the EX-Zero perfectly accommodates universal goggles. It also offers the snap-on V-840 peak visor for off-road riding.
Shoei EX-Zero Colourways
At last count, there were eleven colourways available for EX-Zero catering to the style wishes of most retro riders. Riders who prefer things simple will naturally opt for the minimalist solid colours available in a mix of matt and gloss finishes.
The Equation series of graphic schemes however might capture the attention of full-on dirt-bike retronauts. With their bold wrap-around stripes, they truly embody eighties iconography. The saturated blue, red, and orange gradient hues particularly of the TC-2 are reminiscent of the late '70s and early'80s MX Racing.
Riders wanting to go full retro-premium might lean towards the EX-Zero MM93 Collection Master designed in collaboration with Marc Marquez. Now you know what the MM stands for.
Ex-Zero Verdict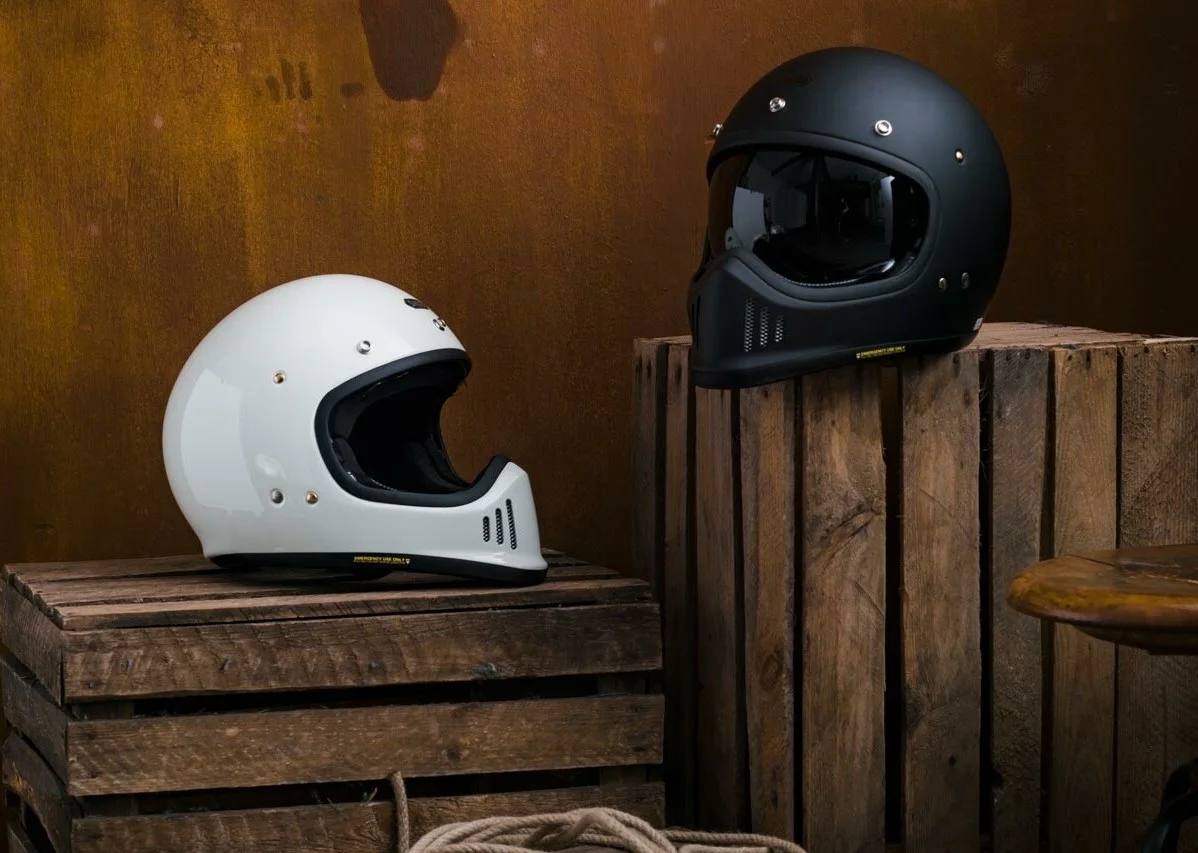 Shoei's got a solid track record of creating high-quality crash helmets. So, the EX-Zero should be appreciated by riders that value vintage style as well as safety.
In short, it's a great helmet option for scrambler or tracker riders willing to invest in premium retro equipment packed with innovation.
Shoei EX-Zero Specs
AIM fibreglass shell in 3 sizes
Multi-density EPS liner
CJ-3 internal drop-down UV shield adjustable in 3 positions
Dual intake vents
Double D-ring chin strap
Removable, washable interior
EQR System
ECE 22.05 certified