Sponsored
Sinnis Motorcycles
125cc café racers – they couldn't be more on-trend. Understated, classic, yet functional. They've flooded the market as motorcycling culture has returned focus to its historical roots.
For the first time, riders limited to 125cc licences in the UK now have an array of choices when it comes to 125cc cafe racers. Easy to handle with a classic sporty stance, these little racers will train you in smooth, controlled riding.
Telling good from bad is easy when it comes to style preference. But there's more to a café racer than looks. Your key priorities when selecting a motorcycle should always include reliability, comfort, and build. If it's a pain to ride, you won't ride it however instagrammable.
In this article, we reveal the best 125cc café racers you can buy.
Your First 125cc Café Racer – New or Old?
The custom scene has turned many motorcycle hobbyists into expert builders. Yet, proceed with caution. Even a 'fresh-out-the-factory' bike can give a newbie a lot to learn.
There's riding technique, roadcraft and safety, machine maintenance, parts, measurements and adjustments with which to contend. And all this takes time.
Buying a rundown classic motorcycle and turning it into something beautiful sounds like the perfect dream. In reality, it could be months, even years before you get the bike running. Which means zero riding time.
If you really want a used bike or don't have the budget to buy a brand-new motorcycle, don't go for a doer-upper. Instead, go for something that works fine for now but could be modified in the future.
And, always take an experienced rider with you to the seller, to check for issues with the engine and drive system.
New bikes are the safe option if you're just getting to grips with biking. With so many brands entering the market, you'll easily find one that fits your build, riding style, and budget.
Here's our list of the top 125cc café racers you can buy in the UK.
1. F.B. MONDIAL HPS 125
F.B. Mondial is an Italian manufacturer with a history of producing Grand Prix-winning racers. Like the experience of most European manufacturers; at some point in the 20th century, financial turbulence led to a hiatus.
In 2015 the marque reemerged with the Mondial HPS 125 and a 250 model. China-built and adapted for the European market, this new line of affordable machines proved popular in Asia and Europe and helped the company to expand into the off-road space.
The Mondial HPS 125 is a modernised café with aggressive styling.
An offset, circular LCD speedo upfront is a sharp addition, though the mirrors and indicators could benefit from being more substantial. The twin exhaust, however, does look incredible.
Performance is as expected for a bike of its price – it's a nippy little thing. It'll cut nicely through the corners and it's relatively grippy. The riding position of the HPS 125 is more upright as opposed to lying flat on the tank or close to the bars. That means it may not feel as speedy as other 125 café racers, but it does feel sturdy and comfortable.
HPS 125 – Verdict
This is an excellent learner bike for those not looking for a low-down-café racer riding position. It's not quite vintage but it's a stable, reliable bike with some retro throwback.
2. SINNIS MOTORCYCLES BOMBER 125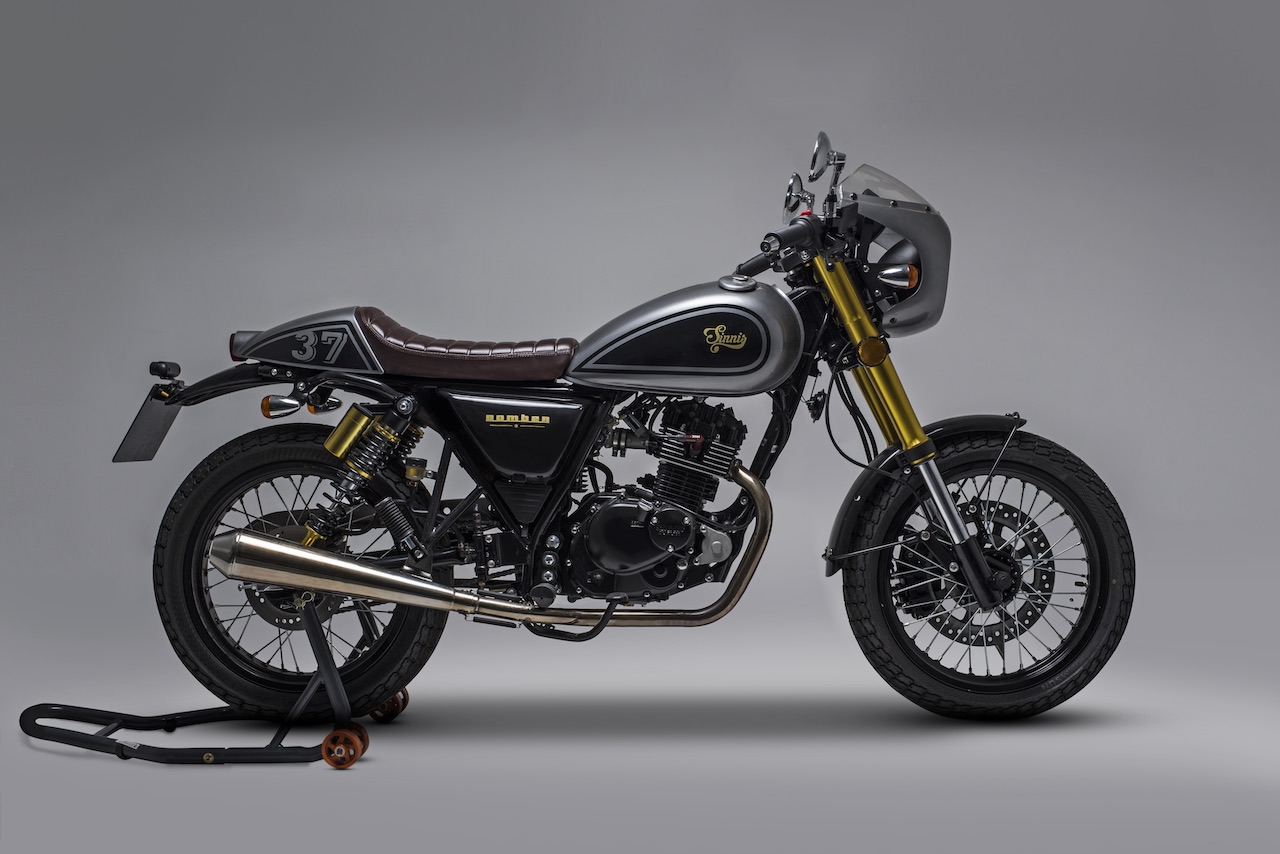 Sinnis is a Brighton-based marque with a history of producing reliable, affordable learner-legal bikes. Arguably, Sinnis can be credited with kicking off the trend for retro-styled 125 bikes. The Bomber is the second café racer model that this outfit's built and it's the best one yet.
It's rare to see gold upside-down forks on a retro-styled bike that doesn't come with the Triumph logo and price tag. And Sinnis has definitely gone all-in on British heritage styling. Spoked wheels, a swept-back Thruxton-style exhaust, and a brown handmade seat give a seriously vintage vibe. Equally, there's an air of high quality about the components which is unexpected, given the lower price point.
The removable bikini fairing further enhances the vintage street racer aesthetic. And yet, the Bomber is a little beefier upfront than the traditional old-school café. As such, it carves a pronounced horizon silhouette and creates a big-bike-like presence.
The handling isn't for the faint-hearted. This is a bike for riders who want to be over the tank and close to forks. The clip-on handlebars give it a traditional café racer stance. That also means, you can tip it in and it feels a lot faster for it. It's not the most luxurious bike, but a proper café racer rarely is.
Bomber 125 – Verdict
For the price, the Bomber really is a steal. For those looking to start with a 125cc that will teach them how to ride a café racer – before moving up to something with more horses, it also makes sense. Equally clearly, it's no slouch in the looks department.
3. AJS Cadwell 125
AJS is a historic marque that few motorcyclists will not have heard of. While steeped in racing glory, its story (much like most 20th-century British motorcycle manufacturers) is one of ups and downs.

However, owners of the AJS brand have in some shape or form continued to manufacture motorcycles or parts since the inception of the original Birmingham, England marque in 1909.
Similar to some of the brands on this list, AJS Motorcycles' 125 bikes are now sourced from China and then finished in the UK.
Its Heritage range has four models: Cadwell 125, Tempest Roadster 125, Tempest Scrambler and the '71 Desert Scrambler 125.
They're all beautifully finished however it's the Cadwell which is featured here. Its styling harks back to the late 50s and 60s era of British motorcycling.
This air-cooled 125cc thumper unabashedly revels in its café racer styling.

Despite its 9 bhp, at 113kg the Cadwell is fairly light so its Chinese-manufactured, Yamaha-inspired Euro-5 engine is more than capable of exhilarating its rider.
A small parts and accessories catalogue accompanies the model so owners can personalise the Cadwell to a certain extent.
AJS Cadwell 125 – Verdict
The Cadwell 125 is likely to be chosen by riders seeking to channel the café racer spirit in its purest form.
4. Mutt Motorcycles Mongrel 125
Birmingham UK-based, Mutt Motorcycles has been producing custom motorbikes for over 15 years. More recently they've begun funnelling that expertise into a range of low-displacement retro, custom-inspired motorcycles.
With its Suzuki GN125 derivative engine, the Mutt Mongrel is a distinctly retro bike. Like the Mondial HPS 125, it has a more upright riding position. In fact, it's a scrambler riding position.
Nevertheless, it takes more than a little in the way of café racer style cues; such as the cone exhaust and minimalist indicator lights. Overall the styling is sharply stripped-back making this bike a tidy little beast.
There are many intricate details about the Mongrel that makes it visually impressive. Namely, the detailing on the grips, the headlight grill and the matte paintwork. There's no doubt, this bike is a head-turner.
Aside, the Mongrel may not feel as quick off the mark or especially racy as other 125s. Where the Mongrel excels though, is in its style, comfort, and linear power. The latter is placed ahead of performance off the line. This is a bike designed for throwing around town streets but not necessarily for getting your knee down on twisties.
MONGREL 125 VERDICT
For those who want a learner bike that's a conversation starter at your local biker hangout, this is it. A beautiful motorcycle and a solid all-rounder for in and about the town.
5. HONDA MOTORCYCLES CB125R
At the top end of the 125cc price bracket, the Honda CB125R is the most modern 125cc café racer you can buy. The younger sibling to the CB1000R – it's certainly more neo than retro. And with that, it's perhaps also the most sporty of the bikes on this list.
As you might anticipate with Honda, you get all the features you'd expect including a 6-speed gearbox, a liquid-cooled engine and an anti-lock braking system.
All the engineering prowess that's gone into this bike yields a smooth, top-performing 125cc bike.
The CB125R is a light bike which falls effortlessly into bends with ample kick when the throttle's open. Quite possibly the CB125R is the best 125cc neo-café you can buy when it comes to comfort, riding position, and general features. It's a great first bike, for those who can afford it.
Honda has made great efforts to give it the feel of a café racer, through naked styling. Yet, quite possibly it doesn't have the raw, oily mechanical appeal in comparison to the other bikes on this list.
CB125R Verdict
If you're looking for the best 125cc café racer you can buy in 2022, then for ride feel alone the CB125R is definitely one to consider. If the vintage/retro aesthetic and feel are important this bike is probably a little too modern for your taste.
125cc Café Racers – The Verdict
When it comes to 125 café racers, there are few better on the market than those featured on this list. Choosing which one to go for is a case of style and money. Regardless, you'll be good in the hands with any of these 125s, if you're looking for something that performs for your budget.
Editor's Note
Since this article was written, Sinnis has discontinued the Bomber – however, you can pick one up one eBay. Additionally Sinnis has since launched the Outlaw which is well worth a look if the crusier genre appeals.