RETRO 125cc MOTORCYCLES – The best things come in small neo-retro packages. Why do you see so many more, single-cylinder, retro 125cc motorbikes on the streets in Europe? Well simply, there are restrictions on displacement and power output, by rider age. Not to mention the prohibitive cost of a full motorcycle licence.
All of the above combined means, that many motorcyclists in Europe and the UK initially start by thrashing around on 125cc bikes. While frustrating for some riders, it's ultimately a good thing.
125cc bikes are lighter, easier to control and they're great for ripping around town. More importantly, they really help you to hone roadcraft before trading up to a bigger bike.
RETRO 125cc MOTORBIKE PRACTICALITIES
When you're new to riding the most important thing is to get as much practice as possible. It's more advisable to get a small reliable bike, that's going get you from point A to B without drama.
That drama namely being; spending time with a non-runner, on the side of the road. In addition, you undoubtedly don't want to be hunched over a motorbike, which is in jigsaw pieces on the garage floor while the sun goes down on yet another day of zero riding.
The more practical option is to opt for a new or nearly-new, learner-friendly 125cc motorcycle. A bike that's almost guaranteed to keep you on the road, in preparation for the day that you decide to upgrade your licence.
RETRO 125cc MOTORCYCLES 2021 CHOICES
A few years back, if you wanted to buy small displacement retro / new classic-looking motorcycles, to ease you into riding, your options were limited. At a stretch, the only options were the Honda Rebel 125 and Yamaha YBR Classic or maybe a Suzuki VanVan 125.
An alternative would have been to opt for a lower displacement vintage or classic bike. Like the Honda CL125 for example – possibly purchased off eBay, GumTree or Preloved or similar websites. And that's only if you had the motivation, expertise or access to expertise to build a small displacement custom yourself.
All of that has changed. There's an abundance of choice when it comes to learner legal, 125cc retro motorcycles.

With that in mind, here's a list of some of the best-looking retro 125 bikes for beginners.
Best Retro 125cc Motorcycles 2021
Birmingham UK, based, Mutt Motorcycles was founded by Benny Thomas of Boneshaker Choppers. Initially, it was customising Herald Motor Co. 125 motorbikes, however, it's now producing its own line of small-displacement motorbikes based on the same Suzuki GN125 derived engines.
Additionally, Mutt Motorcycles also happens to be the owner of the Imperial Motorcycles marque, for which there's a new line of more classic looking bikes. The attention to detail and quality of the parts on each Mutt bike is exceptional. This should be the bike of choice if you're looking for the full vintage custom-look, without lifting a finger.
Mutt Hilts 125cc
Mutt Mongrel 125cc
Despite not being the first such manufacturer/importer of classically-styled learner-legal, retro 125cc motorcycles, Herald Motor Co. Cambridgeshire (UK) too can be credited with increasing the demand for small displacement retro motorcycles. Certainly on this side of the North Sea and Channel.
The bestselling bikes in Herald's line-up are the Classic 125cc and Café 125. Launched in June 2012, both bikes were stylishly updated to meet EURO 4 regulations two years ago. More recently the Brat 125 has joined the line-up – a brat-ish street tracker with a distinctly custom vibe. This machine is likely to give both bikes a run for their money, in terms of style and finish.
Herald's Rambler 125, Scrambler 125 and Maverick 125 are rivals to the Mutt's offerings. These three Herald bikes will work well for those keen on the off-the-shelf custom scrambler aesthetic. Respectively, the machines take the form of a muscley brat bike, street scrambler and retro enduro motorcycle.
Herald has keen plans to design and manufacture all of its bikes in the UK – so expect new and even more exciting models soon.
Herald Brat 125
Herald Classic 125
Herald Café 125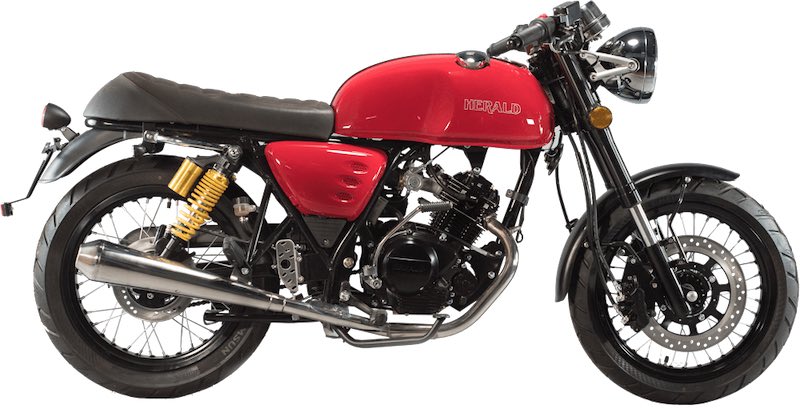 Herald Scrambler 125
Herald Maverick 125
Herald Rambler 125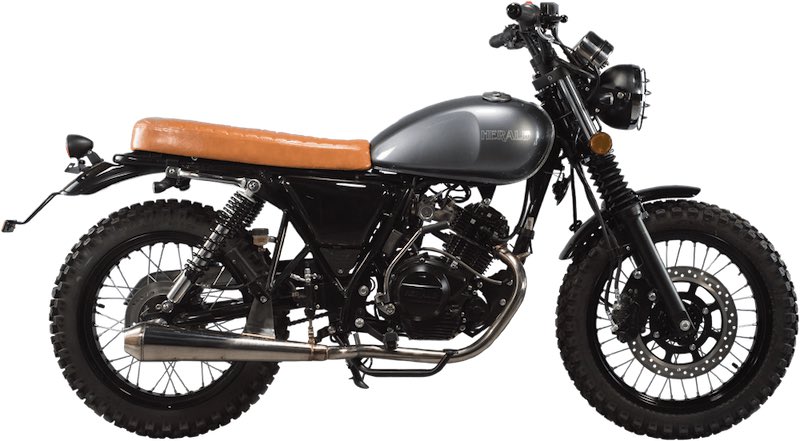 Of French origin, Bullit Motorcycles offers new riders a 125cc cafe racer experience, within the 125cc retro motorcycle segment. The Spirit 125, is its flagship model, which was launched in 2017. If you're looking for a more upright riding position, you'll find that on the Hunts S 125cc naked roadster and Hero 125cc street tracker.
Bullit is a fun brand with seriously, high-quality components. One look at the inverted forks on the Spirit 125cc tells you it means as much business as a 125cc can. Bullit appeals to the learner-legal market but also experienced riders who are seeking a fun, great-looking small retro motorcycle – maybe as a commuter or weekend plaything.
Bullit Motorcycles Spirit 125
Bullit Motorcycles Hunts S 125
Owned by a family-run, Austrian parent company [KSR Group] – Brixton Motorcycles was launched at EICMA 2015. So, that means it's a relatively new entrant to the small displacement, retro motorcycle segment.
Using a Japanese-developed engine, Brixton Motorcycles' approach has been to combine classic styling, with modern features including, LED lighting, EFI, digital speedometer and more.
With an extensive modern classic 125 range comprised of the Cromwell, Sunray, Felsberg, and Rayburn there are plenty of style options for new riders. Those options are classic roadster, cafe racer, scrambler/tracker and bobber.
There's an air of solid build quality and fresh feel about Brixton Motorcycles. Riders are looking an ever fresher look may be drawn to the custom styling of the limited edition Haycroft café racer, Felsberg XC and SK8 (retro beach racer).
Brixton Motorcycles Cromwell 125 Roadster
Brixton Motorcycles, Haycroft 125 Café Racer
Mash Motorcycles is another retro French marque that's been hugely popular in mainland Europe and has now expanded into the UK. The manufacturer takes its inspiration from the late sixties and early seventies era of motorcycle design.
Of all Mash's bikes, the Dirt 12 gives off the strongest seventies vibe. And with its gold-finished wheels, it has a look that's not too dissimilar to certain desert-sled-inspired, Italian bike.
If classic is more your style, then the Mash Black Seven should be your choice. It's an elegant looking 125 roadster, that appears to be a far large bike. Equally, the 125 café racer gives off the impression that it's more assertive than it likely is. You may find yourself being challenged by riders of bigger bikes at the lights were it not for the L plates.
Mash Motorcycles Dirt Track 125cc
Mash Motorcycles Black Seven 125cc injection
Mash Motorcycles Cafe Racer 125cc
FB Mondial was founded by two brothers in the first half of the 20th century – manufacturing motorcycles from 1948. The Italian marque dominated racing for over 8 years, between 1949 and 1957. FB Mondial's new motorcycles can be placed at the premium end of the scale, relative to other 125cc bikes on this list.
FB Mondial's HPS125 motorcycle uses an engine sourced from the Piaggio Group, which is also used in Derbi models. The bike has a distinctive modern style, fused with retro style cues and will certainly get you noticed.
FB MONDIAL HPS125
Hanway Motorcycles, also based in Cambridgeshire UK, draws inspiration from retro cafe racer design. However, it takes a more modern and sophisticated approach to its Black Café 125, Scrambler 125 and Muscle 125.
You'll find a plethora of high specification components on Hanway Motorcycles, along with modern features such as LED lighting, inverted forks and more. All of that is combined into a superb retro 125cc finish.
Hanway Muscle 125cc
Hanway Scrambler 125cc
Based in Brighton, Sinnis Motorcycles can take credit for disrupting the 125cc bike market by initially offering the RetroStar and TrackStar. Subsequently, the Brighton based marque has since updated its range to include the Sinnis Scrambler 125. Additionally, the Hoodlum 125cc [bobber], along with the Sinnis 125 Café Racer – (Sinnis Bomber as it's now known).
In terms of disruption – Sinnis was arguably at the forefront, of utilising small robust Japanese-derived engines built in China and then adding higher quality components. And in-turn created unique classic-inspired machines.
Significantly, it's one of the few brands that caters to the 125cc cruiser motorcycle market
Sinnis 125 Café Racer Bomber
Sinnis 125 Scrambler
Sinnis Hoodlum 125 Bobber
Which Retro 125 Bike Will You Choose?
This sector of the motorcycle market is expanding rapidly – with manufacturers promising new bikes, as their sales grow. With that in mind, expect to see a revised retro A1 motorcycles list at some point in the coming year. If your style is vintage or classic these are the best 125 bikes you can buy in 2021 and beyond.