If you're new to motorcycles or looking to get back in the saddle, there's probably no easier way than to jump on a retro 125. The best things come in small packages and for some, that notion applies to motorcycles too.
Feeling that sentiment, we've compiled a list of the best classically styled 125cc motorcycles (updated for 2023), along with FAQs. Jump to the list or read on for some background on this market segment.
1. Yamaha XSR125
Yamaha's Sport Heritage line has seen the manufacturer remodel existing platforms using yesteryear styling. At first glance, that approach could be considered lackadaisical were it not for the brand's Faster Sons philosophy.
It's a principle that sees the marque deftly incorporate aesthetics and iconography of (non-specific) motorcycles from Yamaha's past while utilising modern technology.
As the latest addition to the Sport Heritage range, the A1 licence-friendly XSR125 is built in the same vein. As such, it borrows its base from the MT-125 Hyper Naked and R125 Supersport. And yet it comes in a distinct seventies package.
Round LED lights are found at the front and rear and combined with a round LCD instruments dial that channels a seventies aesthetic.
Lightweight 10-spoke alloy wheels further celebrate the 70s motif but also offer low sprung weight, suspended by USD forks up at the front. Paired with the strong but light Deltabox frame it means an altogether light and agile motorcycle that offers a stable ride.
The Euro5, single-cylinder, liquid-cooled engine reportedly achieves 14.8 bhp (11.0 kW). Furthermore, it's paired with Yamaha's Variable Valve Actuation (VVA) technology meaning that power and torque are delivered evenly throughout the rev range. On paper, alongside the two other bikes featured on this list, it's the fastest.
Including Honda's CB125 R and Husqvarna's Svartpilen 125, the XSR125 is one of a handful of neo-retro bikes from major global motorcycle manufacturers which immediately marks it for consideration.
It's clear, that the XSR125 is a very well-put-together small-displacement motorcycle. It's dripping in best-of-breed tech, aluminium components and gadgetry that's rare to find on a 125cc.
For some riders, the XSR125 price may be out of reach. For others, its design might not be classic enough, when compared with some of the other bikes on this list.
However, its upright riding position and relatively low seat make it appealing to new riders. And of course, coupled with Yamaha build quality, it's an undeniably attractive 125.
Yamaha XSR125 Specifications at a Glance
Engine: Liquid-cooled, SOHC, Single cylinder, 4-stroke
Power: 11.0 kW (14.8 bhp) @ 10,000 rpm
Torque: 11.5 Nm @ 8,000 rpm
Fuel Tank: 11 litres
Brakes: Hydraulic single disc, Ø 267 mm (front) and single disc, Ø 220 mm (rear)
Seat Height: 815 mm
Weight: 140 kg (Wet weight)
2. Fantic Caballero Scrambler 125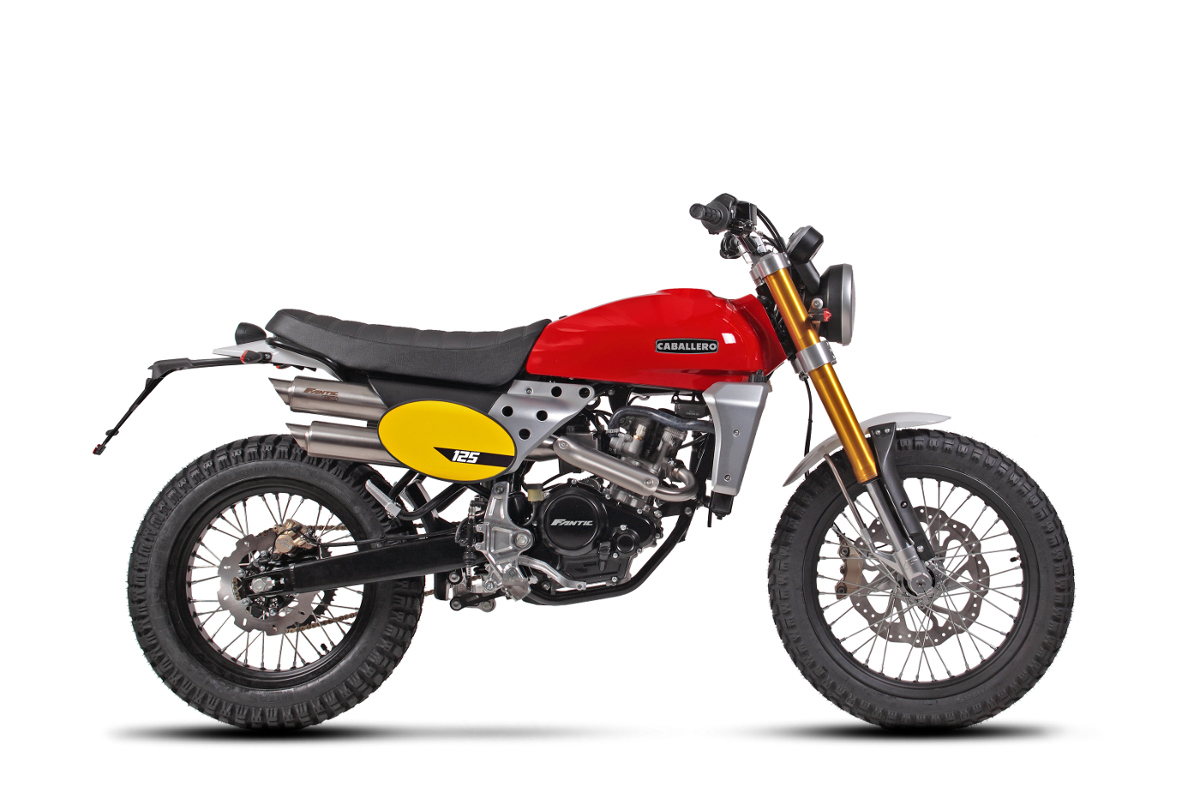 Revived in 2018 by Fantic Motor, the Caballero 125 Scrambler is inspired by the iconic seventies scrambler/dirt bike of the same name. As such it retains the distinctive red fuel tank and yellow, side-mounted, race number plate.
Given its big bike looks it should be no surprise to learn that the Scrambler 125 uses the same frame as its larger-displacement siblings.
Fantic asserts that this modern interpretation of the Cabellero is a fusion of street and dirt bikes. It's a machine designed to impress both on and off-road.
With off-road in mind, the rear suspension is supplied in the form of adjustable FANTIC FRS. Equally, classically spoked 19″ front and 17″ rear wheels are coupled with Pirelli Scorpion Rally knobbly tyres, giving the bike a classic scrambler aesthetic but also some off-road capability.
It's more likely, however, that this machine will be found in an urban setting. And for that, its relatively wide handlebars and lightweight nature should make it easy to handle and agile in traffic.
It's no secret that close engineering cooperation with Yamaha over the years and a wealth of in-house technical know-how have led to reliability and high build quality at Fantic.
Nevertheless, to suggest that Caballero Scrambler 125 sits at the upper end of the price bracket for a 125 bike would be fair. It's the highest-priced bike on this list by nearly £850. To that end, serious consideration may be required before making this purchase.
Nonetheless, justification may be found in the form of high-end components and gadgetry that come with this bike. For example, the high-mounted twin exhaust pipes are from Arrow. Also, single, wave disc brakes found at the front and rear are augmented by ABS.
Additionally, a chrome-molybdenum steel central-tube frame has been used to help achieve a light 130 kg dry weight.
Moreover, its new Euro5 Minarelli engine is enhanced with the Variable Valve Actuation system and slipper clutch. Respectively, that means consistent delivery of power throughout the rev band and reduced rear wheel chatter under aggressive deceleration.
Overall the engine produces a range-topping 11 kW and 11.2 Nm of torque. That combined with its light frame means it will keep up with the Yamaha and beat most of the bikes on this list off the line.
Fantic also offers the engine in two further packages: a street tracker (Cabellero Flat Track) and a refined street scrambler (Cabellero 125 Deluxe) which may be more enticing for some riders.
In whichever form the Cabellero's off-road looks and premium components are hard to resist, despite the high price tag.
Cabellero Scrambler 125 Specifications at a Glance
Engine: Single cylinder 4-stroke, Euro5, liquid-cooled
Power: 11 kW (15 PS) to 10,250 rpm
Torque: 11.2 Nm to 6,500 rpm
Fuel Tank: 12 litres
Brakes: Front brake disc ø320mm – Rear brake disc ø230mm
Seat Height: 820 mm – optional seat 840mm
Weight: 130 kg (Dry weight)
3. Mutt Motorcycles Hilts 125cc
Birmingham UK, based, Mutt Motorcycles was founded by master bike builder Benny Thomas of Boneshaker Choppers. And, the brand began by initially customising Herald Motor Co. 125 motorbikes. However, consequently, it started producing a steady stream of small-displacement motorbikes based on the same Suzuki GN125-derived engines.
Additionally, Mutt Motorcycles is also the owner of the Imperial Motorcycles marque, for which there's a new line of more classic-looking bikes.
Given Mutts' custom bike-building origins, it's no surprise that the design of its bikes is a blend of classic and new-wave custom. Attention to detail and build quality of each Mutt bike is likely unsurpassed in this segment. As such they come with a price tag that sits somewhere between the larger manufacturers and the boutique moto brands that appear on this list.
Picking one Mutt motorcycle out of an exceptional model range is a difficult task. All have individual appeal in spades.
The Mongrel 125 is the original standard-bearer for the Birmingham brand – reflecting its rugged, scrappy-upstart, custom aesthetic. However, we've chosen the Hilts 125 cc for this list for its refined classic finish that still manages to embody the ruggedness of the Mutt brand.
Featured here in a gloss grey paint scheme, it's also available in matte green. With a minimalist Mutt monogram on the fuel tank, black lightweight anodised parts, CNC machined components, a brown hand-stitched leather seat and a yellow headlight, this thumper has a polished vintage aesthetic.
A high-rise, cross-braced handlebar and diamond pattern black grip further accentuate the vintage tracker theme.
This will be the bike of choice if a polished but full-on vintage-custom look appeals to you.
Mutt Motorcycles Hilts 125cc Specifications at a Glance
Engine: Single cylinder, 4-stroke, Air-cooled
Power: 12 hp
Torque: 10 Nm
Fuel Tank: 14L / 13L
Brakes: Single Disc front and rear – Combined braking system (CBS)
Seat Height: 780mm
Weight: 125kg (Dry weight)
4. Herald Motor Co. – Herald Brat 125
Not the first such manufacturer/importer of classically-styled learner-legal, 125cc motorcycles – however, Herald Motor Co. along with Mutt can be credited with increasing the demand for small displacement modern-classic motorcycles. (Certainly on this side of the North Sea and Channel.)
In recent years the brand has set its sights on becoming a full-fledged motorcycle manufacturer. And that effort has culminated in the development of the Brute 500 which is expected to have a 250cc version soon.
At present, the Cambridgeshire (UK) brand's line-up of vintage-inspired motorbikes covers a wide spectrum of ride styles: scrambler, café racer, enduro, roadster and street tracker.
Its Classic 125cc and Café 125 could be described as a baby Bonneville and baby Thruxton respectively. Nonetheless, for this list, the Herald Brat 125 has been chosen. It's the latest in the brand's range of 125 motorbikes and is the first in-house designed bike in the range.
Launched in 2019 and updated in 2021, this upright thumper is styled as a brat-ish street tracker with a distinctly custom vibe. With brushed aluminium mudguards, a stainless steel exhaust, LED lights all around, and USD front suspension combined with a Monoshock rear, it's a head-turning machine whose price tag belies its exquisite finish.
The liquid-cooled, Euro5 engine has been updated to produce a healthy 14bhp so it has some bite to match its looks. This motorcycle will work well for riders smitten with the off-the-shelf custom street tracker aesthetic.
Herald has keen plans to design and manufacture all of its bikes in the UK – so expect new and even more exciting models soon.
Nonetheless, when considering the smaller engine bikes in Herald's range, the Brat 125 (available in Military Green, Iron Grey and Copper) is the pick of the present offering.
Herald Brat 125 Specifications at a Glance
Engine: Single-cylinder, four-stroke, Air-cooled
Power: 14 bhp
Torque: not stated
Fuel Tank: 10L
Brakes: Single Disc front and rear
Seat Height: 820mm
Weight: 147kg
5. Bluroc Spirit 125
Formerly known as Bullit Motorcycles, Belgian importer/brand Bluroc Motorcycles like some of the other brands on this list bases its design on mid-twentieth-century British motorcycle design fused with modern tech.
Bluroc's low-displacement range covers the full gambit of bike styles, from roadsters to scramblers and even monkey bikes.
However, it's the modern classic cafe racer model, (the Bluroc Spirit 125) that many riders may lean toward. And if so, A1 licence holders will find an unbridled café racer experience in the Spirit 125 – albeit in a compact and accessible form.
Available in Racing Green and now Gold/Black paint schemes, the Spirit 125 is a slender machine with clean lines and a sporty look. Furthermore, a megaphone exhaust suggests a sonorous tone.
Recently updated to meet Euro5 the Spirit 125 could be viewed as the flagship model in the brand's line-up of motorcycles.
Its clip-ons, piggyback shocks, rear-sets combined with a lowered front end give the machine an assertive stance. While the inverted front forks (gold on the racing green version) suggest a high-quality finish and promise a more stable ride.
With its refined modern classic, cafe racer looks the Bluroc Spirt 125 should appeal to the learner-legal market. However, experienced riders seeking a fun, great-looking, small machine, as a commuter might also be tempted.
Bluroc Spirit 125 Specifications at a Glance
Engine: EFI 4-stroke air-cooled Single cylinder
Power: 8.5 kW (11.6 hp)
Torque: Not stated
Fuel Tank: 10L
Brakes: Single Disc front and rear (CBS)
Seat Height: 840mm to 890 (adjustable)
Weight: 147kg
6. Brixton Motorcycles Cromwell 125
While it has a British-sounding name, Brixton Motorcycles (launched at EICMA 2015) is an Austrian brand owned by the family-run KSR Group. The brand has assembled a range of modern classic motorcycles, whose design is inspired by the halcyon days of British motorcycle design.
Using a Japanese-derived engine built in China, Brixton Motorcycles' approach has been to mesh classic styling, with modern features including, LED lighting, EFI, digital speedometer and Combined or Anti-lock braking systems.
With an extensive range of modern classic 125s, style options can be found to suit most riders' tastes. Nonetheless, the Cromwell 125 (a classically styled roadster) is featured here as it embodies the aesthetic of the glory days of British motorcycling, with a modern twist.
Iconic elements of the styling of the 60s era abound. The teardrop-style tank, peashooter exhaust, spoked wheels and twin shocks are perhaps the most obvious signs of the vintage theme.
The Cromwell's single-cylinder, four-stroke engine (which is still air-cooled) offers a relatively torquey output for a 125 with 9.7 Nm @ 6,500 rpm.
Riders leaning towards the total retronaut look will likely consider the Cromwell 125 in Moss Green. This colourway with its brown leather seat and chrome components looks to have been transported from the past.
Featured here however is the Submarine Yellow colourway, for the reason that the scheme's name can only be a reference to the Beatles! A fact that further grounds this bike in the British 60s culture it celebrates.
Brixton Motorcycles Cromwell 125 Specifications at a Glance
Engine: Single cylinder four-stroke engine, air-cooled
Power: 8.2 kW @ 9000
Torque: 9.7 Nm @ 6500
Fuel Tank: 14.0 L
Brakes: Single Disc front and rear (CBS) or optional ABS
Seat Height: 770 mm
Weight: 134 kg
7. Mash Motors X-Ride 125
Mash Motors is a French brand that's been hugely popular in mainland Europe and has now expanded into the UK through Motomondo.
The moto brand takes its inspiration from the late sixties and early seventies era of motorcycle design. Like many of the brands on this list, it utilises Japanese-derived engines built in China to offer competitive pricing and low-maintenance motorcycles in a stylish package.
Of all Mash's 125 model range, the X-RIDE 125 gives off the strongest seventies vibe with its classic enduro styling. Gold-finished 17 " wheels, a side-mounted race place and a teardrop fuel tank are perhaps the strongest indicators of this nostalgic style.
Styling may be nostalgic however much of the equipment found on the X-Ride 125 is modern. ABS braking, LED indicators coupled with LED lights at the rear and front (DRL), alongside a modern instruments panel expose the X-Ride's contemporary construction, despite its vintage charm.
Additionally, this machine is equipped with a new liquid-cooled single-cylinder, Euro5-compliant engine. Although not specifically stated, Mash hints that it's the same engine or a derivative of the MASH Black Seven 125 which achieves around 11 kW peak power.
A high front mudguard, twin side exhausts (also high mounted), fork guards and sump bash place give the machine the aspect of the bike that has off-road aspirations. The X-Ride channels Paris-Dakar cool while allowing its rider to hone riding skills safely on the road.
Mash Motors X-Ride 125 Specifications at a Glance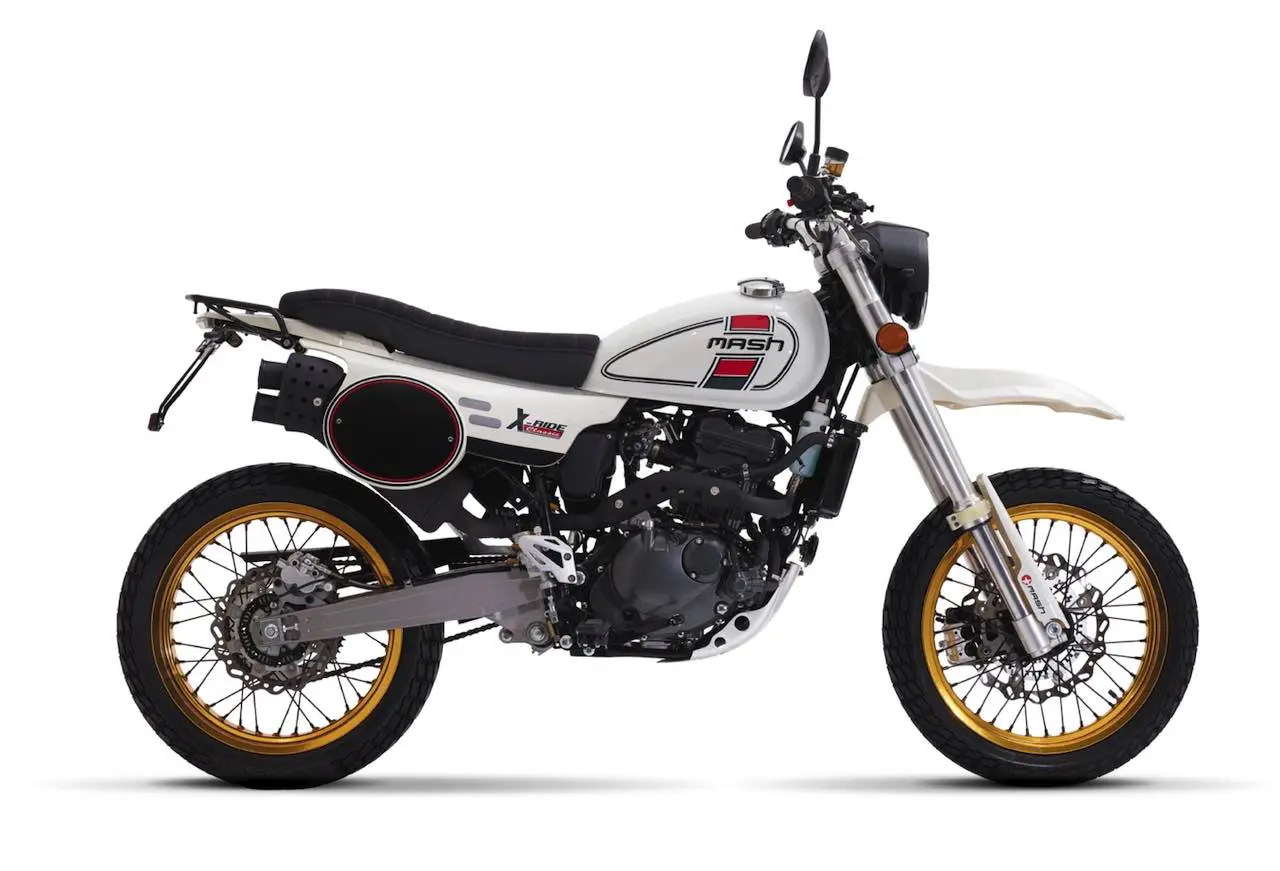 Engine: 4-stroke, Single cylinder Liquid-cooled Euro5
Power: not stated
Torque: not stated
Fuel Tank: not stated
Brakes: Single Disc front and rear (ABS)
Seat Height: not stated
Weight: not stated
8. FB Mondial HPS 125
FB Mondial was founded by two brothers in the 1920s and began manufacturing motorcycles in 1948. The Italian marque dominated racing for over 8 years, between 1949 and 1957.
Revived in 2014 by a descendant of the founders, the marque seeks to channel the characteristics of its classic race bikes fused with modern technology. As such, the aesthetic of the FB Mondial HPS 125 can be described as a sporty, roadster. It's a very modern interpretation of a classic roadster spliced with a café racer.
Alongside tweaking of the 124cc engine and aerodynamics, footpegs were repositioned to offer a more comfortable riding position. The bike colour schemes have also been replaced with Grey Stone and Dark Night which feature bolder branding.
40mm gold upside-down forks at the front, with twin matt black/gold, adjustable rear shocks are found on this machine, which give it a refined look and no doubt a plusher feel. A wavy, 280mm disc (at the front) supported by a four-pot caliper and 220mm (affixed with a one-pot caliper on the rear) offer assured braking.
HPS 125 motorcycle uses a robust liquid-cooled, engine sourced from the Piaggio Group – specifically the Aprilia 125. Consequently, FB Mondial's 125 motorcycles sit at the upper price bracket of the classic 125 segment. In 2021 it received a Euro5 update and now achieves a solid 13.4 bhp.
Adjustable bar-end mirrors are a neat touch with urban riding in mind. Twin polished, steel shotgun exhausts, LED indicators and lights, plus a 7" TFT screen for instruments with multiple options further underscore the premium finish of this bike.
This bike should appeal to riders who dig the retro look but are seeking a modern finish.
FB Mondial – HPS125 Specifications at a Glance
Engine: Single cylinder, 4-stroke, DOHC, 4 valves Liquid-cooled (Euro5)
Power: 10.0kW (13.4 bhp) @ 9750 rpm
Torque: 10.5 Nm @ 8,000 rpm
Fuel Tank: 9.5 litres
Brakes: 4 pistons radial caliper 280 mm (front) – 1-piston floating caliper (rear) 220 mm (ABS/CBS)
Seat Height: 795 mm
Weight: 133 kg (dry)
9. Hanway – SC 125cc Furious
Also based in Cambridgeshire UK, Hanway Motorcycles, draws inspiration from the café racer scene of the late fifties and sixties. Yet, it takes a more modern approach to the design of its bikes, preferring a more contemporary style.
Replacing the Black Café 125, Scrambler 125 and Muscle 125 is the Hanway SC 125 Furious.
Immediately noticeable is the relatively large distinctive two-tone fuel tank (somewhat reminiscent of the BMW R nineT). The fuel tank's capacity combined with a highly economical motor (110/120 mpg according to Hanway) means more time in the saddle and less at filling stations.
According to Hanway this Euro5, liquid-cooled, four-stroke, single-cylinder engine with DOHC, offers the maximum of 15 bhp permitted on the A1 licence. As such it should be able to match that of the fastest bikes on this list
The stainless steel exhaust system produces a relatively throaty burble – a note which becomes more throaty and assertive when the removable baffle is taken out.
There are a plethora of high-specification modern components on SC 125 Furious, including LED lights, indicators, inverted forks and even a USB socket. Additionally, combined braking that enhances the efficacy of the single-disc brakes found up front and rear, should instil confidence in new riders.
In keeping with the classic aesthetic, a round minimalist instrument panel houses an LCD screen that offers riders useful information including current gear selection.
Finally, exposed metal components such as the rear master cylinder guard and footpegs are a neat finishing touch. This paired with the overall build quality and price makes the Hanway an incredibly appealing small retro bike for commuters. 
Hanway SC 125cc Furious Specifications at a Glance
Engine: Single-cylinder, 4-stroke engine, air-cooled
Power: 11.2 kW 15 hp at 10,000 rpm
Torque: Not stated
Fuel Tank: 14 litres
Brakes: Single Disc (300 mm) front and (240 mm) rear with CBS
Seat Height: 800 mm
Weight: 135 kg
10. Sinnis Motorcycles – Outlaw 125cc
Based in Brighton, Sinnis Motorcycles can take credit for being one of the first movers in the small displacement classic segment. Sinnis was arguably at the forefront, of utilising small robust Japanese-derived engines built in China and then adding higher quality components and in turn creating unique classic-inspired machines.
Initially, its range consisted of the RetroStar and TrackStar. Subsequently, the Brighton-based brand updated its range to include the Sinnis Scrambler 125, Hoodlum 125cc [bobber] and a 125 café racer model, the Sinnis Bomber.
The Bomber was initially included on a previous version of this list however it's no longer being sold by Sinnis. Listed in its place now is Sinnis Motorcycles' latest model, the Euro5-compliant 125cc Outlaw.
This new machine is an American-style 125cc cruiser with a silhouette that's seemingly inspired by the Harley Sportster. The front end is jacked up on an 18" wheel, while the rear sits on a 15". And with a traditional foot-forward riding position, low seat and wider rake angle it embodies the classic American muscle cruiser attitude.
Rather than the v-twin found on most cruisers, however, the Outlaw has a single-cylinder, 4-stroke 125cc engine. Admittedly, with 7.8 kW (10 hp) @ 8,500 rpm and 9 Nm (7lb-ft) of torque @ 6,500 rpm, it's not the most powerful bike on this list. Nor should it be expected to be; cruisers whether big or small are rarely about speed.
Nonetheless, with Delphi engine management wizardry and light mass, Sinnis says the Outlaw offers a spirited ride.
Regardless, purchasing this bike is more about buying into a specific motorcycle tribe; namely the cruiser cohort and not much about performance. Available in Matte Black and Tuscan Sun Yellow, it's easy to picture this bike cruising down a long stretch of Californian desert road.
This is the bike for those who are inspired by Easy Rider images of motorcycling.
Sinnis Motorcycles Outlaw Specifications at a Glance
Engine: Single-cylinder, four-stroke engine, air-cooled
Power: 7.8 kW (10 hp) @ 8500rpm
Torque: 9 Nm @ 6500rpm
Fuel Tank: 13 litres
Brakes: Single Hydraulic Disc front and rear
Seat Height: 770 mm
Weight: 141 kg
11. Hyosung Aquila GV125S
Sticking with the American theme, the Hyosung Aquila GV125S is another A1 licence-friendly option that offers cruiser-style, big bike looks. Five years in the making, it offers a fun riding experience on small-displacement motorcycles.
With a liquid-cooled 60º v-twin engine that produces 14 bhp, the Aquila is class-competitive. However, its slightly heavier than expected mass means it's not as fast as it could be.
Nonetheless, it's well-constructed with an excellent finish that gives strong kerbside allure. It offers an unencumbered riding experience, although it comes with useful aids such as a gear indicator and digital fuel gauge.
The Aquila's low-to-the-ground, relaxed riding position makes it super-attractive for learners. Yet coupled with that, the bike looks considerably larger than a typical 125cc bike, with chunky tyres at the front and rear set on black spoked rims. This gives it the aspect of a motorbike far greater in engine capacity which attracts a respectfulness from other road users. This should allow room to hone your roadcraft.
At £3999 + OTR, the Aquila GV 125 S is the highest-priced within the 125cc cruiser class. However, it is a solidly built machine that may well justify the extra cost, especially when paired with its looks and performance.
In terms of comfort, the bike has a foot-forward riding position with straight handlebars and footpegs in the mid position. The Aquila's seat height measures 710mm and at 165kg, the bike is light for a motorcycle but arguably heavy for a 125cc. Nonetheless, with its low centre of gravity, it's agile around town.
Overall it should appeal to new and returning riders who are looking for an easy bike to ride with West Coast cruiser aesthetics. The bike is available in black or grey through Sinnis Motorcycles' dealer network. Check out a foot-on-pegs review of the Hyosung Aquila GV15S here.
Hyosung Aquila Specifications at a Glance
Engine: 125cc V-twin four-stroke engine, liquid-cooled
Power: 9.9kW @ 10250rpm (approx. 13.3bhp)
Torque: Not Stated
Fuel Tank: 12 litres
Brakes: Single Hydraulic Disc front and rear CBS (Combined Braking System)
Seat Height: 710 mm
Weight: 165kg
---
Summary: Which Retro 125 Bike Will You Choose?
This segment of the motorcycle market is rapidly expanding – with importers like Herald Moto Co. now transforming themselves into manufacturers. Larger brands are also launching models. With that in mind, expect to see a revised retro A1 motorcycles list at some point in the next year.
There's never been a better moment to swing a leg over a retro 125cc. Any of the bikes on this list will be a testament to that. Which will you choose?
If you're looking for a bigger bike then be sure to check out these ten fine cafe racer examples.
More About the Small Displacement Retro Motorcycle Segment
With more than forty classically styled 125 motorcycle models in the UK market alone, there are plenty of options for new riders. Moreover, major manufacturers have now entered the small-displacement segment.
More 125 Options Than Ever Before
Just under a decade ago, small-displacement retro bikes were limited to just a few machines. For beginners, the options were the Honda Rebel 125, Yamaha YBR Classic and Suzuki VanVan 125. Arguably these learner legal machines were not retro in the sense that the genre is regarded today.
An alternative (back then) was to purchase an actual vintage/classic bike from GumTree, Preloved or eBay: a Honda CL125 for example. However, that path was and is only open to those with the motivation, expertise and (or) the cash to restore/customise and maintain a classic bike.
However, all of that's changed now. In 2023, there's a vast array of beautifully designed, vintage-inspired machines that riders can access with just a CBT at a reasonable price.
FAQs
If you're thinking about buying a 125 motorcycle you might have a few questions. Here are the answers to a few of them.
Why Buy a 125cc Motorcycle?
North American riders may wonder why anyone would ride a 125cc, given their lower power output. However, in Europe and the UK, there are several good reasons.

Firstly vehicles tend to be smaller due to the size of roads, especially in the UK. Therefore, riding a smaller bike may not seem as intimidating as it might be in traffic in Canada or the US. As such, there are many more single-cylinder, retro 125cc motorbikes on the streets of Europe than in North America.

With their economical fuel consumption, 125s make a stronger argument for motorcyclists who commute, in the context of rising fuel costs.

Another reason is the placement of restrictions on displacement and power output by rider age. Additionally, there's a prohibitive cost of a full motorcycle licence (especially for younger riders).

All of the above combined mean that many motorcyclists in Europe and the UK initially start by thrashing around on 125cc bikes. While frustrating for some riders, it's ultimately a good thing for all.
Is a 125cc a good bike for beginners?
Yes, a retro 125cc is a good bike for beginners. 125cc bikes generally are lighter, easier to control and they're great for ripping around town. More importantly, they help new riders hone roadcraft, before trading up to bigger bikes.

Apart from their timeless looks, another benefit of these vintage-style 125cc bikes is they're easier to maintain and work on. While they may be at the very least Euro-5, they're still somewhat lower tech than their contemporary naked bike counterparts.
As a beginner should I buy a Custom or Classic 125 motorcycle?
If you're thinking about buying a vintage custom or small displacement classic as a beginner consider this: It might be cool for a first bike but it might also be unreliable.

For new riders, the most important thing on which to focus is getting as much saddle time as possible. That applies to seasoned riders too. After all, riding is a skill that needs to be honed and finessed.  
With that in mind, a small reliable, and easily-maintainable bike is the key to staying on the road. It should be a machine that goes from point A to B without drama.

Clearly, a scenario to avoid is having to arrange a lift home, when your non-running machine leaves you stuck on the side of the road… (once again)!

Equally, being hunched over a motorbike, which is in jigsaw pieces on the garage floor while the sun goes down on yet another day without riding is a scenario that most riders wish to avoid.

As such, a more practical option for new riders is to buy a new or nearly-new reliable 125 motorcycle. It should be a bike that's almost guaranteed to keep you on the road practising your roadcraft in preparation to upgrade your licence.
What's the fastest a 125cc can go?
The top speed for a current production learner legal 125cc is 80 MPH – claimed by Yamaha's MT-125. That's impressive, given that learner-legal 125s have a maximum power output of 11 kW / 14.75 hp. Incidentally, it's the same engine that sits in its retro sibling, the Yahama XSR 125. Furthermore, a derivative of the same engine can be found in the Fantic Cabellero 125.

The speed 125 bikes achieve is mostly attributable to their weight, aerodynamics and load (i.e. rider and passenger's weight).
If you look back in time you'll find some formidable two-stroke motorcycles capable of breaking a ton. Equally, if you have ever been to watch British Superbikes, you will have noted that sports 125s are capable of speeds far in excess of 100 miles on the track.

Be cautious of buying a modified pre-owned 125cc motorcycle – as it might not be learner-legal if it's had power output modifications. So make sure you check for any changes that could see you on the wrong side of your insurer.
What Licence Do I Need to Ride a 125cc Motorbike?
Firstly, you'll need to be 17 years or older and the holder of a provisional driving licence at the very least.

If you don't have a full motorcycle licence, you must take your CBT (Compulsory Basic Training) – which is an assessment rather than a test. After this, you can ride but must display L-plates or D-plates in Wales.

Your CBT must be retaken every two years to continue riding – (if haven't acquired a motorcycle licence during that period).
17 to 19-year-olds who want to ride without L or D-plates and on the motorway will need to pass a practical and theory test to acquire an A1 licence. This licence also allows a pillion.