Praga, renowned for its Bohema hypercar, ventured into the world of motorcycles as a passion project. Its creation the Praga ZS 800 is a fusion of contemporary technology and timeless design. Despite its moderately restrained engine, this motorcycle is poised to capture the hearts of retro bike collectors and riders.
Using a Kawasaki W800 engine, the machine is a modern take on the 1928 Praga BD 500. Interestingly, it's been developed by the same team responsible for the highly-regarded and high-powered Bohema.
Praga ZS 800: Passion Project
Car manufacturers building motorcycles isn't a new practise and it often produces memorable machines. The Praga ZS 800 is no exception.
It began as a passion project by Chief Designer Jan Žuži who worked on the Praga Boema hypercar. Žuži simply wanted to recreate the BD 500, yet the result is a modern machine that embraces classic design using fine materials.
Visually it echoes the original Praga BD 500 released in 1928 which was seen as a progressive motorcycle in its day (designed by aviation designer and motorcyclist Jaroslav František Koch).
Style & Design
The Praga ZS 800 boasts a unique style that combines classic and modern elements, resulting in a distinctive appearance that's bound to catch the eye of collectors. This roadster with its, straight handlebars and upright riding position from a floating sprung saddle seat, straddles the line between bobber and roadster.
Vintage-inspired features such as the round headlamp and taillight, the stylish 11.5L fuel tank (with carbon cover) and the slimline seat, paired with the spoked wheels give the bike a timeless look. Closer inspection and enquiry reveal thoroughly modern materials and construction. The bike is dripping in titanium, carbon fibre, duralumin alloys and noble chrome molybdenum, all applied with cutting-edge construction methods.
The overall design is intricate and also reminiscent of the art-deco era yet adapted for the 21st century.
Frame
The frame of the Praga ZS 800 is made of a lightweight chrome-molybdenum steel frame which promises excellent rigidity and stability and features a trellis sub-frame. Additionally, it's been engineered for optimal weight distribution and balance to aid the bike's agility and responsiveness.
Praga ZS 800 Engine
The Praga motorcycle's W800, air-cooled, Euro-5, 773cc four-stroke parallel-twin engine is not known for its power. A sedate riding experience then is likely. Praga quotes 60 Nm of peak torque and a power output of 50 HP. So, most track records are safe, in the unlikely event you find the ZS 800 on one.
Regardless, the combination of the Praga's relatively low wet weight of 158kg should help mitigate some of the sluggishness.
Brakes and Suspension
A visually striking classic girder front fork made possible by 5-axis machining is controlled by an Öhlins TTX22 unit. Notably, the ZS 800 is a hardtail like the BD 500. Nonetheless, rider comfort is offered at the rear, also through an Öhlins TTX22 unit installed underneath the floating saddle seat.
Echoing the BD500 further are the hydraulic drum brakes integrated into the carbon wheels that feature hand-woven overlapping spokes. A double simplex 200mm drum is found at the front with a single at the rear.
Praga ZS 800: Summary Thoughts + Price and Availability
Praga's ZS 800 is an impressive-looking machine that beautifully emulates the lines of its inspiration. Premium materials, cutting-edge construction methods and over 300 hours of production time somewhat justify the £75,550 (EUR 86,000) [excluding VAT] price point but not completely.
The price will be too high for most riders but that's irrelevant. Bikes like this are never aimed at the mass market. Regardless, it's a hefty price to pay for a Kawasaki W800 engine (albeit one wrapped in very nice clothes). Also, the distinct lack of power seems juxtaposed with Praga's ethos as a hypercar manufacturer.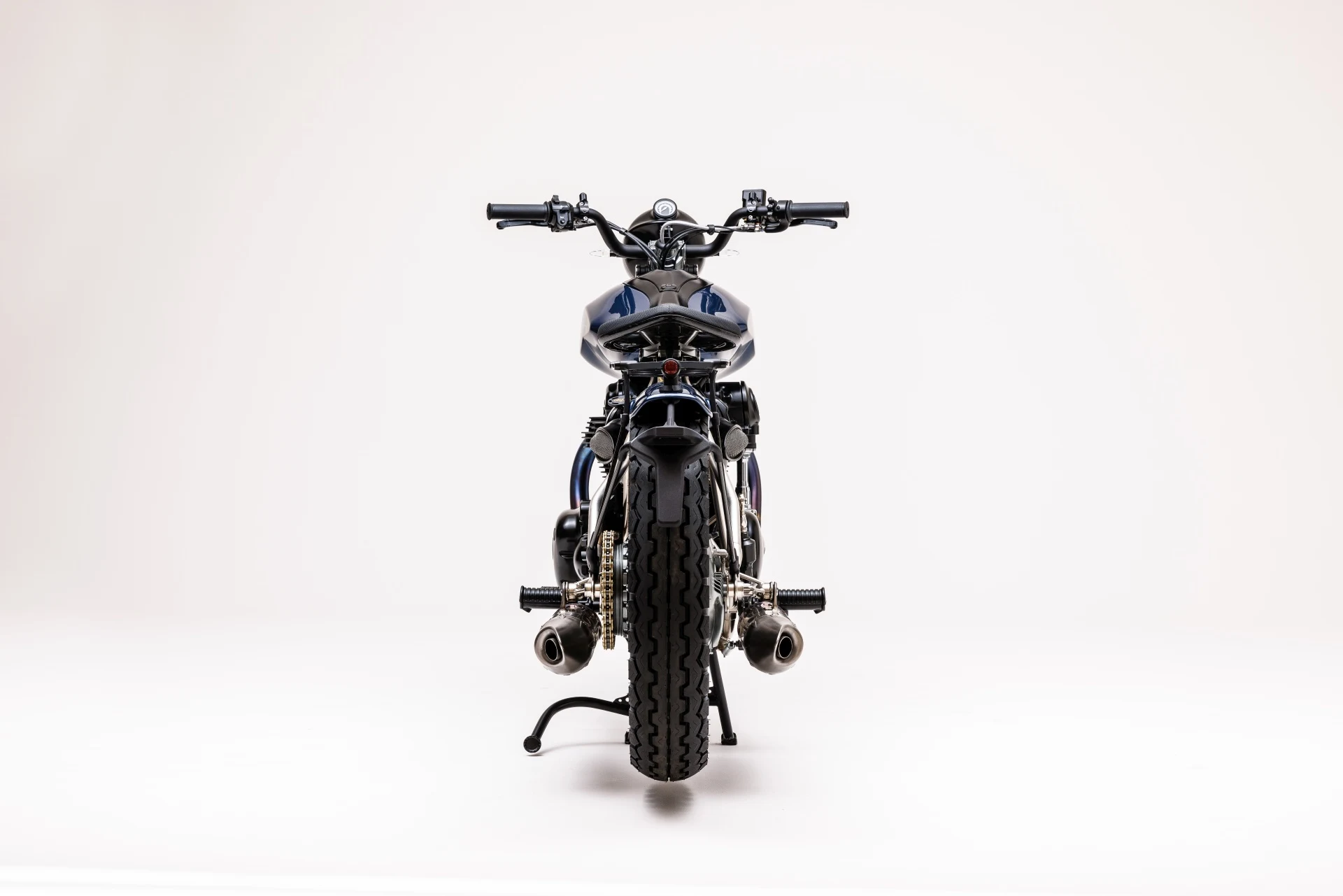 Nonetheless, there's no doubt all 28 bikes will be snapped up. One already has a buyer in Dubai, UAE.
For collectors that appreciate a combination of classic design fused with modern engineering, from a celebrated auto marque, it may be an investment too tempting to resist.
Praga ZS 800 Specifications at a glance
Engine: Air-Cooled, 773 cc, Parallel Twin
Max Torque: 65 Nm
Max Power: 50 HP
Weight (Wet): 158 kg