'Neo-classic racer' is how MV Agusta describes its Superveloce 800 Serie Oro. And, while it echos the design lines of yesteryear there is nothing classic about its performance.
SUPERVELOCE 800 SERIE ORO
First shown at EICMA 2018 to an enthusiastic response, the production of the Superveloce 800 was announced in November 2019. Alongside that announcement was also news of a limited run of the Serie Oro variation. That's Gold Series for non-Italian speakers. Only three hundred of the Gold Series will be made. Incidentally, it's sold out.
Celebration & Inspiration
MV Agusta is celebrating its 75th year anniversary in 2020. Like most European motorcycle manufacturers its fortunes have fluctuated throughout the decades. Nonetheless, during that time the factory managed to rack up no less than 37 world-championship wins. Though, the last GP race win was in 1976 at Nürburgring after which the factory withdrew from GP racing.
The Superveloce 800 Serie Oro is a celebration of the halcyon days of MV Agusta's Grand Prix prowess. Hence, the evident retro-inspired, sixties racing livery.
In 2020 the marque is once again in ascendance. Deep pockets, combined with imagination mean MV Agusta is arguably designing and producing some of the most remarkable two-wheel machines, of any modern manufacturer.
Get 10% off Moto Gear When You Subscribe
Get the Renchlist update, covering customs, retro rides, gear, moto-culture and news.
Enter your email for 10% off Goldtop England gear
F3 800 DNA – Refined for the Road
Built on the same architecture as the MV Agusta F3 800, expect around 148 horses (108kW) at 13,000 rpm from the same 798cc inline-three engine. In the track-use configuration, a triple exit exhaust (two pipes right and one left), offers incremental power of 5hp – meaning 153 hp at 13,5000 rpm.
The borrowed F3 800 power plant has also been fine-tuned for greater midrange performance. Torque figures are reportedly 88Nm (65ftlb) at 10,600rpm. Nevertheless, it's unlikely that the Superveloce 800 Serie Oro's high torque nor power figures were the persuading purchase factors.
High as those figures are for a middleweight sportbike, the key deciding purchase factors are (likely) the exotic nature of the Serie Oro's shape and finish. Of three hundred produced, all have now been sold.
Superveloce 800 Serie Oro Design
It's clear that the Superveloce Serie Oro takes design cues from the legendary 500 GP bikes ridden by both Hailwood and Agostini.
MV present this racer as an evolution of retro styling. Naturally, neo-classic vibes pervade throughout the bodywork. Nevertheless, a theme of form complementing function is also present within its design. The streamlined fairing is not just an extravagant indulgence of a retro silhouette. MV Agusta's designers assert:
"The shapes of the fairing are very streamlined, fulfilling their purpose of protecting the rider, without indulging in aesthetic form for its own sake."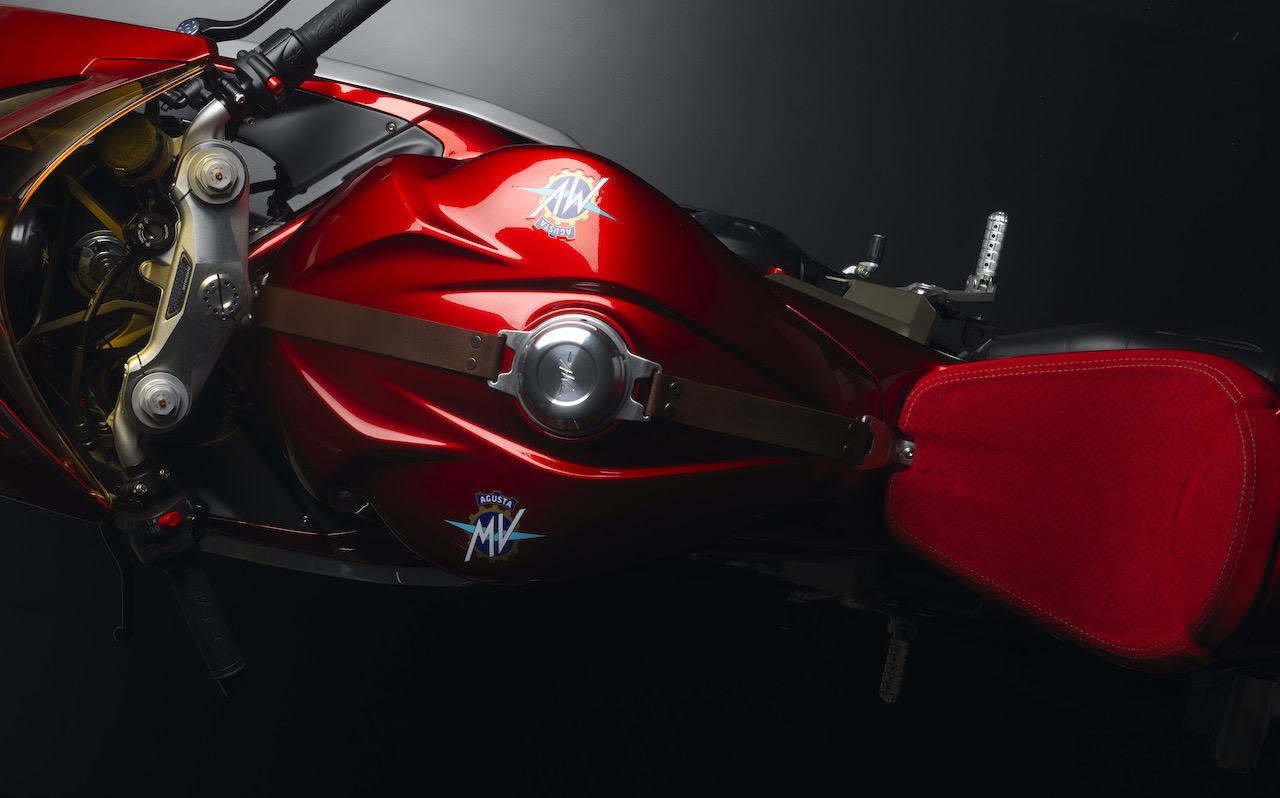 A light amber-coloured full LED headlight mirrors the bright yellow circular background for the racing number that appears on the closed-off nose of the 1960s MV Agusta 500 GP bikes.
The Serie Oro is an extravagantly finished machine, awash with carbon fibre and CNC machined parts. There's a long list of carbon fibre parts that are found on the sides, front, rear and belly of this bike.
Machined parts include a fuel cap, with a distinctly retro leather strap and an aluminium ring found around the front and rear LED lights.
It's evident that the Serie Oro's has been crafted for the street with rider comfort in mind. For the generous seat (by racer standards), Alcantara is the chosen finish. Equally, the riding position is more relaxed than its F3 counterpart.
Serie Oro Features
Beyond styling – it has traction control with eight settings, multiple riding modes and a quick-shifter [up and down].
Instruments come in the form of a second-generation compact 5" TFT colour display, originating from the Brutale 1000 Serie Oro. Additional features include phone connectivity, a navigation display and accessible engine diagnostics via the phone app. Joystick control provides access to the menus of the TFT screen.
Picking up on the theme of comfort, cruise control comes with the bike as standard. That may leave no doubt as to the most-likely setting of operation of this machine – road.
Lastly, for peace of mind, anti-theft devices and tracking have been fitted. Which is nice, if the bike ever leaves the living room.
For Collectors
Much like the notable 750 Sport – at £24,700 the Serie Oro is a collector's item. Either that or an opulent weekend plaything. To that extent, the expectation of actually seeing one on the streets may be far-fetched. Especially given the limited production run.
A keen eye on the second-hand market is required, for those wishing to own this piece of ridable art. Though in the interim the standard Superveloce 800 may appeal. And, for a few thousand pounds less at £17,390.
Though once again, if owning the Serie Oro is not about performance – then most certainly, it isn't about price.
Superveloce 800 Serie Oro specifications at a glance:
Engine Type – Three-cylinder, 4-stroke, 12 valve
Max. power – r.p.m. (at the crankshaft) – 108 kW (148 hp) at 13.000 r.p.m.
Max. torque – r.p.m. – 88 Nm (8.97 kgm) at 10.600 r.p.m.
Dry Weight – 173kg
Front brake caliper – Brembo radial-type monobloc, with 4 pistons Ø 34 mm (Ø 1.34 in.)
Front brake – Double floating disc with Ø 320 mm (Ø 12.6 in.) diameter, with steel braking disc and flange
Rear brake – Single steel disc with Ø 220 mm (Ø 8.66 in.) dia.
Rear brake caliper – Brembo with 2 pistons – Ø 34 mm (Ø 1.34 in.)
ABS System – Bosch 9 Plus with Race Mode and RLM (Rear wheel Lift-up Mitigation)
Environmental Standard – Euro 4
Combined fuel consumption – 6.4 l/100 km
CO2 Emissions – 157 g/km
Get 10% off Moto Gear When You Subscribe
Get the Renchlist update, covering customs, retro rides, gear, moto-culture and news.
Enter your email for 10% off Goldtop England gear