The MV Agusta 750 Sport is considered one of the most desirable sport bikes of the seventies. Some regard it as the pinnacle of design and engineering for MV's Cascina Costa plant. Bonhams, are about to put one up for auction at the Stafford Spring Sale.
MV Agusta 750 Sport 1970 to '72
The 750 is the last motorcycle line that Count Domenico Agusta had involvement in developing, before his untimely passing in 1971. By the marque's own admission, following the death of the Count (an enigmatic guiding force) internal fractures widened and led to a disjointed management strategy.
MV's financial crisis divided management thinking firmly into two camps.
On one side, those who desired a concentration of R&D and investment resources on racing. On the other side were those who felt funds would better serve the company if utilised for road bike development.
Neither won, so a compromise of sorts was reached; a 50/50 focus was decided – or in colloquial vernacular, fence-sitting. Unsurprisingly, this served only to further compromise the company's position in both spheres.
Sadly, the power struggle continued well into the mid-seventies. This, coupled with the ongoing dire financial factors led to neither camp having enough resources to fully develop a viable racing bike or road machine.
Racing Supremacy & Road Bike Decline
Ultimately, MV was left with a limited range of road bikes in production. Just two – respectively the 350 and 750 – albeit, both were produced in multiple setups.
Racing fared no better, with MV's racing dominance coming to an end. Sixties glory was now a distant and fading memory. MV's final race victory was achieved in Nurburgring, on 29 August 1976. And by the season's end, it had pulled out of racing altogether.
All of this combined eventually led to the inevitable financial demise of the Cascina Costa-based marque – until its resurrection in 1991 by Cagiva.
In many respects, the 750 Sport represents MV Agusta (in its first incarnation) at the height of its road and racing prowess. Or more accurately, it's an ode to that prowess. Sadly, shortly thereafter those things were in decline.
MV Agusta 750 Sport: An Icon of the Seventies
With its distinctive blue, red and white tank combined with the crimson red frame, the MV Agusta 750 Sport is one of several highly recognisable and desirable icons of the seventies.
The 750 Sport traces its lineage back to MV's four-cylinder 600 engine which itself was derived from Mike Hailwood's 500 GP bike. Price-wise: much like MV Agusta motorcycles today, the much-coveted 750S was out of the reach of most riders.
Hand-built in controlled quantities (335 in total to be precise) the typical buyer likely had a Ferrari or Lamborghini sitting in the garage, if not both.
How did the MV Agusta 750 Fare Against its Contemporaries?
Surprisingly, for a sports bike the MV Agusta 750 Sport was shaft-driven, however, with a power output of 69 HP at 7900 rpm and pulling power of 5.8 kgm at 7,500 rpm it held its own against its contemporaries such as the Z1.
"The experience was unique; the rider was transported to a different level and made to feel really special. There was certainly a pronounced "feel-good factor."
In 1975 'Bike' [magazine] wrote: "It's probably the most powerful 750cc motor made; in a straight drag with a Z1 it lost only a few yards up to 100mph." and that it was, "… one of the most dramatic-looking bikes made, the real stuff of legend".
Writer, racer and Italian motorcycle aficionado, the late Mick Walker had the pleasure of test riding a pristine low mileage 750 Sport in 1983. Noting the test ride in his book 'MV Agusta Fours' he wrote: "The experience was unique; the rider was transported to a different level and made to feel really special. There was certainly a pronounced 'feel-good factor.'"
However, it wasn't the figures that did the talking for the MV Agusta 750 Sport; primarily its slender and aggressive looks took care of that – quickly becoming the fantasy bike of most riders of the era.
Bonhams Spring Stafford Sale
The MV Agusta 750 Sport was included as one of several excellent lots featured in the Bonhams Spring Stafford Sale on the 21st of April 2018.
The engine, frame and registration documents of the model are all from 1973. It was expected to achieve between £70,000 – £90,000 (€80,000 – €100,000) but eventually sold for £96,700 inc. the premium.
The Spring Stafford Sale has always been nirvana for collectors/restorers. The Bonhams' 2018 catalogue didn't do anything to assuage that notion.
There were plenty of other lots that appealed to moto collectors with many sold without reserve. That included an assortment of racing memorabilia and spare parts for rare bikes.
That said, there were also several bikes rarer than the 750 S — such as the uber-rare 1970 Clymer Munch 1177cc TTS 'Mammoth' (frame no. 114) featured below. Its final price was £154,940.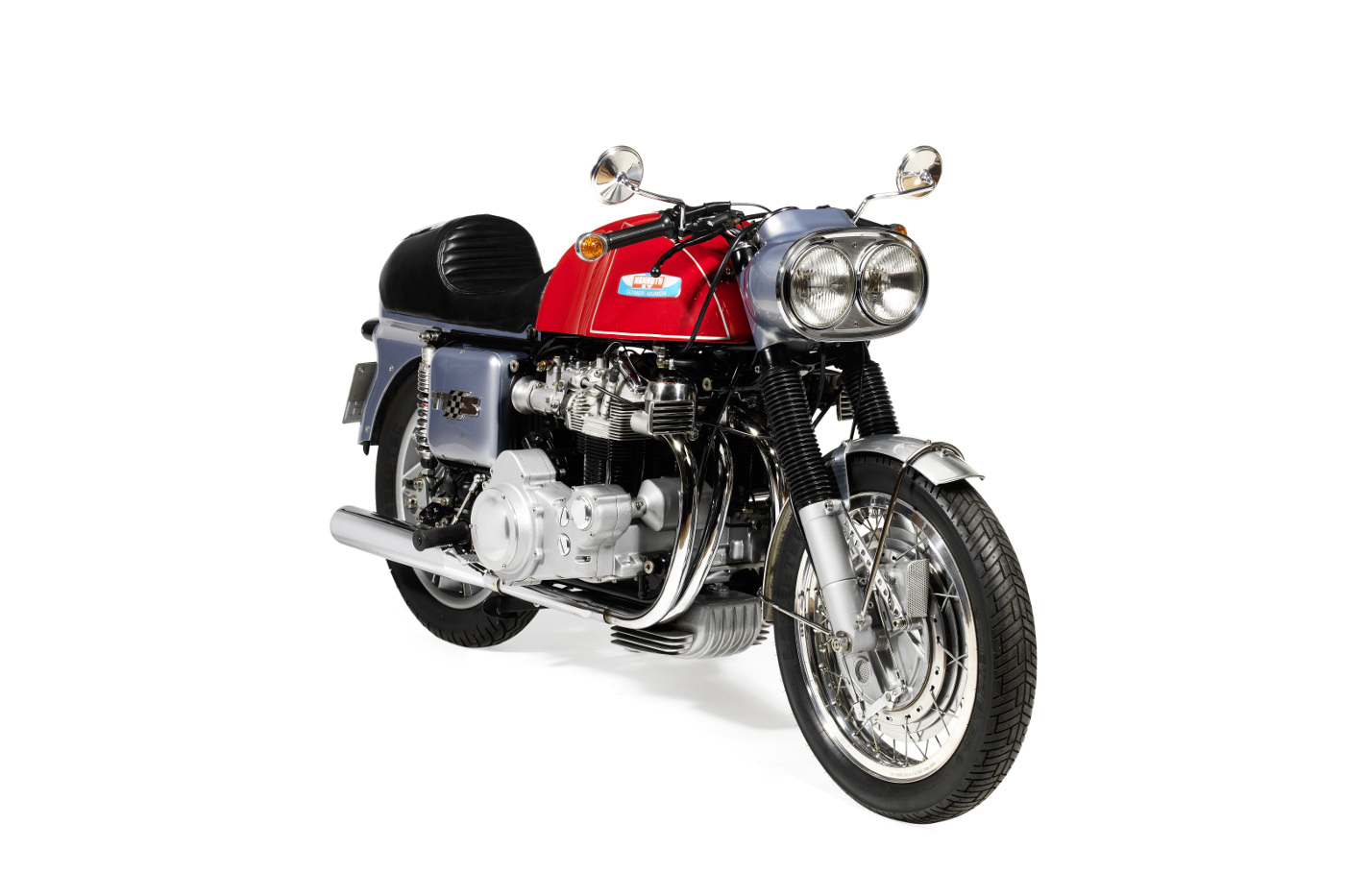 Other Items of Interest
There are also plenty of other lots that might interest collectors of racing memorabilia.
Ron Haslam's Kangol Racing Helmet
1913 Indian 7hp Model E Combination
Spring Stafford Sale Dates
This 'Spring Stafford Sale' took place over two days, in Stafford at the Staffordshire County Showground on 21 April 2018 at 13:30 BST.
[Details below]
21 Apr 2018, at 13:30 BST with lot 1.
21 Apr 2018, starting at 14:30 BST with lot 108.
22 Apr 2018, starting at 11:00 BST with lot 201.