Perfection is unattainable, therefore improving on perfection is impossible. Yet, MV Agusta's limited edition Superveloce Ago might convince you otherwise. More pertinently, its track pedigree is a fitting tribute to a GP legend.
MV Agusta Superveloce Ago
The sporty yet elegant Superveloce 800 was introduced by MV Agusta in 2020, as a modern take on its iconic 60s and 70s race bikes. Shortly thereafter a refined limited edition Serie Oro, [Gold Series], described as a neo-classic racer was released in recognition of MV's GP legacy. Later in the same year, another limited edition Superveloce 75 Anniversario model followed, to mark the 75th anniversary of the marque.
In April 2021 the Italian brand updated the Superveloce family for Euro5 compliance – also adding the sportier, vintage-inspired Superveloce S.
It's with the S model that the super-augmented Superveloce Ago shares its DNA. That, in turn, is the offspring of the formidable 798cc, inline-triple MV Agusta F3 800. As such the Superveloce Ago is capable of 147 hp (108 kW) at 13,000 rpm right out of the crate.
While the Serie Oro was (in part) a celebration of the MV Agusta factory team's racing prowess, this bike (Superveloce Ago) honours an individual. It's an ode to MV's most illustrious racer – prolific race and GP Championship-winning Giacomo 'Ago' Agostini.
As such, just 311 bikes will be produced by MV's factory, poetically celebrating Ago's total number of MV race victories.
The first fifteen of those bikes will be further embellished with a special plate attached to the leather fuel tank strap supplied with the motorcycles. That detail is in recognition of the legendary racer's total Grand Prix Championship wins.
Each will feature graphics detailing the cup and year of the title win. Clearly, a feature that will further enhance the appeal to collectors.
Superveloce Ago Styling
A generous complement of titanium and carbon components augment the race-inspired livery. MV Agusta's Matt Fire Red and Matt SV Ago Magnum Silver accented with Matt Ago Yellow adorn the carbon-fibre fairing and sculpted bodywork.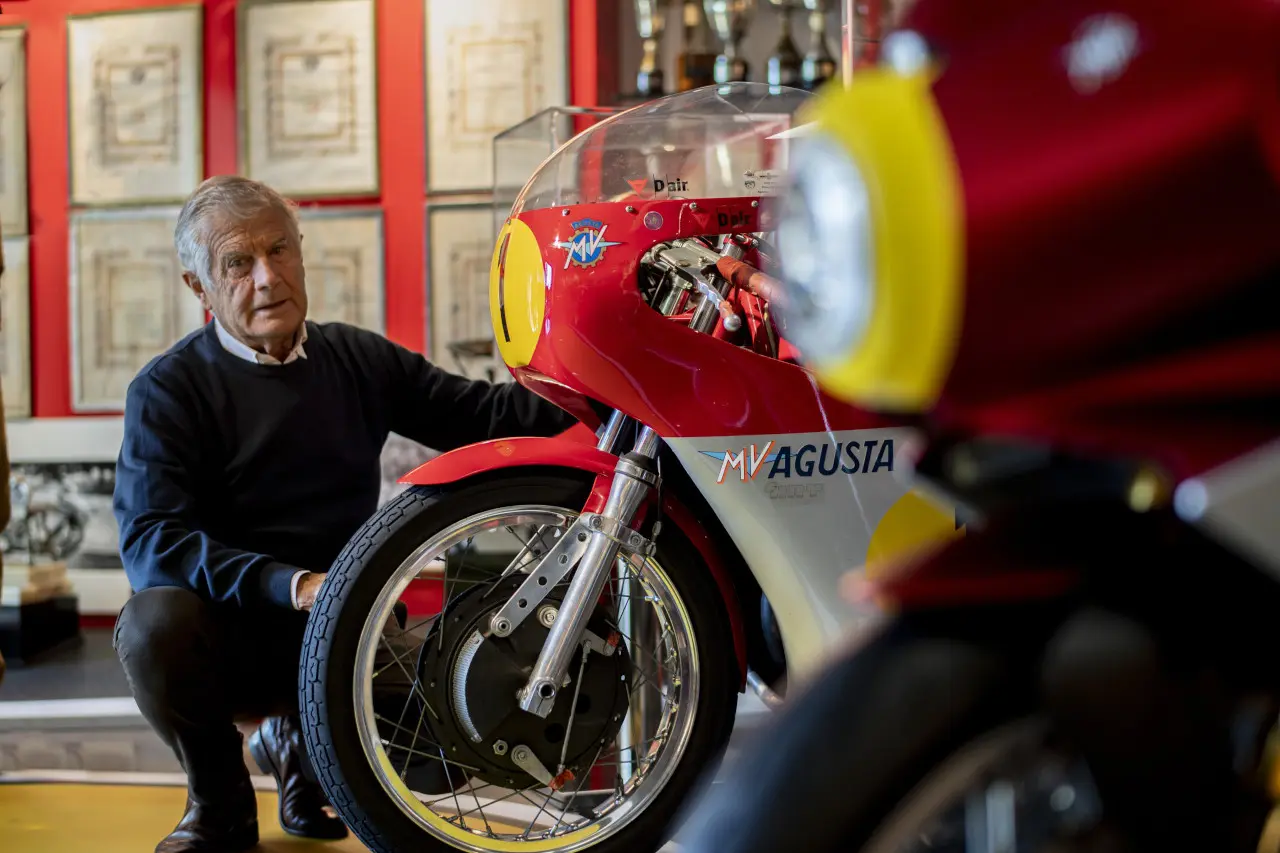 Nostalgically, the design echoes the triple-cylinder MV Agusta 500, GP-winning bikes ridden by Agostini. Touchingly, Ago's race number (#1) is prominently displayed.
Also reflecting the classic GP bikes, however, with a thoroughly modern execution are the front and rear (seemingly) spooked 17 " wheels. They run on tubeless Pirelli Diablo Rosso Corsa II tyres (120/70 front and 180/55 rear).
Finest Components
Despite its aesthetically desirable nature, to truly honour Ago it would be fitting if only the finest components were selected for this machine. Unsurprisingly, that's precisely the approach MV Agusta took. The result is a machine that's not only exquisite to view but an emphatically viable track machine.
"… the most technologically advanced and exclusive Superveloce ever."

MV Agusta
It may not be the first or the last limited edition Superveloce, nor even the only bike to carry the Ago name. Nevertheless, it is according to MV "… the most technologically advanced and exclusive Superveloce ever".
And that's clear to see with upgraded suspension in the form of Öhlins' top-of-the-range, fully adjustable, electronically-managed suspension fitted (front and rear). Their settings have been developed for both road and track.
The bike benefits from an Öhlins 43mm NIX upside-down fork, attached with a forged aluminium (top) triple clamp, with an Öhlins TTX shock is found at the rear.
Additionally, a steering damper (again Öhlins) is affixed with a CNC machined support.
Further enhancing its track credentials, the bike features a counter-rotating crankshaft (an innovation inspired by MotoGP). In short, this technology means directional changes are smoother, with inertia somewhat contained.
Ago Racing Kit
Again with the track in mind, each bike comes with a racing kit to augment the special edition Ago. Several special components and exclusive memorabilia are found within the kit. A race-mapped ECU and three-pipe Arrow exhaust system, however, are the standout items. Notably, the Arrow silencers are fitted asymmetrically (one on the left and two on the right). Incidentally, they're street-legal.
With the custom racing map and the silencers, the Ago will notably achieve a claimed 151 hp (111 kW) at 13,250 rpm.

Superveloce Ago Price and Availability
It's not a stretch to suggest that for most riders the Superveloce is beyond means of purchase. (Not without selling a body organ or two.) Therefore, the price is merely academic. 
For the few riders/collectors for whom price is a pragmatic enquiry, starting at €32,100 this machine could be shipped to your living room (at your mountain retreat, to your yacht, supervillain pad or whatever) and hopefully see a track near you. 
The Superveloce Ago is destined to be a future classic. Available now – though (much like all previous limited editions of this motorcycle) looks set to sell out quickly.
Superveloce Ago Racing Kit: What's in the Box?
Arrow Racing 3 exit exhaust system
ECU with racing map
Carbon passenger seat cover with Alcantara pad
CNC fuel cap with "Limited Edition" carbon plate
Black leather tank strap
Bike cover
RH aluminium rider heel guard
Red handgrips
Certificate of origin
Racing Kit Box