Triumph bills its 2018 Bonneville Bobber Black as darker, meaner and stronger – in comparison to its standard Bobber brother. It's certainly darker. Those whose time it is, (a.k.a. the youth) call this look murdered-out. I think I have that right, no?
Bobber Black – Higher Spec.
The Bonneville Bobber Black is of higher specification so one might suspect thats's what is meant by meaner and stronger. It certainly looks more muscular than the standard Bobber.
POSITIVE RECEPTION FOR THE BONNEVILLE BOBBER BLACK
Marketing spiel aside, the reviews from those who have ridden the Bonneville Bobber Black so far, are highly positive

and suggest it's more than just a moody makeover. It rides better than its standard counterpart. And there are good reasons for that.
Specifications-wise the Bonneville Bobber Black benefits from; meatier 47mm Showa forks (vs 41mm on the Bobber) – giving it an altogether meaner look. (I'm doing it now)
Superior stopping power is another welcome attribute on the 'Black' – provided via the twin 310 mm disc, Brembo 2-piston floating calipers up-front. Always nice to have.
A fatter 16-inch front wheel replaces the 19-inch that appears on the standard bobber – offering more confidence through the turns.
You'll still scrape pegs though it seems you'll have more fun doing it.
TRIUMPH BONNEVILLE BOBBER BLACK VIDEO
The Bonneville Bobber Black was launched back in October 2017, along with the new Bonneville Speedmaster – it stands to reason that Triumph has expanded the Bobber line. It's now widely-known motorcycling lore,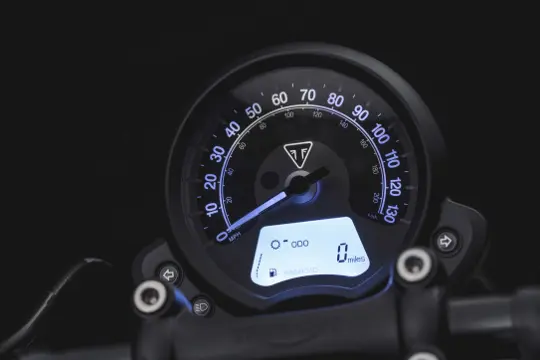 that Bonneville Bobber was Triumph's fastest-selling motorcycle in its one-hundred and fifteen-year history.
So fast even, that the pace of sales seemed to catch-out Triumph momentarily – forcing the marque to rapidly increase production on the model. And it wasn't just them.
Aside, from the addition of performance-enhancing features, the Bonneville Black also gets a few nice-to-haves – such as cruise control as standard and full LED headlight, with daylight running light.
For certain the Bobber Black will appeal to the hooligan crowd and seems likely to incrementally grow Triumph Bobber sales.