Triumph Motorcycles made the launch of the Thruxton RS official on 5th November 2019 at EICMA Milan, Italy. It's a date to remember as the marque's modern classic flagship model (the Thruxton R) gets an additional letter that comes with a host of upgrades.
Triumph Thruxton RS
By now, the path to revealing a new bike is familiar to most. Months of rumour and speculation, followed by forum discussions and the occasional speculative mock-up. Then come the spy shots and a teaser video.
This culminates in the removal of the covers of a brand-spanking-new motorbike – or at the very least a new edition to a manufacturer's model range.
All of that is true for the Thruxton RS which has eagerly been awaited.
Its launch followed the typical path to its eventual reveal, yet, to no less excitement. Triumph today, ended all speculation and rumour with the unveiling of the latest addition to its Modern Classics range.
Get 10% off Moto Gear When You Subscribe
Get the Renchlist update, covering customs, retro rides, gear, moto-culture and news.
Enter your email for 10% off Goldtop England gear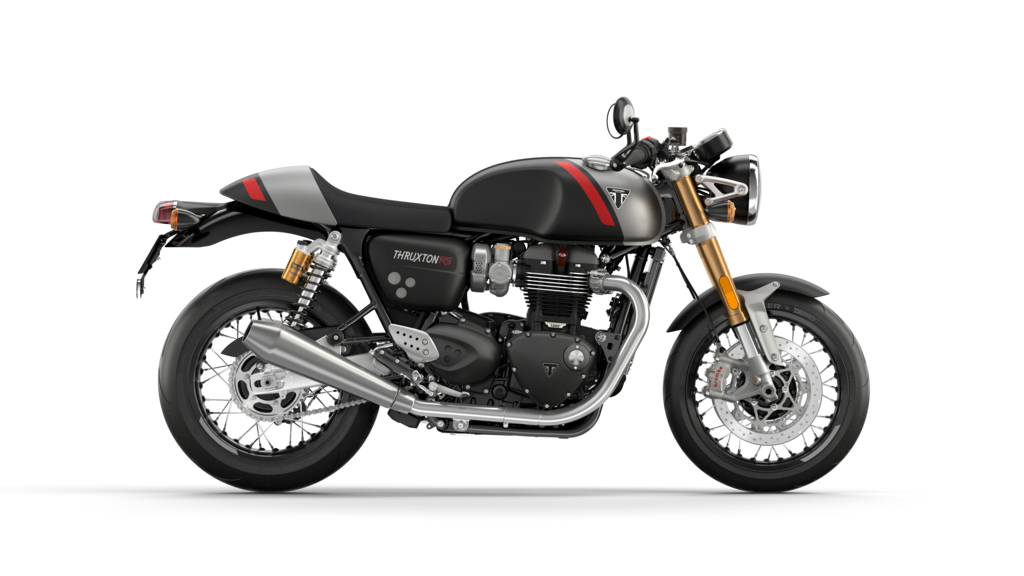 The TTRS launch means that Triumph's Thruxton Range nomenclature now mirrors that of its modern roadster range, which all have a standard, R and RS model.
The Thruxton RS, as you'd expect uses a modified version of the parallel 1200 twin, found in two other Thruxtons, in addition to the Speed Twin, Bonneville, Bobber and Scrambler 1200 lines.
Thruxton RS: What's New, What's Different?
More Power
Firstly, Triumph claims the modified power plant of the new TTRS delivers 8PS more power than the Thruxton R. That's an increase on the R model from 97PS/ 96 bhp at 6,750 rpm to 105 PS/103 bhp (77 kW) @ 7,500 rpm
Additionally, this increase in power stems from upgraded components which include a revision to the cam profile, an additional air system, higher compression pistons.
Furthermore, engine components have also lost weight. The clutch, balance shafts, rare-earth alternator, thin-walled engine covers, magnesium and a low inertia crankshaft are all lighter.
More Torque Lower Down
Triumph asserts that the Thruxton RS is punchier than the R model delivering a "..higher torque punch low down and across the entire rev range, peaking at 112Nm @ 4.850 rpm, 700 rpm lower than the Thruxton R".
Lighter than it's predecessor, the Thruxton R
TheThruxton R can feel heavy when manoeuvring with the engine off. However, when the ignition switch is in the 1 o'clock position, the weight is unnoticeable. Regardless, the Thruxton RS has been made lighter than the R by precisely by six kilograms.
Triumph says it makes "… for an even more dynamic and agile ride".
In place at the front for braking are Brembo 4-piston M50 radial monobloc calipers with twin floating Brembo discs. So a significant change.
Notably, the Pirelli Diablo Rosso Corsa tyres of the R, have been replaced with "new unique race-specification Metzeler Racetec RR super sticky tyres".
RS is Euro5 Compliant
The TTRS will be Euro5 compliant with a new catalytic converter that generates a lower overall emissions number and enhanced fuel efficiency. Nevertheless, Triumph assures us that the bike retains the "rich and raw note" which is "...the unmistakable sound of a British Racing Twin."
Thruxton RS: Styling
The Thruxton RS has two new paint scheme options – Jet Black or a combined Matt Storm Grey and Matt Silver Ice option.
The TTRS is visibly darker, with the engine, cam and sprocket covers given the 'murdered-out' look. Side panels and Öhlins RSU springs have received similar treatment.
Additionally, Thruxton owners and admirers will be pleased to see that the wheels are now anodised. And unsurprisingly are also black.
Triumph says:
"…the all-new RS version of it is the next evolution of this celebrated name. With all of Triumph's iconic original cafe racer DNA, married to a new blacked-out custom look, muscular poise and a host of beautifully designed premium features, the Thruxton RS is the most contemporary styled Thruxton ever."
RS Parts & Accessories
Thruxton RS owners will have access to the full Triumph parts and accessories catalogue, as you might expect. Meaning, the Thruxton RS can be given a custom makeover with genuine Triumph parts.
Thruxton RS Price and Release Date?
At the time of writing, it hasn't been confirmed when we can expect to see the bike at local dealers – however, the price is £13,000.
Will existing Thruxton R owners be tempted? 'Yes', is probably the answer.
And while we eagerly await the arrival of the Thruxton RS – here's a gallery to satiate our collective appetite, until this bike can be seen in the metal.
TTRS GALLERY
Triumph Thruxton RS Key features at a glance:
New black powder-coated engine covers, cam cover and sprocket cover finishes
Öhlins RSU springs in black
Thruxton side panel and sprocket cover in new black with an integrated heel guard
New premium black anodised wheels
Unique 'Monza' cap
New Triumph triangle tank decal (only on twin paint scheme option)
Unique sculpted Thruxton tank
Stainless steel tank strap
Clear anodised aluminium swingarm
Daytona footpegs
22mm clip-on handlebars
Black mirrors and indicators
Twin ride-by-wire throttle bodies and unique Thruxton intake finisher
Gold engine detailing
Distinctive red signature key
Update:
One local Triumph dealer, said, that there have been quite "…a few enquiries over the last week with regards to the Thruxton RS" – a sentiment echoed by others. And most dealers expect to take the bulk of orders following the Birmingham, NEC show later this month. That's after the public has an opportunity to see and sit on the bike.
Get 10% off Moto Gear When You Subscribe
Get the Renchlist update, covering customs, retro rides, gear, moto-culture and news.
Enter your email for 10% off Goldtop England gear