Launched at Motorcycle Live in 2019, Herald's Brat 125 declares a new direction for the British motorcycle manufacturer/importer. The Brat 125 is the latest addition to the Cambridgeshire (UK) company's retro-inspired, small-displacement motorcycle line-up. It now boasts a range of eight distinct motorbikes, with more in the works.
Herald Brat 125: Neo-Retro British Design
Retro Custom Charm
Beyond the Brat moniker, it's evident in its design the Brat 125 takes inspiration from various genres of custom bike building. The silhouette is a rugged, bratstyle-esque street tracker with a dash of a scrambler in the mix.
Off-road tyres suggest that some light dirt riding is a possibility. Anecdotally, some riders report surprisingly good performance beyond the asphalt. However, the urban environment is most likely where the Brat will be seen.
That makes sense. With its upright riding position, straight bars and weighing in at a light 147kg it's suitable for urban riding and commuting. Equally so, for a pootle over to a local bike hang-out, where it's bound to be a talking piece.
Finish & Features
Riders who've had an opportunity to see the Brat 125 close-up will likely agree that the quality of the finish is superb. Brushed aluminium mudguards/fenders and a gently snaking, stainless steel exhaust underscore its custom-like finish.
Those elements, combined with low-profile LED lights suggest that Brat 125 could well have rolled out of the workshop, of the finest of professional custom bike builders. Convincing observers otherwise may prove difficult in spite of its affordable RRP of £2,999.
Naturally, with its 124cc displacement and a price tag that contradicts its immaculate finish, this bike is destined to appeal to younger, budding motorcyclists. Particularly those aspiring away from vanilla, learner sportbikes.
Equally, it wouldn't be a stretch to suggest that seasoned motorcycle devotees may also want this machine. That's of course in addition to their regular rides. Nonetheless, the promised 250cc version may be more suitable for those with A2 and full licences. Especially those riders, looking for more grunt under the tank.
At 820mm, the seat is higher than the average learner-friendly bike, which means that assuredly flat-footing the Brat might be a struggle for some. Nonetheless once perched on the bike, a more significant road presence is offered by the tall seat height. Furthermore, the advantage of higher visibility may indeed inspire more confidence – particularly for newer A1 licence holders.
The Brat 125 is available now at dealers, in three smart finishes; military green, iron grey and copper.
Herald Brat 125 specifications at a glance:
Weight(Dry) – 147kg
Seat Height – 820mm
Engine – Single four-stroke
Displacement -124cc
Transmission – 6-speed manual
Fuel Tank – 10 litres
More About Herald Motor Co.
If not already familiar with Herald Motor Co., it's among several British and European brands modifying and selling smaller displacement motorcycles, utilising older Japanese engine designs built in China. Each manufacturer in this sector subsequently upgrades components to comply with European law and naturally stamps its own identity onto these classically-styled machines.
Herald's Future Aspirations: Design and Manufacture
For Herald, the Brat 125 marks a departure from this business model. This is its first British-designed bike. According to the company's Lead Design Engineer, Gareth Willamson, this is just the beginning of working towards exclusively designing and manufacturing Herald motorcycles in the UK. To that end, a 250 version will be the next step along this path.
"… it feels like a step in the right direction towards our goal of designing and manufacturing motorbikes in Britain."

Gareth Williamson, Lead Design Engineer at Herald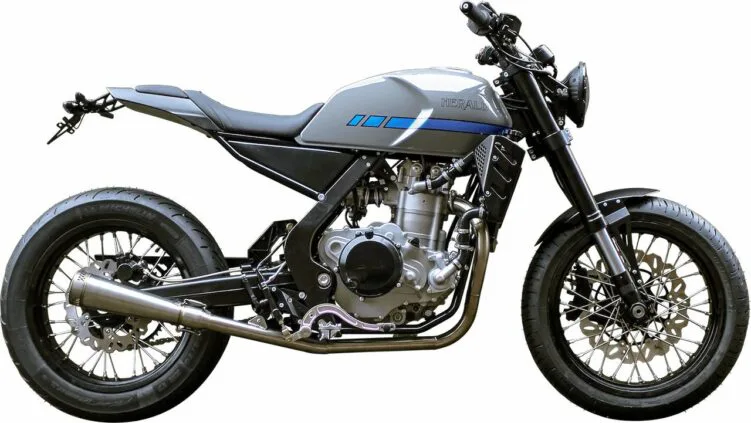 Herald Brute 500 Concept
Yet perhaps, the most reliable indicator of that ambition is the marque's Brute 500 concept which takes the form of a single-cylinder, four-stroke, 449cc street tracker. Inspired by Flat Track racing, this is a wholly, homegrown design and engineering project, with an engine built from the ground up.
Visitors to Motorcycle Live last year eagerly welcomed a preview of the second Brute 500 prototype. And following keen interest, it's not unlikely that a production version will debut at some point in 2021. Expect the road-legal version, to be every inch as desirable, even after adjustment for homologation.
Image Credits: