Motorcycle trade shows pile up towards the end of the year. As the cold weather sets in and soggy riding conditions prevail (at least in the Northern Hemisphere), they're always a warm source of riding inspiration and excitement.
Nowadays, they're peppered with revelations of hotly anticipated retro motorcycles – plus updates of existing models and several concepts. There are always a few surprise announcements too. Sometimes they come from manufacturers who are not even in attendance. EICMA 2022 followed a similar pattern.
EICMA 2022: New Retro Motorcycles for 2023
The major international moto show season kicks off with Intermot in Cologne and ends with the Moto EXPO in Melbourne. By far the largest of them, however, is the Milan show – in local parlance di Esposizione Internazionale Ciclo Motociclo e Accessori (EICMA).
Most manufacturers schedule revelations for early November when the show takes place.
Each year since this site has been in existence the number of modern-classic and neo-retro motorcycles revealed at EICMA has grown. 2022 continued this new tradition with several updates, new models and a few concepts.
Here's a rundown of some of the most noteworthy retro bike news for 2023 revealed at the show.
MV Agusta Superveloce 1000 & Concept 921 S: Refined Racers
Following multiple reformations and restructuring in the 21st century, MV Agusta is probably building the most desirable machines of any major manufacturer now. Finished exquisitely, equipped with high-specification gadgetry and coupled with best-of-breed components their motorbikes are as decadent as they are competent.
MV was not present in Milan this year. Yet, it managed to capture the limelight with the announcement of the Superveloce 1000 Serie Oro and a café racer concept named simply 921 S. Both are quintessentially MV Agusta: bold, desirable, artistically-designed super-machines.
Superveloce 1000 Serie Oro
The Superveloce 1000 Oro is based on the same platform as the hyper-naked Brutale 1000 RR. And it's built in the same vein as its smaller garage mate the Superveloce 800 Serie Oro.
MV describes the 800 as a neo sports café. That's a hybrid style that uses style notes from the past while closely aligning itself with the present by utilising modern engineering. Although, the Superveloce is more of hypersport bike than sport.
If design sensibilities had remained similar while technology developed in the same way that it has, it's conceivable that the three-cylinder MV 500 race bikes (which inspired the Superveloce) might have evolved into the Superveloce 1000.
This bike isn't just a refined racer – with a 998cc inline-four (claimed 209.1 bhp), carbon fibre bodywork and disc brake cover – it has the accoutrements to attack the track, albeit with a more comfortable riding position.
But with a likely £50,000 price tag it is probably not where you'll find it. MV Agusta bikes at the top end have always been millionaire's play toys so perhaps riding on the track with a bike that cost as much mid-range family saloon, is not exactly that big deal for owners of such motorbikes.
921 S Concept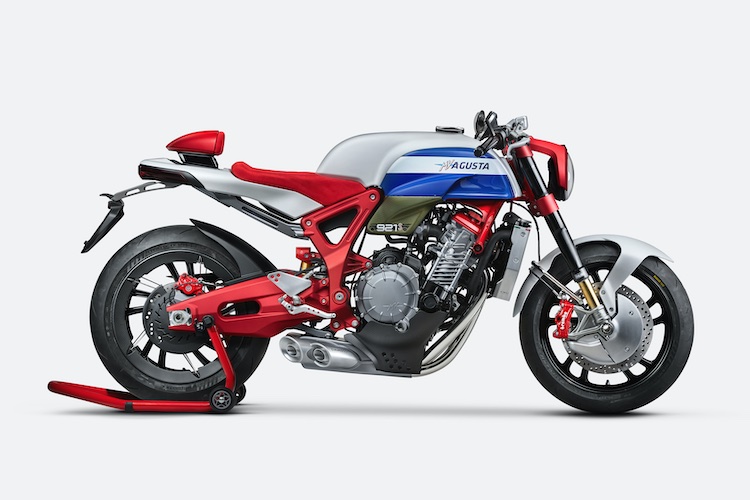 Finished in the distinctive ruby, white and Blue America it's apparent where MV Agusta's 921 S concept gets its inspiration. To elucidate – it's from the classic 1973 MV Agusta 750S — one of the most desirable motorcycles ever built.
Visually striking as it is, the 921 S is also fitted with high-spec components and gadgets. Brembo and Öhlins are found in all the right places. It's held together by a brand-new tubular steel trellis frame with an oversized swingarm affixed.
While its inspiration may be the past, the 921 S gets several modern features you'll find on more contemporary-looking counterparts. They include launch control, ABS, traction control, an up-and-down quickshifter, multiple riding modes and TTX36 mono-shock.
MV claims the new inline four-cylinder engine produces an assertive 115hp at 7,000 RPM and 116.5 Nm of maximum torque. No doubt the low-slung shorty exhausts will produce a memorable sound.
Once again I'm a fan. Although, I'd be more smitten if a more conventional round headlight was used and the front fender and brake cooling covers were sleeker. (They're designed to emulate the drum brakes of the 750 S.)
Finally, spoked wheels that take tubeless tyres would ideally replace the carbon fibre wheels of this concept, offering some practicality… at least outside of actually cleaning them.
MV deliberately approached the design of this modern classic from a non-conventional retro design perspective. So, it doesn't fit entirely into the mould of a café racer.
As such there will be plenty of riders who despise and adore the 921 S in equal measure. But concepts and new bikes tend to polarise riders, stoking the most intense feelings either way.
If you're a fan, you'll have to wait until 2024 for the production version according to MV's CEO, Timur Sardarov. And, if MV Agusta does build this bike (with some refinement) it's likely to be £25k+ at a guess.
Bimota KB4 RC: Non-Conformist Café Racer
Up next is another non-conformist café racer built by another exalted Italian marque.
Like many motorcycle manufacturers established in the 20th century, Bimota has an intriguing past. It was created by three riding pals, Valerio Bianchi, Giuseppe Morri and Massimo Tamburini with business interests in air conditioning and heating.
Using the first two initials of their surnames the trio formed Bimota. Allegedly, that came after Tamburini crashed his Honda CB750 during a race one weekend, breaking the bike's frame along with a few ribs. It was then that he set about building the HB1 with a superior redesigned frame.
Following that, the marque quickly began to punch above its weight in racing, competing and beating the larger factory teams. It also produced eccentric-looking innovative road machines seemingly ahead of their time.
It had a turbulent period after the turn of the century including bankruptcy and mothballing, until its eventual revival. (In 2020 Kawasaki purchased a 49% stake in the business.)
The Kawasaki Bimota 4 RaceCafe (KB4 RC ) is the brand's latest exotic offering. It's a streetfighter-style café racer. In essence, it's a stripped-down version of the full-fairing KB4.
This latest machine presents as a brawny café racer. A short wheelbase, low front end, large fuel tank and a raised tail, give it a stocky/muscular appearance. As such, it doesn't conform to the aspect typically associated with café racers.
With 140 hp offered by the Kawasaki-derived engine, it does amply meet the expectations of a racer nonetheless.
Its looks are bound to divide but again it gets my vote for defying convention.
Honda CL500: Prefix Resurrection
At EIMCA this year Honda made three announcements, welcomed by retro riders.
The CL prefix was revived through the launch of the CL500 scrambler. Honda also announced a touring focused bagger in the form of the Rebel CMX1100T and the relaunch of the XL750 Transalp which has strong neo-retro vibes.
When comes to modern classic motorcycles Honda's been arguably reticent since it retried its CB1100. Unless of course, you consider the Rebel cruiser range to be retro which riders simultaneously do and don't. After all, cruisers have always been around in their present form haven't they?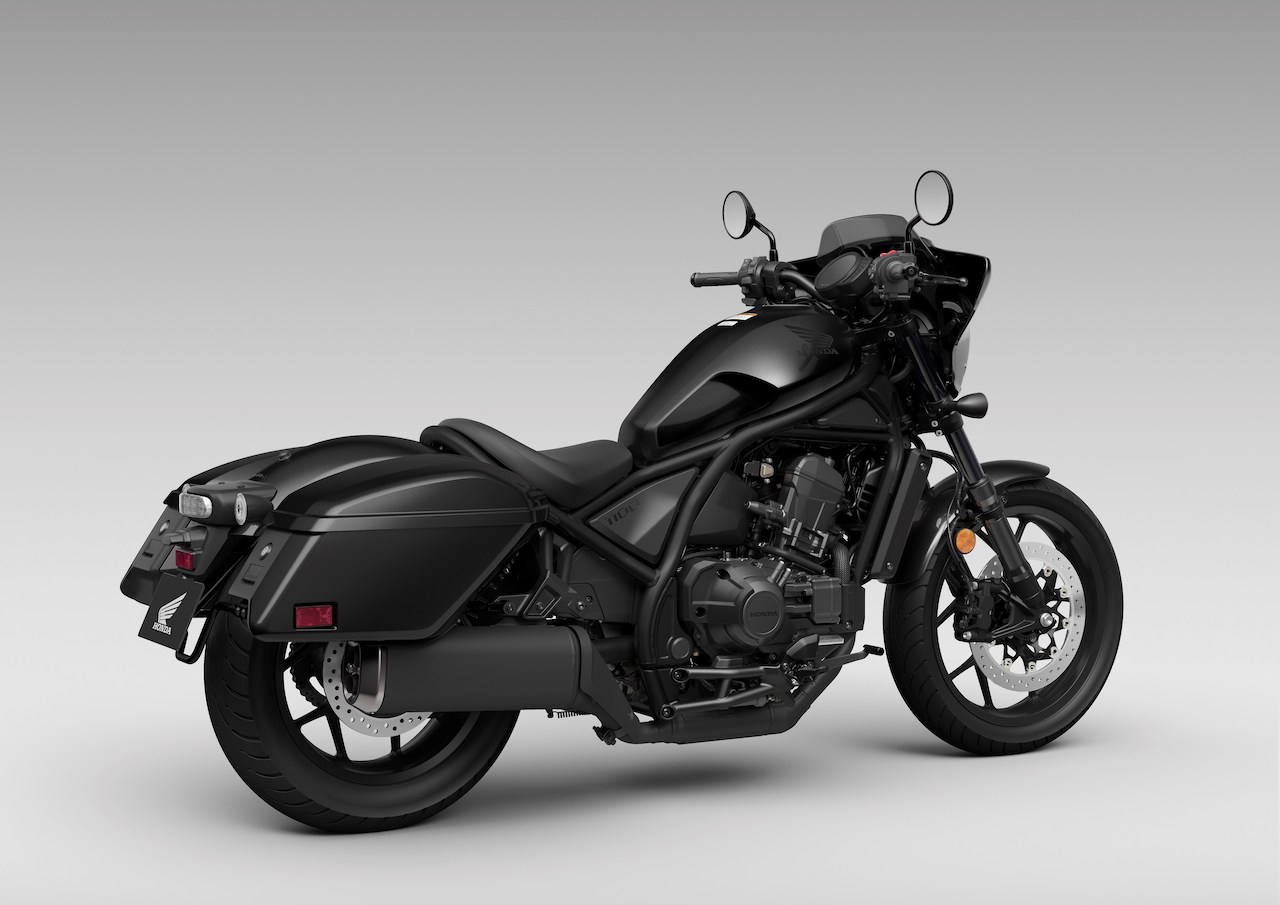 Despite its looks and being a relatively good ride, the CB1100 wasn't particularly well-received. It may have looked too modern to be considered a true modern classic. Yet it wasn't contemporary enough to be a neo-retro. The price tag may have also put some off, especially when compared to contemporaries like the R nineT and the Bonneville.
Since then Honda's CB1000 R (the self-described neo sports café) plus its smaller siblings have been flying the somewhat retro flag, joined later by the Africa Twin.
However, at EICMA 2022 that changed with the announcement that the A2 licence-compatible CL500 street scrambler and the middleweight neo-adventure Translap (look out Yamaha Tenere).
The CL500 is probably the most significant launch from the perceptive of retro motorcycles, so let's focus on that.
Two things are immediately noticeable about it. One is the curious angle at which the frame cuts into the 12 l tank. The second is a rather large high-side-mounted exhaust. However, the whole package works together rather well.
The 471cc parallel twin-cylinder engine is the same trusty powerplant found in Honda's 500 bike range which encompasses numerous styles. Beginners should be able to manage its 46 bhp and will enjoy the benefit of the low seat as well as the slipper assist clutch.
It may not be a Scrambler Ducati killer but at an expected price point between £6,000 and £7,200, it should capture quite a few sales. Regardless, retro riders should be truly excited to see the CL prefix revived in a Honda motorcycle.
Ducati Scrambler 800: Update with Trellis Frame Intact
Speaking of Ducati, its Scrambler 800 model range has been pootling along with a few tweaks here and there, selling in high numbers. This is one of the most significant updates since its launch, amounting to a major overhaul.
Many if not all will be pleased to hear the trellis frame stays!
After a thinning-out, the 800 range is now comprised of the Icon, Nightshift and Full Throttle. All benefit from the update.
If you're wondering if the engine is new – it's not. The Euro5-compliant air-cooled Desmodue twin-cylinder powerplant is the same. Nevertheless, it has a new visage and it's lost some weight.
The chassis, however, is new and gives the bike a slightly longer, lower and lighter appearance.
All models are now ride-by-wire which should improve throttle responsiveness. It also means riders can access multiple rider modes for the first time on the Scrambler.
A new instrument panel replaces the outgoing retro dial. Ducati has opted for a mostly rectangular panel with a larger TFT display. It seems somewhat incongruous with the retro styling.
Other than that Ducati designers have beautifully refreshed the aesthetics while maintaining the bike's retro character.
One of the hyped aspects of the new Scrambler is the ability to customise… or rather personalise the tank panels through colour. The three standard colours are easily swapped out for six additional colours found in the accessories catalogue. Front and rear mudguards, the headlight cover and wheel tags can also be personalised by colour.
That aside, Ducati says the repositioned central monoshock has greatly improved handling.
Outside of the Scrambler range, the DesertX didn't get an update. That's unsurprising – it's a relatively recent launch. It did however get a sporty new black-white-red colour scheme, in addition to the existing white.
While the bike is not part of Ducati's scrambler range, its close resemblance to the classic Cagiva Elefant 900 puts it on the radar of most neo-retro riders.
In other news — Ducati's Diavel was also present at EICMA in its new form with a V4 engine, sans trellis frame. (People may lose their minds.)
Indian Motorcycle FTR: Unique V-Twin Muscle
At EIMCA Indian Motorcycle made many announcements across its whole range. Among them included the news that Thunderstroke and Powerplus models will have a new slipper clutch and haptic feedback on some control buttons in 2023.
Also, the Springfield, Chieftain, Challenger, Pursuit and Roadsmater have a newly redesigned LED headlight.
Additionally, a multitude of new paint schemes will be introduced across its line of models, alongside an accessories partnership with Cruztools.
Nonetheless, the most notable news to come out of the show was the update to the Indian's FTR lineup.
Inspired by the success of Indian's American Flat Track team, The Wrecking Crew, the 120 hp, 1203cc v-twin hooligan has proved immensely popular since its launch in 2019. The range now features the FTR 1200, FTR Sport, FTR R Carbon and FTR Rally.
Aside, from the updates to the colour schemes Indian Motorcycle has:
Re-tuned front braking
Added a new clutch
Adjusted the position of the instruments
Given all models a new sports exhaust muffler as standard
Fitted a 101mm round touchscreen display
Out of the lineup, the FTR Carbon is naturally the standout model. Decked out in a carbon-fibre body, and with fully adjustable Öhlins front and back, it's closely aligned with the Flat Track origins of the bike.
While street tracker builds are not rare in custom bike terms, production trackers are not that common.
And yet, there are certainly more motorcycles in this segment than there were before the FTR 1200 launched. Motorcycles like the Brute 500 from Herald and Caballero 500 Flat Track come to mind.
There are also a few smaller displacement examples from the retro importer segment for the market. Nevertheless, the FTR is almost in a category of its own.
That almost certainly makes it a talking piece each time it rolls up in the metal.
Fantic Caballero 700: New Twin, Yet Tried & Tested
Fantic is another brand riding high on the wave of renewed desire for all things old. The cult 70s brand launched its Caballero range in 2018 which garnered plaudits. At EICMA 2022 it announced the launch of the Caballero 700 — the first twin motorcycle in the Caballero range.
Up until this point the range has featured only single-cylinder models – 125cc, 250cc and 500cc variants of a street tracker bike and a scrambler made in the image of the original Caballero.
In 2021 Fantic formalised its relationship with Yamaha after acquiring a one-hundred per cent stake in Motori Minarelli. The company already had a long-standing collaboration with Yamaha.
The partnership has permitted the use of the CP2 engine in the new Caballero 700. It's the same DOHC parallel-twin engine found in Yamaha's R7, Ténéré 700, XSR700 and MT-07.
Talking numbers alone, the 689cc liquid-cooled Euro5 twin engine with its 4-valve twin-shaft timing system makes 75 horsepower and 68 Nm torque peak – making it a competitive middleweight retro in performance terms.
Numbers aside, Fantic has engineered a beautifully beefier version of its existing lower displacement scrambler models. It's also added new gizmos and rider aids including traction control and cornering ABS which is a first for the range.
No doubt, targets are set on the current segment leader, the Scrambler Ducati 800 (range).
And on looks alone, it would almost be criminal not to take a test ride on the new Cabellero 700, if you're considering the Bolanga marque's offerings.
You've got a compelling reason when the 700 model's likely starting price of ~£9,000 and engine performance are considered. Combine those factors with Fantic's build quality and heritage and you'd never forgive yourself if you didn't swing a leg over it when it comes to dealers in 2023.

Yamaha XSR 125 & XSR 700 Legacy: New Hues + Off-Road Seventies Vibe
Yamaha's strategy across its retro bike range is simple. It takes solid contemporary platforms and forges them into motorcycles inspired by the past. It calls the ethos Faster Sons. That translates to great-looking vintage-inspired bikes with superior performance to those that inspired them.
It wasn't long ago that Yamaha expanded its Sports Heritage range to include a lower displacement model in the form of the 15bhp (11.2kW) XSR 125. This seventies-inspired liquid-cooled model uses the same engine as the MT-125 and R125.
Understandably, it added fierce competition to a sector dominated by boutique retro manufacturers and importers.
The XSR900 was launched anew last year benefiting from major updates to the chassis and the CP3 engine development. It also jumped forward a decade in styling to the '80s.
The XSR700 got a slew of upgrades including a new LED headlight, dash and upgraded brakes. It also benefited from tweaks to the 690cc CP2 engine.
So all bikes in the Sport Heritage range are relatively new or recently updated. But the XSR700 was due for a major overhaul. Nevertheless, at EICMA 2022 Yamaha ultimately announced what amounts to styling updates for its middleweight and beginner retro motorcycles.
For the XSR125 that means new colour schemes for 2023, (White, Impact Yellow and Yamaha Blue).
The XSR700's styling remains firmly in the seventies and decidedly more so with the new Legacy variant reveal at EICMA. This model sees the middleweight retro morph into a vintage-inspired street scrambler.
To achieve the look – black fork gaiters, an integrated headlight guard, a braced handlebar and gold-coloured 10-spoke cast wheels paired with chunky knobbly tyres have been added to the bike.
Elsewhere – while not strictly in Yamaha's Heritage line-up, the neo-adventure bike, the Ténéré got a host of upgrades.
The standard Ténéré and the Rally Edition coming in 2023 now include a 5-inch dual-theme TFT meter, three-mode ABS, quick shifter pre-wiring, plus new colours and graphics.
Similar to the DesertX its Dakar rally bike shape appeals to both retro riders and neo-adventure riders.
Royal Enfield Super Meteor 650: New Old-School British Cruiser
Royal Enfield's been on a release spree in the last four years. Since 2018 it's added the Interceptor 650 GT Continental, Meteor 350, Classic 350, Hnter 350 and Scram 411. Additionally, the Himalayan has been given a Euro5 upgrade.
RE's retro bike range is rich in retro genres, with one to suit nearly all riders and seemingly all demographics.
The middleweight lineup was missing either a bobber/cruiser. However, the launch of the eagerly anticipated Super Meteor 650 at EICMA 2022 fixes that.
In 2021 RE showcased the SG650 concept to demonstrate the versatility of its 650 platforms. The concept was a fine-looking café-racer-inspired bobber.
The Super Meteor on the other hand takes its inspiration from classic British cruisers — according to (RE's chief designer Mark Wells).
The result is a bike built in the shape of a cruiser with bobber styling. It doesn't fully cut one way or the other.
As such, the finished product is somewhere between both styles. That means it should appeal to buyers in either camp or none at all. Although, I have a hunch the former is much more likely to be true.
The 648cc parallel twin engine inserted into a Harris Performance frame is the same found in Royal Enfield's 47 bhp café racer and roadster.
Royal Enfield is perhaps building the most authentic-looking modern classic motorcycles at the moment. The oil/air-cooled Super Meteor admirably fits this bill too.
If you've been up close, then you'll know the build quality is an improvement on the Interceptor and GT which have also been praised in the past. The bike features USD forks, in-built turn-by-turn navigation and LED lights all around.
Fans of Royal Enfield looking for a laidback ride will find plenty to like in this new bike. And with a price tag of £6,239 combined with its styling, the Super Meteor may pick up a few new fans for RE as well.
New Retro Motorcycles in 2023: High Expectations
2023 should be an excellent year for the modern classic/neo-retro motorcycle segment. That's if just a few of the announcements made at EICMA 2022 live up to expectations.
The retro segment is hopping with more choice than ever before. Moreover, performance parity with contemporary-styled bikes is approaching. That alone should open it up to new riders and retro converts… in the unlikely event that the aesthetics of these retro motorcycles don't sway.