As far as its Heritage line is concerned, much of BMW's attention has been on its gigantic boxer twin, the R 18. It's a euphemism for cracking the US cruiser market. So you'd be forgiven for thinking that marque was toying with the idea of letting the R nineT gently lowside into Euro4 oblivion. But not so.
In a streamed reveal, the marque finally announced a Euro5 update for the R nineT model line — the pioneer model of BMW's heritage range. Nonetheless, BMW couldn't resist mentioning the R 18 Classic, which was introduced by the Americas Regional Head, Trudy Hardy.
New BMW R nineT Revealed
The announcement of the 2021 R nineT may not have come as a surprise to anybody paying the slightest attention. 'Spy shots' (obligatory) appeared a few weeks before the big reveal.
Equally, it wouldn't have shocked riders with a smidgen of awareness of the affection in which the 1,170cc boxer-twin is held. And, that's even before sales volume and revenue are considered.
According to Timo Resch, Head of Sales and Marketing at the Bavarian marque, more than 80,000 R nineTs have been sold in the seven years since it was first shown at various moto shows around the world.
That means, approximately 11,400 units each year at circa £14,000 per motorcycle which equates to a staggering, circa £160 million a year – give or take a few million if the maths of this writer is accurate.
Ponder that for a moment.
Then consider that the above figure is a sub-total before the inclusion of revenue from approved used bike sales (for dealers), servicing and maintenance. And, that's without all the accompanying ecosystem of merchandise and factory accessories sales.
In short, it is revenue not to be sniffed at. That's particularly true in the current market. Yet, it should be noted that BMW Motorrad was bucking the industry's downward trend, with sales up 5.8% in 2019. Conceivably, an update of the R nineT was inevitable though not without investment and challenges – the latter in form of Euro5.
R nineT Background
When BMW's R nineT was first announced, it was said to mark 90 years of production. Fittingly Ola Stenegärd (then Head of Vehicle Design at the marque) and his team chose to design an air/oil-cooled, flat-twin boxer to honour the milestone.
And through no accident, the launch of the heritage model coincided with an increasing yearning for all things modern but old-looking. At the time riders appeared to be seeking a simpler less encumbered riding experience but also with a little punch. And the trend continues today.
Naturally then, the R nineT not only fulfils retrospective aesthetic desires but decidedly meet the needs of those seeking modern performance within the package.
Bar the discontinued Ducati SportClassic, the R nineT was the first to embody the notion that modern classics need not sacrifice performance for visuals. Arguably, without the R nineT, there may never have been the need for its rivals. Namely, the Thruxton R, Kawasaki Z900RS and Yamaha XSR900.
More likely though, is that the retro segment may have reached the same evolutionary point at a much later date (where the desire for performance is nearly as important as looks). Nevertheless back then, the R nineT raised the benchmark for retro roadsters, scramblers and cafe racers.
It returns now with all-important Euro5 upgrades and it's still competitive within the retro-pack.
Four Upgraded R nineT Models
The new R nineT retains four of its existing guises with which most riders will be familiar:
Conspicuous by its absence (though probably not surprisingly) is the R nineT Racer. Despite its sublime, classic racer silhouette, many riders found the stretched-out, riding position ergonomically challenging for anything more than a short Sunday bimble.
However, you shouldn't be too surprised if it makes a comeback within a few years. You can bank on tweaked ergonomics if it does return!
R nineT [Roadster]
For 2021 the R nineT roadster is available in the traditional BMW Black Storm metallic finish, as well Option 719: which are Night black matt/Aluminium matt, Mineral white metallic/Sunset yellow or Aluminium. The latter is a spartan brushed aluminium finish which is in equal parts understated and eye-catching.
R nineT [Roadster] Price From: £13,150
R nineT Urban G/S [Enduro]
Dedicated retronauts may wish to opt for the M-Sports livery version of the Urban G/S – though Option 719: Black Storm Metallic/Racing Red may also turn a few heads. But if full indulgence of nostalgia is required then the preferable option will be the limited-run, 'Edition 40 Years GS' R nineT. The model celebrates the 40th anniversary of the launch of the BMW R 80 G/S, incorporating a black and yellow livery that's reminiscent of the 'Bumblebee'.
R nineT Urban G/S Price From: £11,515 or £13,965 (Edition 40 Years GS)
R nineT Scrambler [Street Scrambler]
Designed for urban scrambling – in 2021 the R nineT Scrambler gets two standard finishes: Kalamata Metallic Matt and Granite Grey Metallic. Additionally, two more in the Option 719 range: Cosmic Blue Metallic/Light White Uni and Black Storm Metallic/Racing Red.
R nineT Scrambler Price From: £11,515
R nineT Pure [Stripped-back Roadster]
As the entry-level model – with the same power and similar specifications (and arguably more attractive tank colours) the 2021 R nineT Pure may prove highly attractive to riders on a lower budget.
R nineT Pure Price From: £10,960
What's new with the R nineT?
Changes to this latest iteration of BMW's neo-classic motorcycle were primarily driven by Euro5. Meaning, the tweaking of the models mostly centred on the reworking of the engine internals. Nonetheless, BMW also used the opportunity to give the machine a slew of new standard features and optional extras. And simultaneously, the external appearance has been refreshed.
The chassis, however, appears to be untouched. Well at least, the marque makes no mention of any changes to the dimensions.
Euro5 Challenge
It's accepted that Euro5 legislation requires a considerable reduction in emissions from motorcycles. According to Michael Ryland at Ricardo Motorcycle, a reduction of up to a third on average for each emission type.
That means a commitment to R&D which equates to a hefty investment. As such, manufacturers need to be seriously committed to a model to contemplate its continuation under Euro5. Or more accurately, historic and projected sales figures ought to be convincing enough before a Euro5 model upgrade is undertaken.
The regulations present severe engineering and design challenges for all manufacturers, including BMW Motorrad. And, as you can imagine those obstacles are exacerbated by air-cooled engines. Suffice to say, maintaining or improving the performance of an existing Euro4 model while adhering to tougher emission standards is no mean feat. Nevertheless, it seems that R nineT engineers at Beamer have achieved just that.
Reworked Engine
Remarkably, even with the Euro5 change the 2021 R nineT's air-cooled, boxer engine sees only a reduction of one horse. Previously, the engine peaked at 110 hp (81 kW) at 7750 rpm. Despite the marginally lower power figures the 1,170cc boxer engine achieves its 109 hp (80 kW) at a lower point in the rev range [7250 rpm].
That's a testament to the engineering team's changes to the flat-twin cylinders. They benefit from a new internal system that regulates the air/fuel mix. And the result is a far more efficient engine, reduced emissions and torque that remains unchanged at 116nm.
Noticeably, the cylinder-head covers have also been redesigned. But not just for visual sake but to assist in cooling. Regardless, they look cleaner and rather sharp. Perhaps more pertinently, according to BMW, the updated model pulls harder between the 4,000 to 6,000 RPM range as an outcome.
New Features and Finishes for the 2021 R nineT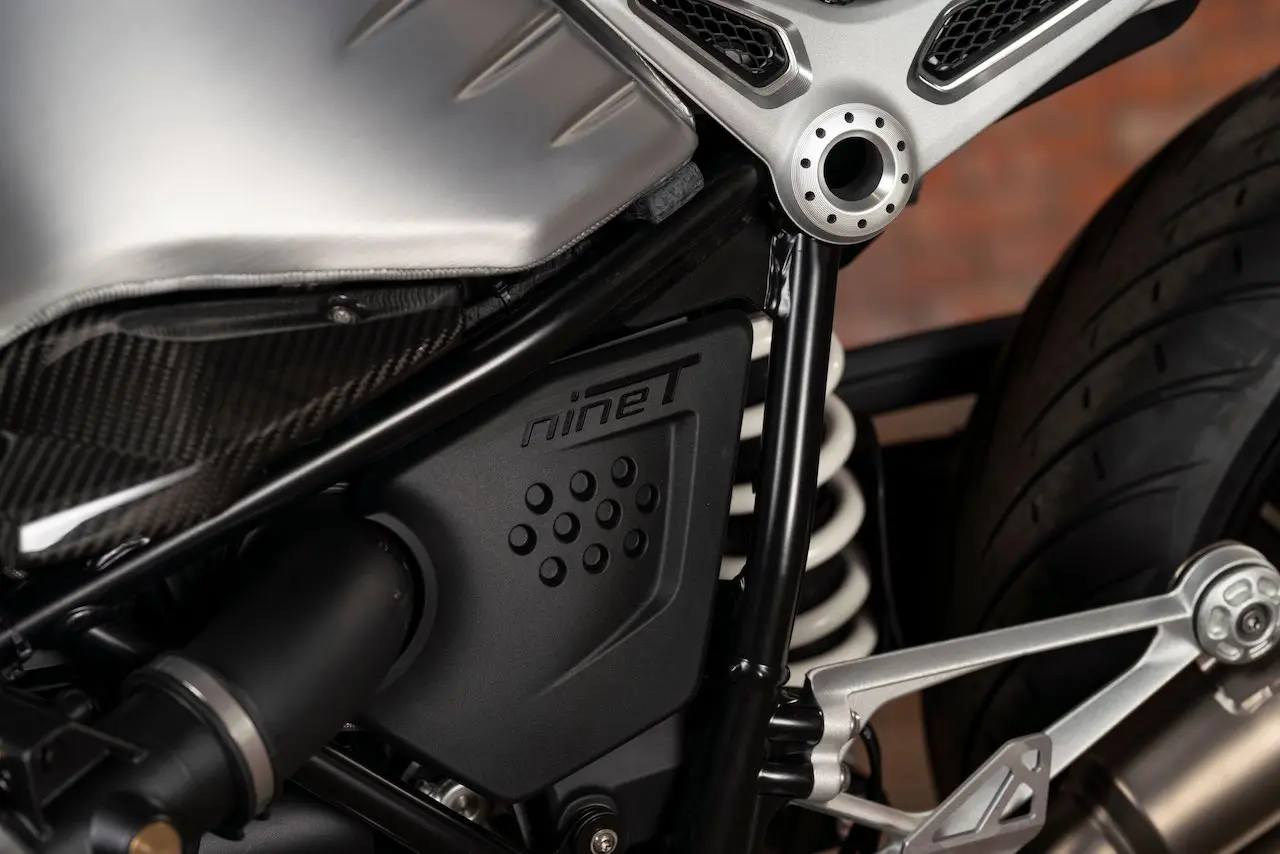 It's not just the internal workings of the engine however that have received a tweak. The classic round, dual instrument dials are still present, though modernised for MY-2021. The Euro5 R nineT will be sold with a slew of new standard features too.
Conveniently, the new rear shock's preload can be adjusted using a handwheel and comes with travel-dependent damping for a smoother ride.
A choice of wheels is offered – either Classic which is now a tubeless cross-spoke wheel or alternatively Sport – which is cast.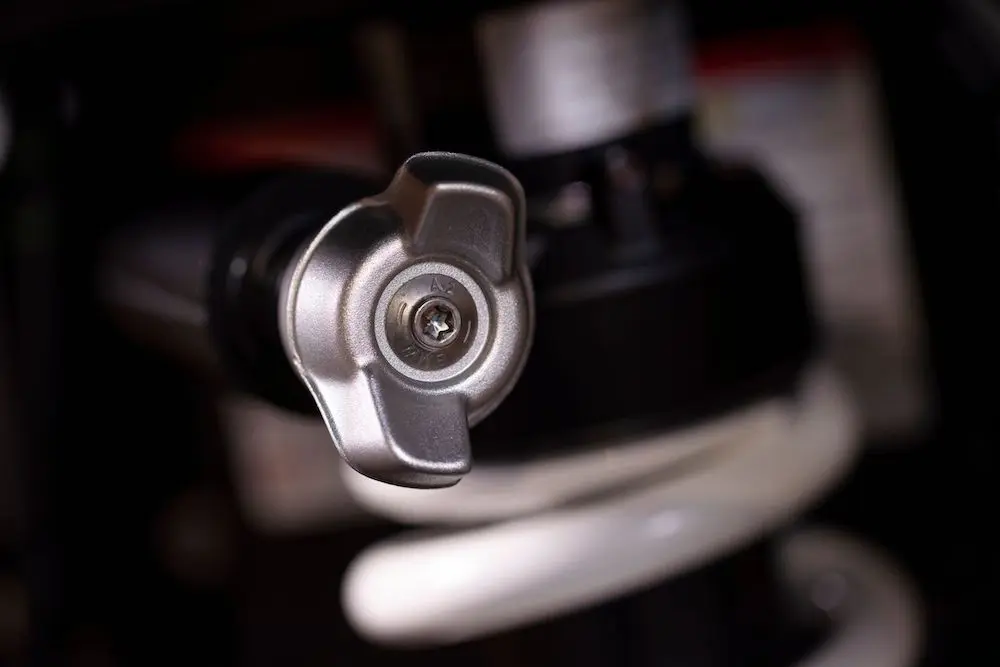 ABS Pro is now included as standard and offers the advantages of safer in-corner-braking functionality. That combined with BMW's dynamic brake control (which cuts power to the throttle under emergency breaking) – means more intelligent stopping power.
Two riding modes are also offered as standard [rain and road], along with a full suite of LED lights – of which indicators [turn-signals] appear clear white until activated.
Extras
Alongside new standard features are optional extras which include: Riding Modes Pro, offering a Dirt riding mode for the Urban G/S and Scrambler. Or alternatively the Dynamic riding mode for the R nineT roadster and the Pure. Additionally, DTC (Dynamic Traction Control) and engine drag torque control (MSR) are also featured.
For riders with larger budgets or a penchant for extras, there's a Comfort Package. It includes all of the above along with cruise control and heated handlebar grips.
Individualisation
No retro bike launch is complete without a catalogue of bolt-on parts to help personalise the bike. For the R nineT, this comes in the form of BMW's Option 719 programme. Through this, the bike can be augmented with milled billet parts: engine covers, handle levers, footrests and more (available in the Classic or Shadow design sets).
BMW Motorrad dealers are now taking orders with delivery of the new model expected in early 2021. If the reaction so far is to be trusted, this updated R nineT model is as likely to be as successful as its forerunner.