There's a special custom collaboration in the works by two exceptional individuals. One, a talented motorcycle designer and the other a master, custom bike builder. Craig Rodsmith and Mehmet Doruk Erdem are two names associated with three of the most spectacular customs of the past few years.
BAGS OF PREVIOUS FORM
If you're a devotee of the custom bike scene and regular on social media you will no doubt be familiar with both names. You'll have certainly been inspired by the custom concepts featured in Mehmet posts.
Equally, you'll be acquainted with his previous collaboration with Mark "Makr" Atkinson. That collaboration, saw the Atkinson and Erdem create an exquisite, turbocharged BMW K75 custom inspired by Mehmet's Salt Flats racer concept.
Craig Rodsmith is no slouch when it comes to fine builds, nor social media. His feeds are populated with video and image updates charting the progress of new builds.
His 1969 Moto-Guzzi Ambassador 'Dustbin Racer' from 2016 and more recently the MOTO GUZZI V9 RETRO RACER astounded all who saw it – not only raising but obliterating the bar, in terms of finish. Incredible and immaculate metalwork on both Guzzi builds.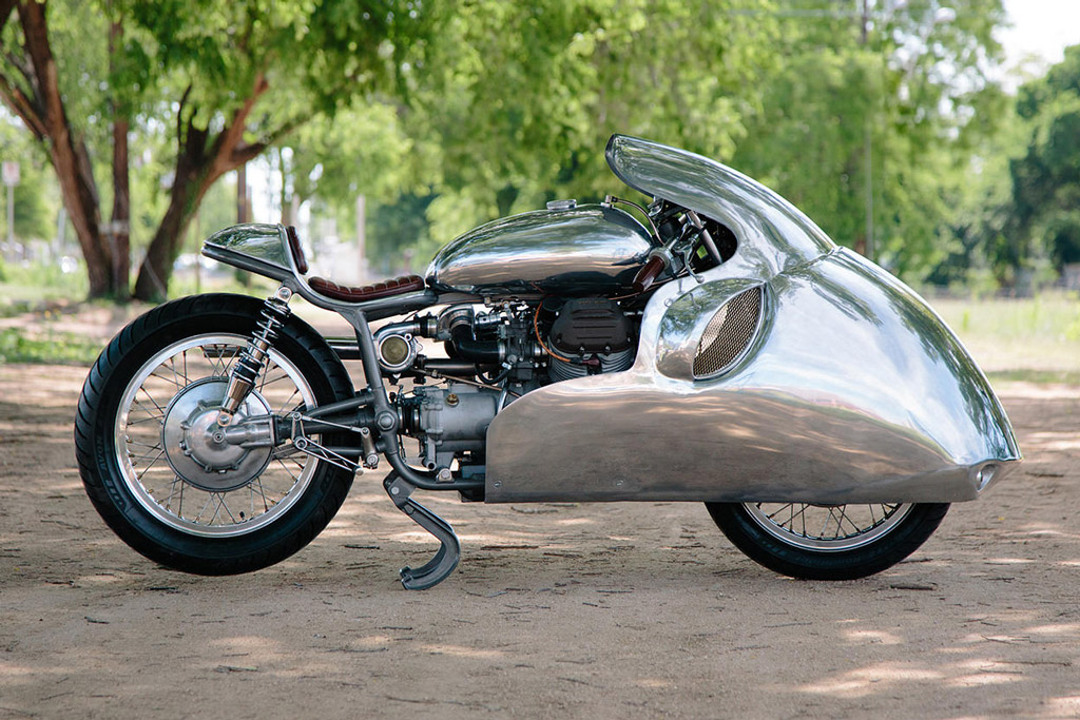 AN INTRODUCTION FROM A MUTUAL FRIEND
Rodsmith and Erdem were introduced by Atkinson [who built the Alpha BMW] and according to Rodsmith they "… got on really well". And in first for Rodsmith he decided to partner with Erdem on a build that he was already working on. After that Erdem came up with the concept.
CRAIG RODSMITH DISCUSSES THE COLLABORATION
HARLEY-DAVIDSON SHOVELHEAD, DUCATI, HYBRID CONCEPT
So that's the background to how this collaboration came about. The glorious render below is the work of Mehmet and is what the duo will be using to guide the build.

Rodsmith suggested, that plans are afoot and after "..a few tweaks" to the render, they'll be ready to start building this beauty of a machine.
Additionally, what's known is that the build will be based on a Harley-Davidson Shovelhead, melded with a Ducati. It remains to be seen what the final outcome will be. However, with these two on the job, the outcome is likely to be highly desirable.
Image Credits: