Master metalsmith, custom bike builder extraordinaire, Craig Rodsmith got his hands on the Moto Guzzi V9. Unsurprisingly, he's crafted another superbly finished Moto Guzzi custom.
Moto Guzzi V9 Custom Build Project
Back in August 2017, Moto Guzzi USA commissioned four custom bike workshops/builders, noted for their previous work with the eagle marque. The aim: to create four unique interpretations of its V9 Bobber/Roamer platform.
This initiative was undertaken, under the banner of the "2017 V9 Custom Builder Project". Roadsmith Motorcycles, owned by Craig Rodsmith is one of the bike builders chosen

V9 Fat Tracker: First Build in the Series
You may have already seen a build from one of the four shops, approached for this series of commissions. That first build was created by Hugo Eccles of Untitled Motorcycles, London & San Fransico. Eccles opted for a tracker style interpretation – creating the progressive, stripped-back Moto Guzzi V9 FAT Tracker (Not FLAT).

The Dustbin Racer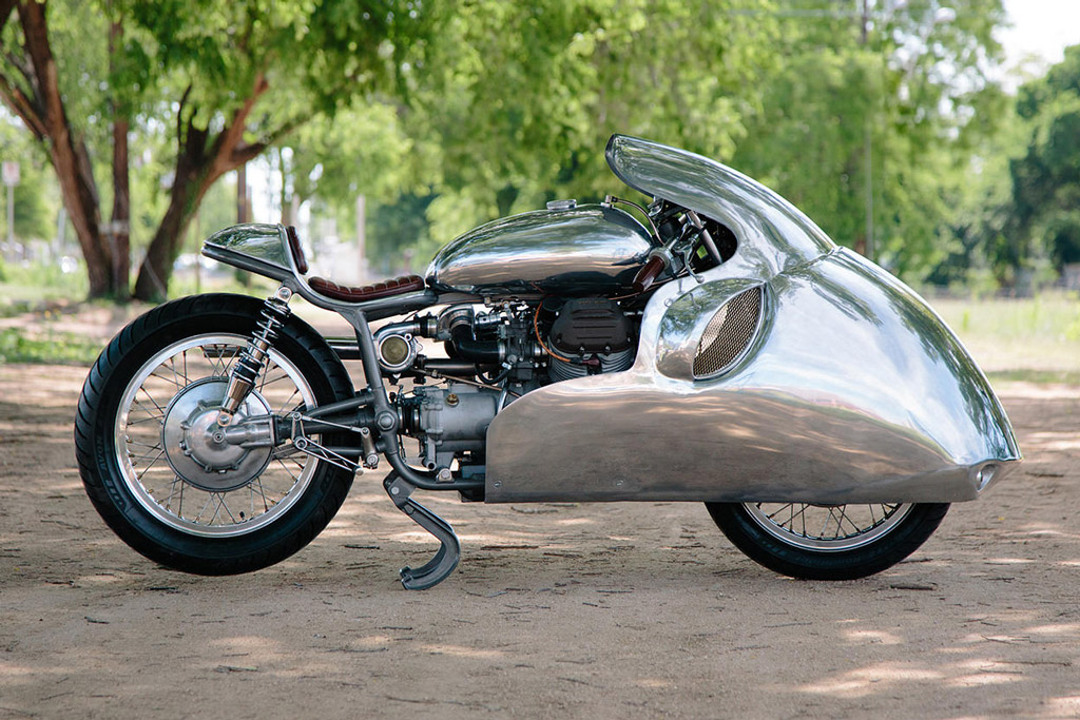 Back to Rodsmith. He was approached by Moto Guzzi USA, following acclaim at the 2016 Handbuilt Motorcycle Show – which saw the reveal of the celebrated turbo-charged, full-aluminium fairing, Moto Guzzi (1969 AMBASSADOR). Given the shape of the front fairing that bike came to be known as, 'Dustbin Racer'.

If you follow Craig Rodsmith on any of his social channels, aside from a sharp wit, you'll have detected that his signature approach, is building all of his bikes by hand, using metalwork and fabrication expertise, that's been honed over 40 years of wrenching.
It would be a grand understatement to say, 'he pays meticulous attention to detail on each and every build.' This polished Moto Guzzi V9 cafe racer dubbed 'Retro Racer' encapsulates that grand understatement vividly.
Moto Guzzi V9 Retro Racer
We look forward to seeing the remaining two Moto Guzzi V9 customs from Revival Cycles and Moto Studio. Revival is rumoured to be working on a V9 Chopper build.
Image Credit(s):