Following the launch of its flagship products (Wall Rack, Helmet Stand and Wall Hanger) Halley Accessories now turns its attention to interior illumination. Simply named R-Lamp, this newest Halley piece is a sustainable endeavour: floor lamps, made from reclaimed vintage BMW R series headlights.
Halley R-lamp: Interior illumination for moto-devotees
The nomenclature of Halley's products is simple, reflecting the unembellished, practical yet incredibly pleasing nature of the Barcelona studio's designs.
That combined with the signature component (the vintage headlight) is likely to appeal to most two-wheel machine junkies. But equally to those among us who are more sustainably-minded. And no doubt, more so those with a particular penchant for classic and custom motorcycles.
Within the R-Lamp, the Barcelona-based brand's innovative minimalistic design aesthetic is evident. As it is throughout the growing portfolio of decorative yet practical moto accessories, for two-wheel devotees.
Standing at 180cm tall, R-lamp's steel frame is integrated into a Nero Marquina marble base giving this floor-lamp a prominent and sturdy presence. Immaculate CNC machined parts joined with two steel rods on either side house the headlight. Cleverly, the height is adjustable – as is the direction of the lamp itself (360° rotatable).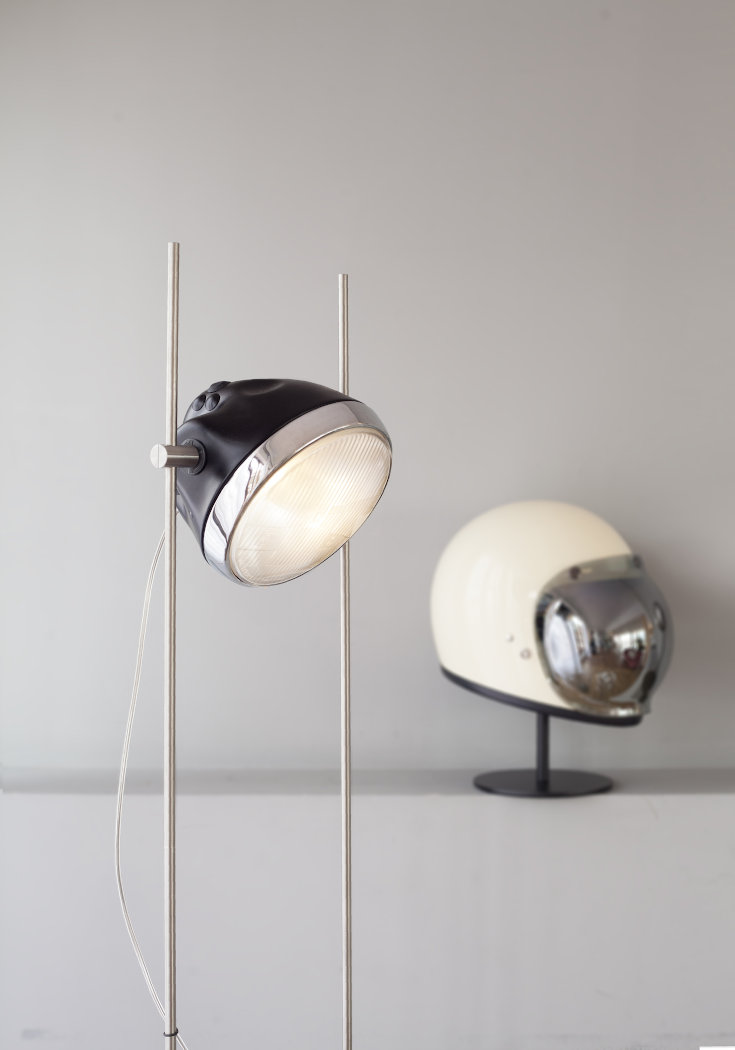 The backend of the R series headlight is restored and painted. However, Halley chose to leave the chrome ring of the headlight unadulterated, meaning the patina showing the passage of time is visible.
That detail unquestionably emphasises the authenticity of the lamp. Additionally, it will remind future owners that what's standing in his/her living room once belonged to a living, moving machine.
Each and every lamp will be handcrafted after an order is placed so no two will be the same. The R-Lamp is now available on Halley Accessories' website, shipping worldwide.