There is perhaps not a more beautiful nor perfect object on which to hang your motorcycle helmet than Halley Accessories' Helmet Stand or Wall Rack. This design studio's range of motorcycle helmet accessories offer functional storage when in use. When they're not, they're decorative ornamental pieces.
Halley Wall Helmet Rack: Minimalistic Design at Its Best
From its studio in Barcelona, Halley Accessories creates its marvellously minimalistic designs. Within the brand's helmet stand, wall rack and hanger, utility is effortlessly combined with an understated, yet eye-catching design. Equally so, high-quality materials with excellent craftsmanship.
As riders, the team at Halley are acutely aware of the allure of moto-inspired decor. More so the venerated status that is given to riders' motorcycle helmets – first or second (interchangeably) only to a biker's leather jacket.
Inextricably, the helmet is an extension of a rider's personality.
Whether it's a full-face helmet with a tinted visor or clear – alternatively, an open-face with goggles and all of the combinations in between, a helmet hints at the type of person you might be as you scoot by.
Halley: Reimagining Helmet Storage
First and foremost, helmets are designed to preserve life. Equally, they're designed to be admired in the process. As such they're robust functional items, yet simultaneously precious display pieces. Nevertheless, when not in use it seems that little consideration has been given to the storage of this article since its invention nearly a century ago.
Halley Accessories sought to change that a few years back. Initially, with the launch of a wall rack. The goal was to design an object deemed aesthetically worthy of holding an item of such elevated status (when it wasn't being worn). But, simultaneously make it capable of caring for the helmet in such a way as never before.
Fed up with storing their own helmets in cupboards the team began its mission. The aim it says was to "… give your helmet the place it deserves in your home, somewhere special to display it." E
Undoubtedly, there are other and numerous helmet storage options available. Of course, they can be found on the usual high-volume eCommerce sites.
Some are elaborate in design, others more utilitarian. Nevertheless, none quite match Halley's offering in terms of successfully fusing a beautiful concept with purpose.
Elegant and Functional
More importantly, according to Halley, many existing helmet racks and stands along with alternative traditional solutions such as coat hooks, feature pointed ends. That invariably results in single pressure points which can potentially tear, misshape and damage the soft interior lining of the helmet. This means the fit of the helmet could potentially be comprised.
"We wanted our first product to look elegant and attractive as a piece of design whilst also prioritising function."

Halley Accessories
Motivated by a lack of appealing designs and the shortcomings of traditional solutions. Halley embarked on the design of their first product, the Helmet Wall Rack, with a simple brief – elegant and functional.
And the moto-inspired, design house certainly appears to have achieved that goal – while deftly blurring the line between decor and pragmatic storage.
Halley Helmet Wall Rack
Halley's wall rack (its standard-bearer) was launched first. And as its spartan moniker suggests, it's designed to be wall-mounted via a sturdy metal, laser-cut disc. Both open and full-face helmets can be held securely by the brushed, stainless steel orb which sits atop an asymmetrically curved black, metal arm.
Its spherical design is striking. However, more importantly, the rack makes smoother contact with the inner lining of the helmet (due to its greater globular surface area). Therefore, the aforementioned pressure points are eliminated.
Wherever Halley's wall rack is mounted, it's likely to draw attention. More so, however, it places helmets out of harm's way… beautifully.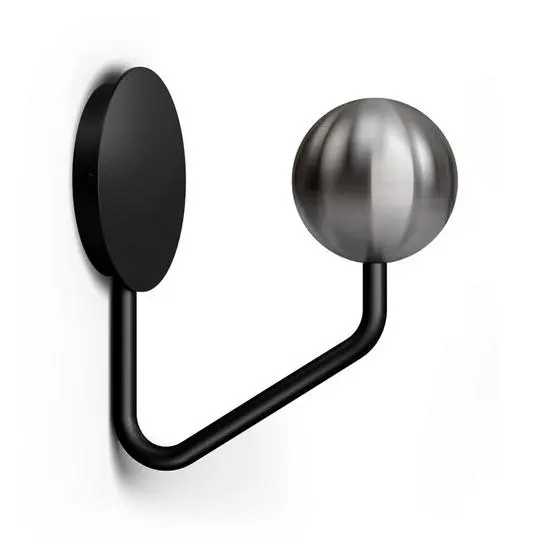 Halley Helmet Stand
Much in the same vein as the Helmet Wall Rack, Halley's second product the Helmet Stand, fulfils its functional purpose using the same spherical motif and materials. Nonetheless, this time the metal arm is connected to a heavy-duty, (laser-cut) base, that sits flat. It is a solid disc-shaped foundation that will effortlessly hold a helmet, without a hitch.
And while function compels the form of this stand, the outcome is both a literal and figurative pedestal. An interior decor item that objectifies and celebrates, if not worships the form of the helmet. Any flat surface becomes the altar, a coffee table, a side table or sideboard etc. The resulting display is contemporary art; the effect, quasi-religious.
Halley Jacket Wall Hanger
Lastly, the studio's most recent addition is a wall hanger. A hanging solution for the other most exalted item of clobber in the rider's wardrobe – the motorcycle jacket.
Once again, the product is simple in design and benefits from a restrained finish. Fine materials in the form of black-dyed oak wood and matte black lathe-cut parts are utilised.
Despite the simplicity of its finish, clearly, deep contemplation has been given to the intended use. To that end, any jacket hung on Halley's wall hanger will enjoy greater separation from the wall. This means that drying and airing is a far more efficient affair. The wall itself will likely benefit from fewer grimy jacket marks with which most riders are familiar.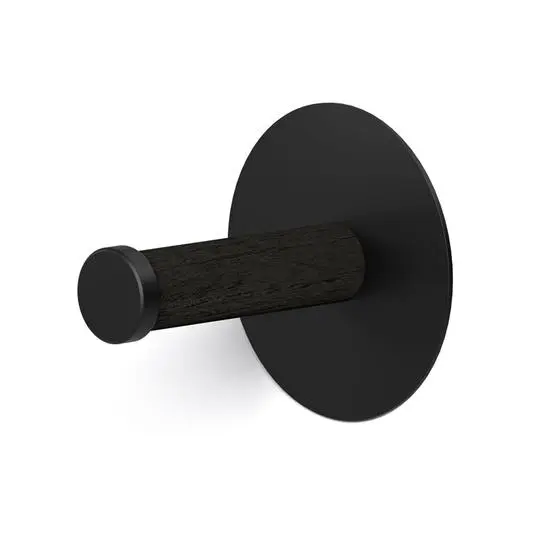 With a small but growing portfolio of visually pleasing, yet functional, rider-devoted products, whatever innovation Halley launches next it's likely to be eagerly anticipated.
Halley's motorcycle storage accessories are available directly from its website or from a growing number of online retailers.