For most motorcycles riders, being surrounded by moto memorabilia or vintage parts (when not riding) sparks warm and fuzzy feelings in the amygdala. The Modern Weld capitalises on that with its exceptionally designed collection of interior lighting pieces. Designs, that cleverly straddle intersecting lines of interior decor and moto-art.
UNIQUE VINTAGE MOTORCYCLE LAMPS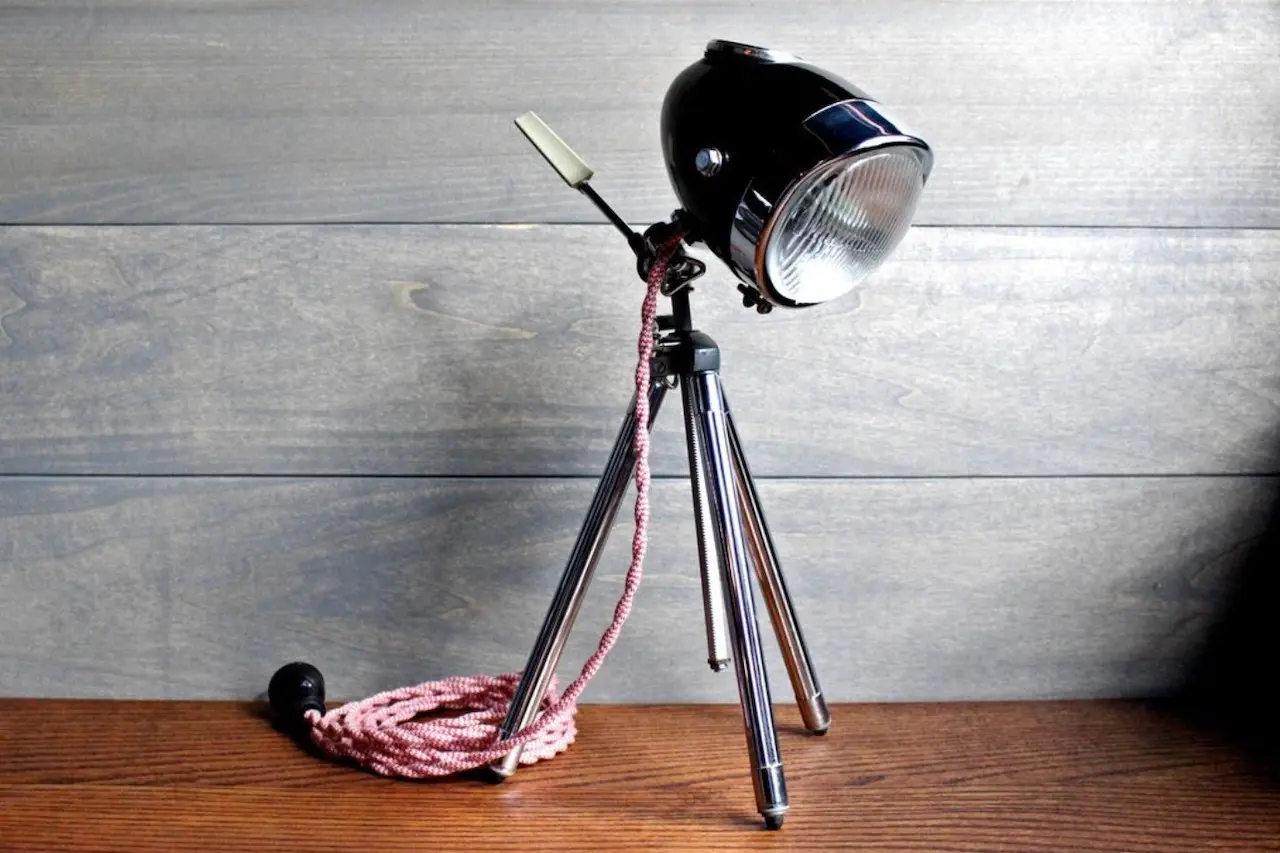 The Modern Weld is the brain-offspring of Columbus, Ohio-based Matt Stewart – a vintage motorcycle aficionado and restorer who's also an interior decor fanatic.
As most good things tend to be the idea for The Modern Weld developed organically from a fusion of passion.
Matt had initially imported a Ural motorcycle headlight for a custom build. On seeing the lamp, however, decided it was more suited as an interior floor lamp. So that's what he did – converted it into a floor lamp. As you do!
Soon requests came from friends who wanted similar lamps. And as such, it wasn't long before an Etsy store was created. Select local retailers were soon appointed; later a website launched to sell the wares directly.
In the interim a small unit of vehement aficionados of classic motorcycles, restoration specialists and interior decor zealots were assembled. And to that extent, the floor lamps are a seemingly an inevitable culmination of the fusing of those passions. Quite clearly, the most beautiful things are born out of passion.
Vintage Motorcycle Headlights Transformed
Sourcing suitable, vintage, headlights for Modern Weld pieces requires a global search by the team.
For larger lighting, vintage Russian, IMZ-Ural and Japanese motorcycle headlights are typically obtained.
For smaller pieces, classic German scooters from the 1950s, '60s, and '70s era are the source.
The Modern Weld then transforms these artefacts by hand into modern interior illumination pieces – for desks, tables, and larger floor spaces. Unsurprisingly, there's a pointedly vintage vibe, given the starting point. Bespoke service is offered (in the same vein) which sees the repurposing of old headlights that may have once gathered dust in clients' garages.
Each desk, table and floor lamp is hand-finished – meticulously rewired to use LED bulbs. This ensures that while the finish may be vintage, the illumination is thoroughly modern. Often the lamp housings come with the original, integrated speedometer dials which further amplify the vintage aesthetic.
Completed lamps are then paired with mounts, in the form of classic camera tripods. Mountings which in their own right are as elegant. The concluding result is what might be characterised as neo-antique lighting which also works sublimely as an ornamental, interior decoration.
Modern Weld Collection
Inventory available on Modern Weld's website is dictated by the nature of sourcing. Suffice it to say, it's based on the headlamps the team have been able to secure. Invariably however the finished articles are in the body of one of three types of lamp. Either, a desk, table or floor.
DESK LAMPS
Modern Weld's desk lamps are primarily created from rare, vintage scooter headlights. Scooters such as the German, NSU Quickly. Headlights are then secured to small vintage camera tripods. This makes them ideal for illuminating smaller surfaces such as retail countertops, and bedside tables. Not forgetting of course desks.
The current stock of desk lamps has either been repainted in a variety of vibrant glossy finishes or stripped to bare metal, to flaunt the original patina.
Away from scooter lamps, a repurposed sixties police car spotlight could make for an intriguing desk companion. Alternatively, a bestseller for The Modern Weld comes in the form of the 'Nautical Night Light' [$50.00] which bathes rooms in a deep blue hue. And additionally, it can be wall hung.
TABLE LAMPS
Standing at up-to three-foot-tall Modern Weld's current crop of table lamps, for the most part, utilise original Ural headlights. An exception in this collection is the Yamaha headlight which is finished in 'coppered chrome', with a contemporary wooden tripod.
As a deft touch, the lamps are switched-on by turning the original ignition key located in the headlight housing. Being larger than desk lamps they're more suited to large coffee tables or end tables.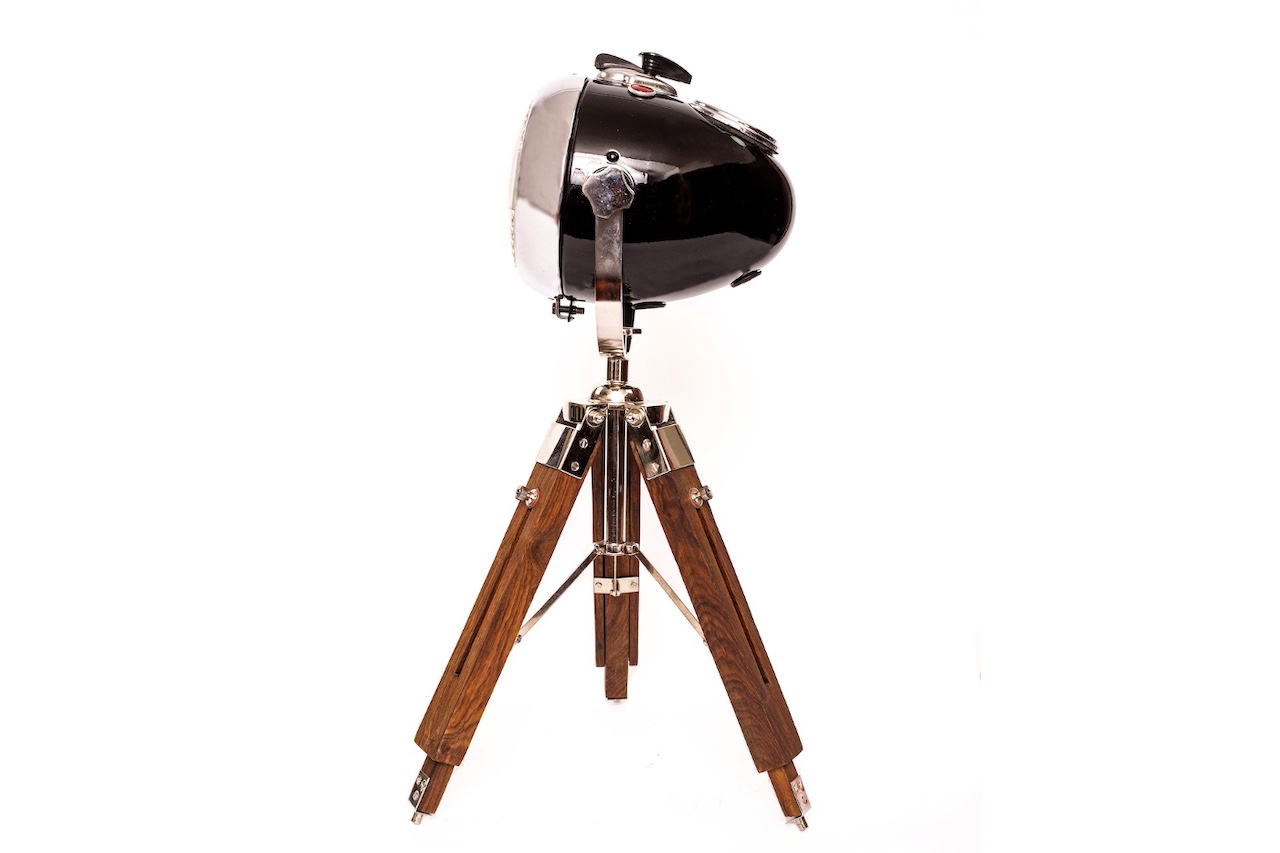 The standout table lamp in this collection could very well be the heavy Vintage Ural Table Lamp. Finished in a glossy black, the red cloth-covered cord starkly contrasts and complements the gloss paint of the light housing and the wooden photography tripod. An integrated speedo set on top is the highlight which subtlely says, authentic.
FLOOR LAMPS
Aside from the uniqueness of design, standing at three-foot tall and extending up-to six-foot, Modern Weld floor lamps will capture attention in most rooms. Currently available on the site are original headlamps from sixties motorcycles. Namely, Ural motorcycle sidecars lights which have been restored and matched with dark stained wooden camera tripods.
Each lamp is individually refined and finished in an assortment of colours. At present those colours include Ferrari Red, Black Chrome, Copper Chrome, Vintage Bone White, or Vintage Land Rover Blue. Which means a least one option will suit most interior spaces.
Clients can request either bright white or warm white LED bulbs for some of the lamps, which additionally come with a spare. Like with the floor lamps, these lights are switched on using their original keys.
Available on Etsy is the more industrial looking, rare Detroit Bros headlight, floor lamp. It's fitted with a red cloth-covered cord and coupled with an aluminium camera tripod from the seventies. This piece especially suits creative workspaces, contemporary offices or retail space.
True Intended Purpose
The Modern Weld lamps are so perfectly executed, that they almost belie their original intended purpose; a headlight on the front-end of an old motorcycle. It's not unreasonable to entertain the thought, that their true intended purpose was (only ever) to illuminate the floor spaces, tabletops, and desks of passionate moto-heads.