Yamaha's Yard Built programme has been running for seven years now. The programme involves the handover of a Yamaha Sport Heritage model to a professional custom bike builder for tinkering. It's yielded some fairly striking results in recent history. One of the latest builds is XSR900 'CP3' by JVB-moto.
Yamaha Yard Built Series
It could be argued that handing over a bike to a professional bike builder isn't entirely yard-built, in the most exact understanding of the phrase.
Supposedly, in this instance, yard-built means not factory built. In any case, Yamaha gives creative control to the wrencher to reinterpret the bike, with a couple of stipulations. Absolutely, no frame cuts or welds.
JvB-Moto – Yamaha Yard Built Bikes
JvB-Moto founder, Jens vom Brauck has form with Yamaha's Yard Built initiative. He was the individual behind the impressive custom, 'Infrared' – a cafe racer, dragster cross.
'Infrared' was built on the 2015 VMAX platform, to celebrate the motorcycle's thirtieth year of production. Jens is also responsible for the 'Super 7' which was the first custom XSR700.
YAMAHA XSR900 JvB-Moto 'CP3' – A Minimalist
Known for keeping the lines of his builds clean – this time vom Brauck turned his attention to the Yamaha XSR900. In doing so he's characteristically opted for a minimalist approach to the XSR900 'CP3' build, Nonetheless, speed was also front-of-mind.
"I wanted it to look fast without looking aggressive, for it to be less retro and more minimalist, with a reduced and purposeful design."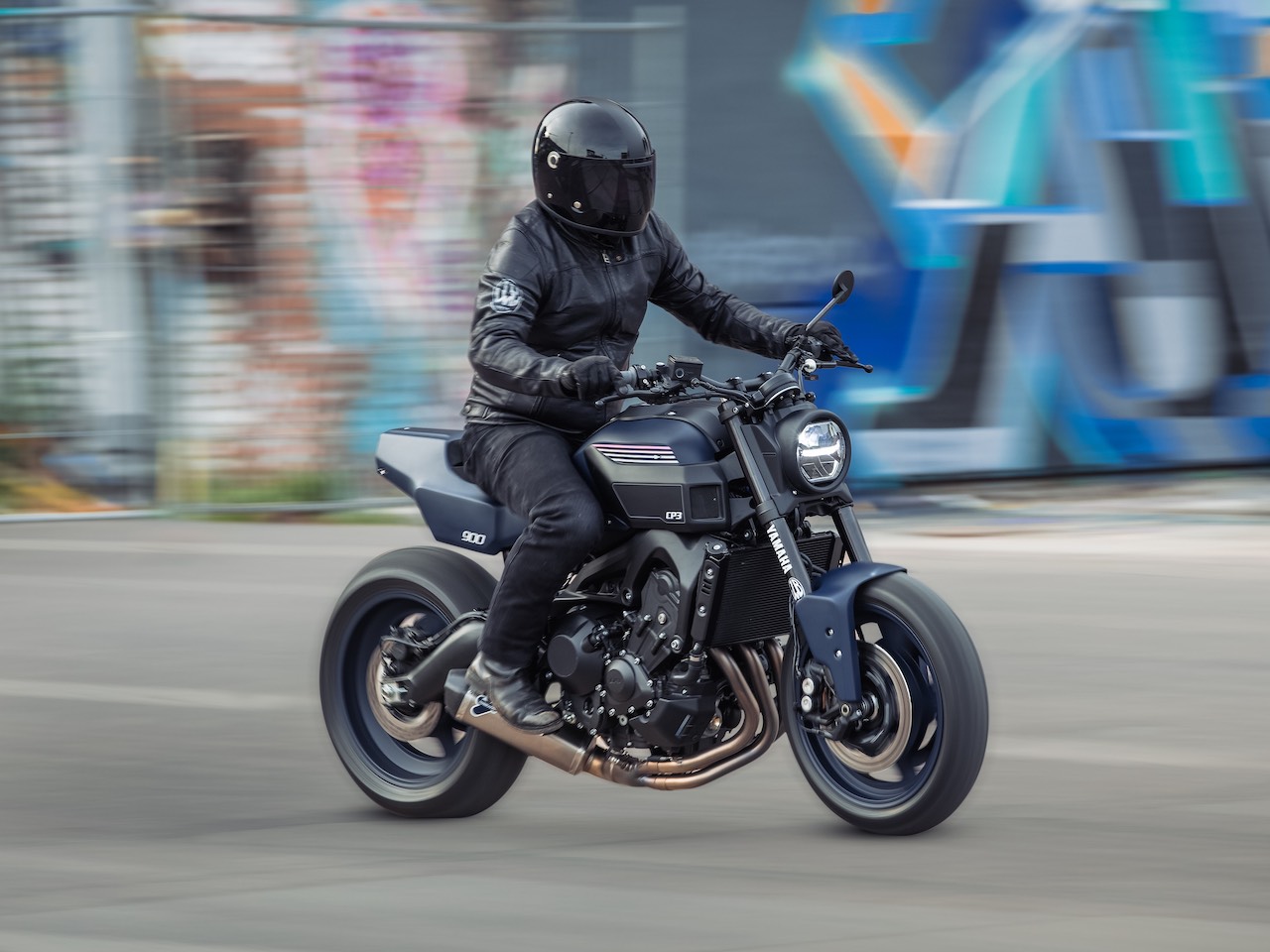 Given Yamaha's stipulations for the Yard Built series, the bodywork seems like the most obvious place to start altering the looks of the XSR900.
Inspired by seventies and eighties concept cars, Jens has given the CP3 a handbuilt tail section and custom fuel tank covers. The two items give the CP3 the look of a concept motorcycle designed in that era.
It's a style that ultimately makes the finished piece look simultaneously futuristic and retro. There's something quite 'Sci-fi' about the build. Star Wars films of the '70s and '80s (stylistically speaking), may spring to mind.
A darkened matt version of Yamaha's racing blue further accentuates the new bodywork. A striped decal on the tank adds a retro feel to the finish, yet LED lights, bring the big firmly back to the future.
Overall Jens feels that:
"The bike has an understated, clean look and has more of a concept bike 'feel' than a typical custom bike."
Lightweight
The CP3 weighs 20 kilograms less than the stock XSR900 making it 180 kg (397 pounds). Part of that weight saving comes from carbon fibre wheel covers that house the Pirelli Super Corsa tyres. Additionally, lightweight Lightech footrests offer the rider a more assured resting platform.
More Power
Though the liquid-cooled, 850cc, in-line 3-cylinder engine remains unchanged – a new stainless steel Termignoni exhaust has been fitted. This addition has given the XSR900 an additional four horses of power.
The reduction in weight combined with the rise in horsepower gives this creation a speedier edge over the stock version of the XSR900. That means not only does it look fast – it is indeed faster.
With its enhanced speed, greater stopping power was required – which is achieved through the addition of Behringer front brake disks.
Making its first appearance back in summer 2019 at the Café Racer Festival, 'CP3' was well-received and duly awarded 'Best of Show'. Following that, plans are now afoot to sell a bolt-on kit, which is currently being developed by JvB-Moto.
Expected in early 2020, full specifications of the bolt-on kit appear below.
Yahama XSR900 JvB-Moto 'CP3' Bolt-on Kit
Wheel covers
Brakes
Footrests
Seat
Exhaust
Front fender
Fuel tank covers
Handmade tail section with LED taillight
Speedometer relocation kit
Tapered handlebar and raiser
LED headlight and cover
Front and back LED indicators
Number plate carrier
Check out the video and still action shots beneath to see the CP3 in action.