Gold on a motorcycle whether the rare earth metal or merely colour can sometimes feel ostentatious, if not a little crass ('bling!').
However, when employed subtly as an accent, or used as piping on dark paint schemes, it can give any motorbike a superior air of refinement and elegance.
The 'Jack Daniel's Limited Edition Gold & Black Indian Scout Bobber' custom is one such, fine example.
Jack Daniel's Indian Motorcycle Bobber Scout Collaboration
In a pairing between two of America's most iconic brands, Jack Daniels (est. 1866) and Indian Motorcycle (est. 1901), this custom build uses the acclaimed Indian Scout Bobber as it's base. And its the third time the pair have teamed up for a special edition.
Jack Daniel's Gold & Black Scout Bobber
The Inspiration Behind The Build
Created by ladies and gents over at Klock Werks Kustom Cycles (who've previously worked with Indian to great effect), just 177 of these Scout Bobber beauties have been built, as a cheeky nod to the "Old No. 7 Brand".
The gold and black theme was inspired by the colour scheme of Jack Daniel's Fire Brigade's trucks. Yes, Jack Daniel's has its own fire brigade.
Honours Service Members & First Responders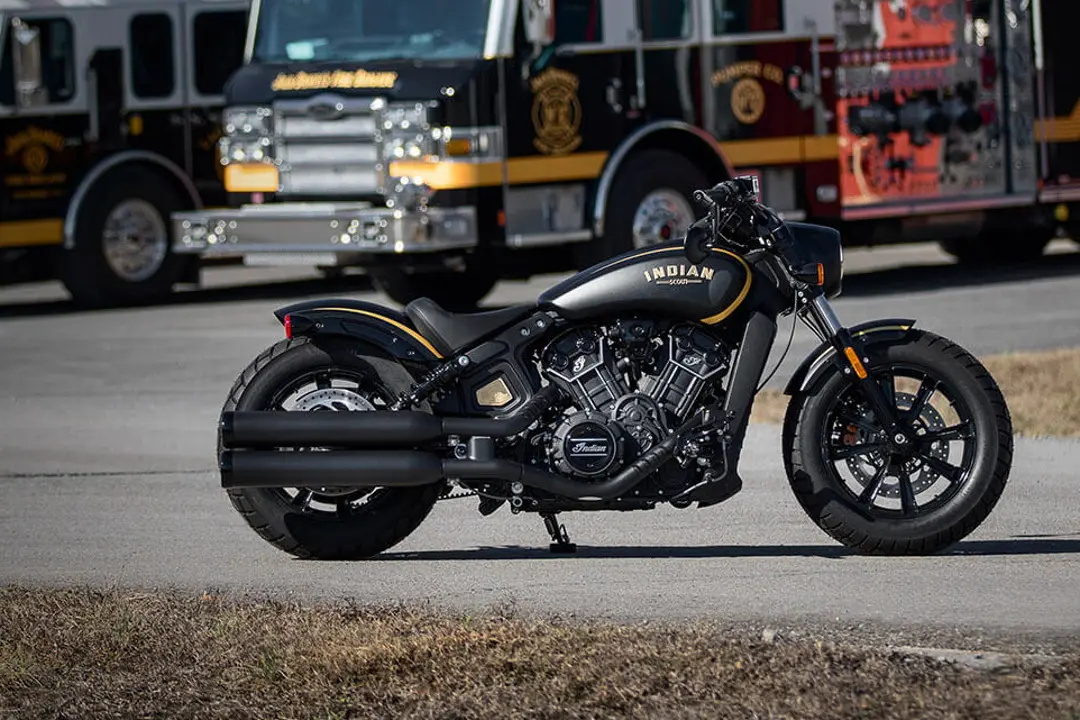 This custom build was created to honour JD's Fire Brigade and EMS first responders. And in addition, it promotes the message that "Bottles and throttles don't mix. Never drink and ride."
Given that it's a collaboration with a world-renowned distillery, the latter seems somewhat of a juxtaposition. Nevertheless, who are we to complain (juxtaposed or not) when a custom as refined as this turns up on the interwebs?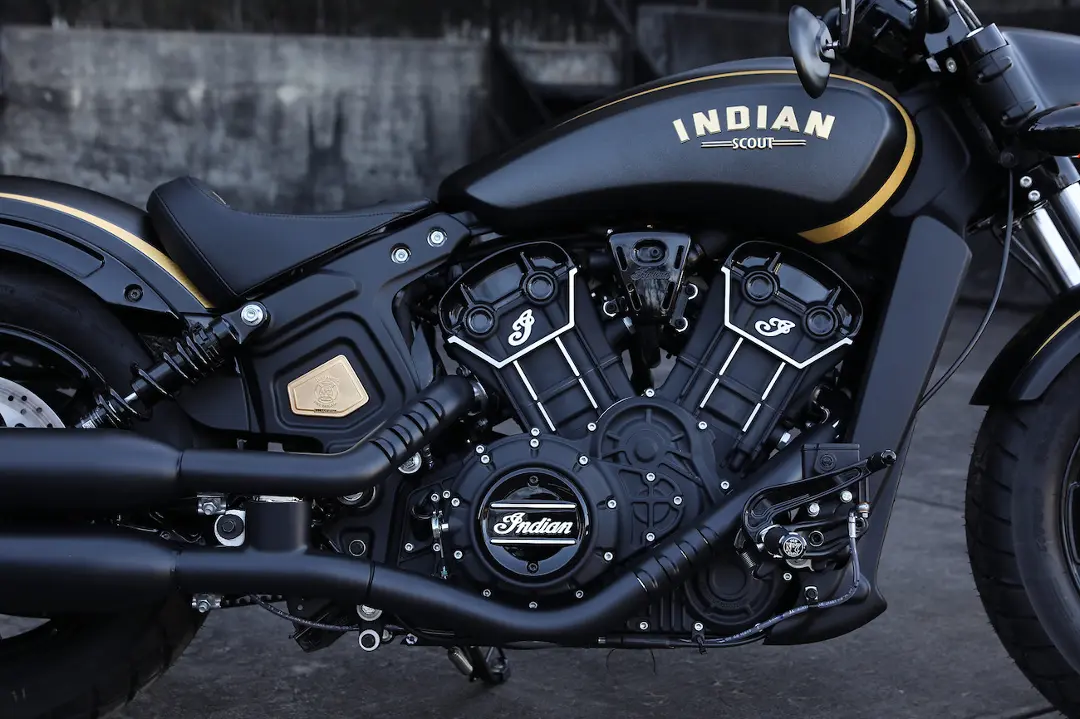 According to Indian Motorcycle, "The 2016 Jack Daniel's Limited Edition Indian Springfield and Chief Vintage models sold out in less than 8 hours, while the 2017 Jack Daniel's Limited Edition Indian Chieftain sold out in less than 10 minutes.".
You wouldn't bet against this Scout Bobber selling out even faster. So let's face it, most of us will never get anywhere near close to owning one of these limited edition bikes – however, that shouldn't stop you from trying if you have the means and the desire.
Regardless of ownership, it is satisfying enough to see more of these collaborations – if they produce incredible machines like this. Klock Werks Kustom Cycles should take a well-deserved bow.
Gold & Black – Indian Scout Bobber Custom Details
The limited-edition Jack Daniel's Gold & Black Indian Scout Bobber will go on global sale at 2 PM EST on Tuesday, 13th March – with delivery expected in August 2018.
EMEA details haven't been announced yet and of course, due to alcohol advertising restrictions in some countries in EMEA, this model will not be available. Pricing in the U.S. and Canada starts at $15,999 and $19,999 respectively.
Two-tone matte black paint
Premium gloss black finishes on the fender struts, hand control levers, engine valve covers, and exhaust tips
Gold-coloured Indian Scout tank badge
Montana Silversmith badge individually numbered – coated with 24-carat gold
Chopped fenders
Bar-end mirrors
Vented exhaust shields
Knobbly tyres
Sleek headlight nacelle
Perforated leather seat with Jack Daniels insignia and gold piping
Commemorative fireman's axe, engraved with the owner's name and motorcycle number