Sponsored
Monimoto
If you're like most riders, motorbike security (bike theft) is a concern. The thought of having your bike stolen probably fills you with dread. Contemplating this, Renchlist has joined forces with one of the leading motorcycle smart tracker brands, Monimoto.
Together, we present the top tips to keep your motorcycle out of the hands of thieves.
Motorcycle Theft, UK
According to the Office for National Statistics (based on an ad hoc data request in 2017), an average of 36,947 motorcycle thefts occurred each year in England and Wales (between the year ending March 2012 to the year ending March 2016) alone.
However recent NPC findings [August 2020] reveal crime in the UK was down by 35 per cent. Motorcycle theft was down by as much as 45 per cent, likely due to COVID-19 travel restrictions.
Riders, returning to the road (after being starved of a regular two-wheel fix) may be tempted to drop their guard. And motorcycle thieves poised like vultures will be ready to take advantage of the less vigilant and security-conscious.
Motorcycle crime may soon be on the rise in the UK and globally too, as countries gradually return to normality after the lockdown.
What's The Best Motorcycle Security?
For concerned riders, there are numerous motorbike security devices and safeguarding tactics, which individually afford some level of protection from theft. Nonetheless, conventional wisdom says a combination of these layers of security will offer the best overall protection against theft.
The presence of two or more motorbike security devices combined with vigilance and security measures are likely to deter all but the most organised and determined bike thieves.
How to Keep Your Motorbike Safe: 6 Top Security Tips
Here and in no particular order are the devices and tactics you need to help prevent the theft of your two-wheel pride and joy, be it vintage/classic bike, custom, retro or otherwise.
Get 10% off Moto Gear When You Subscribe
Get the Renchlist update, covering customs, retro rides, gear, moto-culture and news.
Enter your email for 10% off Goldtop England gear
1. Motorcycle Disc Lock
Compared to some other security devices, light and portable disc locks are the perfect answer for securing your motorcycle on the go. Ensure the lock conforms to the latest testing authority, such as Sold Secure and buy the most costly version your budget allows.
It's possible to use some disc locks in conjunction with a motorcycle security chain, so take advantage of that if you can. Meanwhile, others come with an integrated alarm that activates when the bike moves. Look for one that kicks out at least 100dB and also, always use a disc lock reminder cable.
Top Tip: Make sure the lock you choose is a close fit with the disc.
2. Heavy Duty Lock and Motorcycle Security Chain
A strong padlock and large-diameter link security chain can secure your motorcycle independently. Nevertheless, they provide better security when chained to street furniture or a ground anchor.
Once again, look for the highest-ranking destruction test certificate, as this is the best guarantee of quality. Some motorcycle lock and chain combinations also allow the lock to be used independently on the disc. Ensure the chain comes with an integral sleeve to protect any paintwork. Remember, never leave any part of the lock and chain in contact with the ground, as it makes it way easier for thieves to break.
Top Tips: If you often park in the same place, never leave your lock and motorcycle chain in place, when not in use. A thief may cut a chain link, cable-tie the break, and push it under the protective sleeve out of sight. He can then return at a later time, cut the cable tie and steal your motorcycle.
3. Motorbike Ground/Wall Anchor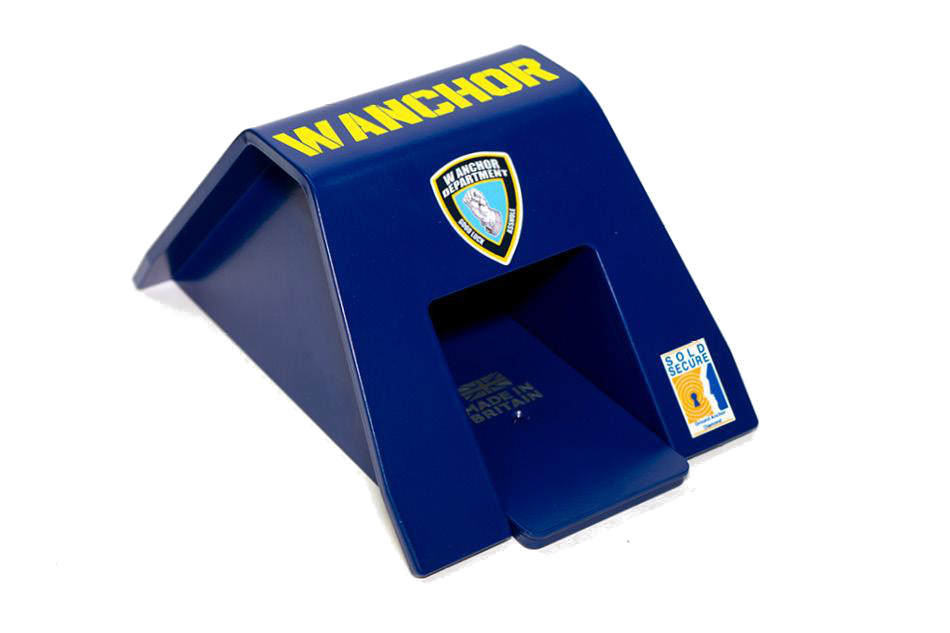 If you're going the extra mile and buying a heavy-duty lock and chain, it makes perfect sense to add a motorbike ground/wall anchor to your shopping list. Both anchors give you a solid fixing point to which you can secure your lock and chain.
The anchor will prevent your bike from succumbing to a lift and take. It is mainly used on the floor or wall inside your garage or property. Ensure the ground anchor's bolts are protected and that the anchor point is solid.
Top Tips: Buy a ground anchor where the shackle lies flat when not in use. Always put the chain through your frame rather than a wheel only.
4. Motorcycle Alarm/Immobiliser
These devices are some of the best motorbike security measures but have the potential of being the most complicated. The first thing you need to do is assess whether you need an upgrade to your immobiliser or an all-in-one system.
Some manufacturers state for warranty purposes that the alarm must be installed by a professional. If your insurance company insists on one being fitted to your bike, get a list of approved makes and models. If possible, always opt for a Thatcham-approved device, which means it has undergone thorough testing and is fit for purpose.
Top Tips: Always check out the alarm's dB level and a low battery indicator is a bonus. Also, hook up your bike to a battery tender if not in use daily.
5. General-Purpose, Motorbike Anti-Theft Measures
At the very least, always use your bike's steering lock and a combination of two security measures. Avoid parking your motorcycle in poorly lit areas. When and where possible, look for parking spaces with CCTV coverage and pedestrian, through-traffic. Also, use a bike cover; it makes your bike less noticeable, by not advertising the make and model. A useful inconvenience against professional thieves who steal to order.
Remember, thieves hate anything that looks time-consuming to overcome. If your bike looks like it's going to put up a fight, criminals may seek an easier target.
If you keep your motorcycle in an outbuilding or garage, park it against a wall and locate your ground anchor between the two to make it difficult to access. Add security measures to any doors and windows.
Meanwhile, if located on your property, consider CCTV/wireless, home security cameras, coupled with motion-sensitive lights.
Although not a front-line defence system, forensic markers such as Datatag or SmartWater are another great backup motorcycle security feature.
Both markers contain undetectable unique micro-coding. This means your motorcycle can still be identified (if your bike is stripped and sold for parts) after these solutions are applied.
Be vigilant and on the lookout, especially for vans making slow passes or strangers loitering around your bike. Visual, high-performance, anti-theft devices should stop the majority of opportunistic bike thieves.
Truth About Motorbike Security
The sad truth, however, is professional thieves who've specifically targeted your motorcycle are likely to be undeterred and successful in stealing it. So that's it then, game over – your disc lock is cracked, your chain cut and your alarm disabled. The thieves have won, or have they? Well no, if you have a backup plan in the form of a motorcycle tracker.
6. Monimoto Smart Motorcycle Tracker: The Ultimate Backup Plan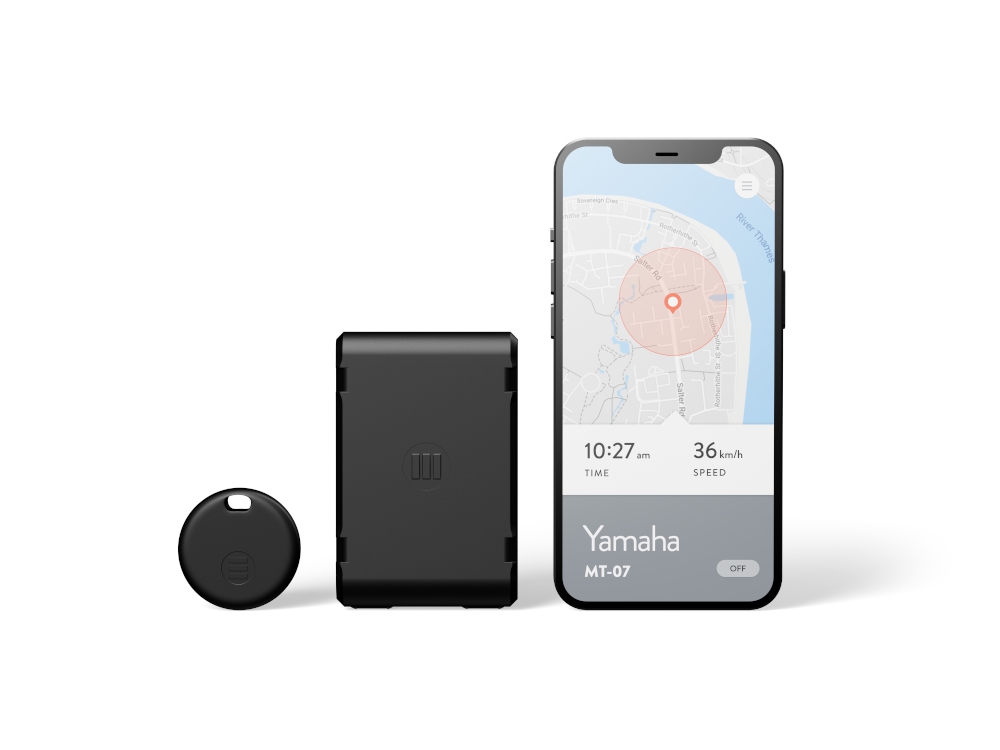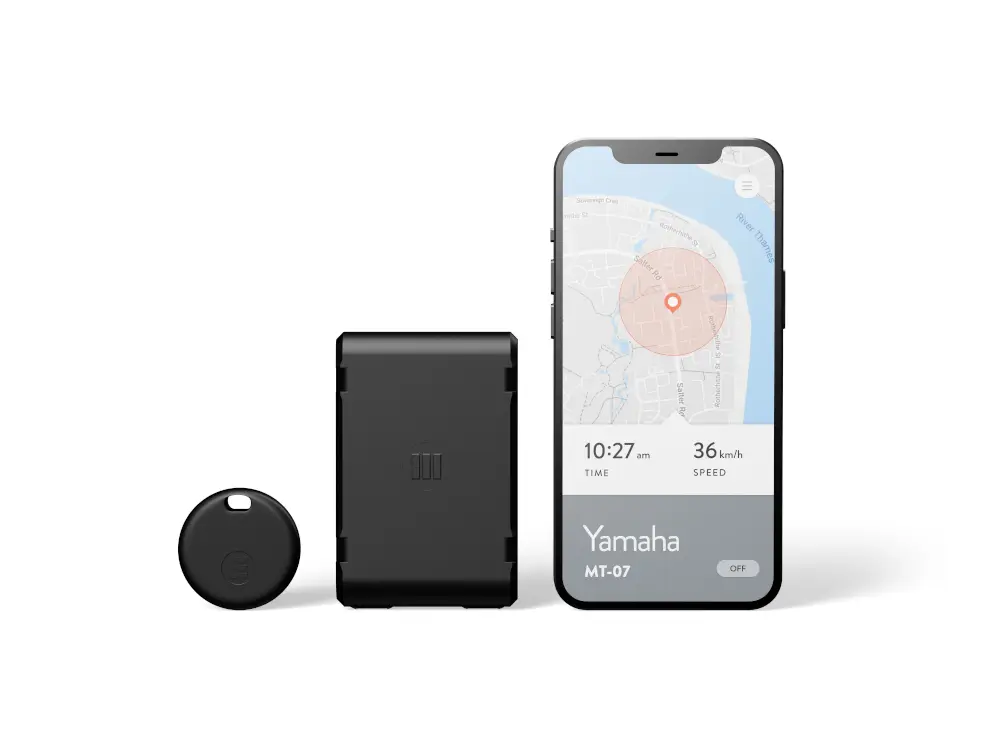 If the above measures fail, a smart tracker fitted to your bike is your best chance of recovering it and offers the greatest chance of catching those responsible. Anecdotally, police are more likely to respond to the theft of your bike, if there's a possibility of recovery.
Monimoto's smart tracker is a cylindrical, compact stand-alone device that is easy to hide on your bike. The small discreet tracking unit can be secured using a couple of cable ties. That means no wiring, technical knowledge or special tools are needed for installation.
Once in place, download the accompanying app to your phone, pair the device and you are good to go. It's that simple. The tracker works in conjunction with a supplied key fob. If movement is detected but not the presence of the fob, the movement is deemed unauthorised. The device will then call your phone to alert you. GPS Coordinates are then sent to your phone and the location is updated until the vehicle is stationary.
As the device is a stand-alone unit with a dedicated replaceable power supply, your bike's battery won't drain. Better still, being a hundred per cent portable, it can be removed if you sell your bike or wish to use it on an alternative vehicle.
The Monimoto tracker may not prevent your motorcycle from being stolen, but its presence and ability to track down your bike offer peace of mind that's priceless.
Get 10% off Moto Gear When You Subscribe
Get the Renchlist update, covering customs, retro rides, gear, moto-culture and news.
Enter your email for 10% off Goldtop England gear