Saint has just launched a new CE-certified armoured motorcycle jean for men, the Unbreakable Model 4 Jean. It comes in response, to the requirement that all motorcycle clothing sold in Europe as PPE should meet CE certification. (And that's for the whole garment, not just the armour.)
Saint Unbreakable Model 4 Jeans
Combining its innovative, robust, abrasion-resistant denim material, with impact protection (through newly developed lightweight armour) Saint's newest jeans achieve an overall rating of CE Level AA. And they're stylish too.
(Not so new) European CE certification rules mean that moto-brands can no longer insert CE-certified armour into a jean (or any other garment for that matter) and then call the whole item CE Certified. Saint's new Unbreakable Model 4 Jean is a far cry from that practise.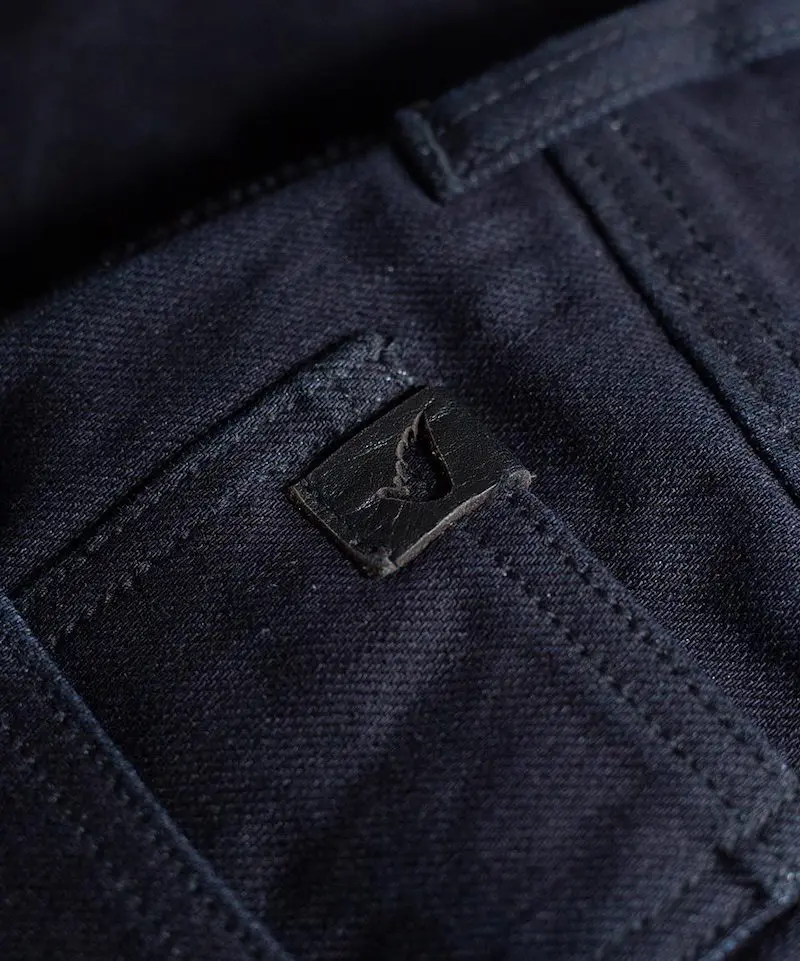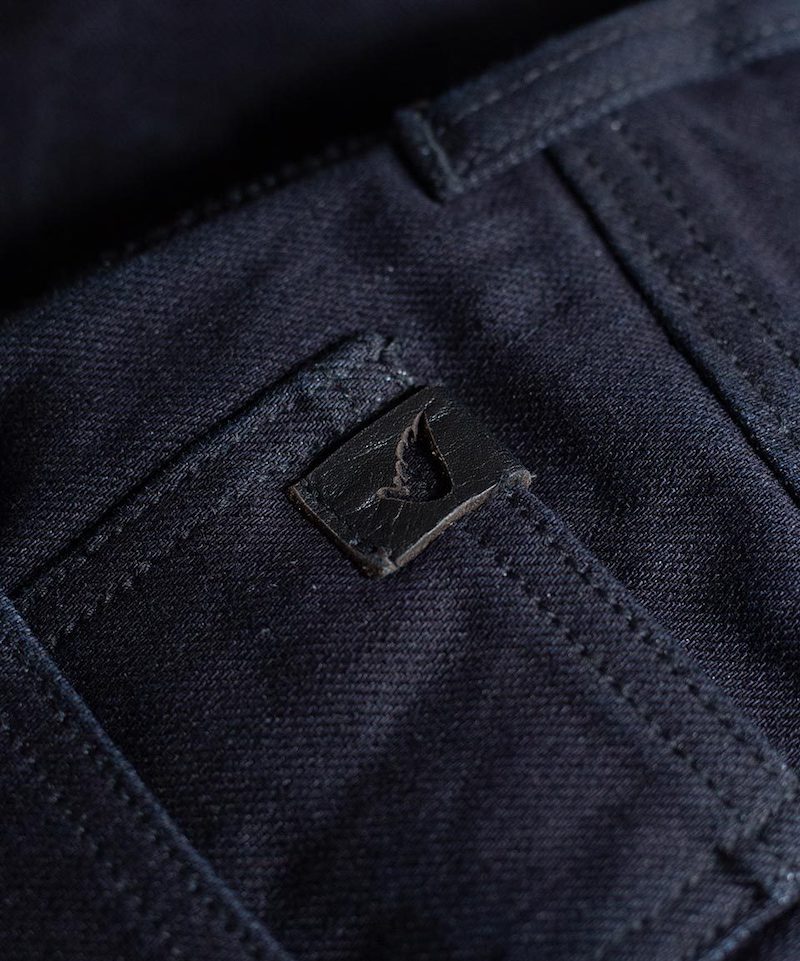 All-round, Level AA, CE Certification
This single-layer jean (composed of 68% Cotton, 25% Dyneema, 5% Nylon and 2% Elastane) was put through its paces on the Darmstadt machine.
The robust stretch fabric received a rating of AA for impact and abrasion resistance testing. That rating is for the prEN 17092-1:2017 certificate [now EN 17092 as of March 2020].
Additionally, its lightweight removable hip and knee armour (included with the jeans) achieved Level AA for CE EN1621-1:2012.
Unbreakable Model 4 Jeans – style and protection combined
Not only is this garment the most protective pair of jeans yet from the moto-apparel brand, but they're also modish. Suffice it to say, they're a contemporary five-pocket jean, in a standard cut but with a tapered leg – finished in double-face, overdyed indigo, stretch denim.
The jean also features a high back in the form of an accordion stretch panel which protects the rider against rear drafts when leaning forward. In terms of fit, Saint says they're "true-to-size". However, it recommends a smaller size if you happen to fall between sizes. Supposedly, that means they're a relatively relaxed fit.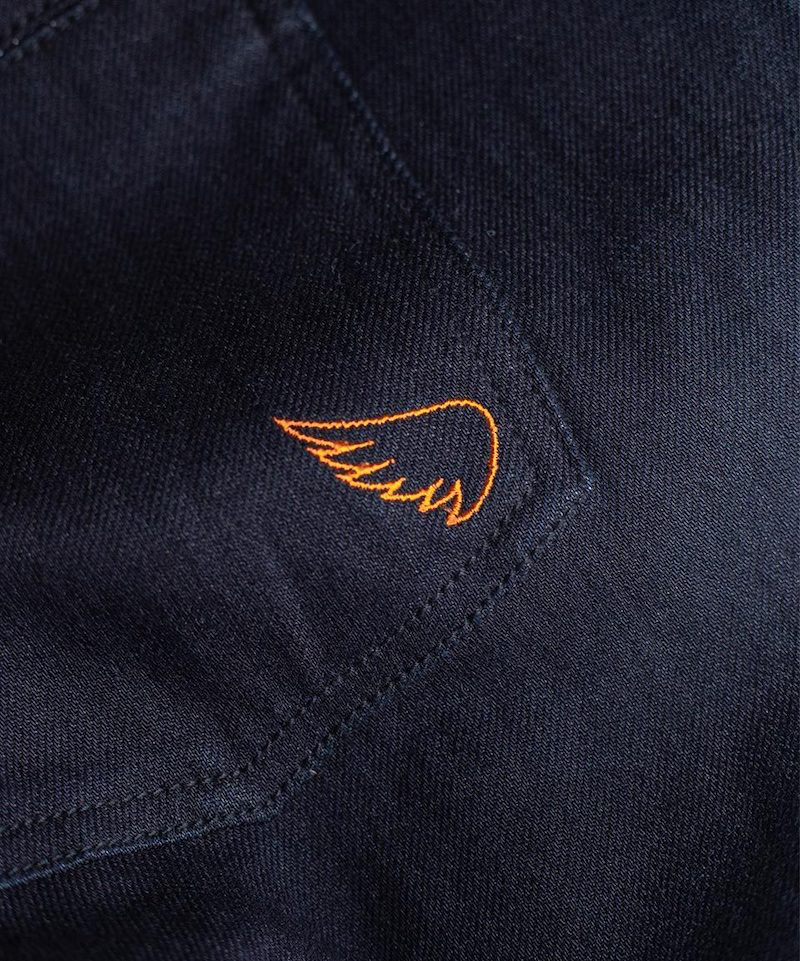 Branding on the jeans manages to be fairly discreet, yet simultaneously distinctive. Saint's wing emblem appears on the rear right pocket in a contrast orange-yellow stitch.
At the top of the same pocket, you'll find partial piping in a two-tone orange and light blue. It works incredibly well against the deep indigo of the jean.
Additionally, a nice touch is the jacron [leather patch] on the waistband, again with contrast stitching. At the front, a leather tab on the coin pocket and a brilliant, copper-coloured top button together exude an air of luxury.
With its ribbed stretch panel at the back and visible outline of the knee armour pockets, the Unbreakable Model 4 doesn't hide that it's a proper biker's jean.
It says, '… we're going riding all day and we may stop off at a biker hangout.' But it doesn't necessarily say '… see you in the office later.' Unless of course, that office's dress code happens to be fairly casual.
Saint's newest jeans succeed in combining much-needed protective features within a truly desirable rider's jean. They're bound to be a hit.