Buying gifts for motorcycle riders is challenging. This is especially true for retro riders who have highly specific tastes in gear and motorcycles.
With that in mind, we've created this list featuring gifts for motorbike lovers with a penchant for classic, custom and retro machines. Jump to the list or read on for the gift selection process.
A Gift Card from Your Rider's Chosen Store
Sponsored » Renchlist may earn a commission if you make a purchase, at no additional cost to you. «
First up is a gift card and we promise you it's not a cop-out. Often misconstrued as the hallmark of a last-minute shopper, the gift card is ACTUALLY a thoughtful token for motorcycle enthusiasts.
It grants the rider the freedom to pick from the best retro motorcycle gear, something they're less likely to trust anyone else choosing.
(See our article on where to buy retro moto gear if you need a list of suitable stores.)
The gift card is a practical yet considerate present, perfectly suited for riders who are particular about the aesthetics and function of their equipment. It's an acknowledgement of the rider's expertise in their own needs and tastes.
This sentiment, far from being a cop-out, shows a deep appreciation for the rider's individuality and passion.
So, for those who live to ride, a well-considered gift card from a beloved store is more than just a gift—it's a gesture that respects their love for the ride and the gear that makes it unique.
Motorcycle Book: How to Build a Motorcycle
Sponsored » Renchlist may earn a commission if you make a purchase, at no additional cost to you. «
'You can never have too many books', is how the adage goes. And if the subject is motorcycles then never was there a truer statement made.
Penned by Gary Inman (co-founder of Sideburn Magazine), How To Build A Motorcycle (published in 2020) offers a wealth of advice on motorcycle customisation – from project inception to completion.
Subtitled, "A Nut-and-Bolt Guide to Customizing Your Bike", this book is cleverly organised into the key stages of bike building. Engagingly, the book features step-by-step illustrations by artist Adi Gilbert.
This hardback is the perfect gift for the avid motorcyclist aspiring to build a bike for the first time or for novice tinkerers. So it should be a welcome addition to the bookshelf of most classic, custom and retro riders.
Alternatively, view Renchlist's (coffee-table-friendly) curated collection of the best hardback motorcycle books on Amazon.
Discreet GPS Navigation: Beeline Moto
Sponsored » Renchlist may earn a commission if you make a purchase, at no additional cost to you. «
The Beeline moto navigational device is a gem for the rider who appreciates the blend of classic style with modern convenience. It's a discreet gadget, designed with a minimalist aesthetic that complements the uncluttered lines of a retro, custom, or classic motorcycle.
Unlike bulkier GPS units, the Beeline fits snugly on the handlebar or fuel tank, offering just the right amount of guidance without detracting from the bike's vintage charm.
It's the attention to detail that makes the Beeline an exemplary gift. The interface is intuitive, stripping back the clutter of modern navigation to present clear, easy-to-follow directions that keep the rider's eyes—and their mind—on the joy of the journey. With a focus on rider experience, it subtly integrates into the classic cockpit, offering functionality without the fuss.
For the purist who shuns the idea of a glaring touchscreen on their gracefully aged ride, the Beeline is a respectful nod to tradition. It ensures that while the bike may echo a bygone era, the rider isn't left behind in the modern world. This device isn't just about reaching the destination; it's about enhancing the ride, ensuring that the spirit of motorcycling remains undisturbed. A thoughtful gift for the rider who values the aesthetic of their machine as much as the adventure it promises.
Motorcycle Gloves: Goldtop England, Predator Gloves
Sponsored » Renchlist may earn a commission if you make a purchase, at no additional cost to you. «
Motorcycle gloves are an essential piece of kit for all motorcyclists, including retro riders. Previously, retro and classic riders who wanted gear that matched the style of their bikes had to sacrifice safety for looks. That is no longer the case. Several brands offer the best of both, safety and style.
Goldtop England is one such brand. Across its collection of protective, vintage-inspired riding gear, you'll find a collection of exceptionally well-made pieces. And to boot, despite the high quality they're at surprisingly reasonable price points.
Any rider who's worn a pair of Goldtop gloves will know how supple they feel and how they are immediately as comfortable as a trusty old pair of gloves. (Read our Goldtop Predator gloves review here.)
The silk-lined, 1.0 mm Aniline leather, Goldtop Predator glove is made for spring, summer or early autumn riding. It's one of the brand's most popular pieces.
CE Certified to Level 1 (EN13594:2015) it's designed with a floating Knox armoured knuckle section for greater protection and flexibility respectively. With its neo-retro aesthetic and a wide variety of colourways, it should make an excellent gift for riders of customs, modern classic and vintage bikes.
Motorcycle Security: Monimoto M7 Smart Motorcycle Tracker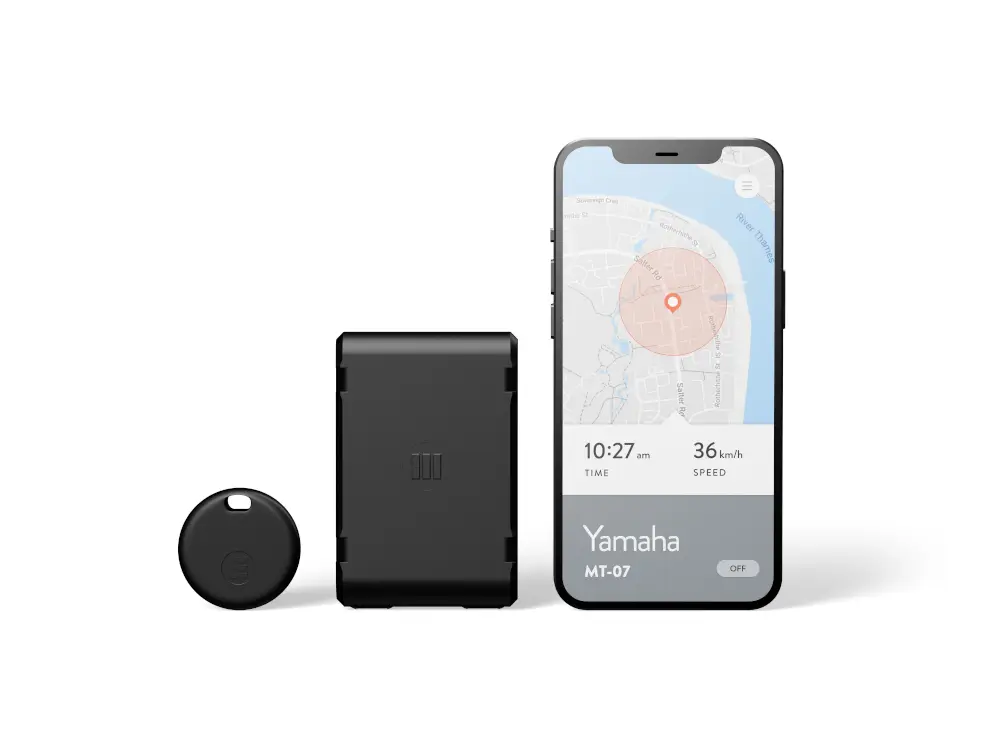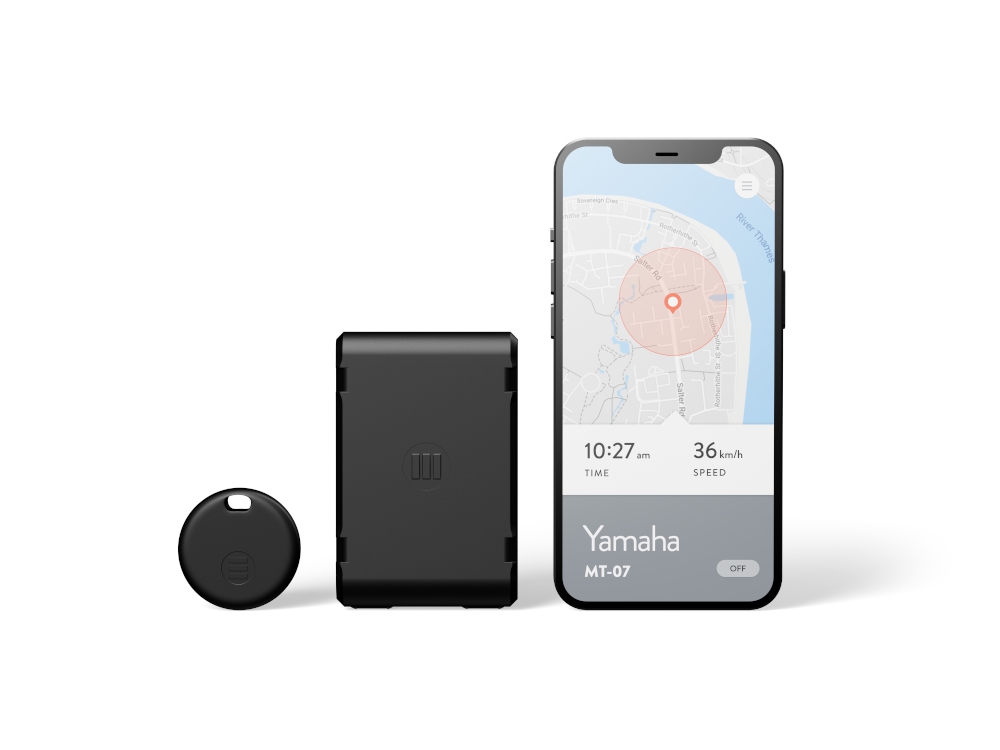 Motorcycle theft has been on the rise for several years. It's a crime wave that shows little sign of abating, despite renewed efforts by the police to catch criminals.
For motorcyclists, bikes are not just a mode of transport; there's a deep connection between rider and bike that goes beyond mere ownership. Needless to say, the theft of a motorcycle is deeply traumatic.
Fortunately, there are many ways to protect a bike from being stolen in the first place. Chains, ground anchors, disc locks, alarms and immobilisers are highly recommended. However, the most determined criminals will not be deterred.
So the best last resort is to fit a bike with a discreet tracker. With such a device fitted, the odds of recovering a motorcycle are greatly increased.
Monimoto is one of the leading brands in this field and its latest GPS-enabled smart tracker M7 is super-slim and portable. Moreover, it has its own replaceable power supply so it won't drain the motorcycle's battery.
The M7 tracker is paired with a proximity key fob and if it detects any motion of the bike without the presence of the fob, it alerts the owner with a phone call. GPS coordinates are simultaneously sent to the accompanying app. The location is then updated until the vehicle is stationary.
Monimoto 7's embedded eSIM requires a subscription and works in Europe and the United States. This gift should offer peace of mind for the security-conscious rider.
Slimline Wallet: Bellroy Slim Sleeve Wallet
Sponsored » Renchlist may earn a commission if you make a purchase, at no additional cost to you. «
Motorcycle gear that's considered PPE is usually more closely fitting than regular garments. It's a feature that helps keep moto armour in the correct position. But, it can also mean that essentials placed into pockets cause discomfort while on the bike. It's incredibly distracting, if not somewhat annoying.
One such everyday item is the wallet. And most people can appreciate how bulky this article can become. Furthermore, it can feel especially large when sitting on a motorbike in snug-fitting riding gear.
Thankfully, several brands have sprung up over the last decade (or so), whose sole purpose is to reduce the bulk of wallets (through deft design).
Bellroy is probably the most recognisable name in this segment, though Café Leather and DASH should also be considered for their intelligent designs. They all take a similar approach towards reducing wallet bulk. Additionally, Bellroy and DASH have also begun incorporating "socially conscious materials" into their designs.
We've featured Bellroy's Slim Sleeve bifold here which has made the brand a household name. However, always explore an online store like Huckberry for similar wallet brands.
Motorcycle 'Dash' Cam: Rexing MTC1 Motorcycle Dash
Sponsored » Renchlist may earn a commission if you make a purchase, at no additional cost to you. «
For the more safety-conscious rider, the Rexing MTC1 Motorcycle Dash Cam serves as a vigilant co-rider. It documents every turn and twist of a rider's journey. While it doesn't actively shield a rider from hazards, it's a valuable asset in the unfortunate event of an incident. Its meticulous recordings may prove crucial in an insurance claim.
The control unit has an obvious visual presence on a motorcycle. Yet it's sleek enough to be as unobtrusive. The dash cam's dual 1080p cameras ensure that both the rider's perspective and the rear view are captured with clarity. The built-in GPS provides precise route and speed data, which could be indispensable in clarifying the circumstances of an insurance claim.
Gifting the Rexing MTC1 indicates a consideration for the recipient's interests beyond the ride itself—it's a nod to their well-being in the broader scope of their motorcycling lifestyle. It's an ideal choice for the pragmatic enthusiast who values the practicalities of modern motorcycling technology, ensuring their passion for classic bikes is safeguarded by contemporary innovation.
Branded Moto T-Shirt: Various Brands
Sponsored » Renchlist may earn a commission if you make a purchase, at no additional cost to you. «
An ever-present item in most riders' wardrobes – branded moto t-shirts are cool enough. However, there's a fine line between branding and a walking advertisement. Graciously, most brands within the retro-inspired sphere of moto-gear tend to err on the side of caution when it comes to branding their apparel.
Simple or bold designs are frequently accompanied by subtle branding. And with the resurgence of the café racer, there are a great many vintage-inspired moto brands and designs from which to choose.
Nevertheless, to narrow the field and ensure a positive reception, it's best to select a t-shirt brand you've previously seen the giftee wearing.
Alternatively, you can select a brand that's held in high fondness by most classic, custom and retro riders. Belstaff is one such brand. And it's also more subtle when displaying its logo on apparel.
Maintenance Products: Muc-Off – Clean, Protect & Lube Motorcycle Kit
Sponsored » Renchlist may earn a commission if you make a purchase, at no additional cost to you. «
Basic bike maintenance is an essential aspect of owning a motorcycle and most elementary of all is bike washing and finishing. Many retro, custom, and classic bikes tend to be naked which means lots of shiny parts are permanently on display. And therefore inevitably, regular washing, cleaning and detailing are necessary.
There are two distinct camps when referring to bike washing: those who see it as a necessary evil and those who adore it. But one thing on which most riders will agree, is that bike cleaning products are comparatively pricey.
As such, gifting a can or two of a rider's favourite cleaning or finishing product is likely to be welcomed. Muc-Off products for this writer top the list, both for their efficacy and their heavenly scent. A scent that lingers days after washing and finishing.
Muc-Off's Motorcycle Clean Protect and Lube Kit should keep your beloved motorcycle rider stocked up on cleaning products for a good few weeks. Or maybe even months, depending on the frequency of washing.
Moto Memorabilia: Retro Moto Stickers, Patches and Pins
Adult humans never really get over their childhood sticker, patch or pin obsessions. I imagine maybe that it has something to do with never having been able to finish a 1984 Panini Football Division 1, sticker album. Or possibly failing to get a 100m swimming badge. Who knows? But enough about this writer.
Thankfully, there are plenty of badges, stickers and pins to embellish helmets, leather jackets and fuel tanks… making up for any childhood failings. Many pins and stickers are replicas of twentieth-century memorabilia and evoke nostalgia by emulating the designs of the golden era of motorcycling.
So, sticker badges and pins are likely to be up the street of most retro, classic riders – even if they don't ever affix them to their gear or machines. It's a low-value motorcycle gift but one that will be warmly received.
Multi-Tool: CruzTOOLS Outback'r – Metric
Sponsored » Renchlist may earn a commission if you make a purchase, at no additional cost to you. «
Multi-tools are valued for their versatility and compactness. For most people carrying one every day isn't a bad idea, in most circumstances. Apart from maybe through airport security. But for riders of motorbikes, it's common sense.
Despite the popularity of the Victorinox, multi-tool pocketknife (otherwise known as the Swiss Army knife), something a tad more specialised is required for motorcycles. You'll find that within CruzTools Outback'r Metric (a multi-tool for motorcycles and other Powersports vehicles).
Compactly secured within the foldable utility are 14 tools: allen/hex keys, flathead and Phillips screwdrivers, in addition to sockets, alongside open-end and spoke wrenches.
It's effectively, all the tools a motorcycle rider needs to perform some common mechanical roadside repairs.
The right multi-tool could be the difference between waiting hours for a van after a breakdown or making it home for a reasonable hour.
And with a "Lifetime Guarantee – 'No Questions Asked." this great gift is likely to see much use.
Neck Tube for Motorcycle Riders: Holy Freedom Bullitt Primaloft
Sponsored » Renchlist may earn a commission if you make a purchase, at no additional cost to you. «
Neck tubes/gaiters are an essential item of kit for most riders. They're an incredibly functional and versatile piece of apparel, in both warm and cold weather.
When not being used as a neck warmer or to take the sting out of insects smashing into a bare neck, the tube has a variety of other uses too. It can double as a face mask, (particularly useful if you're reading this in 2021/22) a full-on balaclava, a bandana, a beanie and many more.
In the summer, douse it with water and 'hey presto' you have portable air conditioning. Undoubtedly, useful in urban areas on the hottest days.
Holy Freedom has a colourful, off-the-wall assortment of neck tubes, in light through to heavy fabrics. And if that brand is likely to appeal to your particular motorcycle lover, then consider Kytone too.
Moto Brand Trucker Cap: Deus Ex Machina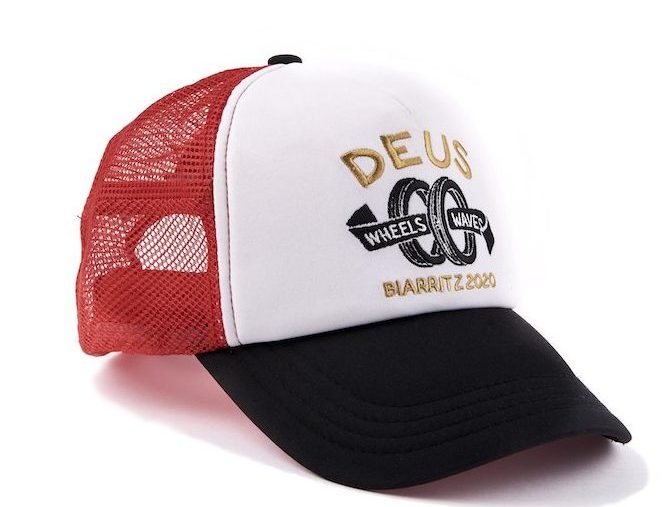 Sponsored » Renchlist may earn a commission if you make a purchase, at no additional cost to you. «
Who doesn't love a trucker cap? Well, some people absolutely detest them with fervent zeal. So, be sure that the rider for whom you're purchasing the cap is at least amenable, if not a connoisseur of the trucker cap.
In any case for most retro riders, trucker caps are a staple of their attire. Helmet hair is flawlessly hidden under these covers while affording a rider's dome the opportunity to breathe.
And as one-size-fits-all, there isn't any faffing required to ascertain the giftee's head size. But you should probably identify which brand your rider is most enamoured of. However, that shouldn't be too difficult (if you have access to the rider's existing collection) as most trucker caps feature prominent branding.
For custom and retro riders, Deus Ex Machina and Saint CC are de rigueur. But also check out Age of Glory which channels vintage MX style or Pando Moto for a modern minimalist look.
We've featured the Wheels & Waves 2020, Deus Ex Machina trucker cap (available in the Europe online store). Unfortunately, W&W 2020 didn't happen – so, who knows this item might be a collector's edition someday.
Non-scratch Moto Keyring: Malle London Keyring
Sponsored » Renchlist may earn a commission if you make a purchase, at no additional cost to you. «
To say that keyrings are a simple and effective solution for organising keys is not profound. Furthermore, keyrings fashioned out of metal can look great and carry enough weight to reassure riders that motorcycle keys are still safely stowed inside pockets.
However, metal keys are not ideal for a motorbike's top yoke (polished or otherwise). The effect can leave the yoke looking rather scratched and tatty.
A simple solution outside of not having a keyring is a non-scratch keyring. Malle London's simple, handmade, leather key fob meets the non-scratch criterion in an effective, yet understated and elegant fashion.
Known for its moto luggage, Malle fully embodies the design aesthetic towards which riders of modern-classic, custom and vintage machines invariably gravitate. Despite its low value, this gift is likely to be highly appreciated.
Traditional Camping Mug: Menze Kwint Enamel Mug
Sponsored » Renchlist may earn a commission if you make a purchase, at no additional cost to you. «
At some point, most motorbike riders will hit the open road for a trip. For some, this is an annual two-wheel pilgrimage. For others, it's a glorious once-in-a-lifetime adventure.
Often, it's a trip that will involve a spot of camping. And if it does, is there anything more pleasant than sitting around a campfire in the evening? Possibly not. It's a feeling perhaps only more enhanced by the consumption of a hot beverage from a favourite mug.
Is there a more fitting holder for that beverage than an enamel mug? Nope. Traditionally and uniquely crafted, the timeless aesthetic of an enamel mug slots perfectly into the retro classic custom look.
Easy to clean and robust, enamel mugs are an ideal camping cup. More so they're long-lasting which means (when given as a gift) an enamel mug has the promise to become a long-treasured artefact. This collaboration between Urban Rider, Bike Exif and artist Menze Kwint has that potential in spades.
Alternatively, many retro-inspired apparel brands have similar offerings of enamelware.
Motorcycle Smartphone Holder: Quad Lock Moto Mount Kit
Sponsored » Renchlist may earn a commission if you make a purchase, at no additional cost to you. «
These days most smartphones function well as the main navigation tool and or as substitutes for video cameras – (in place of their dedicated yet more bulky and expensive counterparts). In recognition of this, a whole industry has sprung up, dedicated to providing robust and reliable smartphone mounts for motorcycle riders.
As far as practicality is concerned, this gift ranks high. The only considerations may be what type of mount and for which type of phone. Handily, Quad Lock, (one of the leading brands in this segment) offers a myriad of solutions – one of which is bound to suit the rider for whom you're buying the gift.
Apple iPhone, Samsung Galaxy, Google Pixel and Huwai get dedicated mounts, while riders using other smartphones are covered with the Universal Moto Mount Kit option. All Quad Lock Moto Kits are available in either handlebar, mirror, fork or 1″ ball adapter configuration. So all possible mounting states are covered.
Motorcycle Tyre Gauge: Michelin, Fit2Go, Tyre Pressure Monitoring System
Sponsored » Renchlist may earn a commission if you make a purchase, at no additional cost to you. «
For safety, before every ride (or at the very least every fortnight) a tyre pressure check is advisable. Especially when riding frequently.
Nonetheless, the majority of riders probably don't do this. And that's despite the fact that checking and inflating tyres to correct pressure is the easiest performance-enhancing, maintenance task that can be undertaken.
Acceleration, braking and handling are vastly improved at the correct PSI. And all it takes to top-up the tyres are just a few coins (sometimes none) and a few minutes at the local petrol station.
The ability to check motorcycle tyre pressure programmatically may inspire more riders to inflate tyres more frequently.
And that's where Michelin's plug-and-play, digital, wireless TPMS steps in. Wireless sensors embedded in valve caps (that replace the motorcycle's original caps) display real-time tyre pressure on a portable LCD unit.
The ease of use should prompt most riders to take action when tyre pressure is low.
If however, that's a little too twenty-first century for your giftee, then opting for a more traditional gauge like the Oxford, Tyre Gauge Pro Motorcycle may be suitable.
Earplugs for Motorcyclists: Pinlock Earplugs
Sponsored » Renchlist may earn a commission if you make a purchase, at no additional cost to you. «
'Loud pipes save lives' may or may not be true. But one thing that isn't opinion is that decibel levels achieved by motorcycles can permanently damage hearing. Unsurprisingly, this occurs through continual, continuous exposure.
A rider, however, can protect against hearing loss by plugging his/her lugholes with earplugs. They also happen to make a good small but practical gift.
You may be thinking about purchasing custom moulded earplugs which of course are the zenith of hearing protection. But they come with a price tag to match. Not ideal if you're seeking to purchase a small token of appreciation.
Thankfully, that's where these Pinlock Earplugs fit in.
With a more ergonomic fit, they sit perfectly in between cheap disposable earplugs and their pricier custom counterparts. Yet, simultaneously they offer more protection from permanent hearing damage than throwaway plugs.
Motorcycle Inner Gloves: Knox Cold Killers
Sponsored » Renchlist may earn a commission if you make a purchase, at no additional cost to you. «
Every rider has a favourite pair of motorcycle gloves (a go-to pair if you like). Yet if that pair of gloves happens to be more suited to spring and summer riding, then they're a no-go in autumn and winter. Unless the rider's willing to put up with cold fingers if not frostbite. Not advisable.
Found in its Blue Collection, Knox Cold Killer gloves allow riders to wear their favourite spring/summer gloves all year round. Well, to a certain extent – for short-winter or medium-autumn bimbles.
Composed of windproof and water-resistant material, paired with a breathable inner membrane, they're designed to be worn under regular moto gloves. And they should keep out the cold long enough to get an autumn/winter throttle fix. As such, they'd make an excellent gift in the colder months of the year.
Lightweight Moto Armour: D3O Ghost Armour
Sponsored » Renchlist may earn a commission if you make a purchase, at no additional cost to you. «
Retro-inspired moto-gear sold as PPE has two objectives: to appear indistinguishable from ordinary clothing and simultaneously provide the rider with abrasion and impact protection. Because of this, lightweight moto armour has become synonymous with vintage-inspired, protective moto gear for impact protection.
Most vintage/custom-inspired moto apparel brands partner with armour makers to literally and figuratively [marketing-wise] strengthen their products. As such, within the garments of such brands, pockets and sleeves can be found that accommodate limb and body protection armour.
Perhaps the most well-known and highly regarded of these armour brands is D3O. The brand's Ghost armour which is exceptionally light and equally strong is so named because it's barely visible when worn under protective gear.
For this gift, to ensure the best fit you'll need to check what type of armour the article of gear accommodates and from which brand e.g. Knox, Rev'it See Smart or D3O etc.
Leather Jacket/Boot Care: Helstons Leather Treatment Kit 2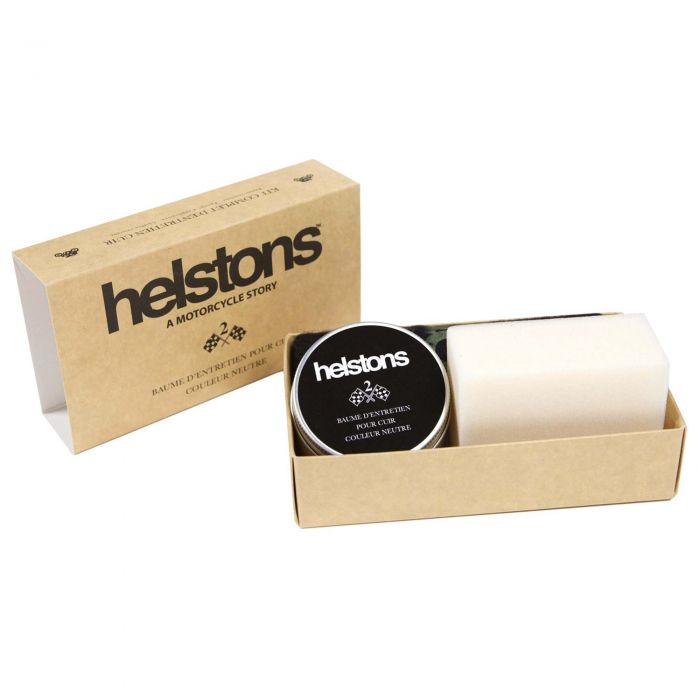 Sponsored » Renchlist may earn a commission if you make a purchase, at no additional cost to you. «
Caring for leather motorcycle boots and jackets in the proper way not only makes them look good but should prolong their usable life. This means periodically some form of treatment has to be applied.
Much like motorbike maintenance, some riders relish doing this routinely [treating gear]. Others see it as a chore to be avoided until absolutely necessary. Neither position gets away from the fact that's definitely required.
Over time, bugs, road dirt, oil and general grime can start to abrade motorcycle leathers. So, it's prudent that leathers are cleaned and treated as required.
As a gift, this leather care restoration kit by the French motorcycle jacket brand, Helstons, might require some elbow grease by the receiver. But they'll thank you for it… eventually.
The kit has been designed to clean, nourish and protect the brand's own leather gear. Nevertheless, it works on all motorcycle leather. It's available in three finish types: black, neutral and neutral matt – so the range can work across all of the rider's leather gear.
Novelty Moto Gift Idea: Luckies of London, Fuel, Heat Haze Candle
Sponsored » Renchlist may earn a commission if you make a purchase, at no additional cost to you. «
Most riders aren't ashamed to admit that they adore the smell of motorcycle [petrol] fumes. It's all part of the visceral experience of riding a motorcycle. Which, aside from the feeling of freedom and thrill of speed, encompasses sight, sound and scent.
If you're looking for an item that in part recreates that experience, then this novelty gift for bonafide moto-heads might be it.
Luckies of London's Heat Haze candle from its Fuel collection was created for lovers of speed and inspired by classic racing. Luckies describe the candle's scent as, "Metallic and smoky with notes of pine and a hint of fuel". And while the scent may have been created with car nuts in mind, it should evoke similar feelings for motorcycle riders alike.
Battery (Trickle) Charger: Oxford Oximiser 900 (888 Anniversary Edition)
Sponsored » Renchlist may earn a commission if you make a purchase, at no additional cost to you. «
Given their relatively small size, motorcycle batteries tend to discharge relatively quickly when the bike is left standing for long periods. This is particularly true during the winter months. And there's nothing more deflating for a geared-up rider than a bike that won't turn over, all because of a flat battery.
An easy way to avoid this is by investing in a trickle charger.
A trickle charger (after charging the battery to full capacity) will deliver just enough charge to maintain it. In theory, the battery could stay in that state of perpetual maintenance for months, even years. And therefore disappointment is avoided, the next time the rider turns the key after a riding hiatus.
There are many trickle chargers available, with various fancy features that work well. Though for a simple, inexpensive, no-frills gift option, Oxford Products' Oximiser 900 (888 Anniversary Edition) is the one. It should be welcomed into the must-have section of any garage.
Motorcycle Helmet Care: Muc-Off Helmet Care Kit
Sponsored » Renchlist may earn a commission if you make a purchase, at no additional cost to you. «
Last but not least, caring for a motorcycle helmet should be high on the priority list for all motorbike riders, regardless of the rider's style. That not only extends to how the helmet is handled but how it's cleaned. From the visors to the inserts, cheek pads, filters, vents and everything in between.
The interiors of some retro-styled helmets aren't removable which means they can't be washed in the traditional sense. To that end, such helmets after time can become grimy (to somewhat understate the fact).
Appearing on the list again is Muc-Off with its special Helmet Care Kit for motorcyclists. Included in the kit is a can of Foam Fresh (used for cleaning the interior of the helmet). In addition, the kit also contains a visor cleaner and an anti-fog treatment – all of which can be applied with the micro-fibre cloth (also supplied).
Whoever receives this gift will have all the essentials to keep his/her lid in tip-top shape, throughout the year.
Summary
This list will have given you plenty of ideas for gifts for friends who ride retro, custom and classic bikes. If you're a little bit sneaky you may wish to share this list with the person for whom you intend to buy – see if anything piques his/her interest… (wink wink).
Check out our motorbike gifts DOs and DON'Ts list, if you're struggling to make a decision or just want to confirm you're on the right track.