Ducati's Custom Rumble is drawing to a close and there's been an outstanding number of superb entries. In customisation terms, these entries excellently demonstrate the versatility of the various iterations of the Ducati Scrambler platform.
All Scrambler submissions are now in for the Ducati Custom Rumble – which returned for the second time in the last half of 2017. The inaugural competition launched in 2015 however, was only open to official Ducati dealers. That particular competition produced a squadron of innovative builds. This year's competition rivals if not transcends the excellence set in the first competition.
DUCATI SCRAMBLER CUSTOM RUMBLE – 1st EDITION FINALISTS
Finalists for the original competition:
'Iron Lungs' – Warsaw Liberty Moto, Poland
'Ice Track Pro' – Bow Cycle North, Canada
'Scramblegale' – Canberra Motorcycle Centre, Australia
'Scramblebobber' – Ducati Vibhavadi, Thailand
'ScrambleArabia' – Wheels of Arabia, Bahrain
CUSTOM RUMBLE 2nd EDITION OPEN TO All
This year's Custom Rumble is open to all and hasn't been short of entrants. Over one-hundred and thirty custom shops and bike builders from around the world, have submitted images of their modified Scramblers.
Wrenchers, the globe over are competing across four categories which will be judged by us, (the public). The winner of each category will be shortlisted as one of four finalists on 20th March. With not only kudos at stake but the single grand prize of "Discovering California".
…a stars & stripes journey through the locations where Scrambler was born!
DUCATI SCRAMBLER CUSTOM RUMBLE 2nd Edition – OUR PICKS
To pre-empt the announcement of the finalists, we thought we'd take a shot, at picking our own finalists, (for what it's worth), without paying (too much) attention to the votes already cast and of course, minus the grand prize. The four categories for the competition are as follows:
It's not such an easy task, to choose a favourite when presented with 130+ lovingly created customs. Especially, when the craftsmanship is of such a high standard. With that in mind, we haven't. We basically cheated and made multiple selections from the four categories; following days of deliberation and discussion (cough, cough… arguments), to create this list.
There's nothing scientific about this list and no doubt everyone will have an opinion. And if you feel particularly strongly about any of the bikes, then go ahead and register your own opinion in the form of a vote on the Ducati Custom Rumble site.
DUCATI CUSTOM RUMBLE – BEST OFFICIAL DUCATI DEALER
On to the first category; the Best Official Ducati Dealer. In sporting terms, this is the equivalent of a derby match. Local and international, genial or not so genial rivalries are settled through the shaping of metal, and or carbon-fibre.
…the category dedicated to Ducati dealers throughout the world who want to compete to win the second edition of Custom Rumble!
We love this stripped cherry, café racer with its eighties inspired gold-coloured, ten-spoke cast wheels. The bike was built by Slywester, of Eastern Spirt Garage (who you'll be familiar with if you read any new-wave-custom media). This build transforms the lines of the Scrambler into that, more readily associated with that of a classic café bike.
Details, such as the front fender matching the curvature of the front-end of the frame, highlight the laser-like attention to detail. The pipes wrapped around the frame are a real delight to admire.
Next up, is the 'Suzuka 61' by Homare of Ducati Suzuka, Japan – with a neat, half-fairing café racer build that almost looks factory finished.
We particularly approve of the way the exposed brushed aluminium tank, contrasts with the black components, giving the bike a seemingly monochrome, finish. And what's not to love, about sculpted tank indents?
It's a pity there aren't more images showing off the work on the 'Guerrilla' by Giorgio from Italy – as it appears abundantly clear that Giorgio is a skilled craftsman. The custom aluminium bikini-fairing and side panels, surely attest to that.
Many, complain about the use of gold on the front end to mark performance suspension – however, gold forks work particularly well against this build's spartan palette.
DUCATI CUSTOM RUMBLE 2nd EDITION – BEST INDEPENDENT CUSTOMISER
To continue the sporting analogy the 'Best Independent Customizer' category is the premier league. It's the category where the professional artisan bike builders are competing for the top spot. We picked four bikes in this category because – well, we can't make decisions.
"…is one of the new developments of this second edition: a category for all independent customisers and their Special Scramblers.."
The gold-leaf (brass foil) finish, may make it too ostentatious as a daily ride. However, it would almost certainly be remiss not to include the 'Aellambler' built, by Masaharu of Allea, Japan. If not only, for the number of hours it must have taken to place each individual gold leaf – as well as to design and sculpt the new front fairing and seat-tank combination, into one continuous line.
Masaharu, has stripped all traces of the original bodywork from the Scrambler, fully exposing the trellis frame and 803cc L-twin engine. Looking beyond the gold-leaf finish; the work is sublime.
The DA-12 by Diamond Atelier, Germany is a work that you may already be familiar with – as it was completed last year. The Munich-based Diamond Atelier, used the Scrambler Sixty2 (399cc), with the intention of demonstrating that you can achieve a high-quality, custom finish on a relatively low budget. Yet nothing about this build suggests low-budget; it's a gem of a bike.
The raised quilted bench-seat, combined with the stripped bodywork, give this Scrambler Sxity2 a clean, minimalist, café-fighter look. The result is a bike that's subtle and not attention-seeking but is a head-turner nonetheless. And one that you'd be happy to ride daily.
Built by Carl Cerra, owner of Skunk Machine, Australia for friend's sports bar – the 'Trackster' is a MotoGP inspired interpretation of the Scrambler. The bike is formed from a four-piece kit, that Carl designed a few years back which includes; a double-skinned seat cowl, upholstered seat and two side covers.
In other words, Skunk Machine has taken the Scrambler and aesthetically transformed it into a sports bike. That fact almost seems like it's the reverse of what it should be. After all ordinarily, you'd start with a sports bike and deconstruct it. And that's why we love this bike; it breaks the 'rules' – not to mention, that the tail-piece is signed by three times world champion, Jorge Lorenzo.
The brushed aluminium finish on the STKD Cortado by A.JV., Philippines gives this Scrambler an austere and 'meant for the track' look. The lack of headlight in the front fairing, suggests racing is indeed the only function of this slim racer.
In fact, the only hint of form over function on this minimalist racer is the intricate pipes which are woven in and around the frame, appearing beneath the low profile tail. We feel that the photos probably don't do this custom as much justice as the eyes would do in-person.
DUCATI CUSTOM RUMBLE 2nd EDITION – BEST SCRAMBLER CUSTOMER
As one might guess, the Scrambler Customer category is a showcase of shed or yard built custom Scramblers. Although browsing through the images you'd be forgiven for thinking, that some of the bikes have been professionally-built – such is, the standard on display.
This the Sunday League of custom building. Everyone knows that there are at least one or two wrenchers that will emerge from these ranks and eventually go pro.
..a division dedicated entirely to all those Scrambler customers distinguished by their Self Expression…
Built by Chalik Kaewbolan of Thailand, the 'Modern Brat Racer BKK' is exactly that; a bold brat-racer. The red-rimmed clutch casing with a transparent window which exposes the dry clutch workings is the centrepiece of this custom. A combination of an LED headlight and carbon-fibre seat cowl, with a built-in LED taillight, gives this bike a futuristic air.
It doesn't take a market analyst to make the prediction that EVs (Electric Vehicles), will be the future of motorcycling however attached we are to our combustion engines. Nevertheless, it does beg the question; what will that mean for the future design of custom bikes? Well, there's an excellent answer in the 'D-EV Project', which is the personal bike of Ducati Thailand's founder, Apichat.
This electric café racer has been two years in the making; is capable of doing the ton and has a range of over 100km. Two years well spent in our book and an excellent exhibition of the potential of custom electric motorcycles.
DUCATI CUSTOM RUMBLE 2nd EDITION ROOKIE RUMBLE
The final category, the 'Rookie Rumble', was only open to builders under thirty-five years of age – who worked specifically on Ducati's entry-level Scrambler, the 'Sixty2'. That's Ducati's scrambler bike that you can ride on an A2 Licence. There are only two entries in this category – so we felt it'd be somewhat pathetic of us if we didn't pick just one favourite.
Hesitantly, continuing the sporting analogies, because just like Magnus Magnusson we've started now and so we must finish. This is the first foray into the competition and may or may not lead to one of many trophies. (We're just as glad that the sporting analogies are over, as you are).
..anyone under 35 years old who wants to customise a Ducati Scrambler Sixty2 model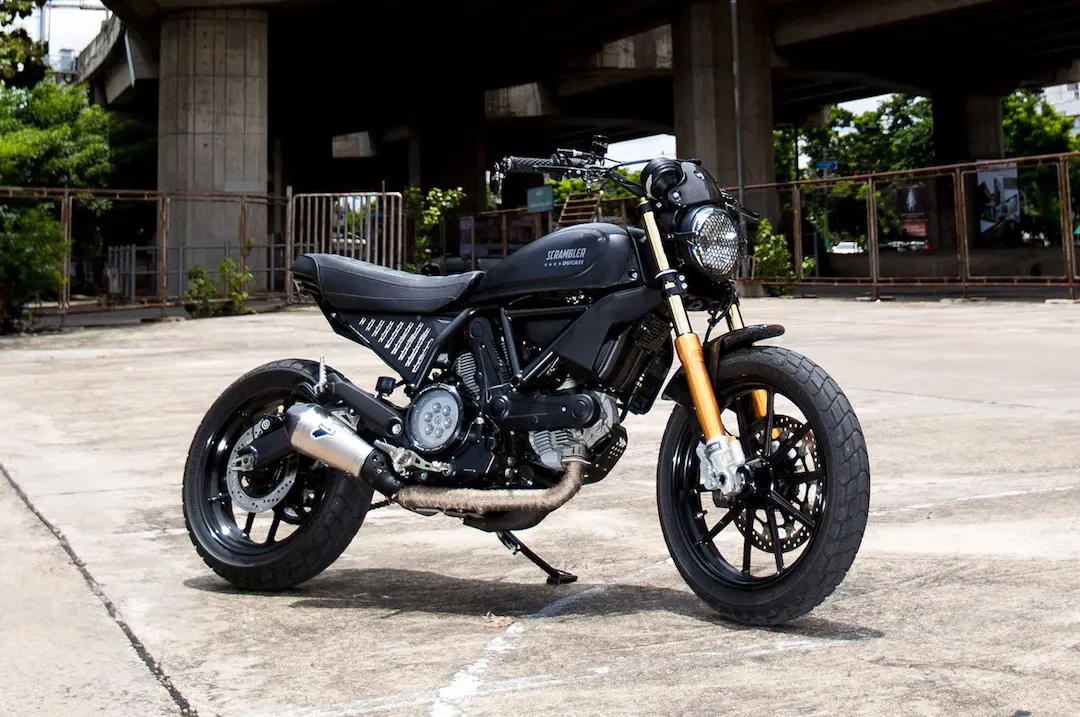 Our choice was this bike, built by Tanapol, from Thailand. This custom Scrambler Sixty2, fully embraces its scrambler looks, with components that serve to accentuate the original Scrambler lines. The result is a blacked-out (bar the gold forks) and mean-looking street scrambler.
So there you have it, our multiple picks for the 2nd Edition of the Ducati Custom Rumble – let us know your thoughts below or on our social channels.