Goldtop England's Bobber jacket is a (CE armoured) modern twist on the classic 'Rocker' motorcycle jacket – (the once default attire of any self-respecting biker).
Here's the lowdown on the brand's flagship biker leather.
Goldtop Bobber Jacket
A Ride Down Memory
In 1978, a buddy of mine gave me my first bike leathers – an ancient Goldtop.
The gold quilted lining was ripped and the pockets were worn through but the word Rocker was still clearly visible across the back from holes left by long-departed chrome studs.
That misty-eyed ride down memory lane was brought to life once more by the latest creation from Goldtop England – the Bobber Jacket.

I have to say what an immense pleasure it gives me to see an old-school name resurrected, to be appreciated by a new generation of riders.
Equally, a father and son team is continuing the tradition of producing top-quality gear that is still relevant in an age of man-made mega fibres.
Goldtop Bobber: Stealth Safety & Protection Features
The Goldtop 'Bobber' is a solid-looking leather made from a 1.4mm aniline cowhide. What this translates to, is a heavyweight jacket cut from hand-selected hides that have been drum dyed. This process gives the leather a rich suppleness that not only looks good but also ages well too.
There are also some well-designed, neat touches that stand out. I particularly like the quilted shoulders which don't extend over the top of the shoulder. A less is more philosophy also means no quilted elbow pads either, which in my book, is a good thing.
The quilted leather does make an appearance in the drop-down back, and it is this which gives excellent kidney coverage for riders favouring vintage style clip-ons or custom bike drag bars. The quilting also adds an extra layer of protection to the chest on the inner lapel.
If you thought the lack of external padding meant Goldtop has skimped on safety features though, forget it. The Bobber's gone stealth, employing probably the best gear on the planet with Knox Microlock (CE Level 1) body armour tucked away in both the shoulders and elbows.
Knox CE-1 elbow and shoulder armour are included as standard and there's a back pocket which will fit a CE-2 back protector. (It can be added for £39.99)
Don't be fooled by its retro minimalist looks. It's a serious motorcycle jacket with a CE AAA rating.
Glove-Friendly Pockets for the Goldtop Bobber
Externally, the jacket gets three vertical zipped pockets featuring ball pulls to make opening easier and further add to its retro appeal. The two side pockets are sufficiently large enough to get a gloved hand in, as is the chest zip. An Aero stainless steel asymmetric zip runs the full length of the jacket.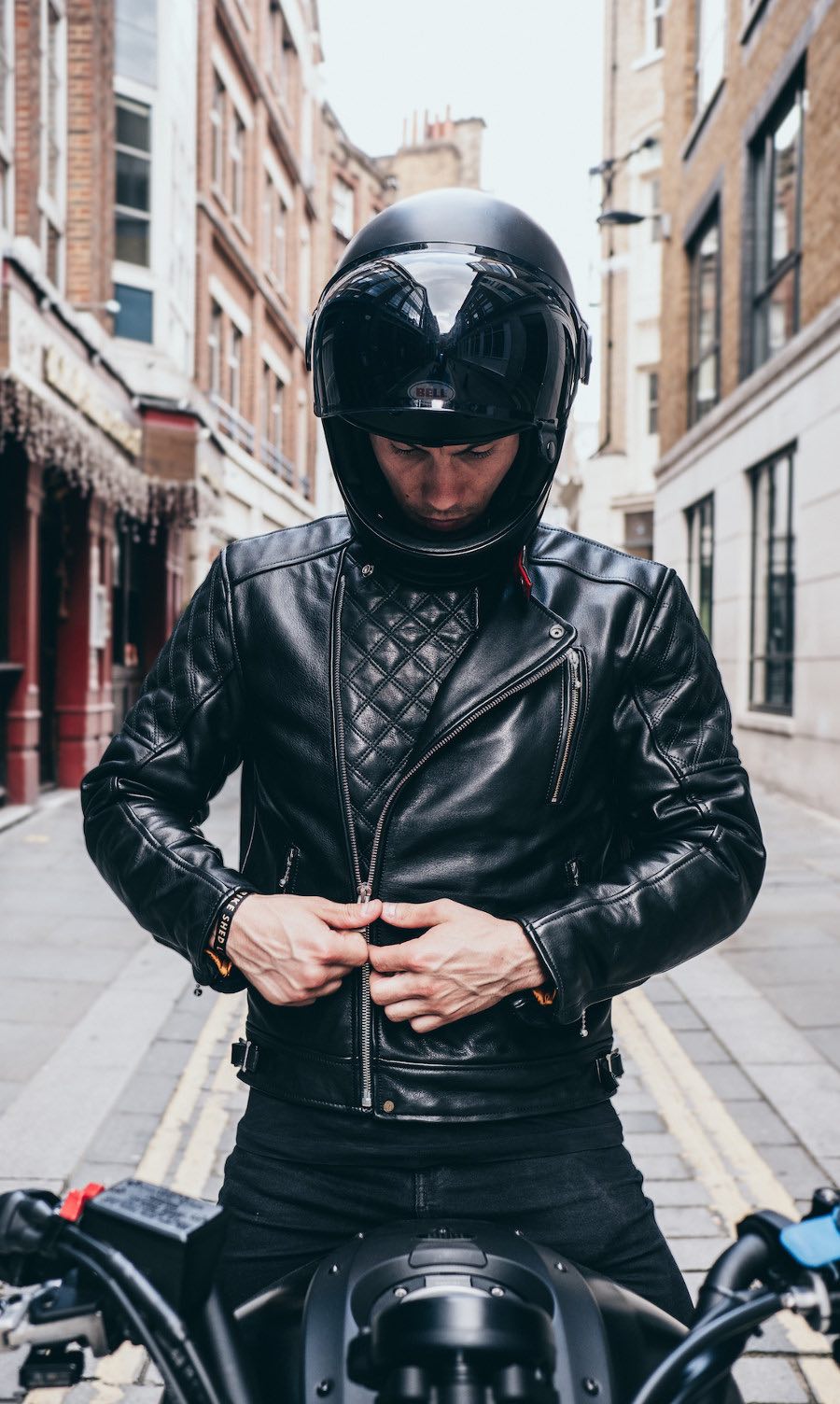 The waistband and sleeves are adjustable, and as you would expect, the lower sleeve is zipped and gusseted. The inner lapel and mandarin-style race collar have press stud snaps, with the collar getting a contrasting suede liner.
Inside, you'll find two large pockets with horizontal zippers for added security. The brand's trademark gold quilted lining is a classy touch and a nostalgic nod to the jackets that launched Goldtop back in the 1950s.
Now available in black, brown, racing green and oxblood, the Goldtop Bobber exudes rocker revival coolness but with plenty of 21st-century sophistication.
The Bobber Jacket – Black
The Bobber Jacket – Brown
The Bobber Jacket – Oxblood
The Bobber Jacket – Racing Green
Goldtop Bobber Jacket: Images
Credit(s):
Get 10% off Moto Gear When You Subscribe
Get the Renchlist update, covering customs, retro rides, gear, moto-culture and news.
Enter your email for 10% off Goldtop England gear