Despite their merits, it could be argued that adventure motorcycles lack charisma. Functionality usually overrides style. Not so with the Norden 901. Husqvarna's middleweight, neo-adventure bike combines both. It embodies Husky's off-road prowess with the marque's inimitable progressive design direction.
It's a machine that may well give some riders just the excuse needed, to crossover to the adventure bike side.
Husqvarna Norden 901: New Approach to Adventure
It's a journey that began at EICMA 2019 when Husqvarna unveiled the fresh Norden 901 concept. Reaction to the Austro-Swedish manufacturer's reveal was overwhelming positive. As such, within the two weeks that followed the reveal, production of the concept was announced.
It's been over two years since that announcement. Rumours, speculation, a few spy shots and finally the almost mandatory teaser video followed. But it's here now and barely different to the original concept.
Engine
The 901 is likely to be a capable adventure machine, given it shares its components and mechanical genes with the KTM 890 Adventure series. That includes the torquey 889cc parallel-twin engine that outputs 105 hp (77 kW ) at 8,000 rpm and generates 100 Nm of torque at 6,500 rpm.
Incidentally, the engine acts as a stressed member – an approach that usually offers notable weight and size reduction. Consequently, the Norden 901 should be fairly agile on and off-road, particularly with its lightweight tubular chromium-molybdenum steel frame.
Husky's utilised several technical solutions to mitigate pump losses and reduce oil friction – such as active crankcase evacuation and semi-dry-sump lubrication. These, promise long intervals between servicing – around 9,000 miles (15,000 km). That should more than adequately cover most summer, motorcycle road trips.
Brakes
Although self-branded, the braking system found on this new adventurer is actually made by the Spanish brake manufacturer J.Juan. At the front, it takes the form of four-piston, radially mounted brake calipers, with twin 320 mm brake discs and 260 mm brake disc at the rear, applied by a two-piston floating caliper. Together this should offer reliable stopping power on and off-road.
Styling
Visually, the Norden 901 couldn't be more removed from its KTM adventure bike cousins. It's akin to when your mate's good-looking cousin comes into town – you wonder how they're even related.
The 890 is very much in the expected mould of an adventure bike albeit with a distinctive KTM front end. Nonetheless, mostly utilitarian and functional.
On the other hand, the Husqvarna Norden 901 defies unequivocal style categorisation (much like the Svartpilen and Vitpilen models). Its mesmerising design is distinctively Husqvarna – angular lines blended with gentle curves.
However, there's a sense of Marmite about it. Its progressive design may be off-putting to some riders (who know what they like and like what they know). However, those who DO like it will do so with zeal (and they're likely to be in the majority). It's captivating.
Elements of rally styling are present in the sculptured bodywork that has a futuristic, Dakar-Paris Rally aspect. With that in mind, it shouldn't be surprising to learn that the experience of Husqvarna Motorsports Rally [division] played a strong role in the design of the distinctive front carrier.
Although the front-end features a retro-esque, single, round headlight, it's a modern LED unit that's combined with fog lights. The auxiliary lighting sits on an inner spoiler which functions as an instrument holder too. It's been aerodynamically engineered to allow air to pass smoothly through the bodywork, offering stability at high speed.
Suspension, Wheels & Tyres
Also shared with the KTM 890 is the fully adjustable suspension by WP APEX. That's a combination of 43 mm upside-down front forks with 220 mm travel and a rear shock with 215 mm of travel. There's a suggestion of off-road intent when combined with spoked (21" front and 18" rear) tubeless wheels, heeled with Pirelli Scorpion Rally STR tyres.
Fuel Tank
It's surprising to discover that the 901 is equipped with a 19-litre fuel tank, given its relatively slim silhouette. Husqvarna says that "… combined with exceptional fuel economy gives a range of about 400 km" (250 miles).
Designers at the firm saw the fuel tank as a central element of the bike's ergonomic shape. And like the Dakar Rally bikes that inspired the 901, the main bulk of the tank sits low in front of the rider's knees. As such it allows for a lower seat (which is a grippy, height-adjustable two-piece) without reducing ground clearance. Importantly, it makes the bike accessible to a wider range of riders.
Deftly, the lower part of the tank's design means the rider is afforded some protection from the elements.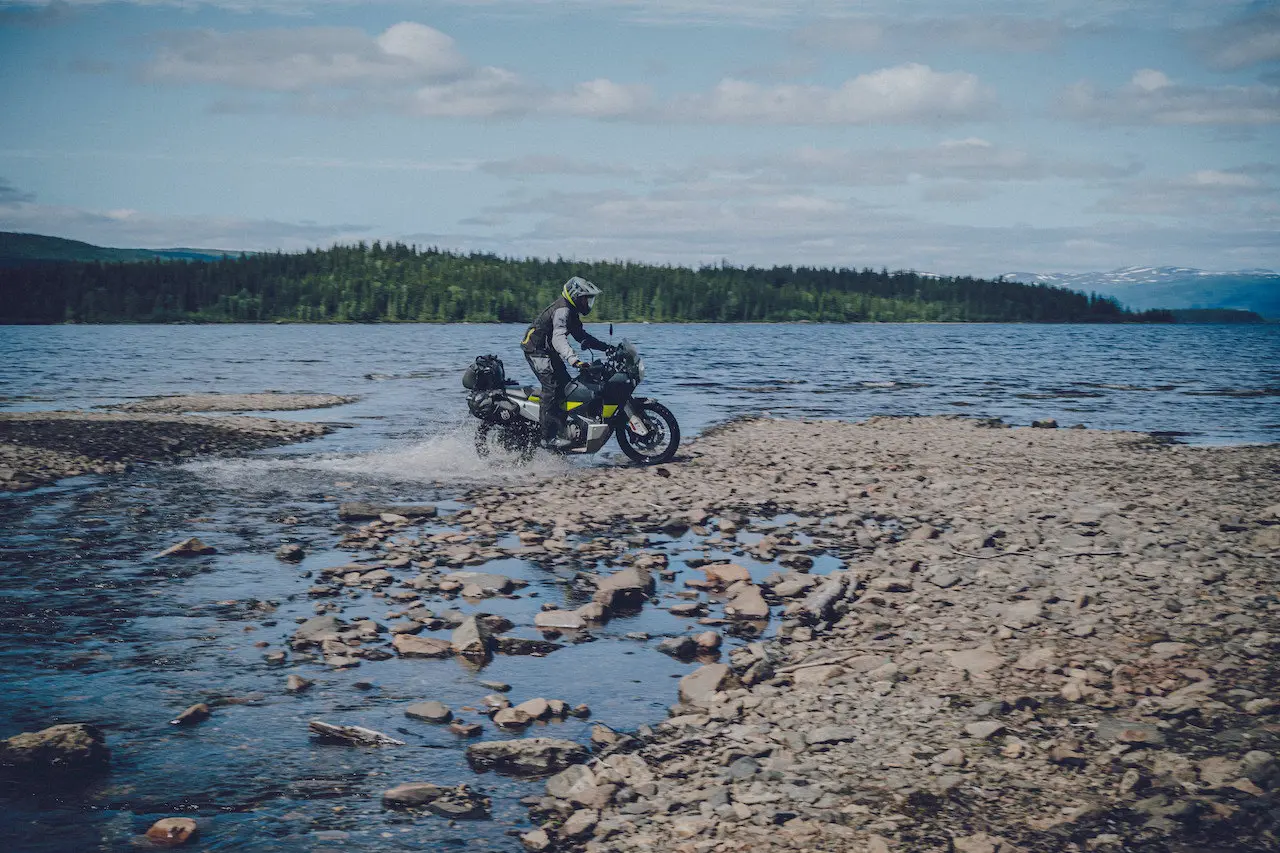 Electronics and other Equipment
A host of electronic gadgetry and technology comes standard with the Norden – all designed to make the long journeys easier. Not least, an Easy Shift function provides clutchless shifting, combined with Power Assist Slipper Clutch (PASC) to handle rear wheel chatter under sharp braking and aggressive downshifting. It should also help to reduce rider fatigue due to a light operational touch.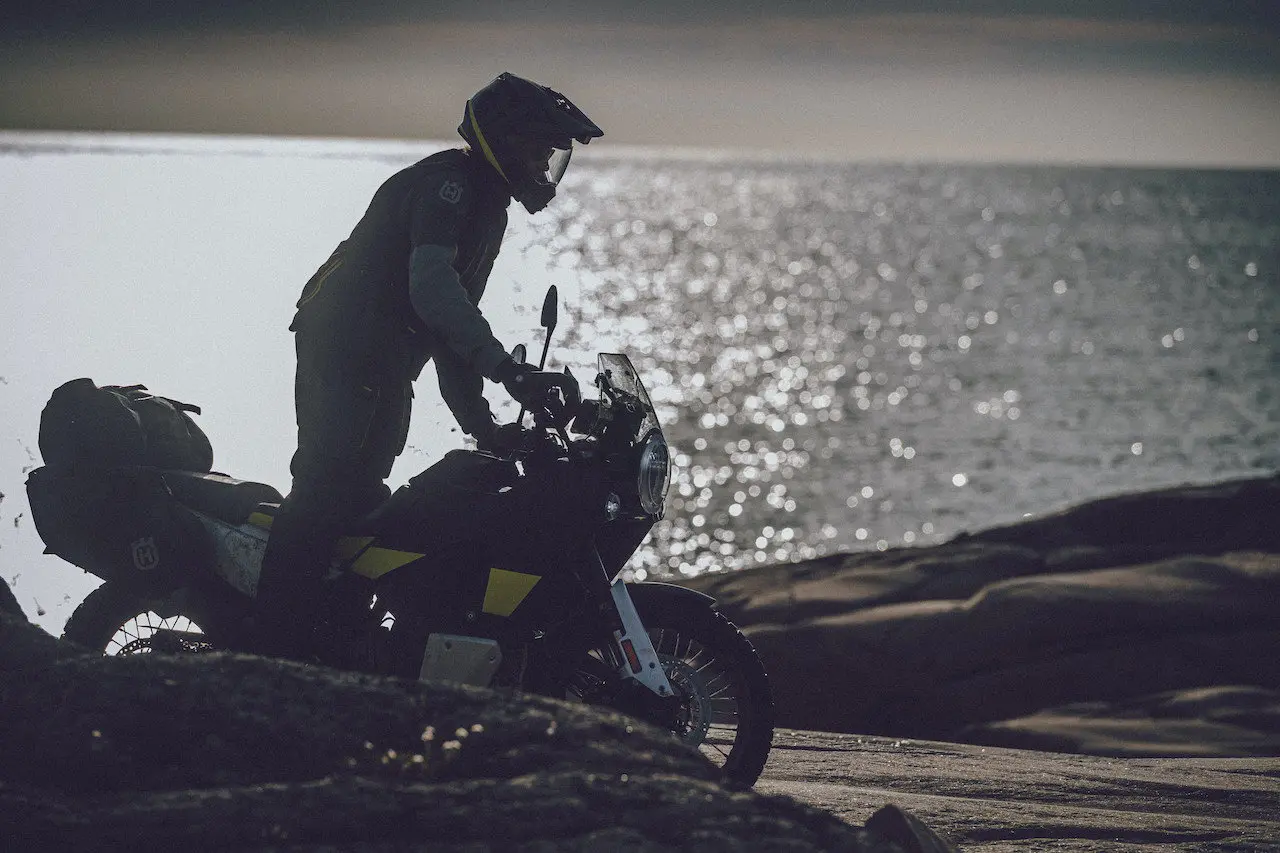 Proprietary lean-angle sensitive Cornering Motorcycle Traction Control (MTC) and switchable Bosch Cornering ABS with a special off-rode mode, offer error correction in sticky… or rather slippy situations.
Additionally, adaptability to changing conditions on and off the tarmac is provided with multiple rider modes. These include Street, Rain and Off-Road – plus, an optional Explorer mode (which allows finessing of the MTC) for riders who desire greater control.
In consideration of adaptability the tapered, aluminium handlebars offer six mounting positions and scope for 30mm adjustments so most riders should find a comfortable setting.
In front of the handlebars, a slick 5" TFT dashboard is found. It serves as the interface for the electronics, switchable modes and information. Through an optional connectivity unit, precise navigation is provided. Furthermore, telephony and smartphone-connected music selection can be activated.
Norden 901 – Thoughts, Price and Availability
The Norden's purpose is clearly identifiable: it's a rugged tourer, off-roader and a journey machine designed for adventure. However, it embarks on those things in a unique, visually impressive manner.
That should mean the Norden 901 is unlikely to suffer from the pejoratives sometimes levelled at adventure bikes: boring, ugly, nondescript et cetera. Nor may it suffer from the associated tongue-in-cheek connotations: they're bought by middle-aged guys whose best riding days are behind them.
As such it may appeal to a wider audience. Perhaps even those riders who may never have considered an adventure bike.
Nonetheless, this motorcycle enters the competitive middleweight market segment. And yet, ostensibly it will compete with larger bikes too (of similar ilk). Bikes such as the Harley Pan America and the Ducati DesertX – when the latter eventually launches in December.
More of a match albeit with less equipment is the middleweight Tenère 700 which has similar rally styling. Moreover, it's incredibly popular.
Husqvarna is confident it can crack the segment. To that end, its Head of Marketing, Federico Valentini says: "… we believe that the Norden 901 will become a class-leading favourite of riders with the ambition to explore further."
It remains to be seen how well Husky's new bike will fare, though most signs point to very well.

The Norden 901 is available at Husqvarna dealerships now. UK pricing however is yet to be announced. Expect a starting price north of £11,400.