Forward-thinkers of the 1950s thought cars with fins were here to stay and 1980s fashionistas couldn't imagine a world devoid of neon-coloured jumpsuits. Even the earliest innovators of modern home computers didn't think they would ever catch on, yet here we are.
Growth in social media coincides with an affinity for vintage fashion, music and cars – from Edison bulbs to Marvel comics, everything old is cool again. At a glance, this flourishing movement toward the styles of yesteryear is actually quite perplexing. It's as if part of a connected generation is longing for an analogue world they never knew and the sci-fi predictions of the 80s, 90s and 00s have little in common with some contemporary design aesthetics.
Neo-Retro Styling
What can we speculate about the future of motorcycles amid the current trend of neo-retro styling?
The Suzuki Nuda presented a glimpse at the future of motorcycle design in the parlance of 1986. It's the style one may have suspected would speak to a generation raised on mobile phones and social media but its alien looks couldn't be further from the bikes of today. And while modern equivalents like the R1M, H2R and xDiavelS grace bedroom posters the world over, a growing sect of motorcycle enthusiasts couldn't care less about them.
In recent years nostalgic neo-retro models like the Ducati Scrambler and BMW R nineT have debuted to unprecedented popularity. We appear to have arrived at a neo-retro age despite the high-tech sci-fi predictions of decades past, yet upon closer inspection, both styles have been co-existing in motorcycle dealerships for years – a quandary if there ever was one.
Angles and Curves
The clay concept mode above is that of the 2007 Ducati Monster and the more you stare at it the stranger it becomes. Save for the fork, frame and swingarm, the eye is hard-pressed to find a natural shape anywhere on this bike. Even the headlight lens consists of angled geometric surfaces and the chiselled tank and seat resting on an exposed trellis frame are unlike anything nature has ever produced.
Thanks to the relentless march of time, this scary monster is actually quite sedate by today's standards, especially when parked near a cutting-edge superbike like the Kawasaki H2R. But in 2007 few mass-market bikes were as aggressively styled as the H2R. Back then you could still find a Kawasaki ZX6R on the showroom floor looking suspiciously 90s, tribal flames and all.
And in the Ducati dealership of 2006, you would have found one of these parked far away from the Monster:
During the mid-to-late 2000s, these and other heritage models began to appear alongside revived icons like the Kawasaki W650 and Triumph Bonneville T100. Phrases like café racer, Thruxton and scrambler grew to record popularity and the world of custom bike building exploded into the mainstream.
The Ducati SportClassic's predecessor (MH900E) reached production in a decidedly modern way, the result of an overwhelmingly positive response to an online survey conducted by Ducati. Both were produced using random parts from bygone models to form a style echoic of vintage racers.
The SportClassic has since become the darling of builders the world over, with countless exquisite examples taking the internet by storm. That's why the price of a used SportClassic hovers close to its original MSRP even ten years down the road… try saying that about a ZX6R.
It's hard to find two bikes as divergent as the Monster and SportClassic or the H2R and W650, yet they each have strong and loyal fanbases. Several factors are contributing to this duality, the most notable of which is riding has entered the mainstream.
Evolution of Motorcyclists
In previous decades the image of a motorcyclist was often very two-dimensional. Those who were willing to straddle an engine with wheels were regarded as brazen daredevils and rarely did a suit-and-tie businessperson throw a leg over a motorcycle in full view of the public.
There are places where motorcycles have been a culturally-accepted form of transportation from their very inception. But in many countries, riding was mostly seen as a fringe activity reserved for scruffy, tattooed men with worn leather jackets and unflinching scowls.
Bikes formerly carried a far-reaching social stigma of loud pipes and unnecessary violence, but in an era when Steve McQueen is cooler than ever, fewer mothers are comparing their sons to Hell's Angels just for having a Bonneville in the garage.
Everything Old is Cool Again
You know when you enter someone's home and you instantly recognise all their interior trimmings from the home decor section, at the local craft store? It's not a feeling anyone loves and that's why it's falling out of style. The Bonnie's infinite customisation options allow it to reflect its rider and transcend from a mere accessory to an extension of his being.
On top of that, there's the idea that anything which has survived decades of this world has some stories to tell. The phrase "they don't build 'em like they used to" becomes more popular with every planned obsolescence and buy-and-rebuy device the world throws at us. In a sense, the plastic artistry of fully-faired sports bikes is a reminder of a plastic world and a throwaway mentality that some contemporary subcultures reject.
Classically-styled motorcycles hark to a time before all that, when you could turn a few wrenches and ride across a country; the days when a soft drop meant a dent on the tank, not a set of ruined fairings.
Uniqueness is Cool Too
These days if things aren't vintage or artisan-made, people at least like them to have some personality. I don't always want to be reminded that 50,000 other people are having the same experience with the same product as I am – though sometimes I don't mind. I enjoy attending BMW rallies to share that cohesive brand experience with others, yet I take pride in knowing my Beamer looks different from all the rest.
When a product becomes a pivotal part of my life, something with memories and emotions tied to it, I want to feel like it's the only one of its kind. Modularity and customisation either distinguish it from others or willingly copy them and both paths ultimately bolster a sense of individualism. In motorcycling, combining elements from multiple schools – café styling, modern lighting, Honda tank, Ducati frame – is all part of the fun.
But it isn't all fashion and no form.
Not Just a Pretty Face
The notion that neo-retro bikes lack functionality has gone out the window. Not long ago these bikes were assumed to be showpieces, the kind that is dusted with a microfiber cloth before and after a ride. The new Kawasaki Z900RS, for example, is nothing of the sort. That drop-dead-gorgeous heritage bike has 111 horsepower, gobs of torque and fully-adjustable suspension. It's modern reliability and performance in a vintage wrapper.
Bikes like the Ducati Scrambler incorporate elements from the world of ADV – like detachable luggage, off-road tires and expanded fuel capacities – to merge the ethe of urban fashion, rural exploration and outright performance. And whether you're buying new, used, or custom, these days it's hard to go wrong.
Custom bike builders are creating machines intended not for Friday night barhopping, but for complete integration into one's life. Commute on them, park them outside, don't wash them for a month – today's customs don't really mind. They're focused on the essence of riding and the emotions that go along with that and any scuffs picked up along the way are just stories waiting to be told.
Used bikes are more relevant than ever. Mid-2000s models perform similarly to those of today, unlike bikes of previous decades which quickly rendered their predecessors obsolete. And if you're buying from a dealership, you're not likely to get a lemon anymore. Sales of dual sports are on the rise and the old stigmas surrounding bikes from certain countries have mostly gone away – a turn that's given some brands a new lease on life.
Ducati delivered over 14,000 Scramblers in 2017 and the R nineT helped BMW set numerous sales records in recent years. Nearly every major brand is selling a heritage model in 2018 and they're attracting people who may not have considered buying a motorcycle before. That's in part because…
Neo-Retros Seem Less Threatening
Before I knew anything about motorcycles I wanted a first-gen Ducati Monster. It looked like the quintessential bike: small, simple, cool – with an iconic name and a burly exhaust note. It seemed approachable in ways my coworker's Suzuki GSXR1000 did not. As a new rider, even looking at his bike intimidated me. It wasn't his tall tales of going 200mph or even his horror stories of crashing without gear. It was just the character of the thing.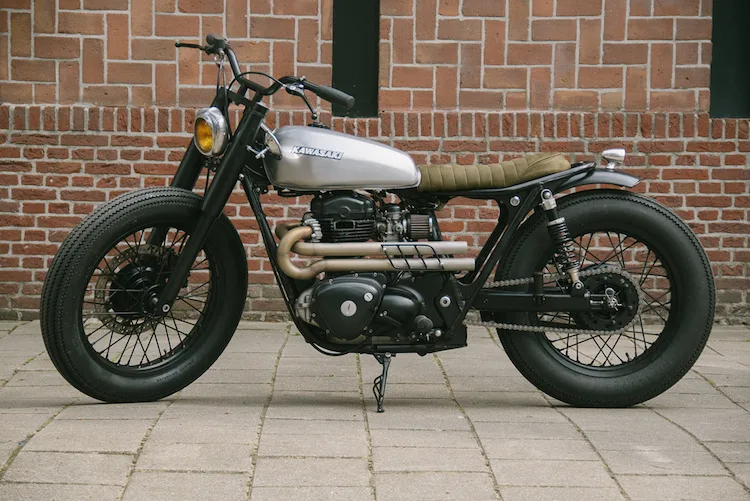 Even from afar, I knew I'd need a racetrack to find that bike's fullest potential. Not only that, it was in perfect condition – and sportbike culture expects it to stay that way.
That's like learning to drive in a Lamborghini. When you inevitably nudge that car while squeezing into a spot at Starbucks, you must fix the damage immediately just to keep up appearances. Had you been driving a weathered old Volkswagen, on the other hand, you'd have but a scratch in the chrome – another story to tell if ever the opportunity arose.
Neo-Retro Bikes Have Nothing to Prove
Neo-retro style is a product of the emotions and tastes of a new breed of rider. One who gleans maintenance tips from YouTube but collects music on vinyl. A digital nomad with a love of simpler times; not the sci-fi persona predicted in the past, more of an old soul in a young body. Neo-retros imbue that spirit into a pastime that's as thrilling as it is therapeutic, as independent as it is connective.
My prediction? Neo-retros are here to stay.