Two icons of motorcycles have combined – Royal Enfield is celebrating 120 years since the launch of its first motorised two-wheeler (in part) through a collaboration with Belstaff.
Royal Enfield: 120-Year Anniversary
Royal Enfield like many motorcycle marques established in Europe (in the late 19th and early 20th centuries) has a relatively complex ownership/manufacturing history.
In fact, it's difficult to agree on the true age of many of the existing motorcycle manufacturers.
So how old is Royal Enfield? Well, in some shape or form, motorised vehicles bearing the name Enfield have been manufactured continuously since 1901.
The company is marking the anniversary through several marketing initiatives, such as its limited-edition motorcycle helmets featuring twelve designs. (That's one to commemorate each decade of its existence.)
Additionally, it's collaborated with other brands including BSMC for limited one-off editions of moto apparel.
Royal Enfield has its roots in Worcestershire, (West Midlands) UK – a hub of frenetic industrial manufacturing at the turn of the 20th century and also home to several motorcycle and automotive marques.
Belstaff was also established in the West Midlands (Staffordshire). Equally, it's a brand that's long been synonymous with motorcycling. So it's an especially fitting match.
Limited Edition: Royal Enfield x Belstaff Collection
The co-branded collection features eight pieces: two jackets, a zip-through sweatshirt, three t-shirts, an enamel mug and a cap. All items feature Royal Enfield and Belstaff insignia.
The distinguished four-pocket Trialmaster and the short-cut, Mojave-style, Brooklands motorcycle jacket are the signature pieces of the collection. It seems only proper that the two brands chose the most recognisable and long-lived pieces within the Belstaff range as the focal points of this limited-edition collection.
Royal Enfield x Belstaff – Trialmaster Jacket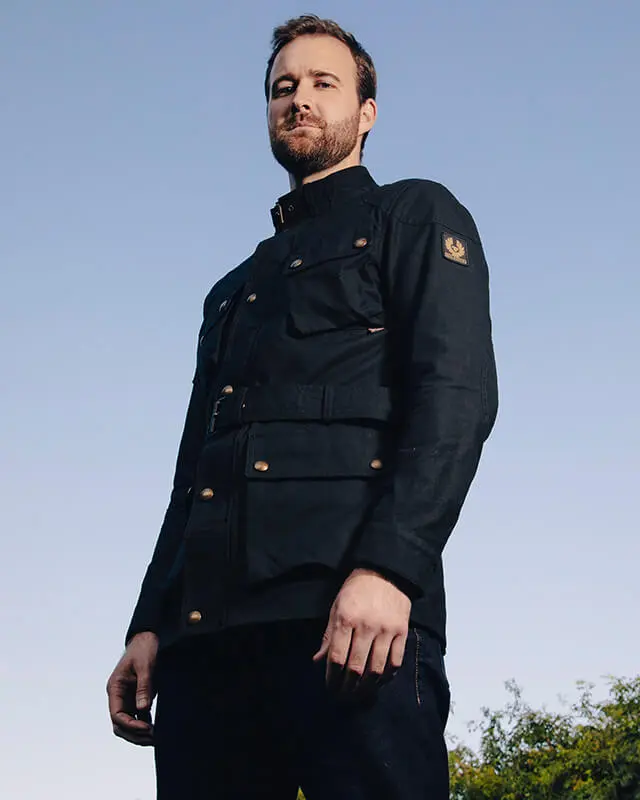 The Trialmaster was first developed for the tough Scottish Six Days Trials in the 1940s. However, the jacket featured within the Royal Enfield x Belstaff collection can be categorised as off-the-bike gear. It's not CE Approved.
Royal Enfield x Belstaff – Brooklands Jacket
The Brooklands jacket, however, is the updated Pro version which is composed of a (CE-approved garment -Level A) abrasion-resistant, 10 oz wax cotton outer material. It's been further augmented with Cordura panels in the most likely high-impact areas, for greater abrasion durability.
Armour pockets (for the supplied D3o motorcycle armour) are pertinently found at the elbows and shoulders. Furthermore, there's an optional pocket for D3o back protection armour.
Incidentally, while the wax cotton already provides waterproofing, that too has been refined with a waterproof and breathable Miporex membrane which should help riders caught out in a shower. Additionally, the lining of the jacket is removable for a cooler ride on warmer days.
Both jackets feature a Royal Enfield 120th anniversary patch on the right arm sleeve and a unique riveted metal plaque on the inside zip.
Limited to just 500 pieces, these collectable jackets and the accompanying casual wear are available now from authorised Belstaff retailers.