After a (not-so-short) hiatus of 12 years following the last trip, Ewan McGregor and Charley Boorman return to screens in Long Way Up – an Apple TV+ original.
Once again they're wearing Belstaff and this time riding Harley-Davidson's Livewire.
Belstaff Long Way Up Jackets
In what appears to be their most arduous (not longest) adventure to date, the duo rode 13,000 miles up through South and Central America to Los Angeles, from Ushuaia city (Argentina) at the southern tip of the South American continent. And as if that were not challenging enough, the electric-powered Harley-Davidson Livewire was the chosen two-wheeler for the expedition.
Aside from the type of machine selected for such a trip, logistical concerns tend to dominate the planning before departure. Imaginably more so with a film production crew in tow.
And yet, conceivably more pressing, is the question of what motorcycle gear is suitable for such a trip. That's especially true when travelling from the southern hemisphere to the northern, in a relatively short period. More so when wintry conditions, arid desert heat and high humidity are all likely to be encountered.
Belstaff Chosen as Moto Gear Supplier
For Charley and Ewan, the renowned moto-gear outfitter Belstaff was a natural choice. That's not surprising, as Belstaff (in recent years) has been asserting its heritage and credentials as an outfitter of adventurers throughout its (near) 100-year history.
There's been a concerted effort to develop and highlight the brand's Pure Motorcycle range. And, that effort in part has culminated in the launch of the Tourmaster Pro – a traditional wax-cotton jacket for serious motorcycle explorers.
Additionally, there's been an evolution of its wax cotton standard-bearer, the Tourist Trophy or Trialmaster as it's more commonly known.
Now named Trialmaster Pro, this jacket comes in the form of a traditional 10oz wax cotton that is CE-certified, level A.
All that said, the brand's fashion lines also appear to be flourishing and exert a positive influence on the moto-gear collections.
Regardless, the two adventurers seem to be enamoured with the British moto-gear maker. Belstaff has provided apparel for their previous two adventures which combined saw both riders (individually) travel more than 35,000 miles on two wheels.
In Long Way Around, it was off-the-bike gear; for Long Way Down it was in the form of the pair's distinctive adventure suits. So, it appears to have been a no-brainer for the duo once again to partner with Belstaff.
Allegedly, both Ewan and Charley were highly involved in the design and development of the jackets – equally so, the trousers used on the expedition.
Each was given the opportunity to test before the journey. Nevertheless, 13,000 miles in the saddle, over 100 days on the road, passing through 16 border crossings and 13 countries will likely be seen as a far truer and more rigorous test of the collection.
Belstaff Long Way Up Collection
Distinct classic styling defines all articles in the collection. And importantly, the form of the collection is forged with function at the forefront.
Markedly, the collection is split into two sub-collections: Off The Bike and On The Bike. The former consists of casual clothing and outwear specifically for downtime.
For On The Bike, protective outwear dominates, with the inclusion of a down layer for warmth. The emphasis is placed on abrasion resistance, impact protection, comfort and weatherproofing.
Exclusively all items carry a special Long Way Up branding, alongside the traditional phoenix emblem.
Off

the bike
Pieces within the Off The Bike sub-collection consist of several casual tops, designed to be thrown on after reaching a scheduled road trip stop.
Simple and classic in design, you'll find a selection of cotton crew-neck t-shirts with either small or large logos in a variety of colourways to suit most tastes.
More preferable (maybe) for cooler evenings out of the saddle is the soft cotton, zipped, loopback jersey/sweatshirt in black or vintage khaki. Alternatively, a long-sleeved moto-inspired t-shirt with Long Way Up printed on the back may suit the same conditions.
Additionally, several jackets for off-the-bike-wear also feature in the sub-collection. The cafe racer style Montana jacket, a four-pocket field jacket in wax cotton available in vintage khaki or salvia and a blouson also in waxed cotton will keep riders warm off the bike.
To top off the sub-collection a six-panel baseball cap with a woven badge will cover up the most dastardly of helmet hair.
On

the bike
Signature pieces within the On-the-bike collection are the jackets worn by Ewan and Charley on the journey – the McGregor Pro and the Long Way Up jacket. Both are CE-certified garments, designed with the input of the two adventurers.
On The Bike gear (as expected) takes the form of mainly outwear garments, featuring a full textile adventure suit [separate trouser and jacket] and rain trousers with an accompanying jacket made from a laminated nylon fabric that's waterproof and breathable.
Naturally, the jacket seams are sealed to prevent water ingress while an antibacterial mesh lining facilitates airflow. That should help keep the jacket fresher after repeated use.
A light, packable down jacket that's cleverly monikered Long Way Down is also included for warmth on colder days.
Also, featured within this subset of garments is a pair of robust leather trousers and a pair of sturdy jeans, co-designed by Ewan and Charley respectively.
Ewan McGregor's Long Way Up Jacket: Belstaff McGregor Pro Jacket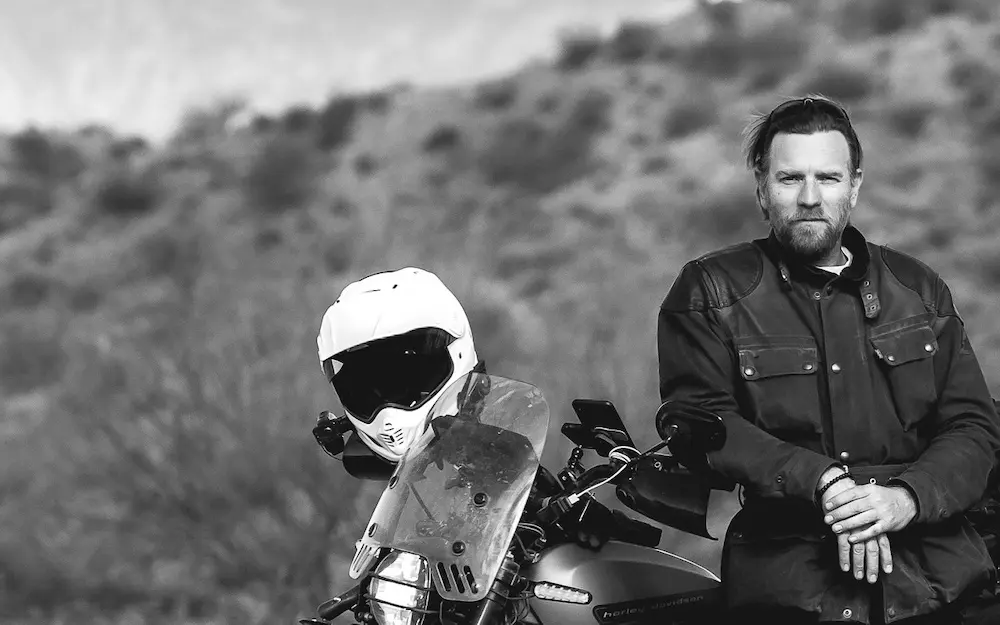 Presented in vintage black, the McGregor Pro jacket is Ewan's interpretation of the Trialmaster Pro jacket.
That, itself is a contemporary, armoured and abrasion-resistant update to the Tourist Trophy which in turn traces its roots to the Trialmaster.
(The original jacket, was created to tackle the gruelling Six Days Trial in 1948.)
Featuring a slightly shorter body length than the standard Trialmaster Pro, the McGregor Pro has a similar tailored silhouette to the former.
Equally, all classic features that are synonymous with Belstaff's iconic, four-pocket jacket are present (the most prominent of which are the mandarin collar and adjustable belt).
Crafted from 12oz Halley Stevensons, waxed cotton (a mill located just a few minutes from Ewan's hometown) it's heavier than the usual 10oz waxed cotton from British Millerain.
Despite its refinement, it's evident that protection combined with comfort is paramount. As such, D3O vented armour is found at the elbows and shoulders. Reassuringly, the back is not forgotten in that regard too, as within the lining sits a pocket in which CE Certified level one or two armour can be inserted.
Furthermore, reinforced shoulder patches found on the standard Trialmaster Pro are presented in contrasting black leather on the McGregor Pro.

Moving to the interior, Ewan's family tartan [Clan Gregor] is the chosen pattern for the inner lining. That's a nice touch unless your surname happens to be Campbell…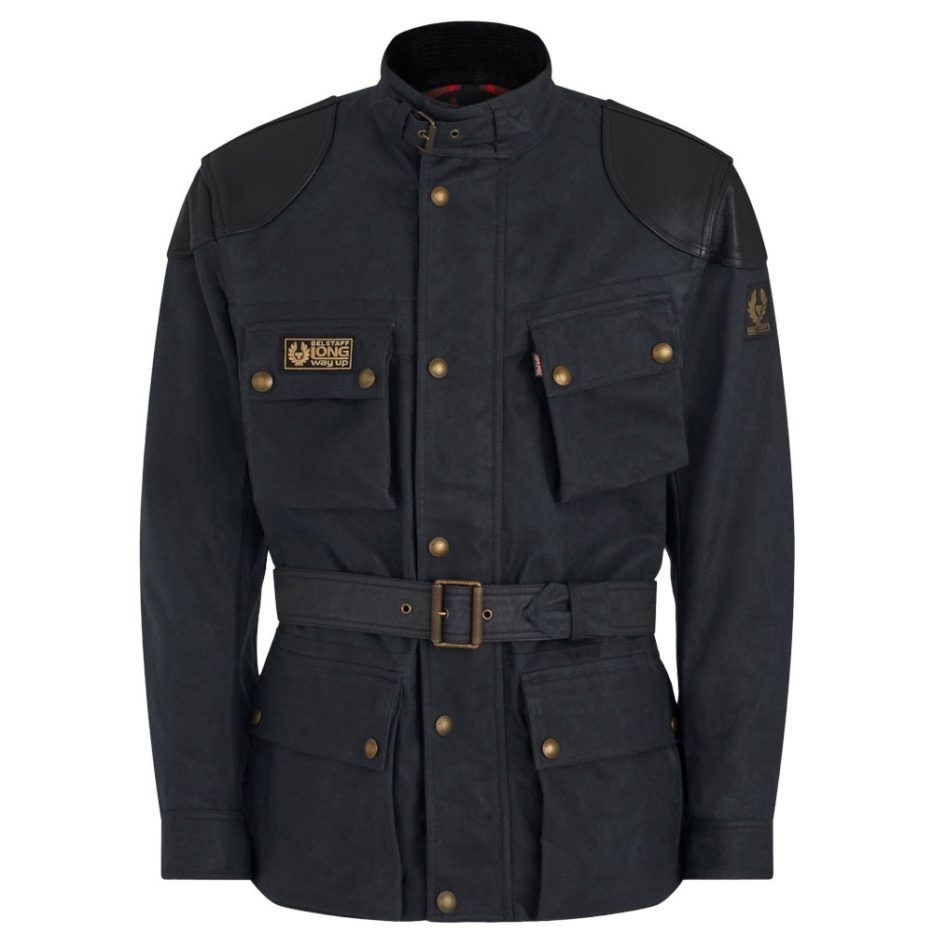 McGregor Pro features at a glance:
Leather shoulder and elbow patches
Traditional Belstaff corduroy and cuffs
Traditional Belstaff water-resistant pocket construction
Pocket bearers for extra strength
Centre front interior rain gutter, trapped tape for ease of fastening
Pocket for back protector (D30 Viper L1 or L2)
Reflective reversible belt
D3O L1 vented armour at the elbow and shoulder
McGregor Leather Trouser
And what about the leather trousers Ewan elected to wear instead of the adventure trouser style? Well, they're constructed from grained leather and feature an interior belt made from traditional Belstaff corduroy. All that's combined with a viscose lining, so it's much comfier for a trip of this nature than outward appearance might suggest. Adding to the comfort is a raised rear waistband which should help eliminate lower-back wind chills.
Charley Boorman's Long Way Up Jacket
Charley worked with Belstaff to create a high-tech textile adventure jacket, refined with a Gore-Tex Pro tri-layer laminate which he then wore on the expedition.

Replete with numerous vents in addition to utility pockets (both visible and hidden), Charlie's jacket is certainly more utilitarian than the McGregor Pro.
Nevertheless, it's sleeker in design than many of its adventure jacket rivals.
Yet, it remains similar enough to the shape of the Trialmaster to undoubtedly identify it as a Belstaff.
Yet maybe the reflective emblems on the upper left and back of the jacket more exuberantly achieve that.
Charley's jacket is CE-Approved at Level AA which classes the garment as medium-duty PPE. That means it offers an excellent balance between the level of protection and the ergonomics of its use. Outside of the race track, this level of protection is more than adequate for most riders.
The jacket is so feature-laden, that it could be described as a rucksack within a jacket. In fact, one driving force behind the design was that Charley wanted a grab-bag/go-bag in which all key personal artefacts for travel could be stored.
That aside, suffice it to say it's a versatile weatherproof moto-expedition jacket. And, indeed suitable for most journeys which a reasonable rider might potentially attempt.
Beyond that, there are a couple of standout functional touches that demonstrate progressive design and the jacket's intended purpose – such as the Camelback hydration pocket which is located in the back lining. It's accompanied by a water tube fastener on the chest for which a two or three-litre Kriega Hydra pack is recommended.
Additionally, removable impact protection in the chest further emphasises adherence to rider safety and comfort.
Unlike Ewan's Pro, the Long Way Up jacket comes in several colourways – three to be precise: Dark Olive/Black (worn by Charley), Light Grey/Black and Dark Sand.
Long Way Up Jacket features at a glance:
AA CE certificated with a 5-year warranty
Removable storm collar and neoprene comfort neck detail
Centre front features YKK zip, rain gutter and easy fasten snaps
Vertical back and triceps exit vents with waterproof zip and flap
Camelback hydration pocket within back lining
Fully adjustable and removable kidney belt for support
CB hidden zipped security pocket
Charley Denim Jeans
Charley, much like Ewan decided against the modern textile adventure trouser and opted for a single layer, Dyneema denim jean – meaning a highly abrasion-resistant trouser. Co-designed with Belstaff, Charley's jean is a regular-fit, straight-leg, finished in washed indigo. D3O armour once again addresses impact protection and can be found at the knees and hips.
The Long Way Up collection is now available from Belstaff's website.
Editor's Note
The collection is limited to just items for men at the moment.
Long Way Up – Exclusive to Apple TV+
Most moto aficionados have likely accepted the inevitability of electric motorcycles. Undoubtedly, all will be watching with intrigue to see how the machines perform. Equally, in anticipation of whether this first (marketing) step in H-D's reimagining has been successful.
Alongside, Charley and Ewan viewers may well be pleased to see the return of some familiar faces. Co-director Russ Malkin and producer David Alexanian will be backing up the two-wheel adventurers in two Rivian R1T pickup trucks – continuing the electric theme.
Watch the series on Apple TV+ now, with a new episode every Friday from 25th Sept 2020.