Blacked-out all carbon Moto Guzzi V7 MKIII launched – Moto Guzzi has announced that the V7 Carbon MkIII will be in dealers by the end of January 2018. In case you missed it at EICMA 2017, Moto Guzzi showcased a few lavishly finished V7 mark threes on its stand – alongside the Moto Guzzi V85 – its new rally/adventure motorcycle concept.
MOTO GUZZI V7 CARBON MKIII
Since appearing at EICMA in November 2017, the V7 MKIII Carbon has appeared at various motorcycle exhibitions around the globe. It's proved popular with riders and extremely popular with the Guzzists – hence the move by Moto Guzzi to release the bike.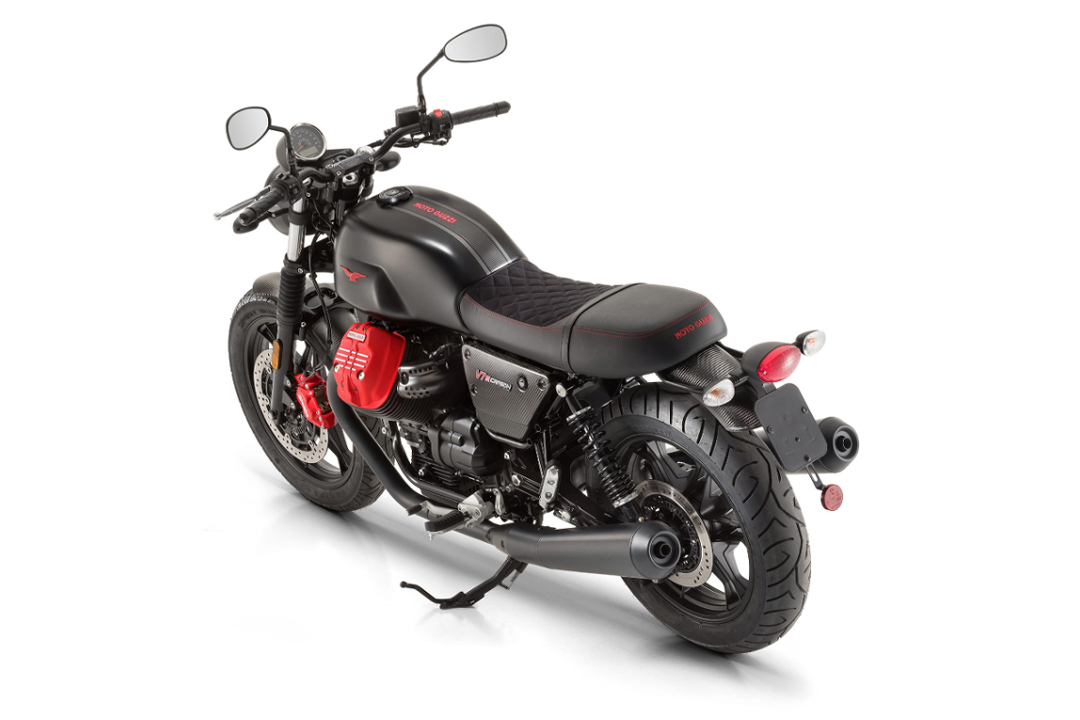 2018 V7 MKIII – ALL CARBON FINISH
You'd be correct in assuming that the V7 Carbon is finely finished with carbon-fibre components, including shortened fenders and side panels. Yet, the most striking components on V7 III Carbon are satin finished red cylinder head covers and Brembo brake front disc caliper which are in stark contrast, to the anodised matte black finish of the rest of the bike.
The red finish is also used to accent the branding on the side fairings and the Eagle emblems and fuel tank. The seat is finished with weather-resistant and water-repellent Alcantara® stitched with red thread.
EXPECT THE V7 CARBON MKIII ON THE STREETS SOON
Production has begun on the 2018 Moto Guzzi V7 III at Guzzi's Mandello del Lario plant. That means expect the bike to a appear on the showroom floors of dealers, in the coming weeks.
The bike will be produced in limited numbers. Precisely, 1921 units which by no coincidence is the year that Moto Guzzi was formed. To commemorate this fact, the designers of the V7 Carbon have included a subtle and charming touch on the bike – the serial number positioned on the handlebar risers shows the production number in addition to the number 1921.