In the past buying a retro motorcycle helmet that conformed to modern safety standards was challenging. The opposite is true these days; there are many retro-styled helmets that combine vintage looks with safety.
For riders of café racers and modern classic motorcycles, the choice is now almost overwhelming. So, to cut through the noise, here's a list of the best retro motorcycle helmets you can buy in 2023. Skip to it or read about the selection process below.
Retro Motorcycle Helmets: An Overview
Riding a modern classic motorcycle while wearing a contemporary-looking helmet is jarringly anachronistic at worst or incongruous at best. Regardless, around a decade ago that really was the only option open to riders of retro bikes.
Back then, retro-styled helmets were non-existent. Unless, you were willing to take a risk with an unapproved, nostalgia-inspired creation or an actual vintage motorcycle helmet, you were stuck with a contemporary lid.
Anyhow, that all changed with the launch of the Bell Bullitt in 2015.
Get 10% off Moto Gear When You Subscribe
Get the Renchlist update, covering customs, retro rides, gear, moto-culture and news.
Enter your email for 10% off Goldtop England gear
Now in 2023, there is a myriad of options when it comes to vintage-inspired brain buckets (or to use another shorthand, café racer helmets). That's true, just considering the collections from major manufacturers and well-established boutique helmet workshops.
The selection becomes ginormous when copycats and subpar brands found on several giant online marketplaces are included. But we won't be discussing any of those here.
Are Retro Helmets Any Good?
If you're wondering 'Are retro helmets any good?', the answer is 'Yes'. The perception that retro helmets are all style and no substance isn't true in 2023. There are plenty of café racer helmets that score as well in crash tests and higher than some contemporary-looking motorcycle helmets.

All that aside, let's get one thing straight – if you're buying a retro helmet you still have to make a few compromises. But not as many as you might think and not on safety, as you'll see from the list below. 

Nevertheless, to find the right vintage-style bike helmet to match your motorcycle, concessions on certain functional features may need to be made.
Ventilation is typically not as good as in contemporary-styled helmets. That comes down to design. There tend to be fewer vents and they're more discrete to maintain a smooth rounded shell.
Noise damping is usually less effective also, as there's more open space around the chin bar which allows air to rush in. However, some helmets are supplied with a wind guard.
Retro helmets due to their design and construction materials tend to be more costly than their contemporary counterparts. (Again, not entirely true for all the helmets you'll see on this list.)
Retro Helmets: How this List Was Compiled
Naturally, styling was a key factor in compiling this list. But with safety and protection in mind, I've focused purely on full-face retro helmets with visors and double-d-ring fastening mechanisms from well-recognised brands.
You should always keep in mind, only testing and real-world data reveal how well a helmet might perform in a crash. Certification, although increasingly stringent is a minimum standard.
Best Retro Motorcycle Helmets 2023 – Full Face Protection
For modern-classic, custom and neo-retro riders a retro motorcycle helmet is not only an essential and legally required piece of PPE but it completes the vintage-inspired look.
Clean curves and low profiles of old-school helmets offer unrivalled looks to complement the aesthetics of your bike. Regardless, without further ado, in no particular order (but with a modicum of editor's bias) here are the best retro motorcycle helmets to buy in 2023.
It's only right that this list kicks off with the café racer helmet that launched the retro helmet segment.
Inspired by a 2011 design concept by Chad Hodges (based on '60 and '70s Bell Star helmets), the Bell Bullitt launched in 2015 to a rapturous response.
Featuring an ultra-low-profile chin guard, it fully embraces the '70s aesthetic and with that, it offers an exceptional space-helmet-like field of vision.
Its removable EPS cheek pads and liner are available in numerous sizes which offers a highly customisable fit. They're also washable too.
Regardless of all of that, there's plenty of variety within the standard collection which also includes carbon versions. That coupled with all the accessories means there's a Bullitt for all tastes.
Bona fide café racer riders and retronauts will find this helmet paired with the bubble shield visor particularly appealing.
Certification: DOT & ECE 22.05
Shell Sizes: 3 Shell and EPS Sizes – XS, S, M, L, XL & XXL
Weight: 1.28 kg to 1.4kg
A favourite of the DGR crowd is the rather more decadent Hedon Heroine Racer which first came to prominence in 2017. This helmet is very much at the premium end of the segment.
A standard version is near twice the cost of Bell. However, it's also much quieter than the Bullitt.
Each Hedon helmet is handcrafted from a composite fibre shell composed of fibreglass and carbon fibre. As such the Heroine is a lightweight helmet. It's fashioned with a low-profile retro silhouette, synonymous with Hedon design.
The helmet's moniker is the clue to the inspiration behind its classic racing helmet design. Though equally the broad chin guard doesn't hide the late '70s influence.
The Heroine Racer is exquisitely finished with leather trim and anodised brass found on the nameplate, double d ring and the broad visor screws on either side of the helmet. Incidentally, the visor screws have been given an upgrade which means the visor now has multiple lock positions. It also addresses the previously slightly finicky process of swapping out the visor.
Aside from the option to purchase and then combine different visors and hardware, Hedon offers a customisation service. That means seemingly infinite possibilities to create a unique design.
Certification: ECE 22.05 and DOT FMVSS
Shell Sizes: x3 – S/M, L/XL and XXL/XXXL
Weight: 1.2 kg to 1.39 kg +/-50 kg depending on shell size
Never has there been a greater travesty in product naming than Shoei Glamster. Clearly, that's hyperbole. Still, it's not a great name that belies an otherwise excellently styled café racer helmet with superb safety features.
I suppose when a helmet looks this good it can call itself anything it wants (also hyperbole).
Regardless, this neo-retro lid has it all — it combines its early seventies-like outline with all the modern features you would expect to find on contemporary-styled counterparts, minus all the fins and spoilers.
Those features include an E.Q.R.S. (Emergency Quick Release System), an EPS liner with removable cheek pads and a UV-protected visor that's compatible with Pinlock EVO fog-resistant inserts. All of that is packaged into Shoei's lauded AIM shell. For this model, there are three shell sizes to help fine-tune the fit.
There is also plenty of ventilation to be found throughout the helmet – with additional grooves built into the inner lining to channel cooling.
Sharp (the Department for Transport's motorcycle helmet testing unit) awarded the original version of this brain bucket 4 out of 5 stars in its impact tests. However, Shoei in March 2023 released an updated version to meet and exceed the latest EU standard for motorcycle helmets, ECE 22-06. It's likely the Glamster 06 will achieve a similar rating, if not higher.
The Shoei Glamster 06 is the helmet for neo-retro riders and those who want super-modern safety features while paying homage to the past.
Certification: ECE 22.05 (Glamster) & ECE 22-06 (Glamster-06)
Shell Sizes: x3 – (XS-M/ L/ XL-XXL)
Weight: 1.2 kg to 1.39 kg +/-50 kg depending on shell size
For several years the Biltwell Gringo S helmet was road legal only in North America. Retro riders in Europe looked on with envy. Not just because of its attractive vintage-inspired proportions – but also its attractive price point.
In 2018 however, Biltwell bit the bullet and upgraded the helmet to achieve ECE 22.05 certification.
Combined with the injection moulded ABS outer shell the Gringo S received thicker EPS shock-absorbing foam in the chin bar.
Its inner EPS shell was also reworked for greater impact absorption. All of that makes it suitable for UK, Europe and Australian markets.
Ventilation is limited to two holes in the Gringo S so it's not the best for staying cool on extra hot days. However, the discreet easy snap mechanism on the left side makes cracking the visor open for cooler air easy.
The Gringo is more rugged than the Bell and Hedon. Nonetheless, the diamond-stitched (by hand) padded Lycra interior offers some air of refinement and definitely comfort. Furthermore, it's removable for easy washing.
Notably, Biltwell visors from December 2022 feature PINLOCK® and ProtecTINT™ which guard against fogging and glare respectively.
The Gringo S is available in two lightweight shell sizes and will suit riders who prefer a rounder helmet fit — as opposed to an oval. Equally, riders who favour customs over modern classics are likely to prefer this lid. It just seems to align more closely with the built-not-bought ethos.
Certification: DOT FMVSS & ECE 22.05
Shell Sizes: x6 shell from XS to XXL
Weight: ~ 1.3kg to 1.5 kg
DMD has built a solid reputation with custom and retro riders through its low-profile lids — the Rocket and the Vintage in particular. Both helmets offer retrospective style, comfort and protection in a multitude of hues and colourways — and, they do it at reasonable price points.
However, the DMD Rivale (which is the brand's newest full-face offering) is found slightly further upstream at a price point north of £359.
Nineteen seventies motosport is where the DMD's latest helmet gets its inspiration.
Visually, the tri-composite shell (composed of carbon, fibreglass and kevlar) is somewhere between the Hedon Heroine and Shoei Glamster — although closer to the latter. Undoubtedly, there will be comparisons between the two due to their visual similarities.
Currently, the Rivale is available in two shell sizes with a noticeable difference between the two when placed side by side. However, generally, the minimalist aesthetic means the larger Rivale is still comparatively low-profile although it's larger than the DMD Rocket.
Two, always-open horizontal vent ports placed on either side of the chin bar form the basis of ventilation. At the time of writing this helmet is new. As such there's not a lot of feedback on how effective it is at keeping its interior temperature low.
A smoked visor can be purchased for under £60 to replace the standard pin-closed clear visor that comes with the helmet.
In typical DMD style, the Rivale is supplied with a comfortable removal and washable interior. It's available in several retro graphic-based colourways and solid colours that will appeal to seventies retronauts.
Certification: ECE 22.05
Shell Sizes: Two Shells – XS-M, L-XL
Weight: ~1.2 kg
AGV, it could be argued, began the popularisation of full-face helmets. MV Agusta's factory rider Giacomo 'Ago' Agostini was the first racer to don the brand's first full-face creation in 1968.
Since then AGV has become a brand synonymous with excellence in moto crash helmet safety.
In 2018 the brand introduced the full-face AGV X3000. Its silhouette is a painstaking replica of the helmet worn by AGO over 50 years ago.
Designers of the modern helmet have even incorporated a deft cutaway chin into the design. It's practically identical to the design feature Ago requested back in the sixties. It meant he could tuck closer to the fuel tank thereby improving aerodynamics.
Evidently, great effort has been made to emulate the original. And yet, if you're thinking this is just a pastiche of an old-school café racer helmet — you're wrong. The technology fused into the X3000 is thoroughly modern and starkly sets the X3000 apart from the lid that inspired it.
Made from a (1.4 kg) lightweight composite-fibreglass shell available in three sizes it has three EPS liner sizes to help to get a closer fit. That, coupled with a universal shape, means the X3000 should fit most heads.
One prominent feature is the entirely smooth exterior, free from any spoilers as you'd expect. But also it's missing ventilation holes. They are to be found behind the removable visor seal embedded behind the four-position visor.
The X3000 is hard to resist with its modern tech and true-to-the-past form, particularly for lovers of classic Italian sports bikes.
Certification: ECE 22.05 homologated & DOT
Shell Sizes: x3 shells with x3 EPS sizes
Weight: ~1.3 kg – 1.4 kg (depending on the size)
Davida is best known for its range of jet open-face helmets. The low-profile Speedster V3 epitomises café racer style.
It's perhaps surprising then, to learn Davida's first full-face crash helmet, the Koura, is not only DOT and ECE certified but also ACU gold certified. That means it can also be used on the track.
It was developed with the expertise of former Italian MotoGP and F1 helmet designers who once took on briefs for more futuristic-looking helmets. And yet the Koura's distinct silhouette is clearly based on late sixties racing helmets.
In keeping with Davida's design ethos, the Koura is as low profile as possible. The brand claims it's the "smallest dual standard full face helmet in the world".
The shell is available in six sizes in either a GRP composite or carbon fibre which is lined with a three-piece removable, antibacterial fabric interior with leather lining.
That lining is also available in five colours and can be customised with additional cheek inserts for a closer fit.
With multiple vents and anti-scratch & anti-fog visors, you shouldn't overheat or have your vision obscured. Equally, wind noise is reported as low.
Out of the helmets on this list, the Davida (oddly) stands out from others in its close adherence to a period-specific aesthetic. More importantly, it manages to do that with safety prioritised.
This helmet is for riders inspired by imagery from the halcyon days of the Motorcycle Grand Prix.
Certification: ECE 22.05, DOT FMVS 281 & ACU Gold
Shell Sizes: x6
Weight: Not Stated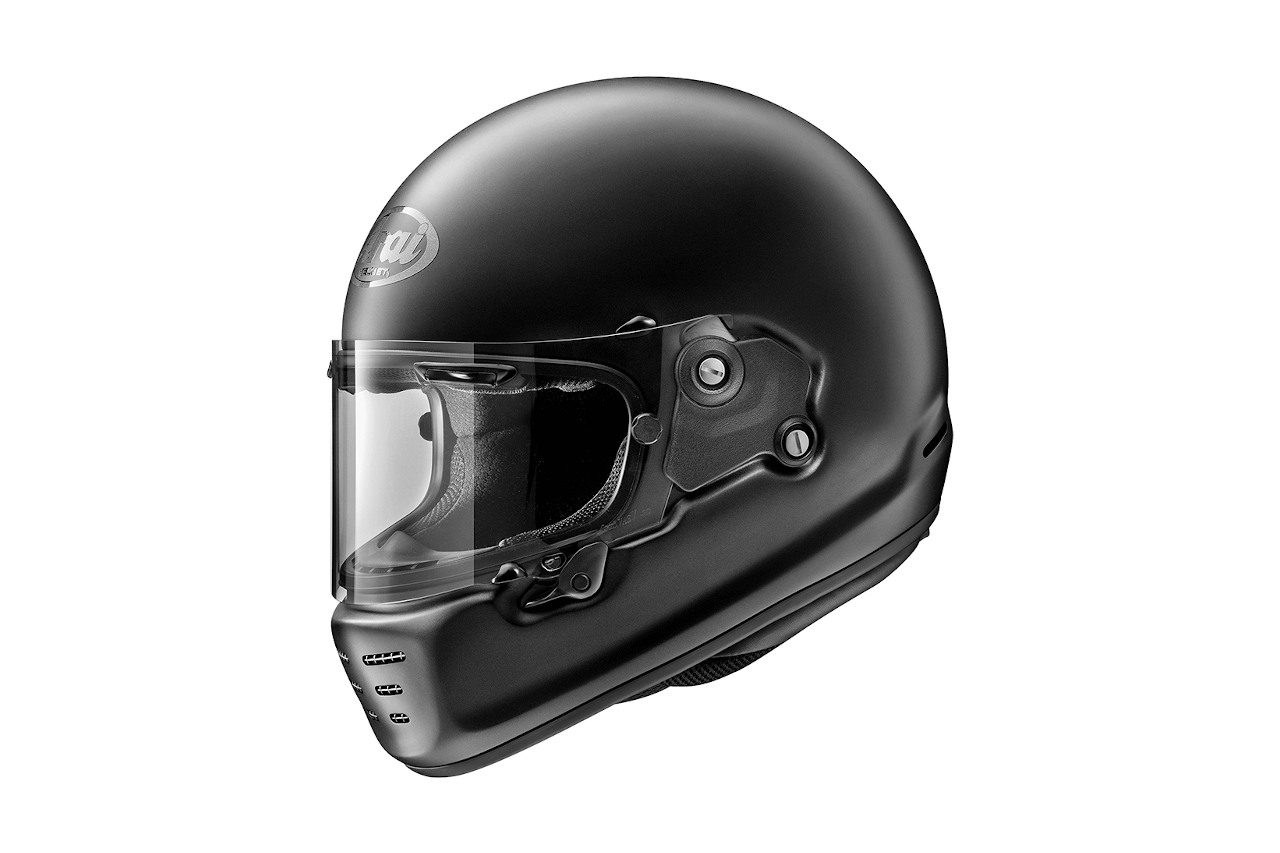 Launched slightly before Shoei's full-face retro offering the Arai Rapide (or Concept-X / XE depending on region) takes a similar tac to its main rival. So again this helmet is full of the same technology you'd expect to find in the brand's contemporary-styled range. And yet it's packed into a sleek neo-retro shell with ERS — updated for 2023 to conform to ECE R22-06.
Within the Rapide, you'll find the same Special Fibre Laminate shell which absorbs and dissipates impact energy across the whole dome.
The Rapide's old-school looks are more subtle than other helmets on this list though more apparent from certain angles — particularly the squared-off front grill. To place this helmet in time you'll only have to travel back to the eighties.
The Rapide's designers have perfectly captured the retro-futuristic aesthetic of the eighties yet combined it with robust helmet technology.
Ventilation is found in the Rapide's closable chin vents located in the plastic mesh-like structure at the front. That, combined with the brow-level intake and rear exhaust vent helps control air circulation. As such you can readily regulate the temperature of this crash helmet.
The Rapide may lose out to the Shoei in looks, depending on your viewpoint. However, it can certainly match the Glamster in features.
This is one for riders with a penchant for the eighties style bikes… or maybe an XSR900 in the garage. Make sure you pick up the latest version: ECE R22.06 and NOT ECE 22.05
Certification: ECE 22.05 and ECE R22.06 for the 2023 version
Shell Sizes: x3 shell sizes – XS-XL
Weight: ~1.5 kg
Nexx was a relatively early player in the retro helmet segment. It chose the eighties as its muse when conceiving the Nexx XG100R. This helmet is a perfect combination of 1980s racing cool with 21st-century protection.
With its flat visor and prominent chin guard, it looks like something that might have been worn on the track around four decades ago. It also has a thoroughly modern Sharp safety rating of 4.
Given the brand's safety rating track record, that's not surprising. The helmet uses the Nexx X-Matrix composite material for the outer shell of the standard helmet or full carbon for its ultra-lightweight variants.
Inside, you'll find a comfortable, removable hypoallergenic washable liner, like all other Nexx helmets.
Like the AGV there isn't a vent port to be found anywhere on the dome. Instead, the XG100R handles ventilation through a vertical chin vent with a closable internal slider.
With just the single vent, the airflow in the helmet isn't amazing. Nonetheless, the upside is the lack of boreholes coupled with a chin deflector means it's a relatively quiet helmet.
Within the model range, there's an excellent mix of bold 1980s finishes from which to choose. They're balanced with more understated colourways, meaning there's a variant for most riders.
Aside from its looks and technical features, the starting price points make the XG100R an attractive option for retro riders inspired by racing iconography.
Certification: ECE/22-05, DOT and NBR-7471:2001
Shell Sizes: Six Shells – XS, S, M, L, XL and 2XL
Weight: ~1.2 kg to 1.4 kg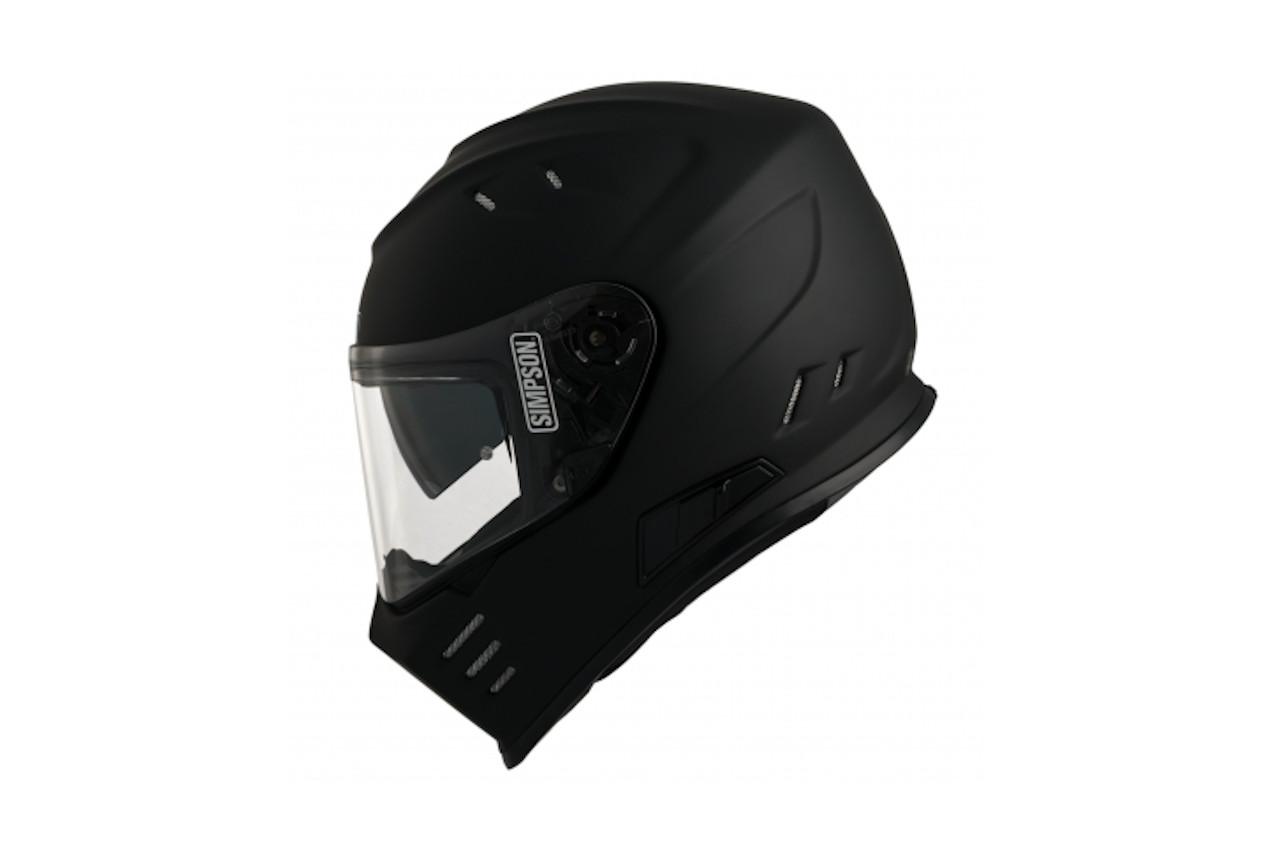 Simpson helmets are immediately recognisable by their distinct flat angular chin bars.
That makes it relatively difficult to distinguish one Simpson from another if you're not an aficionado.
For this list, I've selected the Simpson Ghost Bandit or Venom as it's known in the UK and Europe.
Three horizontal ventilation groves on either side of the chin bar give the helmet a fast and aggressive countenance, echoing Simpson's racing origins. Ventilation is supported by smaller vents at the top of the helmet. Exhaust vents are also found at the rear, top and bottom to aid cooling.
Opinions are split on whether ventilation is good or not — and equally so on noise. That probably means that both are not that bad or the best.
One thing that isn't in dispute however is the Venom's 4-out-of -5 star Sharp rating. In the US (tested as the Bandit) it's been Snell certified to the M2020D standard.
A drop-down sun visor is integrated into the Venom/Ghost Bandit. As such, it stands out in a sea of retro helmets whose clear visors have to be swapped out for tinted versions on bright days.
Riders who prefer American big-v-twin customs, cruisers and muscle bikes are likely to go for this helmet either in the composite or full carbon fibre shell.
Certification: DOT (Bandit) ECE (Venom)
Shell Sizes: XS, S, M, L, XL & XXL
Weight: ~1.40 kg
If you're looking for a simple unadulterated retro helmet, with minimal branding, the Roeg Chase is it. With an entry-level price point, it bucks the stereotype that all vintage-style helmets are expensive. And, it does that with perfect retro cool.
Roeg is a fairly no-nonsense brand, so it follows that the Chase is spartan in design — reminiscent of late seventies and early-eighties racing helmets.
Its two shell sizes are composed of an RQ light fibreglass material entirely free of adornments including ventilation holes and branding. As such you'll be hard-pressed to find a cleaner, smother-looking lid that meets European and North American safety standards.
Nonetheless, the lack of vents means only an open visor will introduce airflow into the interior. Speaking of which, the lining is constructed from a multi-density EPS foam that offers a comfortable fit and dynamically absorbs impact. The micro-fleece liner that covers the interior is also removable and washable too.
Continuing the theme of minimalism, an understated ROEG logo is discreetly placed on the lower rear lip. That's something that many riders appreciate. Few wish to be walking adverts or more accurately riding adverts.
Just like the Chase's design, Roeg has kept the colour options simple: JD Green, Vintage White, Gloss Black and Matte Black.
Riders considering the Gringo S on looks alone will likely find the Chase appealing and vice versa.
Certification: ECE-R 22.05 & DOT
Shell Sizes: x2 Shells – XS-M & L-XXL
Weight: ~1.4 kg
Blauer is better known for the provision of protective outwear to law enforcement agencies. However, that perception somewhat changed several years ago with the launch of Blauer HT (High-Tech) — a range of motorcycle gear within which the Blauer 80s helmet is included. Although, strictly speaking, this is the Trophy helmet from Italian-owned Premier Helmets rebadged as Blauer.
There are no prizes for guessing which era inspired the Blauer 80s. And, if its name doesn't make it obvious enough, the tricolour graphics and its rounded block profile should.
The Blauer 80s is the embodiment of the old-school racing aesthetic and yet embraces modern materials in its construction. Its shell is composed of a tri-composite material which includes Dyneema, carbon and aramidic fibre E Epoxy resin.
This is another super minimalist design which doesn't have ventilation ports. So, the only way of regulating the interior temperature is by lifting the visor. With that in mind, thankfully all Blauer helmets come with a washable interior lining also found in the 80s.
The branding on the front of the helmet is rather prominent. Nonetheless, it fits incredibly well with the early eighties graphic scheme available in five colourways: White, Black Matt, Black/Titanium, Blue and Titanium Matt.
Like the Bell Bullitt, the 80s helmet has an excellent field of vision and similarly some complaints about high wind noise.
Nevertheless, riders who love peak eighties aesthetics will love this helmet.
Certification: ECE-22.05
Shell -Sizes: Three Shells – M, L and XL
Weight: 1100 gr +/- 50 gr
Summary: Editor's Top 4 Retro Motorcycle Helmet Picks
I own and wear the Hedon Heroine Racer 1.0 and the Bell Bullitt RSD Carbon and I love both for several reasons.
A few of those reasons are: the Bell Bullitt keeps me cooler on warmer days and the field of vision is excellent. However, the plushness and comfort of the Hedon are unsurpassed – plus, it's nowhere near as noisy as the Bell.
The following are the helmets I would consider were I to purchase a helmet today:
Shoei Glamster – for a daily-use lid, as it offers a great combination of looks and protection
Hedon Heroine Racer 2.0 – for looks and comfort
Bell Bullitt – for regular urban use because of its field of vision and overall balance of features.
Roeg Chase – for looks at an affordable price point
So there you have it these four are the best retro helmets from the above selection. Nonetheless, any of the helmets discussed in this piece will look great on a variety of neo-retro, modern-classic café racers or vintage and custom motorcycles.
More importantly, they offer modern standards of protection in an attractive vintage-inspired manner… (there's no excuse not to have both now)!
Get 10% off Moto Gear When You Subscribe
Get the Renchlist update, covering customs, retro rides, gear, moto-culture and news.
Enter your email for 10% off Goldtop England gear