Honda's 2018 CB1000R, meshes naked sports and neo-retro into one distinct new motorcycle package. Before discussing the 2018 CB1000R is worth mentioning its cousin the CB1100. Despite, being a beautifully built bike, the Honda CB1100 and its variants has seemingly failed to capture the imagination of the market.
Honda CB1000R Launch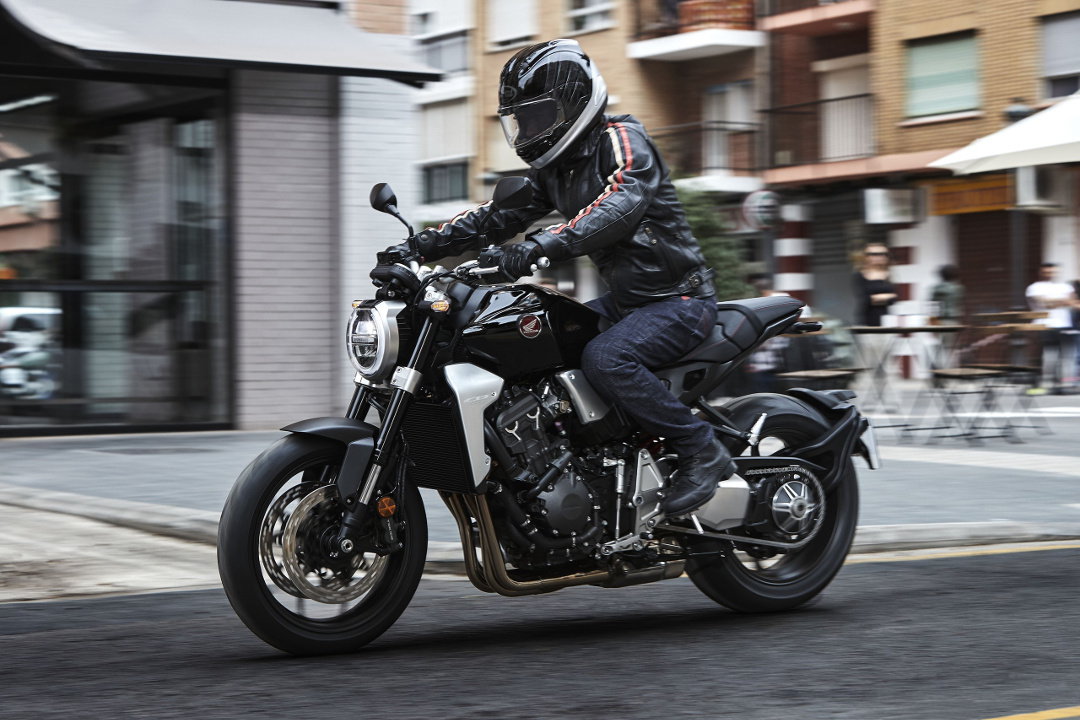 Back to the present – Honda is not the type of motorcycle manufacturer, that rests on its laurels, cries over spilt milk or any other idioms you can think of that imply complacency or mournful rumination. Those are my two.
Advertisement
NEO SPORTS CAFÉ TEASER
A few weeks back Honda unveiled the Neo-Sport Café concept. So different was this motorcycle from anything in its line-up, that it was naturally assumed by most that the bike would be an entirely new line if it was ever brought to production. The naysayers were quick to pounce, voicing the usual complaints;
"….it's a only concept…. it'll probably never come to production" et cetera, et cetera
How wrong the naysayers were. And how very quickly, they were shown to be wrong.
Just a matter of a few weeks passed and then at EICMA, Honda announced that the Neo-Sport Café was in actual fact the 2018 CB1000R!
A slick, piece of marketing theatre, indeed. Well played, Honda.
A NEW APPROACH TO NAKED SPORT MOTORCYCLE STYLING
Allow me to come back to the CB1100; the other bike in Honda's revival/heritage line-up, along with its EX and RS variants. This line's styling is based on the classic UJM silhouette, made contemporary. The Neo-Sport Café CB1000R, on the other hand, takes the opposite approach. It's a modern naked bike, which has adopted retro styling and as such, is stripped of preconceptions of what a modern naked sport should look like.
This may well be a new trend in naked motorcycle design if the Husqvarna Vitpilen 701 and Svartpilen 701 concept are taken as examples. And I'm all for that if it produces bikes like this.
HONDA NEO-RETRO CAFÉ, CB1000R – SPARINGLY RETROFIED
However, Honda has sparingly 'retrofied' the bike. Just enough to appeal to us in the retro/custom crowd (imagine this bike with lowered bars, maybe a half or bikini fairing and café racer seat/cowl). But not so much, as to alienate previous buyers of the CB1000R.
In terms of styling, Honda has adopted a similar tack, to that taken by Yamaha, with the XSR900/700 and now Suzuki, with the SV650x, though Honda has been more radical… far more radical!
Of course, the major difference is that the CB1000R, while sharing its architecture with the CB1000RR is an entirely new bike. Whereas the former, merely implanted an existing engine into an altered frame and dressed the bike up, respectively.
In Honda's words:
"…an ultra-minimalist look under the design theme of 'Neo Sport Café'. The result is a machine with a unique identity, a fusion of Sport Naked and bare-boned Café Racer inspirations…"
Advertisement
2018 HONDA CB1000R SPECS:
The specifications seem to suggest that, Honda's 2018 CB1000R is superior in every way to its predecessor. Here are the highlights.
Throttle-By-Wire, with three rider modes
12kg lighter than the outgoing design, which gives a 20% improvement in power to weight ratio
CBR1000RR derived four-cylinder engine, re-tuned for 15kW power up
Strong torque and response in the mid-range
Max. Power Output – 143.5 bhp @ 10,500rpm
Max. Torque – 104Nm @ 8,250rpm
16% more peak power at just over 10,000rpm and 5% more torque right through the mid-range
4-into-1 exhaust
Assist/slipper clutch fitted as standard
SMALLER DISPLACEMENT ITERATIONS, SOON!
The exciting development for new riders or those that prefer smaller displacement engines is that Honda is promising 125cc and 300cc versions soon – "…with no less of an attitude".
Advertisement
Honda 2018 CB1000R Gallery