Ducati launches not one but three new scamblers. In a pre-EICMA press conference, the launch of the new Ducati Scrambler 1100, 1100 Special was officially announced (photos of which were leaked earlier this weekend).
New Scrambler 1100 Models
In addition, Ducati also revealed a sportier version – unsurprisingly called the Scrambler 1100 Sport and an 1100 Special model [the custom-like version], along with the 800cc Mach 2.0 [RSD] and Street Classic which we've seen already.
JUMP TO THE SCRAMBLER 1100 Info.
Ducati Scramblers Galore
Ducati's Scrambler range represents its neo-retro/heritage line which was further bolstered by today's launch. That brings the total number of bikes in this range to eleven. And sure, most of the 800cc bikes are indeed exercises in styling but that's a lot of 'bike' considering the model range has only been in existence for three years and isn't Ducati's core offering – at least not yet.
The new bikes are also a not-so-subtle indication of how successful the Scrambler has been and a signal that Ducati aims to continue exploring this segment of the motorcycle market.
Get 10% off Moto Gear When You Subscribe
Get the Renchlist update, covering customs, retro rides, gear, moto-culture and news.
Enter your email for 10% off Goldtop England gear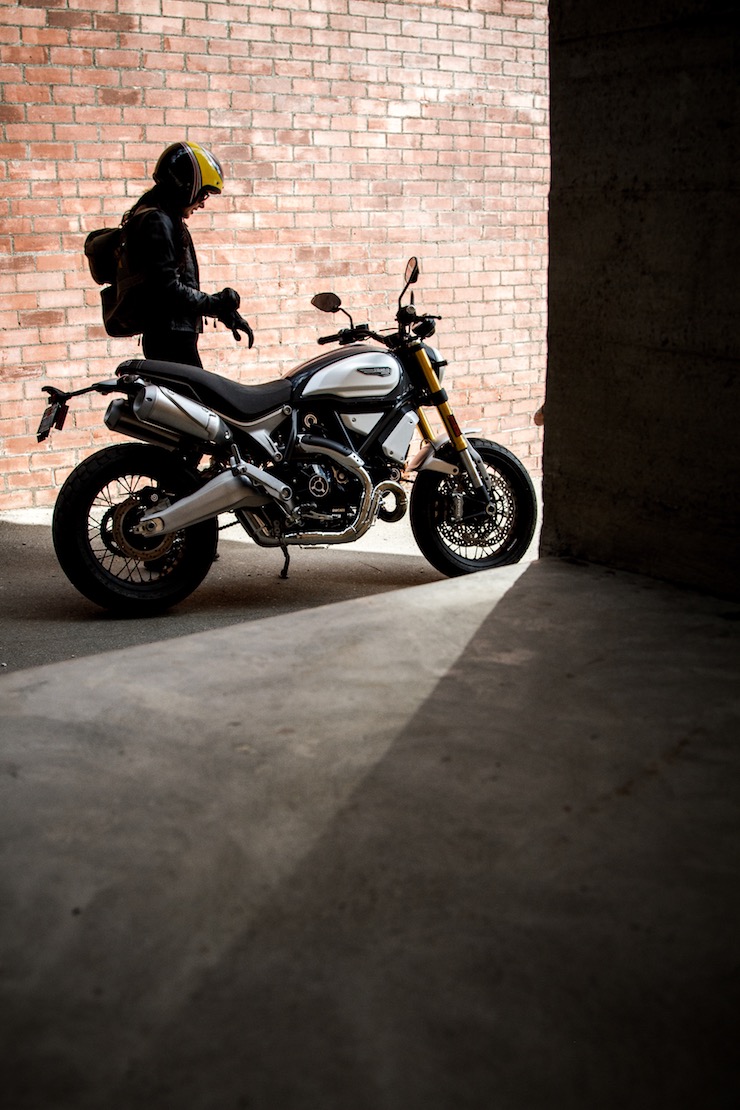 Ducati Scramblers for all
The launch further widens the Scrambler range, catering to a greater diversity of riding styles.

For the urban rider, there's the Icon, Classic, the new Street Classic, Full Throttle, Mach 2.0 for the hooligan crowd and then the Café Racer.
For the light-off-roading aficionado, there's the Desert Sled. The SIXTY2 with its 400cc engine can be ridden on an A2 licence, which is perfect for new riders. And now the 2018 Ducati Scrambler 1100, 1100 Special and 1100 Sport offer fulfilment to riders looking for something with a more prominent punch.
SCRAMBLER 1100 CAFÉ RACER?
Ducati mentioned in its presentation, that it's sold over 43,000 units since the launch of the bike, in 2015. In fact, Ducati has sold around 13,000 units since we wrote about the launch of the Desert Sled, at the beginning of 2017.
With that in mind, it's hardly surprising that the marque has chosen to further expand the Scrambler range and it's hardly likely to be the last of the Scrambler range. Surely there must be an 1100 café racer in the works?
Scrambler 1100
It seems unlikely, that Ducati will pass on such an opportunity. One can imagine that would only happen if Ducati chooses to pursue a purer café racer, akin to the ever-endearing SportClassic.
Speculation aside specs. and full galleries are below
Scrambler 1100 Specs
Type: L-Twin, Desmodromic distribution, 2 valves per cylinder, air-cooled
Displacement: 1,079 cc
Bore x stroke: 98 x 71 mm
Compression ratio: 11:1
Power: 63 kW (86 hp) @ 7,500 rpm
Torque: 88 Nm (65 lb-ft, 9.0 kgm) @ 4,750 rpm
Fuel injection: Electronic fuel injection, Ø55 mm throttle body with full Ride by Wire (RbW)
Exhaust: 2-1-2 system with catalytic converter and 2 lambda probes, twin stainless steel muffler with aluminium covers and end caps
"1100 glorifies the Land of Joy spirit: a motorbike that amplifies the creative disposition of Scrambler in more mature and sophisticated lines……"
Ducati Scrambler 1100 Price: From £10,695
Scrambler 1100 Special
"Taking customisation as its inspiration, the Scrambler® 1100 Special is a contemporary classic….."
Ducati Scrambler 1100 Special Price: From £11,495
Scrambler 1100 Sport
"Influenced by "muscle bike" customisations, the Scrambler® 1100 Sport flaunts a sportier attitude on the road…."
Ducati Scrambler 1100 Sport Price: From £12,295
Update – ICYMI: Ducati Scrambler 1100 Launch Video & Press Conference
Here's the full Ducati press conference, that took place on 5th November 2017 – along with the Scrambler 1100 launch video.
Ducati announced several new bikes for 2018. Some were expected, others not. Among the bikes launched is the all-new Ducati Scrambler 1100 along with the Special and Sport variations.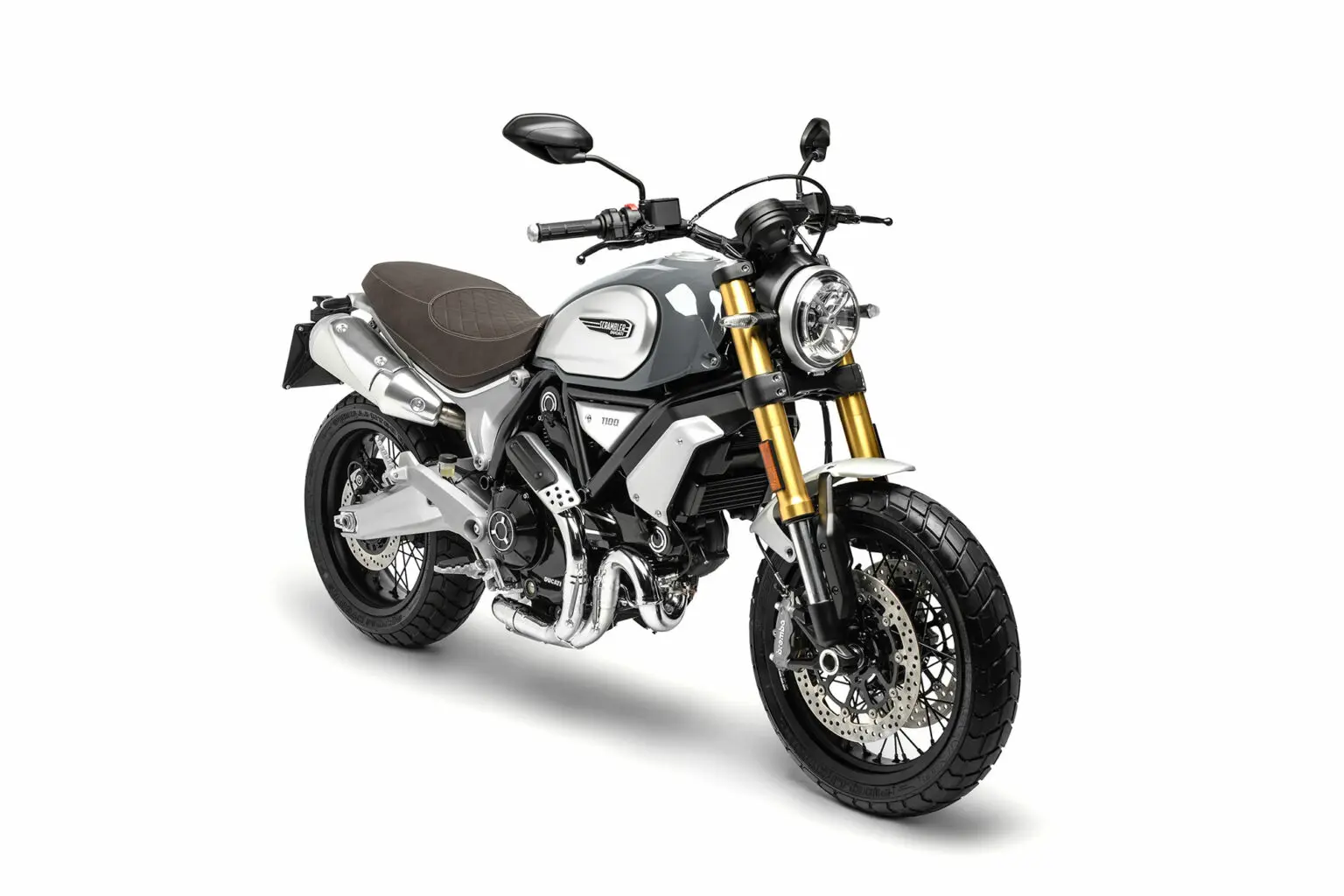 Ducati Pre-EICMA Press Conference
Ducati Scrambler 1100 Launch Video